Widely known as a versatile offense, Tobias Harris has a skill well-suited for the NBA arena. Currently, he plays for the Philadelphia 76ers and is famous for his leadership style both on and off the field.
Tobias has been on the NBA field for over a decade now. Throughout his journey, he is nothing but a cheerful personality.
With this article, we will discuss his career decisions and life journey. However, before we step into it, let us get through a quick dose of facts.
Quick Facts
Full Name
Tobias John Harris
Date of Birth
July 15, 1992
Birth Place
Islip, New York, U.S.
Nick Name
Nobody's Smiling
Religion
Christian
Nationality
American
Ethnicity
African-American
Zodiac Sign
Cancer
Age
31 years old
Height
6 feet 7 inches (2.01 meters)
Weight
226 lb (103 kg)
Hair Color
Black
Eye Color
Brown
Build
Athletic
Father's Name
Torrel Harris
Mother's Name
Lisa Harris
Siblings
Three brothers: Terry Harris, Torrel J. Harris, and Tyler Harris


Two sisters: Tesia Harris an

d Tori Harris

Education
Half Hollow Hills West
Long Island Lutheran
University of Tennessee
Marital Status
Married
Wife
Jasmine Winton
Kids
None
Profession
Basketball player
Position
Power forward
League
NBA
Affiliations

Milwaukee Bucks
Orlando Magic
Detroit Pistons
Los Angeles Clippers
Philadelphia 76ers

Active Years
2011-present
Net Worth
$30 million
Social Media
Instagram, Twitter
Philadelphia 76ers Merch
Jersey
Last Update
November, 2023
Body Measurements
Tobias Harris is a well-built athlete with tightly packed body muscles. He stands at the height of 6 feet 7 inches (2.01 meters) while weighing 226 lb (103 kg).
Tobias has a body figure of 42-35-34, with his biceps measuring 14.5 inches. His chest size is 42 inches, his waist is 35 inches, and his hips measure 34 inches.
Likewise, he wears a shoe size of 10 (UK). As for his physical appearance, Tobias has tan skin with beautiful brown eyes and black hair.
Work Out and Diet
Tobias Harris is big into working out and gets quite meticulous and upfront about how he wants to train.
"I am a workout guy. I like it all. It gives me an advantage, and I like to put in a lot of extra work." – Tobias Harris
As for his workout routine, Tobias does a lot of squats and focuses on his lower-body strength in general. Additionally, he is involved in bench presses, jerks, powerlifting, and many more.
Tobias mainly focuses on training to increase his leg strength and mobility.
As for his diet, Tobias is more into fruits, vegetables, seeds, and superfoods. Moreover, he has more greens in his diet, including chicken, turkey, fish, and occasionally red meat.
Likewise, he has cut off bread, pasta, and sweets from his diet routine.
"I'm a plant-based type of guy and I eat very well. I think that's one of the biggest things when it comes to changing the body and gaining strength — putting the right foods in your body." – Tobias Harris
Tobias Harris | Early Life
Harris (fully named Tobias John Harris) was born on July 15, 1992, under the star sign of Cancer. He was born to his parents, Lisa Harris and Torrell Harris, in Islip, New York, U.S.
Altogether, Tobias grew up in a large household and is of African-American descent.
Parents
As far back as Tobias' father, Torrell could remember, he has always dreamt of being a caring father. Torrell also states that he had always dreamt of having six children.
Today, Torrell is more than just a father with his loving family. Mr. Harris is the founder, chairman, and CEO of Unique Sports International.
Back in the day, Torrell used to be a basketball player at Duquesne and Murray State in college who secured his position in the NBA. As a couple, Lisa and Torrell are still filled with love.
Well, Torrell describes his relationship with Lisa as love at first sight. Right after they first met, the duo were married within six months.
Today, they have six children.
Siblings
Tobias Harris has three brothers and two sisters. His brother, Tyler, also used to be a basketball player during his college days which ended at Auburn University.
His other brother, Terry, currently plays for the Philadelphia 76ers in the NBA Summer League. He had also played the game during his collegiate tenure at North Carolina A&T State University.
Likewise, his sister Tesia also played basketball at St. John's University in Queens, New York.
Click to read about Pat Riley's Bio, career, and earnings!
Education
Tobias Harris was initially enrolled at the Half Hollow Hills High School West until 2008. However, he was later transferred to Long Island Lutheran Middle and High School located in Brookville, New York.
He completed his junior years before transferring back to Half Hollow Hills High School West again. Coming back, Tobias accomplished his senior year studies.
Following it, Tobias Harris attended the University of Tennessee.
Tobias Harris | Career
Harris has been on the basketball field since his high school days. Alongside his studies, Tobias carried out his gaming career.
He initially joined the high school's varsity basketball team as an eighth-grader. He played all through the years, and in 2010, he bagged the Mr. New York Basketball.
The same year, he also earned the 2010 McDonald's All-American. Moving on to his collegiate days, Tobias played for the Tennessee Volunteers.
He played in the point forward position for a year before he forwent his college years and entered the 2011 NBA draft.
Milwaukee Bucks
Tobias Harris first joined the NBA arena after the Milwaukee Bucks drafted him as the 19th overall pick. After signing his rookie contract, he made his game debut on January 7, 2012.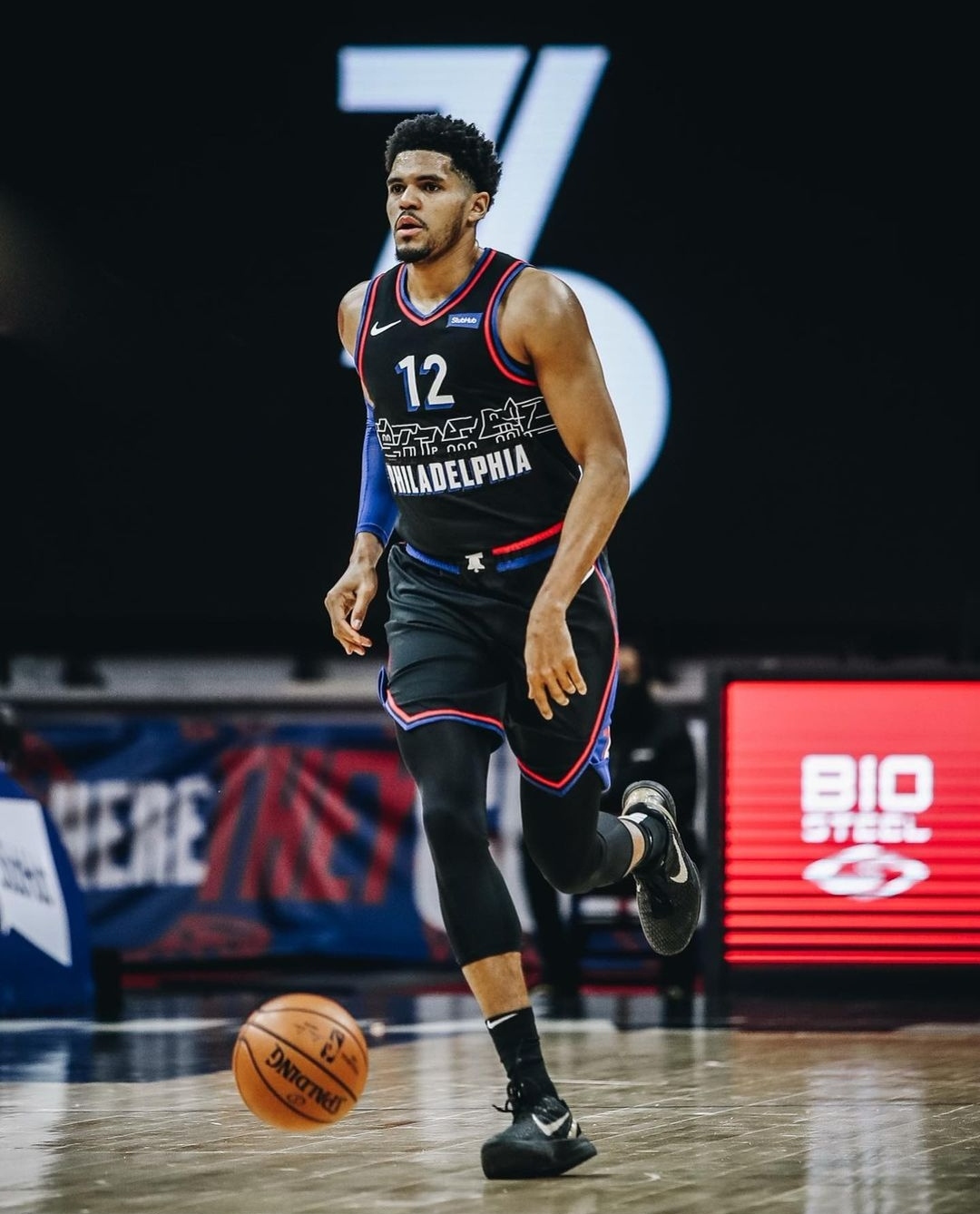 At the end of 2012, the Bucks extended Tobias' contract, and he stayed with the team until 2013.
Orlando Magic
At the start of 2013, the Bucks traded Tobias to the Orlando Magic. During his three-year tenure at the Magic, Tobias depicted increased value in his game.
After setting his career-high point, Harris extended his contract with the team.
Follow Stephen Curry's Bio: Career, Earnings, Family, and many more!
Philadelphia 76ers
Since Tobias Harris joined the Philadelphia 76ers in 2019, he has been playing on the team to date. Currently, he has a five-year contract with the team.
In 2021, Harris bagged the Eastern Conference Player of the Week.
Tobias Harris | Injury
Since 2021, Tobias Harris has been in and out of the games due to his knee issue. He struggled with a right knee contusion during the game against the Bucks.
Later, Harris confirmed that he's been dealing with a bone bruise.
Likewise, in November 2021, Tobias Harris suffered a hip injury. As for his recent injury, Tobias struggles with tendinitis in his right shoulder.
Tobias Harris | Awards & Achievements
Western Conference Player of the Month (2018 – October and November)
Western Conference Player of the Week (2018)
Eastern Conference Player of the Week (2017 and 2021)
Second-team All-SEC – Coaches (2011)
SEC All-Freshman Team (2011)
McDonald's All-American (2010)
First-team Parade All-American (2010)
Mr. New York Basketball (2010)
Tobias Harris | Net Worth
According to the sources, Tobias Harris has a net worth of $30 million. He has a $180 million contract with the Philadelphia 76ers.
The contact he has had with the 76ers is the team's most prosperous agreement and the fifth-biggest overall in the NBA. Not to mention, he currently stands with a trade bonus worth $5,000,000.
Regarding his earnings, Tobias is the fifth best-paid forward this year and is projected to be the sixth-best forward for next year.
Apart from his playing career, Harris has multiple brand endorsement deals with renowned brands like OVADIA & SONS, Nike, Off-White, Damari Savile, and so on.
House
Tobias Harris had looked forward to buying a newly built six-bedroom La Jolla house for a long time. However, he worked to make one of his own when he missed doing so.
His house covers 15,600 sq feet and gives off a sleek modern vibe. However, the outer appearance is created with a traditional touch.
His house includes an infinity pool, a movie theatre, and a weight room with a spacious family area.
Read more on Elton Brand: NBA, Net Worth, & Retirement
Charity
Besides his playing skill, Tobias Harris is also known for his influential behavior. For those unknown, he is indulged in charity, and hence, he pledged $1 million in 2019 to be divided among nine non-profit organizations.
This amount goes for the worthy cause of raising literacy levels in disadvantaged communities.
Furthermore, he has donated $25,000 to Up Philly and Wyandanch High School team. Likewise, he has given $75,000 to the Sunbooks and True Love Mission.
Additionally, the Foundation for Orange Country Public Schools, the Legends Academy, and the Fund for the School District of Philadelphia each got $100,000.
Tobias Harris | Personal Life
Our professional player, Tobias Harris, is currently engaged to his longtime girlfriend, Jasmine Winton. The duo has been together for years now, and recently in November 2020, Harris proposed to her.
Indeed, the proposal was not less than any movie set. Tobias Harris had proposed to her at the 15,600-square-foot vacant lot that he had purchased to build his home.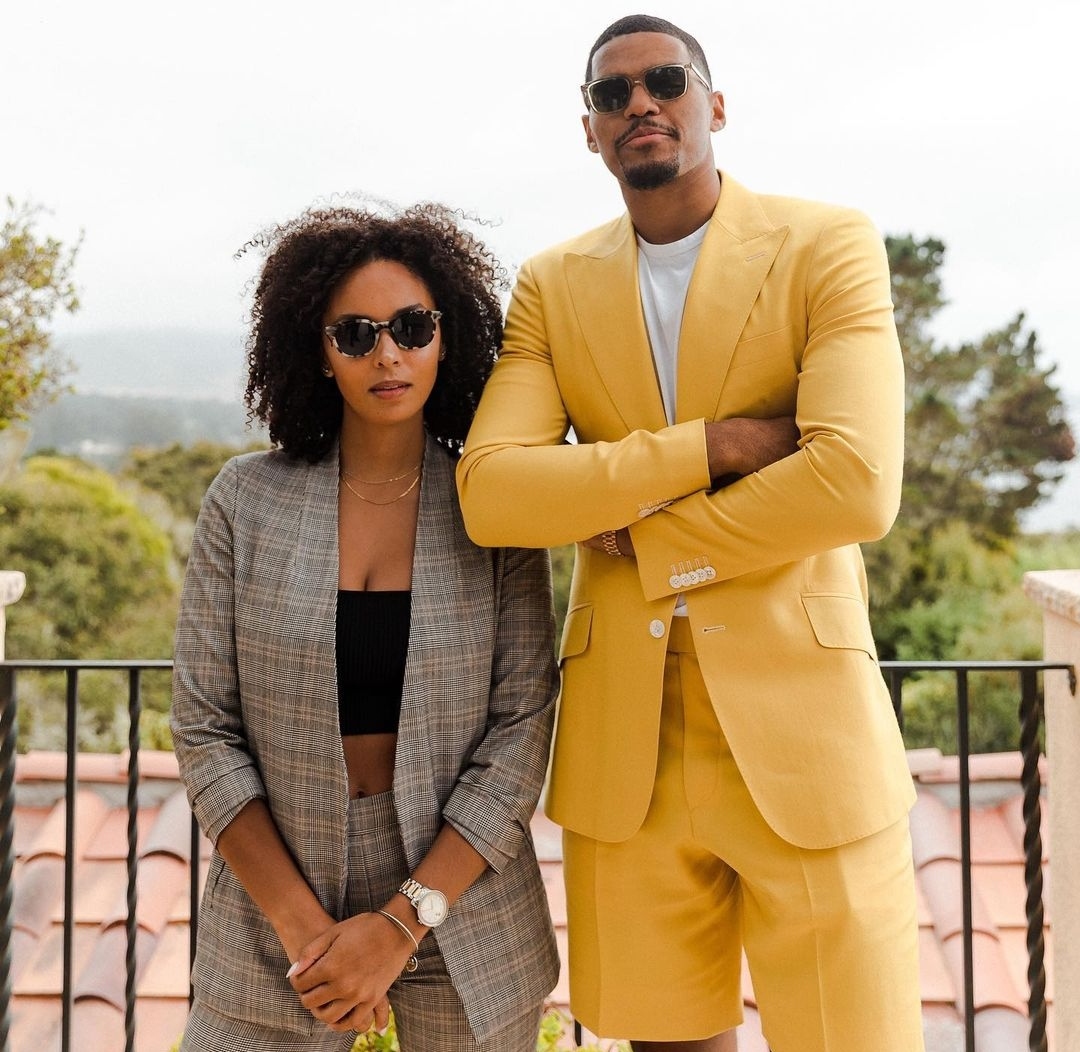 During the proposal, Tobias started them to be going for a photoshoot they had booked with Architectural Digest. However, as they reached there, Jasmine was greeted with rose petals on the ground and plenty of candles which made a huge heart.
Who is Jasmine Winton?
As per the sources, Jasmine Winton is the Ad-Tech Aficionado and Real Estate Enthusiast. Currently, she is working as the Senior Customer Success Manager at LG Ads.
As for her educational background, Jasmine accomplished Bachelor's degree in Arts and Advertising at Michigan State University.
Altogether, Jasmine Winton is expected to have a net worth of $1.2 million.
Back to the duo, they met back on a blind date when Tobias was playing for the Detroit Pistons from 2016 to 2018.
Social Media
If you are interested in checking out Tobias Harris' posts and uploads, follow his social media sites. He is on Instagram as Tobias Harris (@tobiasharris) with 527k followers.
Likewise, he is on Twitter as Tobias Harris (@tobias31) with 256k followers.
Tobias Harris | FAQs
What is Tobias Harris' jersey number?
At present, Tobias Harris wears jersey number 12 for the Philadelphia 76ers. Back when he resigned from the team, he changed the number from 33 to 12.
He had worn number 15 for the Milwaukee Bucks and 12 for the Orlando Magic.
Likewise, during his tenure at the Detroit Pistons and Los Angeles Clippers, he wore jersey number 34.
What is Tobias Harris' career statistic like?
Tobias Harris played 34 total games during his collegiate years and saved 33 of them. He had an average of 7.3 rebounds, 1.3 assists, .9 blocks, and 15.3 points.
As for his playoff season, Tobias had played 44 games and saved all of them. He maintained a field goal percentage of .463 and a three-point percentage of .347.
Likewise, he averaged 8.6 rebounds, 3.5 assists, .6 blocks, and 17.5 points.
Harris has played 753 total games in the NBA while saving 633. He has maintained a field goal percentage of .476 and a three-point percentage of .367.
Similarly, he has an average of 6.2 rebounds, 2.3 assists, .5 blocks, and 16.4 points.
Why is Tobias Harris nicknamed 'Nobody's Smiling'?
According to bucketsweekly.blogspot.com, Tobias Harris' uses his versatility and smooth gameplay to make opponents just frown at their failed efforts. Therefore, he is nicknamed as such.