Tony Stewart wife, Leah Pruett, is an accomplished American drag racer, currently driving an NHRA Top Fuel dragster.
After dating for a couple of years, Tony Stewart married Leah Pruett in 2021.
Leah stands by his side, cheering him on and off the race track, making her his biggest fan in every sense of the word.
Before marrying Leah, Tony was engaged to actress/model Pennelope Jimenez in 2017 but ultimately called things off in 2019.
Tony Stewart, also known as "Smoke," s an American semi-retired professional stock car racing driver and current co-owner of Stewart-Haas Racing and Superstar Racing Experience.
His achievements include being a four-time NASCAR Cup Series champion, winning two titles as a driver (2002, 2005), one as an owner/driver (2011), and another as an owner (2014).
Stewart's versatility is exceptional, claiming titles in Indy cars, midget cars, sprint cars, and USAC Silver Crown cars. He is the only driver in history to win championships in IndyCar and NASCAR.
Aside from his racing abilities, Stewart is well-known for his hot temper and sarcastic interactions with the media.
Although, Stewart's full-time racing career concluded in 2016. He still has a significant impact as a co-owner of Stewart-Haas Racing, a successful NASCAR team, and the Superstar Racing Experience.
On January 2020, he was inducted into the prestigious NASCAR Hall of Fame for his accomplishments.
Tony Stewart Wife
Tony Stewart married Leah Christine Pruett, previously known as Leah Pritchett, on November 21, 2021.
Before marrying Stewart, she married off-road racer and Monster Jam truck drivers Todd LeDuc.
After divorcing Tod, she married Gary Pritchett, an NHRA Top Fuel drag racer Steve Torrence crew member.
Unfortunately, their marriage encountered challenges, and Pruett filed for divorce from Pritchett on July 31, 2019.
She attended California State University on an athletic scholarship after graduating from high school. She eventually pursued her passion of becoming a racer after completing her education.
Pruett's career in Top Fuel began in 2013 when she joined Dote Racing. Before that, she competed in Pro Mod and Nostalgia Funny Car events.
She defeated Brittany Force in the all-female championship, which was the first time in Top Fuel since 1982.
In 2010, she won the NHRA Hot Rod Heritage Series Nostalgia Funny Car title.
She secured a seventh-place finish in 2016 with one win, followed by fifth-place finishes in 2017 with four wins, and fourth-place finishes in 2018, 2019, and 2020 with a combined total of three wins.
Additionally, in 2019, she won the NHRA SAMTech Factory Stock Showdown championship, becoming the first female champion in the class's short history.
On October 14, 2021, Pruett was announced as the Top Fuel dragster for Tony Stewart Racing for the 2022 season.
Leah Pruett Is His Biggest Fan
Tony Stewart's wife, Leah Pruett, is his biggest supporter and his number one fan.
The couple first met in 2019, and after a certain time, they started dating, but it wasn't until 2020 that they made their relationship official.
Like many others, they spent most of the pandemic quarantined together, and their bond grew stronger during that time.
On their 1-year anniversary, Tony took to social media to express his love for his lady, and calling the past 365 days with her has been the highlight of his life.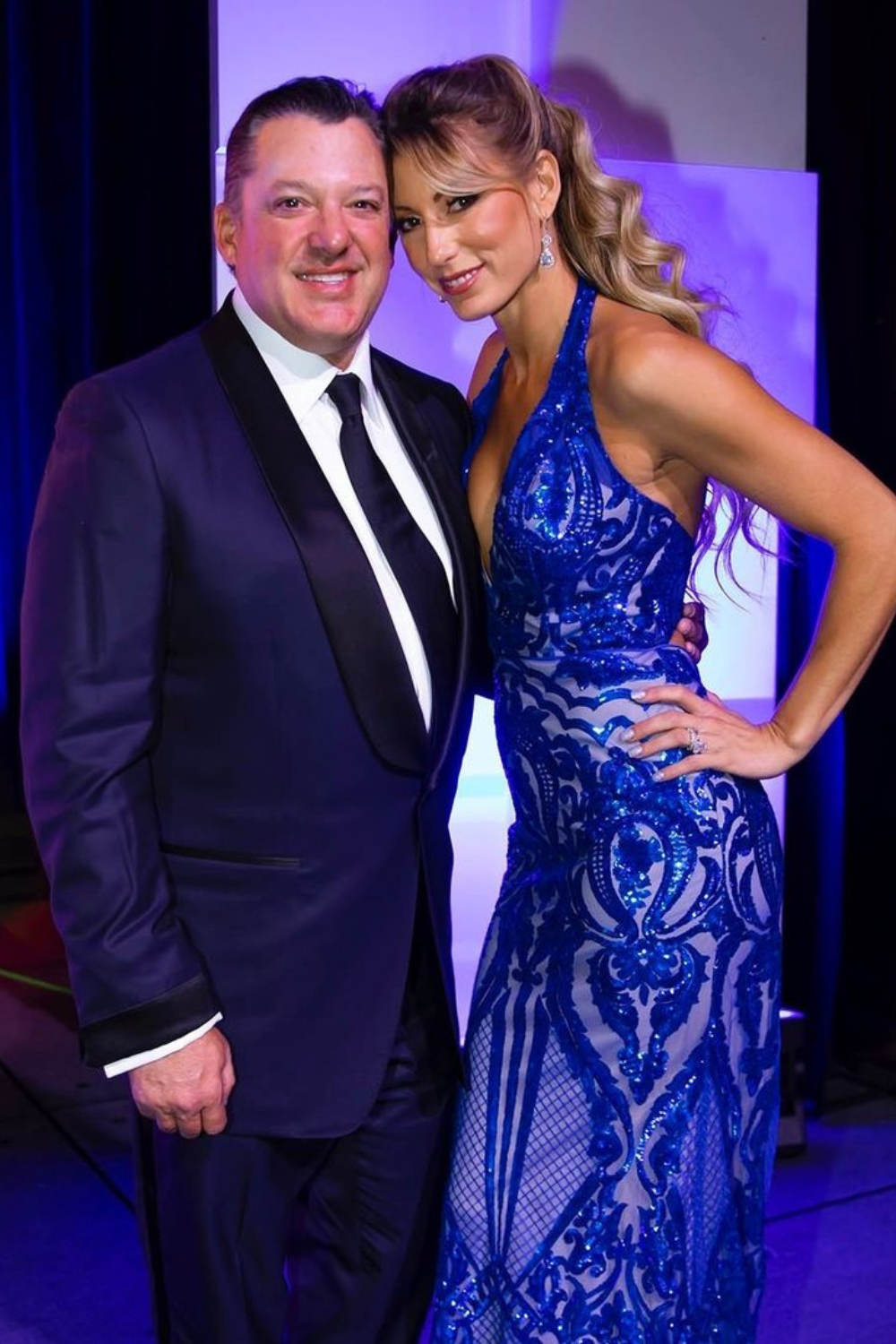 The pair announced their engagement simultaneously through their Instagram at the same time on March 18, 2021.
On November 21, 2021, they exchanged vows at a lovely ceremony in Los Cabos, Mexico.
Their shared passion for racing has played a significant role in their relationship. Tony Stewart found a true supporter in his wife.
Both of them understand the demands and challenges of the racing world, and they have always been there to support and encourage each other.
Their love for the sport has brought them closer and created a strong foundation for their marriage.