It must feel enthralling to be behind the wheels of a speeding car, to be in control yet feel the exhilaration of losing control. A few years ago, nobody would fathom seeing a woman as a racer.
In this instance, with the sweet smell of nitromethane and grease lathered racing suits, Leah Pruett is living the dream of being one of the most prominent drag racers.
What is more intriguing than a 4-second reaction to the "Christmas Tree" as it drops to green? Pruett competed in one of the fastest sanctioned drag race categories of Top Fuel dragsters and reached a career-high acceleration of 334.15 mph.
With a successful start to her racing career in 2012, the Californian has made quite a name for herself. Firstly, she made highlights after beating Brittany Force, one of the gifted drag racers of our time.
Currently, Leah is a dragster for Don Schumacher Racing, and in this article, we will try our best to cover her early life, the start of her drag racing career, her personal life, and her net worth. Also, check out some quick facts before reading the article!
Quick Facts
| | |
| --- | --- |
| Full Name | Leah Christine Pruett |
| Birth Date | May 26, 1988 |
| Birth Place | Redlands, California, U.S.A. |
| Nick Name | Leah |
| Religion | Undefined |
| Nationality | American |
| Ethnicity | Caucasian |
| Education | Not mentioned |
| Horoscope | Taurus |
| Father's Name | Ron Pruet |
| Mother's Name | Linda Pruet |
| Siblings | None |
| Age | 34 Years Old |
| Height | 5'9 ″ (1.79 m) |
| Weight | 56 kg (125lb) |
| Shoe Size | Unavailable |
| Hair Color | Dark Brown |
| Eye Color | Hazel |
| Body Measurement | Unavailable |
| Build | Ectomorphic |
| Married | Yes |
| Husband | Gary Pritchett |
| Profession | Drage Racer |
| Net Worth | $4 million |
| Crew Chief | Todd Okuhara |
| Car Number | 777 |
| Active Since | 2013-present |
| Affiliations | Bob Vandergriff Racing, Dote Racing (Former); Don Schumacher Racing, Mopar Top Fuel Dragster (Current) |
| Career Titles | Factory Stock Showdown |
| Social Media | Instagram, YouTube, Website, Twitter |
| Last Update | July, 2022 |
Leah Pruett | Early Life, Education, & Racing
Leah Christine Pruett, or simply Leah Pruett, is an American drag racer born in Redlands, California (U.S.) on March 26, 1988. Also, she is the daughter of Ron and Linda Pruett and a sister to Lindsey Pruett.
Likewise, the dragster holds American citizenship and fits the Caucasian ethnic classification. On the other hand, after completing high school education, the drag racer enrolled in California State University on an athletic scholarship as per essentiallysports.com.
Moreover, the American possessed a flair for drag racing at an early age. As an 8-year-old child, she was all about cars, engines, and races. Eventually, after completing her education, she pursued her passion for being behind the steering wheel.
Leah Pruett | Age, Height, & Body Measurements | How Old is Leah Pruett?
The dragster is 34 Years Old from the time of writing. In the same way, the blonde racer started her career in 2012, 24 years old then. It proves that regardless of what age you chase your dreams, commitment gets you to the top.
Moreover, Leah stands at the height of 5'9″ (1.79 m), making her one of the tallest female drag racers.
Her impressive body figure does enough to compliment her tall stature. Likewise, her body measurements include 33-inches of the bust, 24-inches of the waist, and 35-inches of the hips as per bodysize.org.
Hence, it is evident from her measurements that the Californian dragster spends sufficient time at the gym. Further, Pruett has other sporting interests apart from drag racing like snowboarding, golf, wakeboarding, and volleyball.
Most importantly, Leah isn't just famous for being a racer alone; her beauty definitely adds the icing on the cake. In short, the dragster has an ectomorphic physique, distinct blonde hair, and a squared jawline.
Leah Pruett | Career: Drag Racing
Leah's father, Ron Pruett, was a former drag racer who holds the world record for the highest land speed. Ultimately, a young Pruett and her sister would attend their father's races, and racing became part of the family.
Thereafter, following suit in her father's footsteps, the Californian became a racer herself for the Junior levels at eight years of age. Similarly, when Leah was ten years old, the pre-teen claimed the National Team Champion Racing title held by NHRA Jr. Dragster.
Additionally, Pruett claimed the Junior Dragster title every year, and by 2005, the Californian had 37 NHRA Jr. titles to her collection. In fact, after breaking a record of completing a race in 5 seconds elapsed time, the blonde dragster secured her license for NHRA's NitroFunnyCar.
In like manner, the dragster broke yet another record after registering 250 mph at the Nitro Nostalgia Funny Car race in 2009.
Eventually, R2B2 Racing signed her in 2011, and the same year she gifted her employers with two back-t0-back wins at the Pro Mod License.
However, Leah's career's biggest headline didn't come until she defeated Brittany Force at the NHRA National Championship held in Arizona. It was February of 2016, and the Californian dragster took the media by storm.
As a result, many companies were eager to lure her into a sponsorship deal. Thus, Mopar, Papa John's Pizza, and even the U.S. Army reeled her in their contract. As of recent, Sparkling Ice has the sponsorship responsibility aside from those above.
On the contrary, the Redlands native made an official debut for the Top Fuel in 2013 and remained a prominent face for the category. Leah is a woman who was made to set and break records.
Simultaneously, in 2017, Pruett raced a 1000 feet distance in less than 3.65 seconds, registering a 331.85 mph top speed in the Nitro Spring Training event located in Chandler, Arizona.
Despite being the fastest recorded finish, it does not make the national record list as NHRA did not sanction the event.
Furthermore, in the second qualifying stage of the NHRA Arizona Nationals in 2017, Leah raced past the track at 329.34 mph in 3.658 seconds. Notwithstanding that, the American dragster topped that number with the best speed of 334.15 mph in 2018.
Career Highlights & Achievements
2012: 3 Pro Mod Wins at Charlotte 2, Vegas 2, and Charlotte 1
2013: Third place in Topeka; Career best time of 3.812 seconds and speed of 319 mph at Reading
2014: Raced to a semifinal appearance in Las Vegas 2; Career-best time and speed at the same venue
2015: First runner-up finish (Atlanta); Semi-final (Charlotte 2); Career-best time and speed
2016: First-ever win with Bob Vandergriff Racing (Phoenix); Reached Championship playoff; Signing with Don Schumacher Racing; Number 1 qualifying position at Reading
2017: Consecutive four-race wins; No. 1 Qualification (6 times); Final Rounds (6 times); Career-best in St. Louis and Brainerd; Second Countdown to Championship qualification
2018: SAM Tech Factory Stock Showdown World Championship; 2 Top Fuel wins; Career-best (e.t.) at Auto Club NHRA Finals
2019: Second Brainerd win; Runner-up Finish, No.1 Qualifying position; 4th Countdown to Championship Qualifier
Apart from these, Leah was the recipient of the Spirit of Drag Racing Award, often presented to the contestants who persevere in the face of disparity. Overall, the extraordinary dragster proudly enjoys 11 event wins; 8 in top fuel and 3 in Pro Modified.
Leah Pruett Net Worth | Salary & Income: Merchandise |Who Sponsors Leah Pruett?
To begin with, as of 2022, Leah accumulated a stunning net worth of $4 million. Also, there isn't a fixed salary for racers. Instead, one gets paid depending on the performance delivered on the race day.
Besides, Pruett received a $9,500 sum at the Atlanta Dragway and became one of the highest-paid racers at that time. In like manner, after her previous employer's dissolution, the Californian signed on to race with Don Schumacher Racing in 2016.
Added to that, the latest news suggested that Leah is exiting the deal with Don Schumacher, but there are no confirmations to date. Conversely, a seasonal win will grant a $10 million prizes racer, which ends up at $5 million after distribution.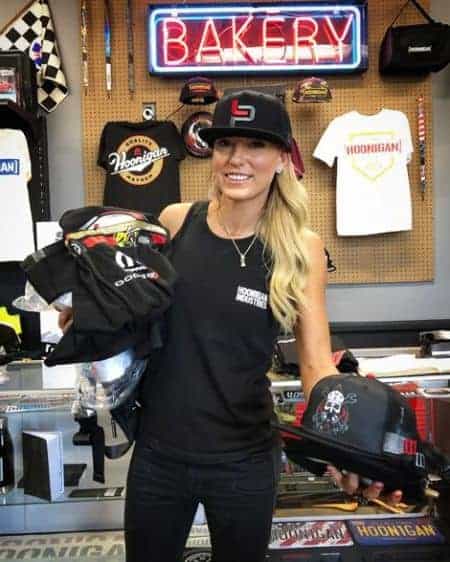 Apart from these, Pruett has a sponsorship contract from Mopar Dodge Dragster, a deal that sees her pocket a hefty sum.
At the same time, the American also appeared in a commercial for Pennzoil Synthetics, a company specializing in manufacturing motor oil.
Besides, the Californian also owns her own merchandise called The Hoonigan Leah Signature, with hand art drawn by Jon Chase. The Merch includes SS Tees, a snapback back, a pullover, a Bandito sticker, and a women's tank top.
Leah Pruett | Relationship Status | Is Leah Pruett Married?
Leah Pruett is a married woman. To illustrate, she tied the knot to Gary Pritchett, who works as a clutch specialist at Torrence Racing. Leah and Gary first crossed paths in Gainesville, Florida, while attending a sporting event.
Similarly, after their fateful meeting, the two had the opportunity to work together on the Vandergriff Racing Team. Nonetheless, after their employer's closure, the couple now works for the team's opposite side.
More so than never, Leah and Gary get pitted against each other even if they don't want to be competitors in and off the pitch. Above all, also while working for rival teams, the couple remained supportive of each other.
Granted that the couple had a rollercoaster yet an eventful career, their personal life couldn't find the balance. Consequently, Pruett filed for divorce after many years of enjoying the company of a man who she once thought was her soulmate.
The divorce was finalized on July 31, 2019, in Hendricks County of Indiana. Currently, Leah Pruett lives in Lake Havasu City, Ariz.
Social Media Presence
Instagram handle (@leah.pruett): 254k followers
YouTube handle (Leah Pruett): 955 subscribers
Website (leahpruett.com)
Twitter handle (@LeahPruett_TF): 45.3k followers
You might be interested in buying Leah Pruett's autographed NHRA Hero Card, click the link to follow!
Leah Pruett | FAQs
Is Leah Pruett dating now? How big is her engagement ring?
Yes, after her bittersweet memory with Gary Pritchett, Leah is now dating Tony Stewart ( semi-retired professional stock car racing driver and current NASCAR team owner).
As per the sources, the duo started talking back in 2020, and Stewart was with Leah during the pandemic in Arizona.
Following their enclosure of the relationship, Stewart showed his satisfaction that Leah understands the industry and the stress it follows.
Altogether, Leah Pruett flaunts an engagement ring of 4 to 5-carat diamond.
How badly did Leah Pruett hurt herself in the Midwest Nationals?
During the Mopar Express Lane NHRA Midwest Nationals, Leah Pruett had an apparent chassis failure, which sent her dragster soaring through the air.
However, Leah was thankful she didn't have the huge damage with her. Still, Pruett faced sprained lower back and some bruises.
#TBT Side by side in our side-by-side. 😎 pic.twitter.com/UiZjm3C2K4

— Tony Stewart (@TonyStewart) February 11, 2021