Powerlifter dates back to ancient Greek times when unbelievable body strength was distinctly valued.
Powerlifting is a strength sport that compromises 3 major compound lifts squat, bench press, and deadlift.
World Strongman event also follows similar powerlifting rules to determine who is the strongest man in the world.
If you ask anyone in the strength game, many would answer Ed Coan as the greatest powerlifter ever.
However, to find out who makes it into our list of the top 10 greatest powerlifters of all time, let's dig into the article without any delay.
10. Eddie Hall
Nationality: British
Professional Sports: Strongman
Nickname: The Beast
Height/Weight: 190cm/ 160 kg
Although Eddie Hall has already retired, he is still popular among fans due to his TV appearances.
Likewise, he became UK's Strongest Man for 6 consecutive years from 2011 to 2016. Similarly, from 2014 to 2018, he secured the successive titles of Britain's Strongest Man.
Hall also has appeared in Europe's Strongest Man on two occasions finishing second in the 2017 edition, where he also set the world record for Axle press lifting 216 kg (476 lbs).
He didn't manage to qualify for World Strongest Man in 2012 and 2013. However, for the next 4 years, he always finished within the top 10.
Moreover, in 2017 World Strongest Man Hall claimed his only World Strongest title and decided to retire due to health issues.
Previously, his best finish was in the 2016 edition, where he came third.
In the same year, at World Deadlifts Championship, he also set a deadlift world record at official events lifting 500 kg (1,102 lbs).
9. Mikhail Koklyaev
Nationality: Russian
Professional Sports: Strongman, Powerlifting, Olympic weightlifting, Boxing
Nickname: Misha
Height/ Weight: 193cm/ 134kg
Mikhail Koklyaev began his professional career as a strongman. He finished third in Arnold Strongman Classic three times and second once.
Likewise, in ISFA Strongman World Championship, he secured the third position once and the second position twice.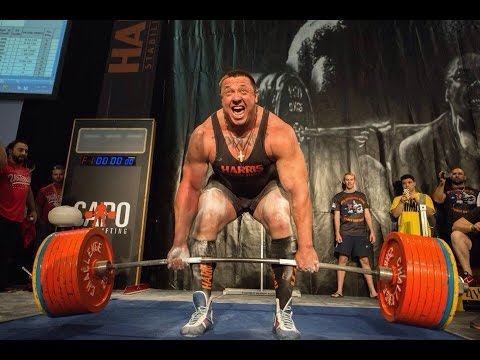 He is multiple winners of the Strongman Champions League. Altogether he has 7 titles to his name and several podium finishes.
As a powerlifter, Koklyaev won WPC Raw European Championship in 2012.
His personal best powerlifting records stands 360kg/ 793.7 lbs for squat, 230 kg/ 507.1 kg for bench press, and 417.5 kg/ 920 lbs for deadlift totalling over 1,007.5 kg/ 2,221 lbs.
Later, in 2019 Koklyaev made his professional boxing debut. But he lost the match by TKO to Alexnder Emelianenko.
Top 12 best pool players in the world>>
8. Hafþór Júlíus Björnsson
Nationality: Icelandic
Professional Sports: Basketball, Strongman
Nickname: The Mountain
Height/ Weight: 205 cm/ 156 kg
Most people know Hafþór Júlíus Björnsson from the famous HBO TV series Game of Thrones, where he played Gregor Clegane for 5 seasons.
Moreover, Björnsson is the first to win Arnold Strongman Classic, Europe Strongest Man, and World Strongest Man in the same year in 2018.
However, before starting his professional acting and strongman career, he was a basketball player. But at the age of 20, an only ankle injury forced him to retire.
In 2010 he started competing in a strongman competition. Later, he won Iceland's Strongest Man title for 10 consecutive years from 2011 to 2020.
Likewise, he is also 4 times Giants live winner and 5 times Europe Strongest Man champion.
Furthermore, in 2018 Björnsson finally claimed the title of World Strongest Man after finishing third and second 6 times in past years.
Similarly, he set the world record on elephant bar deadlift, lifting 474kg (1,045 lbs) at the Arnold Classic in 2019.
Björnsson is also a world deadlift record holder. In 2020, under strongman rules, he deadlifted 501 kg (1,105 lbs) in his Iceland gym.
7. Andy Bolton
Nationality: British
Professional Sports: Strongman, Powerlifting
Nickname: Unavailable
Height/ Weight: 188 cm/ 164 kg
Andy Boltman began the powerlifter journey at the age of 20 years in 1991. He first competed at a local powerlifting contest known as BAWLA Yorkshire Junior Championship.
Later, he started competing in World Powerlifting Congress events. As a result, he is 3 times WPC Powerlifting champions and also holds few WPC world records.
His total of 1273 kg/ 2806 lbs and squat of 550.5kg/1213 lbs is WPC records yet to be broken. Moreover, his total squat records stand third and fourth in the respective category.
Furthermore, Boltman is 15 times British Powerlifting champion and 7 times WPO world champion.
He is also named in the Guinness Book of World Records for becoming the first powerlifter to lift over 1000 lbs. Likewise, he is a previous world deadlift record holder lifting 457.5kg/ 1008.6 lbs.
Competing in strongman competitions, he secures his best position in the 2002 Arnold Strongman Classic, finishing fifth.
Nationality: American
Professional Sports: Strongman
Nickname: Gigantor
Height/ Weight: 203cm/ 199kg
Brian Shaw fell in love with strength after graduating from college. Before, he was a college basketball player.
He began his professional strongman journey began competing in the 2005 Denver Strongest Man competition.
Moreover, he competed in the tournament without any formal training. Later, within seven months, Shaw was among professional strongman athletes.
He competed in his first World Strongest Man contest in 2008. Since then, he has been to record 13 finals, winning four times.
Likewise, he has finished in other podium positions 6 times and record the top 5 placings 12 times. Shaw is also a record holder for most consecutive WSM appearances, with 14 to his name.
He is also a world record holder of a little bighorn handle lifting 108kg (238lbs). In addition, in 2021, World Strongest Man, he set a key toss world record, tossing over 7.75 meters.
Furthermore, Shaw has won 3 Arnold Strongman Classic and 6 Strongman Super Series titles.
5. Paul Anderson
Nationality: American
Professional Sports: Olympic weightlifting/ Strongman/ Powerlifting
Nickname: Unavailable
Height/ Weight: 179 cm/ 163 kg
Paul Anderson is the genuine hero in the world of strength professionals. Anderson started lifting weights when he joined Furman University, the football team.
Later, at the age of 20, he participated in his first-ever powerlifting competition, breaking the official 30 years old squat record squatting 650 lbs.
In 1955 he became World Champion and also set a two world record. First one for 184.9kg/ 407.7 lbs bench press and 512.3 kg/ 1,129.5 lbs total weight.
Next year, in the Melbourne Olympics Anderson, won a 90+ kg weight division, weightlifting gold medal. He is also a 1955 and 1956 US Weighlifting champion.
In 1957, Anderson registered his name into Guinness Book of World Record after back lifting 2,840kg/ 6,270 lbs. It has been cited as "The greatest lift completed by humans."
As a powerlifter, he created 18 American and 8 World Records. Moreover, he retired as undefeated.
Amazon's Most Reviewed Cheer Shoes>>>
4. Bill Kazmaier
Nationality: American
Professional Sports: Wrestling/ Strongman/ Powerlifting
Nickname: Unavailable
Height/ Weight: 179 cm/ 163 kg
Bill Kazmaier is one of the greatest in the field of strength competitions. Moreover, he dropped out of college to focus on becoming a powerlifter.
At the age of 25, Kazmaier set a bench press world record lifting 663 lbs while winning the 1979 IDF World Powerlifting Championship. He won the title again in 1983 with a total of 2292 lbs.
During his first World Strongest Man contest in 1979, he secured the third position. Later, he went to win 3 consecutive titles from 1980 to 1982.
He retired with many records, but most of them are already broken.
As a powerlifter, he is a former IDF SHW class world record holder in the bench press and deadlift, lifting 300kg/ 661.4 lb and 402kg/ 886.7 lb.
Likewise, some of Kazemaier WSM feats include car deadlift (1159 kg/ 2555 lbs), cement block lift (440kg/ 969 lbs), silber dollar deadlift (478.5 kg/ 1055 lbs) and hungarian farm cart deadlift (510kg/ 1124 lbs).
Furthermore, Kazemaier competed for multiple wrestling promotions companies. Moreover, his biggest exposure came in WCW's debut in 1991.
3. Mark Henry
Nationality: American
Professional Sports: Wrestling/ Strongman/ Powerlifting
Nickname: Sexual Chocolate/ The King of the Jungle
Height/ Weight: 193 cm/ 160 kg
Mark Henry, aka Sexual Chocolate, is probably the most famous name on the list. He is a popular name in the World Wrestling Entertainment world.
He is two times WWE champion and a one-time world-heavy weight champion. Moreover, in 2018 he was inducted into the WWE Hall of Fame.
Talking of his powerlifting career, he is 1995 WDFPF world champion and 1995 and 1997 USA National champion.
Henry's raw powerlifting total of 1,060 kg/ 2,336.9lbs ranks him first by drug tets powerlifter and second in history.
He has also represented the USA at the Olympics in weightlifting on two occasions. Furthermore, in 2002 he won Arnold Strongman Classic scoring 25 points.
2. Zydrunas Savickas
Nationality: Lithuanian
Professional Sports: Strongman/ Powerlifting
Nickname: Big Z
Height/ Weight: 191 cm/ 170 kg
Zydrunas Savickas is often regarded as the greatest strength athlete ever to live. He broke all Lithuanian powerlifting records just at the age of 17.
The titles won by him are just incredible. For instance, he is 16 time Lithuanian Strongest Man. Likewise, he is 4 times World Strongest Man and has finished second place 6 times.
Similarly, Savickas record 8 times Arnold Strongman Classic winner. Likewise, he has 3 Europe Strongest Man, 2 ISFA Strongman, and 2 overall Strongman Championship to his name.
His squat 410kg (900 lb), bench press 250 kg (550 lb) and deadlift lift 360 kg (790 lb) is national record.
Furthermore, he also holds several strongman records. In 2015 he lifted 238kg/ 503 lb log.
In 2010, he completed 8 clean reps of Apollon Axle Press weighing 166 kg/ 366lb. Previously he also held records for hummer tire deadlift, metal block press, atlas stone, and giant barbell deadlifts.
Top 20 Richest Bodybuilders in the World>>>
Ed Coan
Nationality: American
Professional Sports: Powerlifting
Nickname: Ed
Height/ Weight: 168 cm/ 99 kg
Although many legendary names pop up in the strength world, one name arguably stands above all that's Ed Coan.
Nobody dominated the powerlifting like he did, setting up 71 official ad 30 unofficial records in his professional career.
Moreover, he is among the athletes who accepted doping as part of powerlifting. Likewise, he is the lightest powerlifter to cross a total of 2,400 lbs.
Similarly, Coan's total of 2,463 pounds ranks highest in all-time total records. His personal best record stands as squat (462 kg/ 1019 lbs), bench press (265 kg/ 584 lbs) and deadlift (409 kg/ 901 lbs).
During his professional career, he claimed 7 USPF senior national championships and 6 IPF World Championships.
Even serving a lifetime ban due to doping Coan is still considered a powerlifting legend. He was also inducted into the International Sports Hall of Fame in 2015.
Summary
Whether you are interested in powerlifting or not, you must have seen these athletes on TV or social media.
Many people may be confused why bodybuilders are not listed. It's because powerlifting is a way different sport.
Let us have a quick look at the summary of who makes our list of all-time greatest powerlifters.
Ed Coan
Zydrunas Savickas
Mark Henry
Bill Kazmaier
Paul Anderson
Brian Shaw
Andy Boltman
Hafþór Júlíus Björnsson
Mikhail Koklyaev
Eddie Hall