"We all have a story, and I wouldn't trade my story for anything." – Tori Bowie.
Tori Bowie, filled with passion and determination, is an American track and field athlete. Her primary field is to compete in the 100m and 200m, long jump, and sprinting events.
In the long jump, Bowie has a personal best of 6.95m, which she recorded in 2014.
Similarly, with years of hard work and sweat, she became the 2017 Champion in the 100m, and a three-time Olympian.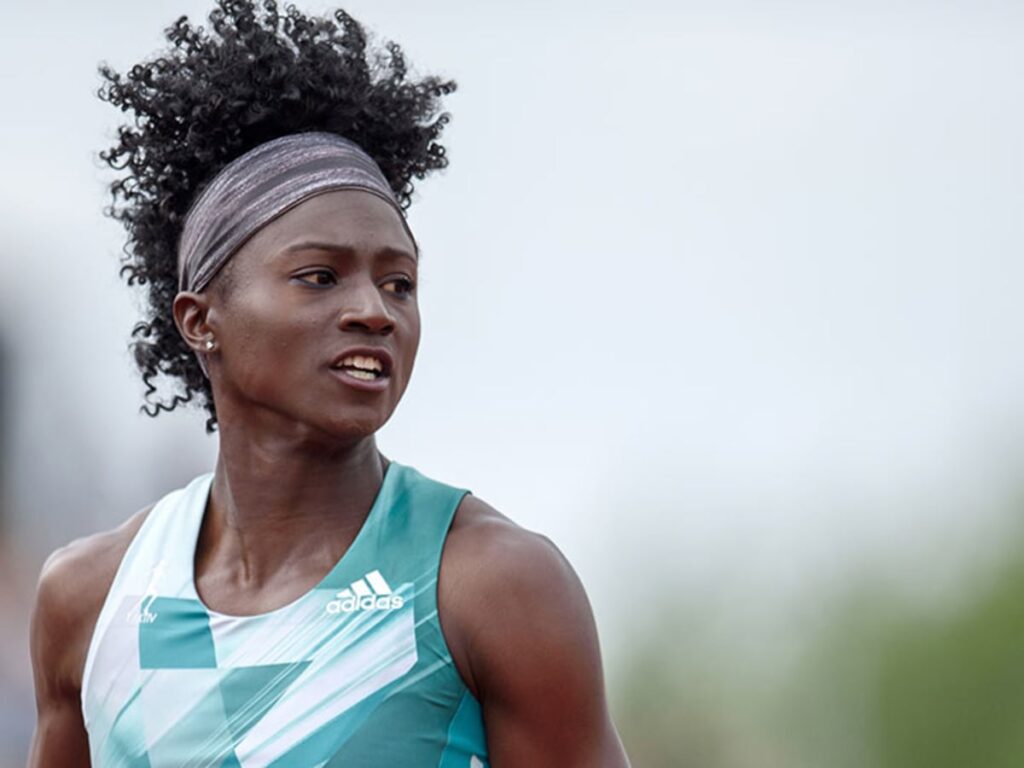 With such amazing records and achievements, she got the opportunity to represent her country at the 2014 IAAF World Indoor Championships.
Torie Bowie: Quick Facts
Full name
Frentorish "Tori" Bowie
Nickname
Tori Bowie
Birthdate
27 August 1990
Birthplace
Sand Hill, Rankin County, Mississippi
Residence
Clermont, Florida
Nationality
American
Ethnicity
Afro-American
Religion
Unknown
Zodiac Sign
Virgo
Age
31 years old
Father's name
Dennis Smith
Mother's name
Bobbie Dennis Smith
Sibling
One
Sibling Name
Tamara Bowie
High School
Pisgah High School
College
University of Southern Mississippi
Marital status
Not Married
Ex-Boyfriend
Unknown
Children
None
Weight
In Kgs: 58 kg
In lbs: 128 lb
Height
In centimeters: 175 cm
In feet: 5 ft 9 in
Eye Color
Brown
Hair Color
Black
Profession
Athlete
Country
America
Sport
Track and field
Events
100 meters, 200 meters, Long Jump
Personal Best

100 meters: 10.78 seconds
200 meters: 21.77 seconds
Long Jump: 6.95 m

Achievements
Olympic Games, World Championships
World Ranking

31 in Women's 100m
236 in Women's Overall Ranking

Salary
Unknown
Net worth
1-5 million dollars
Food Habits
Unknown
Tattoo
No
Social Media
Twitter, Instagram
Merch
Trading Card, Poster
Last Update
July, 2022
Tori Bowie: Early Life & Parents
The renowned Tori Bowie was born on 27 August 1990 in Sand Hill, Rankin County, Mississippi, to Bobbie Dennis Smith and Dennis Smith.
Tori Bowie is not a single child, and she has a sister named Tamara Bowie.
While attending the prestigious Pisgah High School, she started competing in track for the school.
She earned state medals in the 100m sprint, 200m dash, and long jump at such a young age. Similarly, she also won three state wins in the 4100-meter relay.
Being a multi-talented person, Bowie also competed on the state team in women's basketball.
With such talent in sports, she was honored with an athletic scholarship to study interdisciplinary studies at the University of Southern Mississippi.
Similarly, in NCAA Division I events, she competed for the Southern Miss Golden Eagles and Lady Eagles.
She had her greatest performance in the long jump during her freshman year. She finished third in the Conference USA indoors and second in the Conference USA outdoors.
Likewise, her marvelous performance qualified her for the NCAA Women's Outdoor Track and Field Championships, where she only leaped in qualifying.
Tori Bowie's Career Journey
Advancement in her Early Career
Tori Bowie was the Conference USA indoor runner-up after setting an indoor best of 6.23m in the long jump in her second year of college competition.
Similarly, she finished third in the long jump and qualified for the 100-meter final at the outdoor Conference USA event.
Similar to the previous result, she again became qualified for the NCAA meet after setting a personal record of 6.43m in the long jump. In the NCAA, she came sixth in the final.
She competed at the 2019 USA Outdoor Track and Field Championships at the national level, coming under top ten places overall.
At such a young age, Bowie had set numerous amount of records and achievements. However, in the 2011 season, she ascended to the top of the rankings.
At the beginning of the season, she had a long jump victory and a runner-up in the triple jump at the Conference USA indoors.
Similarly, with a jump of 6.52m, she won her maiden college championship at the NCAA Women's Indoor Track and Field, in the long jump.
She also gained a triumph at the NCAA outdoor long jump with a record mark of 6.64m. With such admirable achievements, Tori Bowie was named the conference female athlete of the year.
Bowie began her second year at the University of Southern Mississippi by winning the triple jump at the Conference USA indoor finals. The Olympian tried to set a new personal best of 13.09 meters.
Later that year, she dropped from 11.76 to 11.28 seconds in the 100-meter dash on the track.
Similarly, she attempted to defend her NCAA outdoor long jump championship in her final major appearance with the Southern Miss Eagles but was defeated by Whitney Gipson and finished second.
Timur Safin Bio: Early Life, Olympics & Military >>>
Journey into Professional Career
In 2013, Tori Bowie stepped into a professional career in track and field. She professionally debuted in the 2013 USA Outdoor Track and Field Championships.
Bowie was a semi-finalist in the 100 meters and finished fourth in the long jump at the 2013 World Championships in Athletics, just missing out on the spot for the squad.
Similarly, she participated in the IAAF Diamond League for the first time. Later, she also competed in long jumping at the Adidas Grand Prix and Herculis meets.
By the time of the 2014 season, Tori Bowie had improved her performance. In Naperville, Illinois, she established indoor records in the 60m sprint (7.14 seconds0 and the long jump (6.95m).
Bowie qualified for the 2014 IAAF World Indoor Championships after victory in the New Balance Indoor Grand Prix.
The young Olympian also finished second in the long jump at the USA Indoor Track and Field Championships.
However, she struggled in qualifying and was and was knocked out, finishing 14th overall.
At the IAAF Diamond League Championship in June 2014, she established two new personal marks in the 100 m dash as well as 200 m dash competitions.
With a time of 11.07 seconds, Bowie won the BMW Women's 100 m event. She set the fastest time in the semifinal of the 2014 USA Outdoor Track and Field Championships with a 10.91.
The 2016 Summer Olympics
Following Bowie's victory at the 2015 USA Outdoor Track and Field Championships, she earned a place in the 2015 World Championships in Athletics Women's 100 meters. There, she won a bronze medal.
While preparing at the 2016 United States Olympic Trials of track & field, she finished in third place in the 100m by running a 10.779.
Bowie finished second in the 100-meter dash at the 2016 Summer Olympics in Rio, clocking a timing of 10.83 seconds.
Likewise, she went on to win the bronze medal in the 200-meter dash in 22.15 seconds. As a member of the 4100 m relay team, she also earned a gold medal.
She also won the gold medal in the 100-meter dash at the 2017 World Athletics Championships in London, clocking a timing of 10.85 seconds with a .01-second margin of victory.
On April 27, 2019, Bowie set the entrance standard for the 2019 World Championships by jumping 6.78 m at the BYU Robison Invitational on Clarence Robison Track at Brigham Young University.
Please get to know about Connor Jaeger and his career records along with his earnings >>>
Tori Bowie: Achievements
Gold medal in 4*100m relay at the 2016 Rio de Janeiro Olympics
Silver medal in 100m at the 2016 Rio de Janeiro Olympics
Bronze medal in 200m at the 2016 Rio de Janeiro Olympics
Gold medal in 100m at the 2017 London World Championships
Gold medal in 4*100m relay at the 2017 London World Championships
Bronze medal in 100m at the 2015 Beijing World Championships
Tori Bowie: Relationship Status
The 30 years old athlete Tori Bowie is not dating anyone as of 2021. Bowie is focusing on her career and is not engaging in any relationships.
According to various other sites, it has come to light that Tori Bowie had at least been in one relationship previously. However, she has never been engaged before.
Tori Bowie: Net Worth
The three-time Olympic medalist Tori Bowie has a net worth between $1 million to $5 million.
The primary source of her fortune comes from her hard work in Track & Field.
In addition, she also has an endorsement deal with the famous sports brand Adidas.
Click here to know about the Olympic Champion, Alexander Massialas's Relationship, and more >>>
Tori Bowie: Social Media Presence
One can find the renowned athlete on social media handles such as Instagram and Twitter.
Tori Bowie is seen quite active in her social media, posting about her achievements along with her vacation pictures.
She also updates her followers about her different collaborations with the sports company Adidas.
Make sure to give her a follow and to know more about her life
Instagram: 46.2k followers with 1,429 followings
Twitter: 14.9k followers
FAQs
Does Tori Bowie still participate in competitions?
The 30 years old athlete was last seen running 100m hurdles at the 2019 Worlds. There, she had lowered her personal best while competing in the semifinals and the finals.