It's not unusual to hear Kobe Bryant, Tim Duncan, and LeBron James mentioned in talks about the greatest players of the 2000s. However, one deserving name is often forgotten. It's Tracy McGrady.
Tracy McGrady is one of the prolific scorers in the NBA. Seven-time NBA All-Star, seven-time All-NBA selection, two-time NBA scoring champion, and the 2001 NBA Most Improved Player Award winner, Tracy McGrady, has a long list of achievements.
In addition, he was honored by being inducted into the Naismith Memorial Basketball Hall of Fame in 2017. His laid-back nature and ability to score goals made him a staple name in the NBA.
Where is Tracy McGrady now, and what is he doing after retirement? Make sure to read to the end to figure it out.
In addition, this article will discuss Tracy McGrady's early life, net worth, professional career, and personal life. But let's look at some quick facts about him first.
Quick Facts
Full Name
Tracy Lamar McGrady Jr.
Name

Tracy McGrady

Nick Name
T-Mac, The Big Sleep
Date of Birth
May 24, 1979
Age

44 years old

Birth Place
Bartow, Florida, US
Nationality

American

Ethnicity

Black

Zodiac Sign

Gemini

Height
6 ft 8 in (2.03 m)
Weight
225 lb (102 kg)
Hair Color

Black

Eye Color

Black

Father's Name

Not available

Mother's Name

Melanise Williford

Siblings

One brother; Chancellor "Chance" McGrady

High School

Auburndale High School
Mount Zion Christian Academy

Education

High School

Marital Status

Married

Wife
CleRenda Harris
Marriage Year

2006

Children

Four; Layden McGrady, Laymen Lamar McGrady, Layla Clarice McGrady, Laycee Aloa McGrady

Profession

Former NBA Player

Position
Shooting guard / Small forward
Jersey No.
1,3
Leagues

National Basketball Association (NBA)

NBA Draft
Ninth overall in the 1997 NBA draft by The Toronto Raptors.
Debut Year

1997

Retirement

2013

Playing Teams

Toronto Raptors (1997–2000)
Orlando Magic (2000–2004)
Houston Rockets (2004–2010)
New York Knicks (2010)
Detroit Pistons (2010–2011)
Atlanta Hawks (2011–2012)
Qingdao Eagles (2012–2013)
San Antonio Spurs (2013)

International Award

Gold at 2003 FIBA Americas Championship

Awards and achievements

NBA Most Improved Player (2001)
CBA All-Star (2013)
No. 1 retired by Qingdao Eagles
Mr. Basketball USA (1997)
McDonald's All-American (1997)
First-team Parade All-American (1997)

Net Worth

$70 million

Social Media
Instagram, Facebook Page
Merch

Basketball Trading Card

Last Update

December, 2023
Tracy McGrady | Early Life
On May 24, 1979, Tracy Lamar McGrady Jr. was born in Bartow, Florida. He was the son of his mother, Melanise Williford. Unfortunately, his father's whereabouts aren't known.
His mother raised Tracy with the help of his grandmother. Tracy's father was non-existent in his life. Tracy also has a younger brother named Chancellor "Chance" McGrady.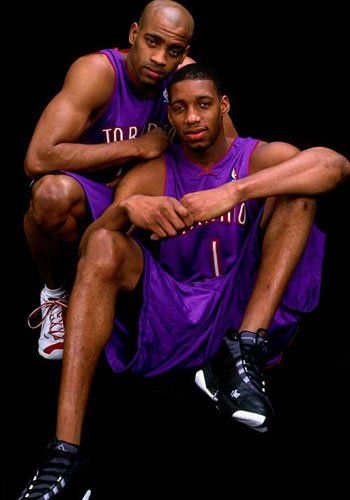 Tracy's younger brother is also a basketball player. He played in the 2008 NCAA Division I Men's Basketball Tournament. Also, his cousin Vince Carter is one of the big players in the NBA.
Tracy attended Auburndale High School for education but later transferred to Mount Zion Christian Academy in Durham, North Carolina, for his senior year. He did not continue his education then after.
Age, Height & Weight
Tracy McGrady was born on May 24, 1979, making him 44 years old.
Furthermore, Tracy was born in Bartow, Florida, US, and identifies as an American of black ethnicity.
Also, McGrady is 6 ft 8 in (2.03 m) tall and weighs around 225 lb (102 kg).
You may also like reading about the cousin of Tracy McGrady, Vince Carter, and his NBA journey>>
Tracy McGrady | Career
Collegiate Career
McGrady played basketball and baseball in high school for three years at Auburndale High School in North Carolina before switching to Mount Zion Christian Academy in Durham for his final year.
McGrady became a household name after impressing at the Adidas ABCD Camp. He won several awards, including McDonald's All-American, USA Today High School Basketball Player of the Year, and Mr. Basketball of North Carolina.
Initially, he thought about attending the University of Kentucky, but he finally opted to participate in the NBA draft.
Professional Basketball Career
After being drafted McGrady's ninth overall in the 1997 NBA draft by The Toronto Raptors, Tracy McGrady embarked on his NBA career.
Tracy began his career as a low-minute player, but he and his cousin Vince Carter became a formidable team with time. Tracy says he had the worst time in Toronto as he felt lonely and ignored. Thus, he left Toronto to join Orlando Magic in 2000.
He later played for New York Knicks, Detroit Pistons, and Atlanta Hawks. His injuries affected his performances in NBA.
He briefly played for the Qingdao DoubleStar Eagles of the Chinese Basketball Association (CBA) and the San Antonio Spurs for only two seasons before retiring in 2013.
After retirement, McGrady has been working as an ESPN basketball commentator.
International Career
McGrady was named to the United States men's basketball team for the FIBA Americas Championships 2003 in San Juan, Puerto Rico. Tracy helped the team win the gold in the championship and ultimately led to the selection of the US team in the 2004 Olympic Games.
Professional Baseball Career
For three months, McGrady played as a pitcher for the Sugar Land Skeeters of the Atlantic League of Professional Baseball, fulfilling his lifelong ambition to play professional baseball.
Tracy McGrady | One's Basketball League
McGrady started his one-on-one basketball league named One's Basketball League. The league will go around the country for seven weeks and crown champions in seven cities. Then, the winner will get $250,000 in Las Vegas.
OBL was born because of Tracy's love for one-on-one basketball. He says 1v1 basketball requires different talents than the team game. Thus his league may include a broader range of players and allow each player to shine.
He says not everyone makes it to the NBA. Just because they can't make it to international and national tournaments does not mean they aren't talented. He aims to bring hidden basketball talents through his league.
Andrew Bynum is an NBA player drafted straight out of high school. Read about his NBA journey here>>
Tracy McGrady | Awards and Achievements
Seven times NBA All-Star (2001–2007)
Two times All-NBA First Team (2002, 2003)
Three times All-NBA Second Team (2001, 2004, 2007)
Two times All-NBA Third Team (2005, 2008)
Two times NBA scoring champion (2003, 2004)
NBA Most Improved Player (2001)
CBA All-Star (2013)
No. 1 retired by Qingdao Eagles
Mr. Basketball USA (1997)
McDonald's All-American (1997)
First-team Parade All-American (1997)
Tracy McGrady | Wife and Children
NBA player Tracy McGrady is married to CleRenda Harris. They first met at North Caroline University and instantly fell in love. The couple married on September 12, 2006.
Mcgrady is blessed with four children: Layden McGrady, Laymen Lamar McGrady, Layla Clarice McGrady, and Laycee Aloa McGrady.
His first child, Laymen Lamar, was born on December 27, 2005. He was born during a Houston game, leaving at halftime to go to the hospital.
Usually, the kids of NBA stars follow their fathers' footsteps, but Tracy's children are different. Tracy says his kids aren't interested in watching NBA games at all. They would rather watch Youtube over the NBA games.
Social Media Presence
Tracy McGrady is active on his social media, particularly on Instagram. Make sure to follow him on the following social media handles :
Instagram : 787K followers
Facebook Page : 17,76,432 likes
Tracy McGrady | Net Worth and Salary
It is estimated that Tracy McGrady has a net worth of $70 million. Most of Tracy's net worth is from his career as an NBA player.
The player signed a rookie deal with the Toronto Raptors for $1,359,360.In addition, McGrady inked a three-year agreement with the Houston Rockets at a total of $63 million which is the most expensive contract.
Gilbert Arenas is a famous NBA player whose career went downhill after the firearm incident. Read more about him here>>
Tracy McGrady | Lifestyle
Tracy McGrady is known for her extravagant way of living. He and his frequent family travel to other countries for vacation, and he owns a lot of expensive property.
McGrady is the proud owner of a lavish mansion in Houston, Texas. The property cost him $8 million. Aside from this, he owns many luxurious cars, including Mercedes, Land Rover, Hummer, and others.
In addition, he spent 19 million dollars on purchasing a private jet with a customs number since he was terrified to fly on a commercial airliner following the tragic events of 9/11.
Frequently Asked Questions (FAQS)
What are the overall NBA statistics for Tracy McGrady?
Tracy McGrady played 938 games in his NBA career with an average of 5.6 rebounds, 1.6 steals, 4.4 assists, 0.4 blocks, and 19.6 points per game.
He scored 18,381 points, 5,276 rebounds, and 4,161 assists.
Does T-Mac have a ring?
Unfortunately, Tracy McGrady (T-Mac) does not have any ring. He couldn't lead his team beyond the first round. Tracy shined as an individual but not in a group.
A player's team record is essential, but it shouldn't be the only criterion to evaluate him. He is still the best player despite not winning a ring.