Trea Turner is married to his wife Kristen Harabedian, a former athlete who was a gymnast at North Carolina State University.
Trea Turner and Kristen Harabedian met during their studies at North Carolina State University. Eventually, they fell in love and got married on November 11, 2018.
Trea Vance Turner is a professional baseball shortstop for the Philadelphia Phillies in Major League Baseball (MLB).
He has also represented the United States national team in international competitions.
Turner played college baseball at North Carolina State University, where he honed his skills.
In 2014, he was selected by the San Diego Padres in the first round of the MLB draft and later traded to the Washington Nationals in 2015.
Although he was primarily developed as a shortstop, he made his MLB debut in 2016 as the starting center fielder for Washington and later returned to shortstop.
In 2021, Turner was traded to the Los Angeles Dodgers before becoming a free agent after the 2022 season.
He has numerous accolades to his name, including being a two-time MLB All-Star and leading the National League in batting average and stolen bases multiple times.
Moreover, Turner was part of the 2019 World Series championship-winning team.
Trea Turner Wife
Trea Turner's wife, Kristen Harabedian, was born on May 1, 1992, in Flemington, New Jersey.
She is the daughter of John and Donna Homulak Harabedian and attended Hunterdon Central High School.
Kristen was an excellent gymnast during her high school years and was even featured in Sports Illustrated's "Faces in the Crowd" segment in January 2010.
In her senior year, she helped her team, the Red Devils, earn a second-place finish with her impressive gymnastics skills.
Later Kristen pursued her higher education at North Carolina State University.
At NC State, she not only earned her B.S. in Management but also excelled as a gymnast representing the Wolfpack's women's gymnastics team.
Trea Turner And Kristen Are College Lover
Trea Turner and Kristen Harabedian's love story began while studying at North Carolina State University.
Kristen was a talented gymnast, and Trea was pursuing his baseball career. During their time at the university, they developed a feeling for each other and soon began dating.
After six years of being together, they tied the knot in a beautiful wedding ceremony in November 2018.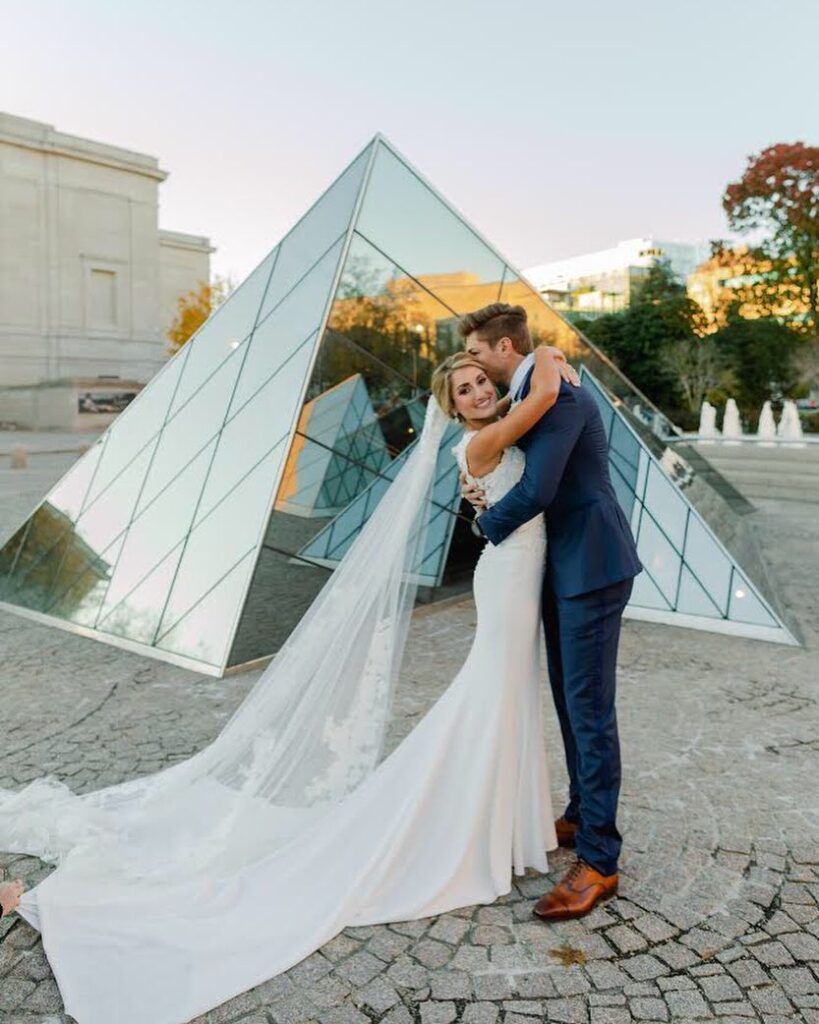 Their journey together began at college, and they have continued to grow as a couple throughout their years together.
Kristen Soon To Be Mother of Two
After being married for three years, the MLB Couple joyfully announced that they were going to be parents soon.
Kristen and Trea took to Instagram to share their excitement with their followers, posting a heartwarming photo of themselves holding a jersey and an ultrasound picture.
In the caption, they expressed their excitement and announced the wonderful news that "Baby Turner" would be arriving in February 2021.
They finally welcomed their first child, a baby boy, in February 2021.
Kristen surprised her followers once again by sharing a picture of herself, her husband, and their son.
She showcased her growing baby bump with the caption, "Soon to be a family of four."