Treena and Charles Dumba are the parents of the famous Canadian Minnesota Wild defenseman and founding member of the Hockey Diversity Alliance, Matt Dumba.
Matt Dumba was born in Regina, Saskatchewan, Western Canada, on July 25, 1994. Later, his parents moved him to Calgary, Alberta. He learned to skate when he was just three years old and slowly started playing minor hockey in Calgary.
The ice hockey player debuted in the Red Deer Rebels of the Western Hockey League in 2009. He got the WHL Rookie of the Year Jim Piggott Memorial Trophy because of his best performance.
Later, he was selected seventh overall in pick in the 2012 NHL entry draft and signed to NHL contract.
Eventually, he made his debut in NHL on 5th October 2013, he played against Anaheim Ducks He became the first player of Filipino descent to play in the NHL.
Matt Dumba Parents: Treena And Charles Dumba
Matt Dumba was born to his mother, Treena Dumba, and father Charles Dumba. He was born in Canada to a Filipino mother and half Romanian and German father.
He also has a little brother Kyle Dumba who is 4 years younger than Matt.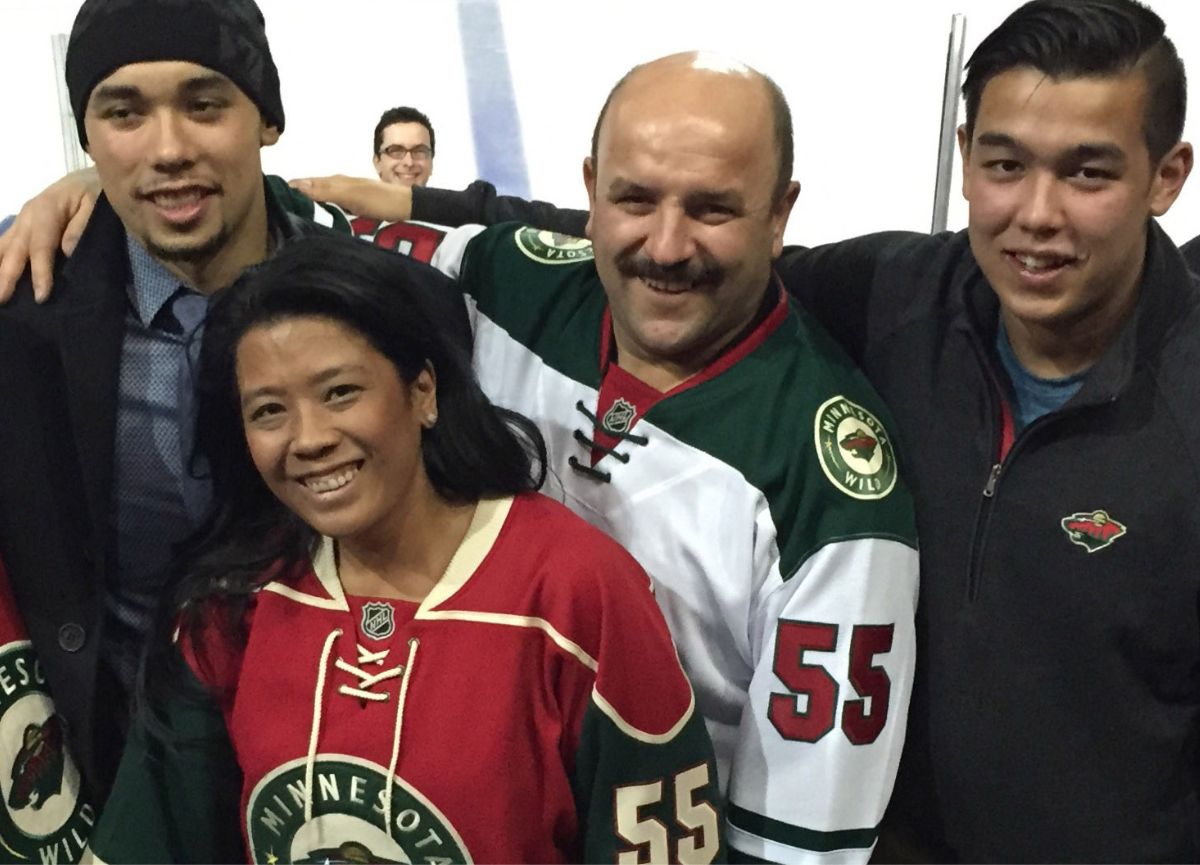 Growing up, Matt didn't have the best things, but his parents always assured him that he will have a great future. Though they didn't have much, his grandmother helped more than 2,000 people get their life back on track.
Matt often shares his childhood memories of when he and his mother used to donate meals to (unfortunate) people on holidays.
Eventually, He also wanted to make a difference in society and walk on his parents and hence grandparents' paths. Hence, whenever he had the opportunity and platform, he would too make their other lives better.
Even with his kind heart and nature of giving and sharing, Matt always faced racism. He revealed he used to get taunted for his skin color by his fellow player.
Nowadays, Matt is fiercely fighting against discrimination, and his parents are fully supporting him.
Matt Dumba Against Racism
Dumba has been seen fighting against racism in hockey. As a half-Filipino and Black Canadian, he dealt with racism ever since he was a child.
He began his fierce fight against racism after the case of George Floyd, a black man who was killed by Minneapolis police.
Later he actively started working to solve the racism problem while others were busy discussing it.
Dumba gradually became an executive member and founding member of the Hockey Diversity Alliance on June 20, 2020.
Hockey Diversity Alliance was established on June 8, 2020, with the sole purpose of eradicating systemic racism and intolerance in hockey.
Matt kneeling during the U.S. National Anthem on August 1, 2020, became one of the sensational and emotional topics at that time. He became the first hockey league player to kneel on the U.S. National Anthem.
He was wearing a Hockey Diversity Alliance hoodie with Black Lives Matter written on the sleeves.
The player also took a part in a 90-minute documentary named "Black Ice." The documentary is about black hockey players who face systemic racism in the sport.