Trey Mancini is a professional baseball player and is playing for Houston Astros. He made his official debut in 2016 as the first baseman. Aside from that, he is widely known as a "boomer," a nickname given by his fans.
Impressive since his early career, Mancini batted .480. With six home runs when he was just an amateur in a minor league.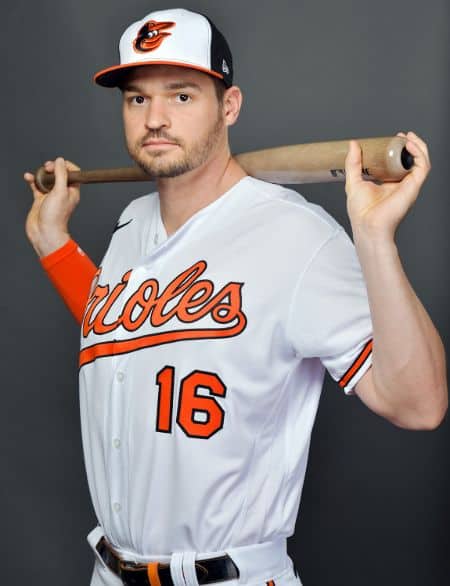 Mancini's option for 2023 was declined by the Astros, making him a free agent.
Baseball aside, there is more to Trey and his life. Today, we will discuss his family, personal growth, relationship, and career. So let's get started right his minute.
Trey Mancini | Quick Facts
| | |
| --- | --- |
| Full Name | Joseph Anthony "Trey" Mancini III |
| Birth Date | March 18, 1992 |
| Birth Place | Winter Haven, Florida, USA |
| Known As | Boomer |
| Religion | Unknown |
| Nationality | American |
| Ethnicity | White |
| University | University Of Notre Dame |
| School | Winter Haven High School |
| Horoscope | Pisces |
| Father's Name | Tony Mancini |
| Mother's Name | Beth Mancini |
| Siblings | N/A |
| Age | 31 Years Old |
| Height | 6 feet 3 inches/193 cm/1.93 m |
| Weight | 98 kgs/216 lbs |
| Build | Athletic |
| Profession | MLB Baseball Player |
| Active years | 2016-Present |
| Team | Houston Astros |
| Position | First Baseman/Outfielder |
| Jersey | No. 16 |
| Marital Status | Dating |
| Girlfriend | Sara Perlman |
| Net Worth | $3 Million |
| Social Media | Instagram, Twitter |
| Merch | Rookie Cards, Autographed Ball, Phone Cases |
| Last Update | June, 2023 |
Who Is Trey Mancini?
Trey Mancini, whose full name is Joseph Anthony "Trey" Mancini III, was born in Winter Haven, Florida, in the United States of America.
The first baseman for the Baltimore team, Mancini, is his father, Tony Mancini, and his mother, Berth Mancini.
Aside from his parents, the information on his siblings is not known. Hence, we can not be sure if he is an only child.
Education And Early Career
Talking about his education, Trey went to White Haven High School in his hometown in Florida. Since high school, he has been active as a baseball player and was part of the White Haven baseball team.
There, he batted .480 with six home runs as a senior. After his graduation, Mancini enrolled at Notre Dame and joined the Notre Dame Fighting Irish.
Along with baseball, he continued his study in political science. Likewise, he played collegiate summer baseball for the Holyoke Blue Sox of the New England Collegiate Baseball League in 2011.
The following year, he played for the Harwich Mariners of the Cape Cod Baseball League. During his junior year at the Dame, he recorded .389/.431/.603 with seven home runs and 54 RBIs in 57 games.
Moreover, in the 2013 MLB draft, Baltimore selected Mancini in the eighth round. After signing with the team, he debuted with the Aberdeen IronBirds of the Class A-Short Season New York-Penn League.
The following year, Trey started with the Delmarva Shorebirds of the Class A South Atlantic League and received a midseason promotion to the Frederick Keys of the Class A-Advanced Carolina League.
In 137 games, Mancini compiled a .284 batting average with ten home runs and 83 RBIs.
After his promotion to the Bowie Baysox of the Class AA Eastern League, Trey recorded .341/.375/.563 with 21 home runs, 89 RBIs, and 43 doubles.
Professional Baseball Career
After countless training and playing for other teams, on September 18, 2016, Trey was finally promoted to the major league.
Two days later, he made his anticipated debut at the MLB as the designated hitter against the Boston Red Sox.
Not to mention, Trey left an impressive impression on the fans as he hit a home run against Eduardo Rodriguez in his second at-bat, making him the fourth player to do so in their first Major League game.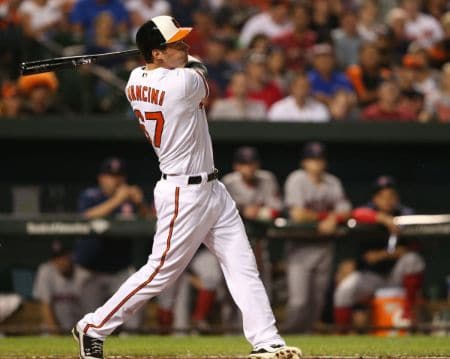 Moreover, Trey hit his second home run two nights later, becoming the 20th player in MLB history to hit a home run in his first two starts. But again, Mancini made his hattrick home run on September 24 against the Arizona Diamondbacks.
He is also the third baseball player to do so in his first three starts.
After transitioning to the outfield, Trey made the Orioles' 2017 Opening Day. He tied with Trevor Story and Dino Restelli for most home runs with 12 home runs in 72 games.
Home Runs And Records
Mancini continued hitting home runs throughout his career, and on April 22, the American player hit his eighth home run. With this, he tied with Trevor Story and Carlos Delgado for most home runs.
His game against the Pirates on June 7 is still remembered, where he hit a two-run home run in the ninth inning off closer Tony Watson.
Likewise, he hit a walk-off three-run home run off Wade LeBlanc and gave Baltimore their 9-6 victory.
Trey also became the first Oriole to hit a pinch-hit homer in the 9th inning or later and hit another home run during the same game.
Furthermore, Mancini joined Bog Powell and Eddie Murray as the only three Baltimore players to homer in the 9th inning and extras in the same game.
His home run on June 25 added his total to the 14th home run of the year, the most home runs before an All-Star break by an Orioles rookie.
Trey Mancini | Baltimore Orioles
Like his other years, 2018 also went by successfully for young Trey. The following year, Mancini started strong and led the Orioles in most offensive categories in late April.
Mancini is one of the three MLB players with at least 35 doubles, 34 home runs, and 100 runs just in 2019.
Likewise, on September 24, 2019, he set a career-high with five hits in an 11-4 win over the Toronto Blue Jays at Rogers Centre. Trey ended the season with .291, hitting 35 home runs and 97 RBIs.
During the spring training in 2020, Mancini left the team to undergo a non-baseball medical procedure.
Later, it was revealed that the young player underwent a medical procedure to remove a malignant tumor from his colon.
Then on April 28 2020, Trey revealed he had stage 3 colon cancer and that his chemotherapy would begin in six months. Then, on March 15, Mancini uploaded a video via Instagram showing his blood test.
"Hi, everyone just wants to thank you for the kind messages. It's really uplifting my spirit and helped me through the tough week, but I am really looking forward to the recovery. I am really thankful to the medical staff, trainers, and all the doctors who help this week."
Trey Mancini | Comeback
Trey Mancini is extraordinary; he survived the silent battle within himself that cost him the entire 2020 season.
After his return almost a year, he is as new as before and states he feels just as he felt before the cancer ordeal.
As he returned to the spring training, everyone stood up for a standing ovation before his first at-bat. Additionally, it was followed by minute-long applause before he stepped into the batter's box.
Well, Mancini had missed an entire season due to it and the other six months due to his chemotherapy. With all those ups and downs, we have regained the normal Mancini.
"It was amazing. I almost teared up a little bit; I'm not going to lie when I was up there, and everybody gave me a standing ovation, and I saw all the guys on the field clapping on the Pirates, clapping in the dugout, our team, and all our fans. It meant the world to me."
-Trey Mancini
2022
Mancini was traded from the Oriole to the Houston Astros on August 1, 2022, in exchange for Seth Johnson and Chayce McDermott from Houston.
He hit a home run for Astro on August 3, 2022, versus the Boston Red Sox.
Mancini hit his first career grand slam against the Cleveland Guardians on August 5, 2022.
He homered a 21–5 win over the Chicago White Sox that included 25 hits, for both the second-highest scoring output and most hits in team history on August 18.
The Astros defeated the Tampa Bay Rays, which made Mancini a division title winner for the first time in his career.
Between the two teams in the 2022 regular season, he batted .239/.319/.391 in 519 at-bats, with 18 home runs and 63 RBIs.
The Astros defeated the Philadelphia Phillies for their fourth win in the best-of-seven series, and Mancini got his first World Series title.
Mancini's option for 2023 was declined by the Astros, making him a free agent.
Check out more game details, splits, and stats of Trey on ESPN and roto sites, respectively.
How Old Is Trey Mancini? | Age And Body Measurements
The talented baseball player Trey Mancini was born in the year 1992, which makes him 31 years old as of 2023.
He celebrates his birthday every year on March 18, making his sun sign a Pisces.
And people of this sign are known to be talented, skilled, and passionate.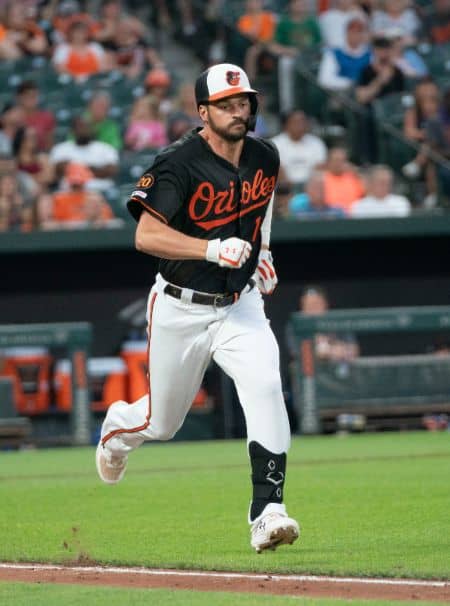 Besides his intellect, Mancini's well-trained body also helps him win the game. In his 20s, Trey is 1.93 m tall and weighs around 216 lbs.
Even though the body stats are unknown, we can see his trained and maintained physique. Also, the years of training and running have made his body agile and his reaction faster.
Likewise, Trey has got short dark brown hair and dark brown eyes.
Net Worth Of Trey Mancini In Different Currencies
Below is the net worth of Trey Mancini in different currencies, including the Euro and Dollar.
| | |
| --- | --- |
| Currency | Net Worth |
| Euro | €2,674,650 |
| Pound Sterling | £2,253,555 |
| Australian Dollar | A$4,175,946 |
| Canadian Dollar | C$3,798,060 |
| Indian Rupee | ₹223,493,250 |
| BitCoin | ฿51 |
Who Is Trey Mancini Dating? | Personal Life And Girlfriend
Along with his professional life, fans have also been eager to know about his personal life.
We know that Trey has been linked with his girlfriend, Sara Perlman, numerous times. Yes, the famed MLB player is dating at the moment.
Likewise, his longtime girlfriend is a co-host at NBC sports and a media personality. But it is unclear when and where they first met.
According to some sources, the two met during an MLB game where his girlfriend interviewed him. After that, they met frequently and eventually started dating.
Nonetheless, the two have been together long and are still going strong as we speak. They spent their quarantine in the company of each other.
Net Worth And Income
Since his debut in 2016 with Baltimore, Trey has made significant changes in his career. Respected and famous for his skills, Mancini has amassed a whopping net worth of $575,500.
Currently, Mancini has a year contract with the Baltimore Orioles worth $4,750,000. The contract guarantees an annual average salary of $4,750,000.
Aside from that, he gets additional income from his significant endorsement and sponsorship.
However, his assets and total revenue are not publicized yet, and his salary is still unknown. But we know his favorite cars include Lamborgini and brands like Nike.
Popularity Graph
The search graph of Trey is not on that high frequency but keeps fluctuating.
We can see a fair amount of search for him by his fans.
Social Media Presence
Recently Trey was seen celebrating her girlfriend's 28th birthday on Instagram in 2022.
View this post on Instagram
Instagram – 73.5k Followers.
Twitter – 37.6k Followers.
The Baseball player is also quite active on Fantasy, where you can get his latest news along with seasonal stats and records.
FAQs
What place was Trey Mancini in the Home Run Derby? What is his career statistic like?
Mancini finishes second in the 2021 Home Run Derby. He maintains the MLB career statistic with an average of .271, 107 home runs, and 309 batted in.
Is Trey Mancini going to be Traded?
Mancini was traded from the Oriole to the Houston Astros on August 1, 2022, and is still there currently, although, in 2023, he will be acting as a free agent.
How is the Health Condition of Mancini?
Mancini suffered from stage 3 colon cancer, due to which he underwent surgery to remove a tumor. In November 2020, he announced that he was free from cancer.
Later in September 2021, he also faced leg soreness after getting hit on his calf. However, former MLB pitcher Kyle Farnsworth told him not to play as an athlete and that soreness would never be a reason to miss a game.
Anyways, Kyle was later criticized for that statement of his.