Tristan Jarry hails from Surrey in British Columbia, Canada, and is a professional ice hockey player. Jarry has always played as a goaltender and is a goaltender for his current team.
He has been with the Pittsburgh Penguins franchise of the National Hockey League, commonly known as the NHL, since 2015.
Pittsburgh Penguins selected Jarry in the second round of the NHL Entry Draft in 2013 as the 44th overall pick.
Before the draft, the NHL Central Scouting had ranked him third on North American goaltenders.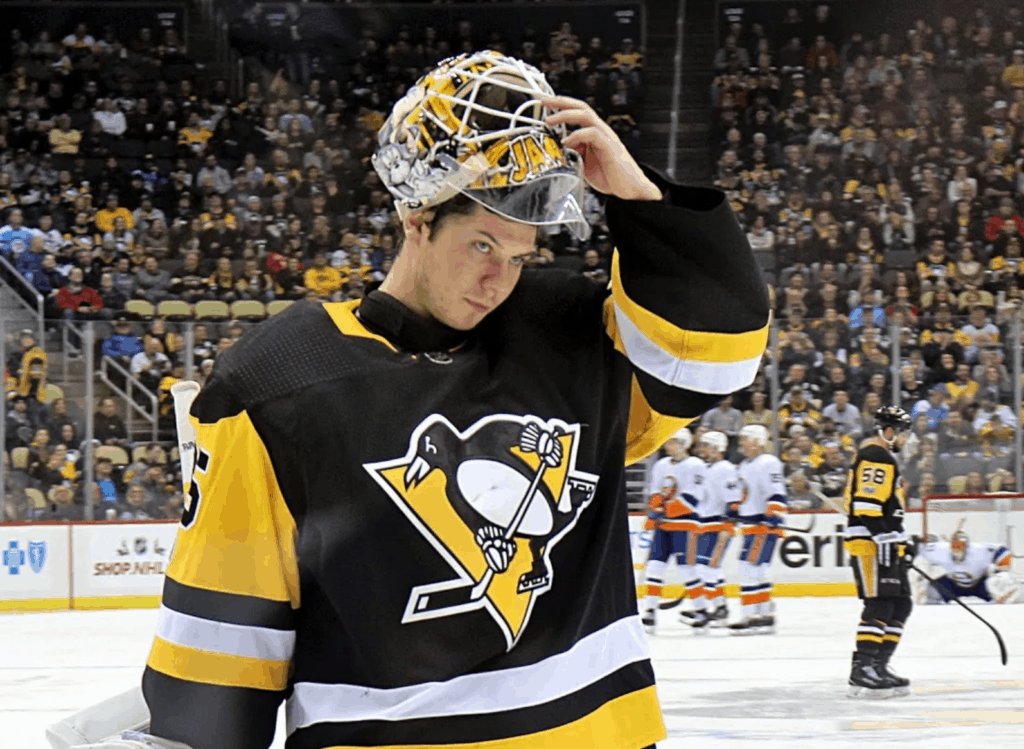 In 2013, he was the Canadian Hockey League (CHL) Top Prospects Game Player of the Game.
Likewise, he was also a part of the First All-Star Team for the East in the 2013-14 season and won the Memorial Cup Championship in 2014.
During his time at the American Hockey League (AHL), Jarry was awarded the Harry "Hap" Holmes Memorial Award for the 2016-17 season, and fellow goaltender Casey DeSmith, a part of the Pittsburgh Penguins currently.
At only 28 years of age, Jarry has the best career days ahead of him and a lot to offer to the NHL and the franchise with the help of his potential.
It will be thrilling to see where his career takes him. Let us find out more about the athlete through this biography, starting with some quick facts.
Quick Facts
| | |
| --- | --- |
| Full Name | Tristan Jarry |
| Birth Date | April 29, 1995 |
| Birth Place | Surrey, British Columbia, Canada |
| Education | Delta Hockey Academy, Delta, Canada |
| Horoscope | Taurus |
| Father's Name | Dave Jarry |
| Mother's Name | Michelle Jarry |
| Siblings | Dawson Jarry |
| Age | 28 Years Old |
| Height | 6 feet 2 inches/188 cm or 1.88 m |
| Weight | 88 kg or 194 lb |
| Jersey Number | 35 |
| Position | Goaltender |
| Shoe Size | US size 10.5, UK size 10, EU size 44.5 |
| Profession | Professional Ice Hockey Player |
| Debut | 2015 |
| Net Worth | $1 Million |
| Married | No |
| Engaged To | Hannah Hatcher |
| Children | None |
| Salary | $650k (2018); approximately $3.5 m per year after the new contract with the Pittsburgh Penguins |
| Social Media | Instagram, Twitter |
| Merch | Autographed Addidas Authentic Jersey, Bobblehead, Trading Card, Signed Jersey |
| Last Update | November, 2023 |
Tristan Jarry | Early Life, Family, and Education
On April 2, 1995, Tristan Jarry was born in the Surrey division of British Columbia in Canada. From his birthday, we can easily see that his zodiac sign is Taurus.
His father's name is Dave Jarry, and his mother is named Michelle Jarry. Tristan also has a younger brother named Dawson Jarry.
Tristan is currently only 28 years old, which justifies all the excitement surrounding him about his future.
Likewise, Jarry's family runs a grocery business, which is now known to people as Jarry's market since Tristan's fame.
Dave, Michelle, and his uncle Don Jarry run the business together. As for his nationality, Tristan is Canadian, while his ethnicity happens to be white.
Also, Tristan was trained at the Delta Hockey Academy in Delta, Canada.
Worth reading, Curtis McElhinney: Ice Hockey, NHL, Family & Net Worth >>
Tristan Jarry | Age, Height, and Body Measurements
Jarry, the hunk of an ice player, stands 6 feet 2 inches tall, or 188 cm (1.88 m) tall.
He weighs around 194 lb or 88 kg. Not to mention, his tall and agile physique helps him protect his team's goal better.
Similarly, his shoe size measures 10.5 in the US size chart, 10 in the UK size chart, or 44.5 in the EU size chart. Besides, Jarry's hair color is dark brown, and his eyes are bluish.
Tristan Jarry | Professional Career
Jarry played in the 2011-12 Western Hockey League (WHL) season, and in 14 games, he averaged a save percentage of 0.894. This season marked his start with the Edmonton Oil Kings.
The following season, while playing with the Edmonton Oil Kings again, Jarry led all the goaltenders in the league with a save percentage average of 0.936 and a goals-against-average of 1.61.
Afterward, he performed a stellar output during the 2013 CHL Top Prospects Game and kept out all the 16 shots attempted against him.
He was then named the Team Cherry's Player of the Game for this performance.
Furthermore, in the next season (2013-14), he was named one of the 2013-14 WHL Eastern Conference First All-Star Team.
Learn the pronunciation of Tristan Jarry on HowToPronounce.com.
Pittsburgh Penguins
Tristan Jarry was then assigned to the Wilkes-Barre/Scranton Penguins on April 7, 2015.
When both the goaltenders Marc-André Fleury and Matt Murray of the Pittsburgh Penguins were out with injuries, the Penguins called up Jarry to the squad on April 9, 2016, and gave him number 35.
After dressing up for the first two playoff games for the Penguins, Jarry was sent back to the minors after Matt Murray made his return.
However, Tristan was called back again as an emergency goaltender on May 19.
Jarry could not qualify to be on the Cup as he had not played for Pittsburgh in the 2015-16 season and was not given the Stanley Cup ring.
Memorial Cup
Afterward, on September 28, 2016, in his first NHL preseason game, Jarry displayed a stellar performance of 30 saves, shutting out Chicago Blackhawks in a game the Penguins won 2-0.
However, Jarry was sent to Wilkes-Barre again, where he registered 28 wins in 45 games with goals against an average of 2.15.
He was then named for the 2017 All-Star game and awarded the Harry "Hap" Holmes Memorial Award.
In the regular season, he helped Wilkes-Barre finish with the best record and, because of this output, was called up to the NHL on April 9.
Making his NHL debut on April 10 in the final game of the regular season, Jarry started for the Penguins team that lost 3-2 to the New York Rangers.
Then Jarry dressed up for 11 playoff games while Matt Murray recovered from his injury.
You might be interested in reading: <<Mika Zibanejad Bio: Ice Hockey, NHL, Family & Net Worth >>
Contract Extension with the Penguins
The Penguins won the Stanley Cup, and Jarry got the Stanley Cup ring despite just a single appearance. But since he did not dress in the finals, his name was not there on the cup.
On November 25, 2017, Jarry registered his first NHL win and assisted against the Tampa Bay Lightning.
Further, the Penguins defeated the Buffalo Sabres 4-0, and Jarry won his first NHL shutout on December 1, 2017.
Penguins signed him back on July 26, 2018, to a 2-year, $1.35 million contract extension, which would give Jarry $650k per year.
This extension was a two-way deal in 2018-19, and in 2019-20, a one-way deal. Before the 2018-19 season, Jarry attended the Pittsburg Penguins training and development camp.
Unfortunately, Tristan was injured against the Columbus Blue Jackets on September 28 in the Penguins' last preseason game.
Afterward, playing for the Wilkes-Barre/Scranton Penguins against the Springfield Thunderbirds, he became the first goaltender in Wilkes-Barre/Scranton history to score a goal.
In this game, held on November 14, 2018, Wilkes-Barre won 5-1. Jarry recently signed a 3-year $10.5 million contract extension with the Pittsburgh Penguins on October 3, 2020.
The Penguins traded Matt Murray away to the Ottawa Senators a few days later, making Tristan's position as their starting goaltender certain.
Tristan's goalie mask portrays the Penguins of Madagascar and Tom and Jerry playing pond hockey against each other.
This references his franchise Pittsburgh Penguins, and a sign of respect to his last name, "Jarry."
Moreover, Kristiāns Pelšs, a former Tristan teammate who unfortunately died back in 2013, nicknamed Tristan Tom and Jerry.
Learn more about Jarry's career stats, scouting reports, and Fantasy Hockey news on Elite, Sports Forecaster, and Dobber Sports Network.
Tristan Jarry | Relationships, Wife, and Children
The Penguins star Tristan Jarry recently proposed to his girlfriend Hannah Hatcher, and she responded yes.
The sweet couple shared the news of their engagement on their Instagram handles, mentioning how excited they were. The engaged couple might tie the knot soon.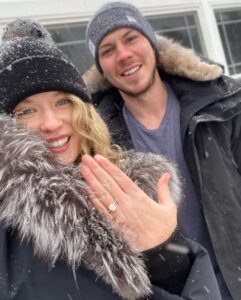 Hannah is from Edmonton, and she currently stays in Pittsburgh, where Tristan plays. She is a model and loves baking.
Although the couple has no kids together yet, given they are very young themselves. They do share two beautiful dogs.
And looking at the two, they have always looked pleased together and might last forever, which is beautiful.
Tristan Jarry | Net Worth & Salary
At only 28 years of age, Jarry is still young, and according to a report in 2018, he was earning $650k per year.
As of 2023, Jarry's estimated net worth is approximately $1 million."
It was recently reported that he had signed a hefty 3-year contract of 10 million US dollars with the Pittsburgh Penguins, which makes him earn an average annual salary of about $3.5 million per year.
You can learn more about his salary and contract details on CapFriendly.
Jarry will be a free agent in the year 2023. Moreover, besides his hockey salary, he earns a considerable amount from endorsements and sportswear brands.
You can find the latest news, stats, highlights, rumors, updates, analysis, and more about Tristan Jarry on the FoxSports website.
Social Media Presence:
Instagram: 30.4k Followers
Twitter: 10.3k Followers
Some FAQs:
Is Tristan Jarry back to practice?
Yes, Tristan Jarry was removed from the NHL's protocol for Covid-19 on October 22, 2021. He then joined his teammates for practice in Cranberry.
How much is Tristan Jarry's rookie card worth?
Tristan Jarry's rookie card price ranges from $10.09 to $856.10.
Is there any news that Tristan returns to Edmonton?
There is no news regarding his return to the Edmonton Oil Kings.
What did Tristan Jarry say during wrap-up season?
Tristan Jarry said he had a great season this year, and he will play better in the coming years. During his season wrap-up interview with reporters, Tristan said,
"I think it was a bit of an up-and-down year for me, just playing the games I did. I think I was able to pick it up and play a lot of good hockey."
What happened between Tristan Jarry and Brand Marchand?
The NFL suspended Brand Marchand a six-game suspension for roughing and high-sticking Tristan Jarry.
After the incident, Marchand apologized to Tristan and felt he shouldn't have done it. The incident happened in February 2022.