A sportsperson could do anything but never distance themselves from their game. After all, the game that they play is not only the profession but also the identity of a sportsperson.
For instance, Mika Zibanejad is known to the world as an ice hockey player. He has a story of his own. But his game, ice hockey, covers the maximum spheres of his identity.
Mika Zibanejad plays for the New York Rangers of the National Hockey League (NHL).
NHL is the most popular and premium professional ice hockey league in the world. Zibanejad is currently serving as an alternate captain of his team.
He is a Swedish professional ice hockey player who has represented Sweden in the World Ice Hockey Championship.
He has also represented Sweden in the World Ice Hockey Junior Championship while he was under 20.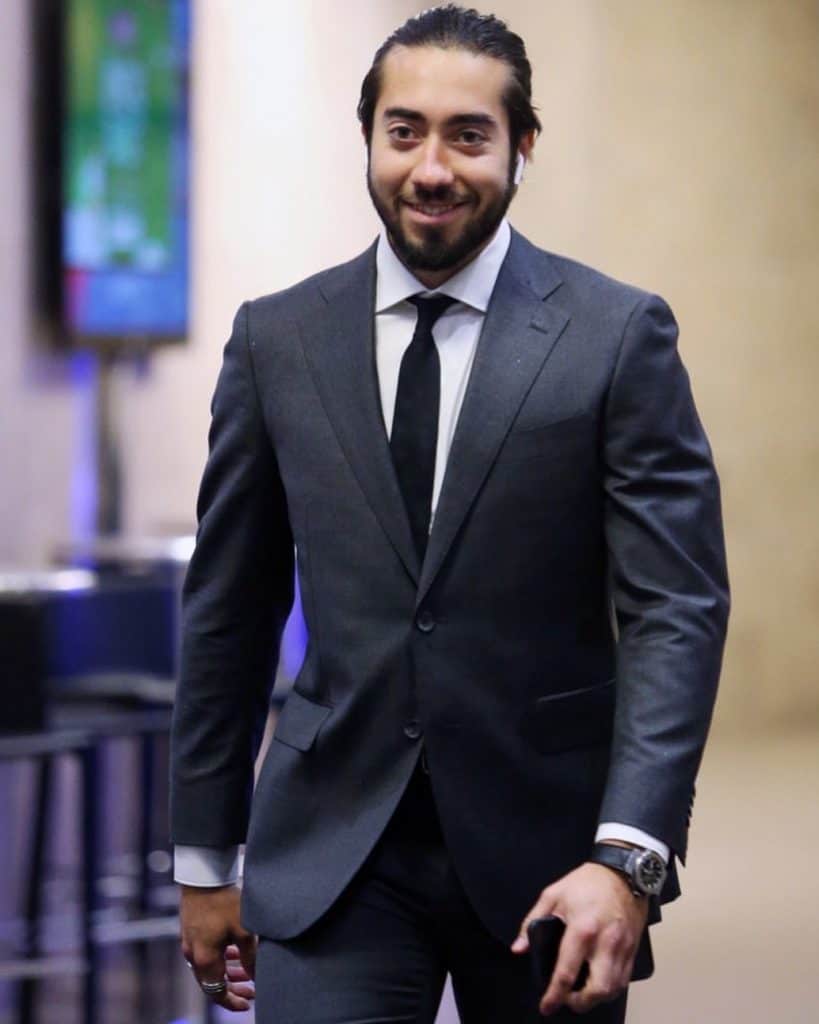 Further, Mika Zibanejad was selected sixth overall in the 2011 NHL Entry Draft by the Ottawa Senators.
Today, we'll be diving deep to know about this incredible ice hockey player's personal and professional life.
Quick Facts About Mika Zibanejad
Full Name

Mika Zibanejad

Date of Birth

April 18, 1993

Birth Place

Huddinge Municipality, Sweden

Religion

Christian

Nationality

Swedish

Ethnicity
Half Iranian and Half Finns
Horoscope

Aries

Age
30 Years Old
Height

6 feet 2 inches (187.96/188 cm)

Weight

98 kg (216 lbs.)

Eye color

Dark Brown

Hair color

Dark Brown

Body type

Athletic

Father's name


Mehrdad Zibanejad

Mother's name

Ritva

Active Since

2000

Marital Status

Unmarried

Relationship status

Committed

Girlfriend

Irma Helin (Swedish Football midfielder)

Kids

None

Profession

Ice Hockey Player

Position

Centre

Played for
Hammarby IF, AIK IF, Swedish Hockey League, Djurgarden IF, Ottawa Senators, and New York Rangers.
Salary

$5,500,000 on average annually

Net Worth
$27 million
Social Media
Facebook, Instagram, Twitter
Merch

Hockey Puck Case

, Jersey, Goal Photograph, Autograph, Rookie Card
Last Update
June, 2023
Mika
Zibanejad – Early life and Family
Mika Zibanejad was born on April 18, 1993, in Huddinge Municipality, Sweden. He was born to his parents Mehrdad Zibanejad and Ritva.
Mika Zibanejad's father is from Iran, while his mother is from Finland. Mike grew around several cultures. His father converted to Christianity from Islam.
He can fluently English, Persian, Finnish, and Swedish, owing to his diverse roots.
Matt Niskanen Bio: Family, Career, Net Worth, Wife>>
Mika Zibanejad's Iranian Roots
Mika's father, Mehrdad Zibanejad, is a native Iranian. He used to live in Iran about three decades ago.
While he stayed in Iran, the Iranian Revolution was at its peak. It resulted in the Shah being overthrown and replaced with Ayatollah Khomeini.
Khomeini stood up as the Supreme Leader of Iran, having the highest political ranking and religious authority. He favored radical Islam. Mehrdad Zibanejad, on the other hand, did not like the radicalization of religion.
He even had to stay in prison for writing an article on existentialism. He was fed up with forceful ideologies and a lack of freedom.
Moreover, he had to serve his two-year mandatory military service when the Iran-Iraq war happened in 1980. He didn't agree to whatever notions the state followed but still had to serve, or else he would have been jailed.
Mika's dad fulfilled his military obligations, which provided him with a passport. He then left Iran and decided to live in Sweden. He met his wife of today and now has a happy family in Sweden.
Mehrdad and his family are Christian now. He reads the Bible and believes in God. Above all, he is delighted to have received freedom and the right to have a choice from God.
Mehrdad Zibanejad is a very humble man. He has seen a lot in his life. He believes that Mika Zibanejad's victory is a good thing but not the center of his life.
In fact, senior Zibanejad always taught his son to stay in proximity to the roots.
Further, he reminds Mika of how privileged he is because he is not prone to be jailed for doing absolutely nothing.
Mika Zibanejad is a kindhearted and humble man, and that characteristic must have come from his father's teachings.
Mika Zibanejad – Ice Hockey Career
Beginning
Mika Zibanejad started playing hockey at the age of 6 in Hammarby IF. Hammarby IF used to be a professional ice hockey team based in Stockholm. He played seven seasons in association with the team.
However, Hammarby IF had to shut down as it went bankrupt in 2008.
Moreover, Mika used to play football as a child before he was completely aligned with ice hockey.
Mika Zibanejad then decided to move to AIK IF's youth organization, another Stockholm-based ice hockey club. He played junior hockey in association with the club.
Similarly, Mika got associated with another Stockholm-based ice hockey club, Djurgardens IF, for the 2009-10 season to play in the organization's J18-team and J20-team.
Further, he debuted in the Elitserien, which is currently known as Swedish Hockey League, on December 7, 2010.
He competed against Tuomas Tarkki of Modo Hockey. Mika Zibanejad was then drafted in the sixth round of the 2010 KHL Junior Draft by Lokomotiv Yaroslavl, 129th overall.
You might be interested in reading: Charlie Coyle Age, Contract, Stats, NHL, Trade, Salary, Girlfriend, Instagram
In 2011
Mika Zibanejad again got associated with the Djurgarden IF, signing a two-year contract extension with them. He then became a regular player in a senior roster.
In fact, Mika played in 26 of the available 29 games, other than his debut match.
He succeeded by scoring 5 goals and 9 points. He then became the third most successful junior player of 18 or fewer years in the Djurgarden organization.
Consequently, Mika Zibanejad received the opportunity to play with the senior team, behind Fredrick Bremberg and Jacob Josefson.
You might also be interested in reading: Brandon Saad Age, Stats, NHL, Contract, Trade, Elite, Wife, Married, Net Worth
Ottawa Senators
2011-12
Mika Zibanejad got associated with the Ottawa Senators, signing a three-year entry-level contract with the team on July 13, 2011. Ottawa Senators are the ice hockey club based in Ottawa, Canada.
Ottawa Senators is the team that drafted Mika Zibanejad sixth overall in the 2011 NHL Entry Draft. Zibanejad had his Ottawa Senators debut on their first game of the 2011-12 season.
In fact, Mika recorded his first career NHL point in his first game with the Senators. Ottawa Senators turned out to be lucky for him, indeed. The record was an assist on a goal by Filip Kuba in a 5-3 loss to the Detroit Red Wings.
However, Mika Zibanejad was reassigned to Djurgardens again on October 26, 2011.
Further, Zibanejad was rumored to be associated with the package that Ottawa Senators offered to the Columbus Blue Jacket in exchange for Rick Nash.
Nonetheless, the deal was withdrawn because Rick Nash was unwilling to break his no-trade clause to transition to Ottawa.
2012 to Final Game with the Senators
Moreover, the Ottawa Senators announced Mika Zibanejad's participation either in the NHL with the Ottawa Senators or in the Binghamton Senators, the club's American Hockey League (AHL) affiliate, for the 2012-13 season. The declaration was made in August 2012.
Mika Zibanejad played in association with the Binghamton Senators in the season's beginning due to the NHL lockout.
He recorded 11 points in 23 games. Moreover, he had to undergo a severe injury at this time.
Then, Mika again transitioned back to Ottawa on January 28, 2013. He participated in his first-ever NHL game of the season on January 29.
He competed against the Washington Capitals. In fact, Mika got selected as the first star.
Likewise, he played against the Montreal Canadiens on January 30. He succeeded in achieving his first career NHL goal.
He made that goal while playing against goaltender Peter Budaj, receiving assists from Colin Greening and Andre Benoit.
Further, Mika Zibanejad had a career-high 21 goals with 30 assists in the 2015-16 season.
Brayden Point Age, Height, Parents, NHL, Stats, Contract, Wife, Net Worth>>
New York Rangers
The Ottawa Senators traded Mika Zibanejad to the New York Rangers on July 18, 2016. The deal was made in exchange for Derick Brassard.
The players also exchanged the second-round pick in the 2018 NHL Entry Draft with the seventh-round pick in the 2018 NHL Entry Draft.
New York Rangers demanded the former pick while the New York Rangers wanted the latter.
2016-17
Mika Zibanejad had to go through a severe injury while playing a game against the Florida Panthers on November 20, 2016.
The injury happened while Mika went hard with his left leg into the boards while trying to get in front of Reilly Smith.
The New York Rangers had to face a 3-2 loss in a shootout. Moreover, doctors recommended six-eight weeks of rest to Mika as he had broken his left fibula.
The Swedish player returned after a long gap on January 17, 2017. He had to play against the Dallas Stars. Mika secured two goals in the game. However, the New York Rangers had to face a 7-6 loss.
Then, Mika Zibanejad recorded the overtime winning goal in Game 5 of the 2017 NHL Eastern Conference quarterfinal on April 20, 2017.
Furthermore, he signed a five-year contract extension with the rangers. The contract is worth $26.75 million.
You can watch Mika Zibanejad's fellow NHL player Tomas Hertl's bio at Tomas Hertl Age, Contract, Stats, Net Worth, Married, Wife, NHL, Instagram.
Records and Honors in the New York Rangers (2018-19)
Zibanejad then secured a goal and three assists in the 2019–20 season opener of the New York Rangers on October 3, 2019.
Further, he recorded his third career hat-trick against the Ottawa Senators on October 5.
He further posted an assist in the same game. As a result, Mika succeeded in becoming the sixth player in NHL history with four-point games individually in the first two season games.
Also, he became the first player to achieve that benchmark since John Cullen of the Pittsburgh Penguins in 1990.
Similarly, Mika became the second player in the New York Rangers history to have posted 8 points through the first two games of the season.
He was also the fourth in franchise history to score six or more points in that span.
Further, Mika Zibanejad stood up as the first player to have achieved both the records since Rod Gilbert in 1976.
Likewise, Mika Zibanejad became the first Rangers player with an even-strength goal, a power-play goal, and a short-handed goal in an away game since Petr Nedved in 2000. His game of October 5 gave him this exemplary record.
He also became the first Ranger to do so in any game since Derek Stepan in 2014.
Moreover, Mika Zibanejad was honored with the NHL's First Star of the Week title on October 8, 2019.
2020
He then became the third player in Rangers' history to net 5 goals in a game in a 6-5 win over the Capitals on March 5, 2020.
Don Murdoch had set the mark on October 12, 1976, against the Minnesota North Stars and Mark Pavelich.
Furthermore, Mika Zibanejad's score, while he became the overtime winner on April 20, 2017, makes him the second player in NHL history to complete the quintet of goals in the extra period.
The record was achieved earlier by the Detroit Red Wings member Sergei Fedorov on December 26, 1996, also against Washington.
2021 – Present
The professional Ice hockey player continued his 2021 career with the New York Rangers.
You can see Mika Zibanejad's career statistics on the website of hockey reference.
Mika Zibanejad – National Team Career
Mika Zibanejad has represented Sweden in both the World Ice Hockey Championship and World Ice Hockey Junior Championship.
He scored the gold medal-winning golden goal for Sweden in the 2012 World Junior Ice Hockey Championships against Russia in the tournament final.
Likewise, Mika Zibanejad secured a final goal for Sweden to help them win the 2018 International Ice Hockey Federation World Championship.
Visit the NHL's website to see an overview of Mika Zibanejad's life.
Season
Team
Lge
GP
G
A
Pts
PIM
+/-
GP
G
A
Pts
PIM
2009-10
Djurgardens Jr.
Swe-Jr
14
2
2
4
4
-2
2010-11
Djurgardens IF Stockholm
SEL
26
5
4
9
2
1
7
1
1
2
2
2010-11
Djurgardens Jr.
Swe-Jr
27
12
9
21
12
18
2011-12
Djurgardens Jr.
Swe-Jr
1
0
0
0
2
2011-12
Djurgardens IF Stockholm
SEL
26
5
8
13
4
-2
2011-12
Ottawa Senators
NHL
9
0
1
1
2
-3
—
—
—
—
—
2012-13
Binghamton Senators
AHL
23
4
7
11
10
3
—
—
—
—
—
2012-13
Ottawa Senators
NHL
42
7
13
20
6
9
10
1
3
4
0
2013-14
Ottawa Senators
NHL
69
16
17
33
18
-15
—
—
—
—
—
2013-14
Binghamton Senators
AHL
6
2
5
7
2
1
—
—
—
—
—
2014-15
Ottawa Senators
NHL
80
20
26
46
20
0
6
1
3
4
0
2015-16
Ottawa Senators
NHL
81
21
30
51
18
-2
—
—
—
—
—
2016-17
New York Rangers
NHL
56
14
23
37
16
9
12
2
7
9
0
2017-18
New York Rangers
NHL
72
27
20
47
14
-23
—
—
—
—
—
2018-19
New York Rangers
NHL
82
30
44
74
47
-12
—
—
—
—
—
2019-20
New York Rangers
NHL
57
41
34
75
14
9
3
1
1
2
0
2020-21
New York Rangers
NHL
56
24
26
50
18
2
—
—
—
—
—
NHL Totals
604
200
234
434
173
31
5
14
19
Mika Zibanejad – Ties with music
The professional ice hockey player is also a DJ and music producer. He has released four songs in his music career.
They are: "Forever" in 2017, "Can't Go Back Home" in 2018, "Moves" featuring Hot Shade & Mike Perry in 2019, and "Nobody" featuring Hot Shade in 2019.
Visit Mika Zibanejad – Wikipedia to see Mika's scores.
Mika Zibanejad – Girlfriend
Mika Zibanejad is in a relationship with Irma Helin.
Irma Helin is a professional Swedish football midfielder associated with Djurgardens IF.
The couples have been dating each other for a long time. However, this is no news of the couple getting married anytime soon.
Mika Zibanejad – Salary and Net Worth
Mika Zibanejad earns good money through his association with NHL. His salary is recorded to be $5,500,000 on average annually.
Further, he has an ongoing contract worth $26.75 million with the New York Rangers.
Mika Zibanejad's net worth/career earnings are estimated to be around $27 million.
You can get the Mika Zibanejad authentic jerseys here.
Net Worth of
Mika Zibanejad

in Different Currencies

Here is the net worth of Mike Zibanejad's net worth in different currencies, including the cryptocurrency BitCoin.
Currency
Net Worth
Euro
€

22,937,143

Pound Sterling
£

19,638,507

Australian Dollar
A$

36,659,871

Canadian Dollar
C$

33,924,150

Indian Rupee
₹

2,009,542,500

BitCoin

฿784
Mika Zibanejad – Social Media Presence
Facebook – 1.2k Followers
Instagram – 145k Followers
Twitter – 67.2k Followers
Common Queries About Mika Zibanejad
Does Mika Zibanejad have a contract with the New York Rangers?
Yes, Mika Zibanejad has a 5-year contract worth $26.75 million with the New York Rangers. The contract was signed around mid-end 2017 and is still running.
Who is Mika Zibanejad's brother?
Mika's maternal half-brother, Monir Kalgoum, is also a professional ice hockey player. He played for teams in several lower-tier European leagues.
Is Mike Zibanejad
Engaged?
Mike is in a love relationship with Irma Helin. However, the couples are not engaged with each other.
Did Mike Ever Play with Kaapo Kakko?
Mike and Kaapo played together with the Rangers. In the game, Mike recorded his third hat trick of the season for the New York Rangers.