Tristan Thompson is a brother to three younger siblings. The NBA star is a devoted brother and leads his family from the front.
Tristan is the solid rock of the Thompson family and the guiding factor for his younger brothers.
Despite his off-court controversies, Tristan has not compromised on his dedication to his family.
Tristan Trevor James Thompson is a 32-year-old basketball player who currently plays in the NBA for the LA Lakers and represents Canada at an international level.
Showing promising skills at an early age, he moved to the US and attended St. Benedicts Prep School to hone his basketball skills.
Due to his poor relationship with the head coach, Tristan transferred to Findlay Prep, leading them to their first-ever national championship.
Following his performance, he caught the eye of top scouts, receiving offers from different colleges.
Thompson committed to play for the Texas Longhorns, but forgoing his three years of college eligibility, he declared for the NBA Draft in 2011.
Furthermore, Tristan started his professional journey with the Cleveland Cavaliers and later played with the Boston Celtics, Sacramento Kings, Indiana Pacers, and Chicago Bulls before joining his current team in 2023.
Meet Tristan Thompson's Brothers: Amari, Daniel, And Dishawn Thompson
Tristan Thompson is the oldest brother in a family of four children. "I'm like the big daddy with all of them!" Tristan shared.
Amari Thompson
His youngest brother Amari Thompson is an inspiration to all. Amari suffers from epilepsy and battles seizures on a daily basis.
Moreover, Tristan is also Amari's legal guardian since 2023. He supports his youngest brother in all life's struggles and calls Amari the biggest inspiration of his life.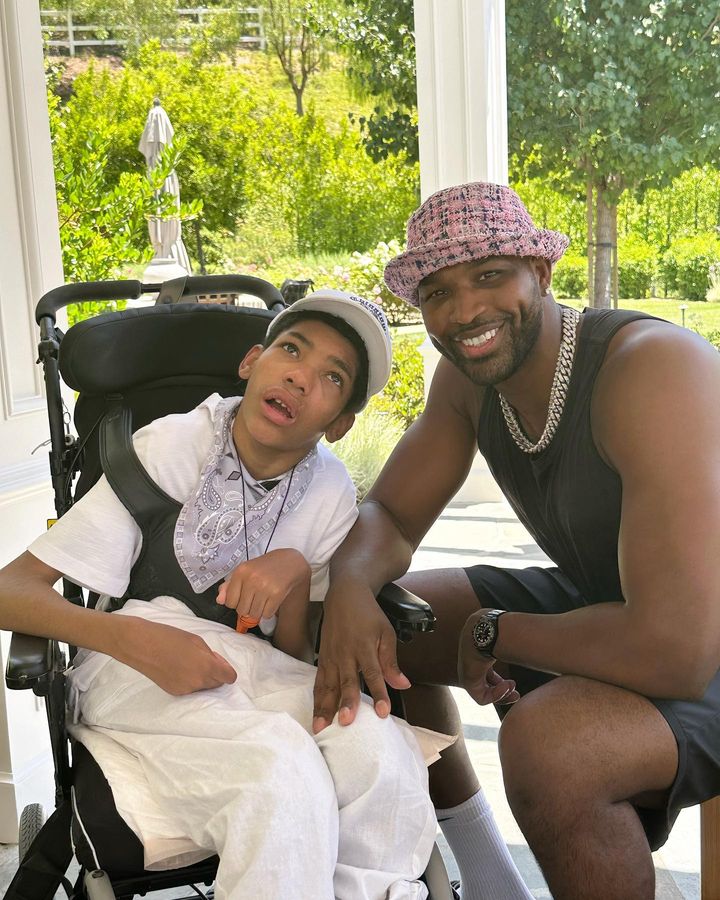 Furthermore, Tristan launched Amari Thompson Fund in collaboration with Epilepsy Toronto to help families whose members are battling with this disease.
Amari celebrated his 17th birthday on July 28. Tristan's ex-partner and socialite, Khloe Kardashian, also wished Amari a very blessed birthday.
Daniel And Deshawn Thompson
Tristan's other two brothers have not received much spotlight.
Daniel Thompson played U-11s basketball and won the Ontario Cup. For his brother's success, Tristan congratulated him and motivated him to follow his dream.
Tristan's other brother, Dishawn Thompson, is 28-year-old musician.
Per his Instagram, he is also involved in the production sector and is recognized by the stage name: Young-Early.
Mother's Influence On Thompson Brothers
Tristan Thompson's mother was the guardian angel to her four sons throughout their rough childhood. Unfortunately, she died on January 5th, 2023.
Andrea Thompson raised her kids by working as a school bus driver. Tristan acknowledges the sacrifice and hard work his mother has put into making her sons successful.
"I didn't have to tell Tristan anything to empower him. Tristan saw us always working hard, and he wanted to get ahead," she explained.
On the other hand, Tristan's father was a truck driver, but it is presumed they are not on good terms.
Tristan Thompson Is A Father
The NBA Champ himself is a father to four kids from three different women.
Firstly, he had a son with his ex-girlfriend, Jordan Craig. Then, he welcomed two kids, one daughter naturally and one son via surrogacy with Khloe Kardashian.
Lastly, he also has another son with personal trainer Maralee Nichols.