Tristan Thompson is a Canadian-American professional basketball player who last played for the Chicago Bulls of the NBA.
He won the 2016 NBA finals with the Cleveland Cavaliers and played for teams like Boston Celtics, Sacramento Kings, and Indiana Pacers.
Thompson played college basketball for Texas Longhorns before being drafted fourth overall by the Cavaliers in the 2011 NBA Draft.
The power forward shared a very tight relationship with NBA legend LeBron James while playing for the Cavaliers. Moreover, the two's coordination on the court was quite eye-catching.
James opened up about how much he missed sharing a court with his brother Thompson. There were rumors about Thompson joining the Lakers to play with LeBron. However, he signed a two-year deal with the Celtics on November 30, 2020.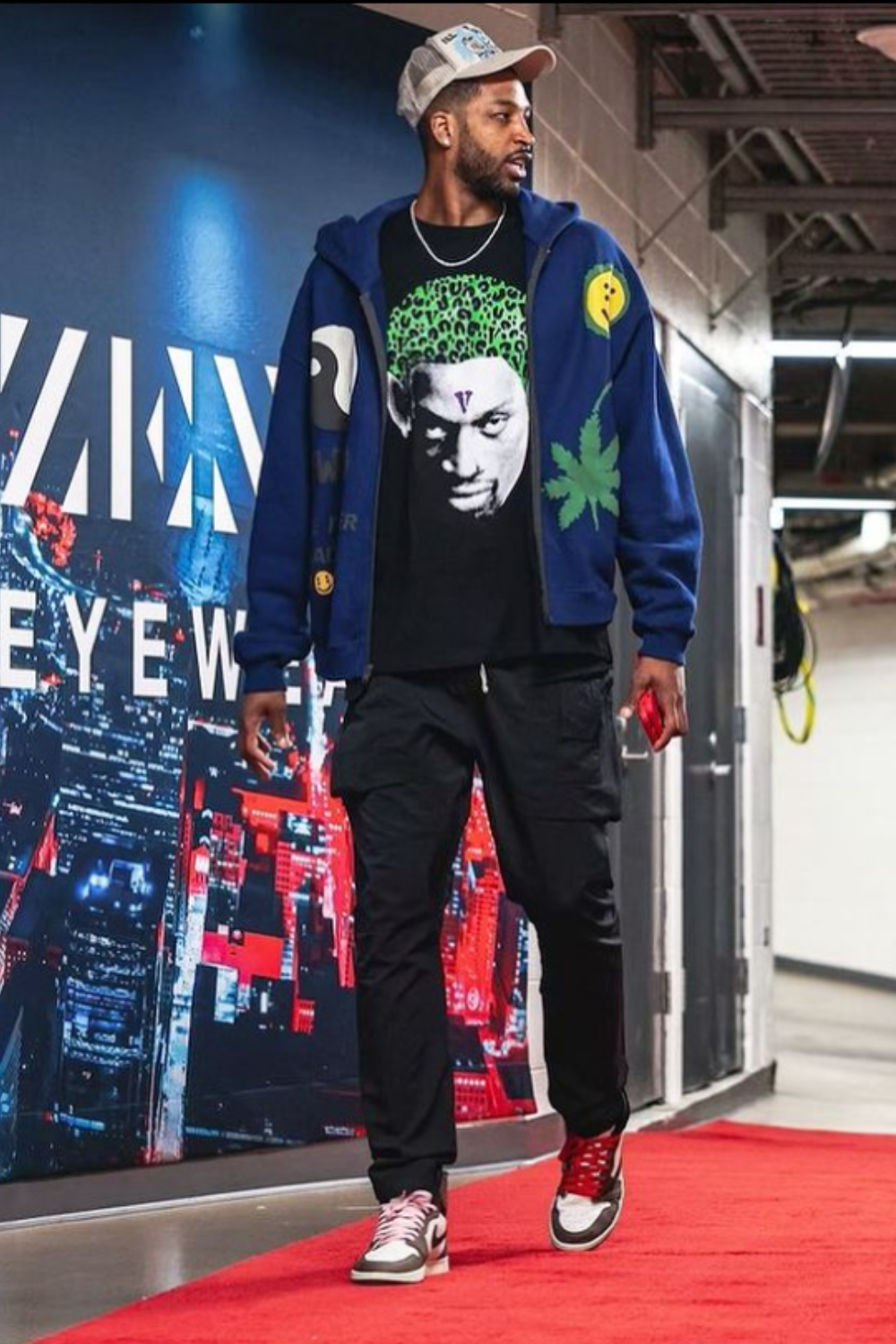 If your memory still isn't jogged, you might recognize the basketballer from a popular reality TV show.
He starred in several episodes of Keeping Up With The Kardashian. He is the ex-boyfriend of television personality and businesswoman Khloé Alexandra Kardashian.
On February 3, 2023, Khole shared a cryptic message on her Instagram, speculating the rumors of getting back with her ex-boyfriend Tristan Thompson.
Netizens suspect that the couple was together after she visited Tristian following the death of his mother, Andrea. However, the rumors are yet to be verified.
Before getting into details about the former Cavs player's life and career, here are some quick facts about him.
Quick Facts
| | |
| --- | --- |
| Full Name | Tristan Trevor James Thompson |
| Birth Date | March 13, 1991 |
| Birth Place | Brampton, Ontario, Canada |
| Nick Name | Double T, The Janitor |
| Religion | Christian |
| Nationality | Canadian |
| Ethnicity | African American |
| Education | St. Benedict's Preparatory School, University of Texas |
| Horoscope | Pisces |
| Father's Name | Trevor Thompson |
| Mother's Name | Andrea Thompson |
| Siblings | Three; Amari, Daniel, Dishawn |
| Age | 32 Years Old |
| Height | 6'9″/2.06 m/206 cm |
| Weight | 115 kg/254lb |
| Hair Color | Black |
| Eye Color | Brown |
| Build | Athletic |
| Profession | NBA Player |
| Current Team | Free Agent |
| Position | Center, Power Forward |
| Active Years | 2011-Present |
| Marital Status | Unmarried |
| Ex-Girlfriend | Khloé Alexandra Kardashian |
| Kids | Three; Prince, True, and Theo Thompson |
| Net Worth | $45 Million |
| Social Media | Instagram, Twitter |
| Last Update | June 2023 |
Early Life, Family, & Education
Tristan Thompson was born on March 13, 1991, in Brampton, Ontario, Canada, to supporting parents Trevor Thompson and Andrea Thompson.
Thompson comes from a struggling family where his parents did everything they could to fulfill his NBA dream.
His father, Trevor, was a truck driver, while his mother, Andrea, was a retired school bus driver.
The former Cavalier shared a very close bond with his mother. She worked multiple jobs to ensure his proper upbringing. Unfortunately, Andrea died on January 5, 2023, following a heart attack, as per multiple outlets.
On the other hand, he has a sour relationship with his father, who once accused Thompson of abandoning his first child to be with Khole Kardashain.
TRISTAN GREW UP WITH HIS THREE BROTHERS, AMARI, DANIEL, AND DESHAWN THOMPSON.
Deshawn served as a point guard and shooting guard for Northeast Junior College in Nebraska. Likewise, Daniel played for Canada and won the 2015 U-11 Championship. The NBA player's youngest brother is a special needs child and suffers from epilepsy.
The NBA player attended St. Marguerite d'Youville Secondary School in his hometown. Thereafter he transferred to the American prep school St. Benedict's Preparatory School.
Following his verbal commitment to the University of Texas, Tristan played collegiate basketball for Texas Longhorns.
Estranged Relationship With Father
The Celtics' Power forward does not share the best relationship with his father.
In 2018, the basketballer announced that he was expecting a child with Khloé Kardashian. The announcement received a lot of criticism from fans and media, including his dad.
In reply to a fan, Trevor commented that his son does not act like a father. Moreover, he went on to add that the former Cavalier player does not respect his last name either.
Trevor also called out his ex-wife, saying she doesn't know him any better. Thereafter, he had much to add to his son's cheating scandals.
The NBA player's father explained how Tristan could be faithful if she contacted him and maintained a relationship with him.
Dad blamed his son's chronic cheating on their lack of communication. Furthermore, he insisted that the athlete could be a better person if they met up and talked.
Besides that, Thompson's old man said, "Mothers can't get through to the son the way the father would be able to."
Age, Height, & Weight
The NBA player turned 32 years old on 2023.
Being an athlete, he takes excellent care of his health, nutrition, and diet. Tristan hits the gym quite frequently and maintains a good figure. He stands 6'9″/2.06 m tall and weighs 115 kg/254lb.
Likewise, he has black hair color with brown eyes. He belongs to Canadian nationality with African American ethnicity.
Basketball Career
High School & College Career
Tristan attended St. Marguerite d'Youville Secondary School in Brampton.
Since it was his dream to play in the NBA, he wanted to improve his basketball skills and speed. Hence, the Candian-American player chose to go to a prep school.
After through research, Tristan locked his heart at Saint Benedict's Preparatory School. He played exceptionally well in his sophomore year. After that, he had some altercations with then-head coach Dan Hurley.
As a result, the former Chicago Bulls player was kicked out of the basketball team.
He joined Findlay Prep to continue his high school basketball journey, where he explored his true potential. The athlete assisted the prep school in their first-ever National Championship.
Moreover, he helped them win yet another National title at the ESPN National High School Invitational. Tristan was the McDonald's All-American and the Jordan Brand Classic All-American.
As per his verbal commitment, Double T attended the University of Texas to play collegiate basketball and was voted Most Valuable Player by his teammates.
During his University days, he was awarded Big 12 Freshman of the Year, first-team NABC All-District 8, and USBWA All-District VII honors.
Although Tristan prepared to go back for his second year, he eventually entered the 2011 NBA Draft.
NBA Career
Cleveland Cavaliers
On June 23, 2011, Thompson was drafted fourth overall in the 2011 NBA Draft by the Cleveland Cavaliers. At the time, he was the highest-drafted Canadian-born player in NBA history.
Shortly after, he showed his true worth to the Cavaliers. Tristan assisted the team in getting to the 2015 NBA finals. However, the Golden State Warriors defeated the Cavaliers and won the NBA title that season.
The former Longhorn came off as one of the best rebounders and offenders in NBA history. As a result, the Cavaliers resigned him on a five-year deal worth $82 million.
He helped the Cavaliers reach the NBA finals in 2016. Along with LeBron James, he led the team to its first-ever NBA Championship in its history.
The following year he faced some injuries and could not attend all games in the regular season.
Nonetheless, he helped the team to reach the 2017 and 2018 NBA finals. Unfortunately, the Golden State defeated them twice to win the NBA title.
The power forward played his last season with the Cleveland team in the 2019-2020 season.
He recorded a double-double with a career-high 35 points, 14 rebounds, three assists, and a steal in a 115-112 win over the Detroit Pistons.
2020-2022
On November 30, 2020, Thompson signed a two-year, $19 million contract with the Boston Celtics.
The NBA player was traded to the Sacramento Kings in a three-team trade involving Atlanta on August 7, 2021.
On February 8, 2022, he was traded to the Indiana Pacers. He recorded a season-high 17 points, 6 six rebounds, and a block over the Washington Wizards on February 16.
Furthermore, the Pacers reached a mutual contract buyout agreement with Thompson.
On February 19, 2022, Thompson signed a minimal deal with Chicago Bulls for the rest of the season.
Career Stats
College Stats
| | | | | | |
| --- | --- | --- | --- | --- | --- |
| School | G | AST | STL | BLK | PTS |
| Texas | 36 | 1.3 | 0.9 | 2.4 | 13.1 |
Career Stats
| | | | | | |
| --- | --- | --- | --- | --- | --- |
| Season | Team | PTS | REB | AST | FG% |
| 2021-2022 | CHI | 5.7 | 4.7 | 0.6 | 56.5 |
| Career Stat | | 9.0 | 8.4 | 1.0 | 51.9 |
Relationship & Kid
The basketball player is not dating anyone in 2023. However, the former Longhorn is rumored to have reconciled with his baby mama and ex-girlfriend Khloé Kardashian.
On February 3, 2023, Khole shared a cryptic message on her Instagram, speculating the rumors of getting back with Tristan. However, neither of them has verified the news.
Khole is the producer of Revenge Body and stars in Keeping Up With The Kardashians (KUWTK). Likewise, she is also known as the ex-wife of former basketball player Lamar Odom.
The two started dating in July 2016. They received a lot of backlash and criticism over their relationship. At the time, Tristan was expecting a baby with his ex-girlfriend Jordan Craig.
The power forward was accused of abandoning his child, while Khloé was accused of stealing him from his pregnant girlfriend.
Nevertheless, they had a good run for almost two years. The NBA player even starred in Kardashian's reality TV show.
Even though they might not be together, they maintain an amicable relationship for their child's proper upbringing.
Thompson has a son and a daughter from two separate women. He had his firstborn with model Jordan Craig. They have a son named Prince Tristan Thompson, who turned 6 years old in 2023.
Besides that, he has a daughter with Khloé Kardashian named True Thompson. His daughter turned 5 in 2023.

Cheating Scandals
The NBA player has been involved in numerous cheating scandals.
He reportedly cheated on his son's mother, Jordan Craig, in her first month of pregnancy. Nevertheless, Thompson denied all of those allegations.
Many sources claim that he also cheated on his former girlfriend, Khloé Kardashian. Khole denied the allegations and stated that they dated after his breakup with Craig.
Furthermore, the NBA player has cheated on her on multiple occasions. His cheating rumors initially sparked when Khloé was pregnant and nearing her due date.
A video of him kissing two girls showed his disloyalty to the then-pregnant media personality.
Shortly after, another video of him kissing a model in New York City surfaced. At that moment, the host was days away from delivery.
Likewise, Tristan also cheated on her sister's best friend, Jordyn Woods. The cheating scandal received a lot of publicity.
The scandal was aired on KUWTK, where Khole said that she felt betrayed as she considered Woods a part of the family. Since then, Khloe and her sister Kylie Jenner have cut off Jordyn from their lives.
Regardless, the former couple has come a long way. They now co-parent while maintaining a positive environment for their daughter's healthy growth.
Net Worth & Salary
The Canadian-American NBA player has built impressive wealth through nine years in the NBA. His estimated net worth is $45 million in 2023.
He signed a one-year, $1 million contract with the Bulls in the 2021-2022 season that included $1 million guaranteed and an annual salary of $1 million.
The basketball player is also the NBA's 136th highest-paid player and 55th highest-paid forward player.
During his active years, he had endorsement deals with brands such as Beats by Dre, Compex, Moet & Chandon, Mountain Dew, and Nike.
Net Worth Of Tristan Thompson In Different Currencies
Here is the net worth of Triston Thompson net worth in different currencies, including the cryptocurrency BitCoin.
Currency
Net Worth
Euro

€41,708,700

Pound Sterling

£37,308,150

Australian Dollar

A$64,873,260

Canadian Dollar

C$60,338,475

Indian Rupee

₹3,710,902,500

BitCoin
฿

1,977.53
Social Media Presence
The Canadian-American professional basketball player is active on various social media platforms like Instagram and Twitter.
Instagram:3.8 million followers
Twitter: 651.4k followers
View this post on Instagram
Popularity
Triston is well-known for his partnership with LeBron James, which helped the Cavaliers to win the 2016 NBA title.
The graph shows his search trend for the span of 12 months.
Frequently Asked Questions (FAQS)
Is Tristan Thompson still in the NBA?
Yes, the basketball player is still in the NBA. However, he is currently a free agent.
Does Tristan Thompson have a child?
Yes, Tristan has two children; a son and a daughter. He welcomed his son in 2016 with model Jordan Craig. Furthermore, he welcomed his daughter in 2018 with reality television star Khloé Kardashian.
What is a jersey number, Tristan?
The professional basketball player wears jersey number 13.
Are Tristan Thompson and Kevin Durant Friends?
Yes, Tristan and Kevin are close friends. Both attended the University of Texas and have a strong bond with each other.