There is no age bar to fame; True Thompson is a celebrity baby with a growing fan base due to her mega-celebrity parents, Khloe Kardashian (TV reality star) and Tristan Thompson (NBA player.)
Her mother's (Khloe) admirers were ecstatic to welcome the new Kardashian family member even before she was born. Shortly before True's delivery, Tristan's cheating scandal made headlines.
Tristan's name piqued the interest of Khloé's admirers as well. True has her father's surname tied to her name, yet it's unclear whether Khloé and Tristan want to reunite or marry anytime soon.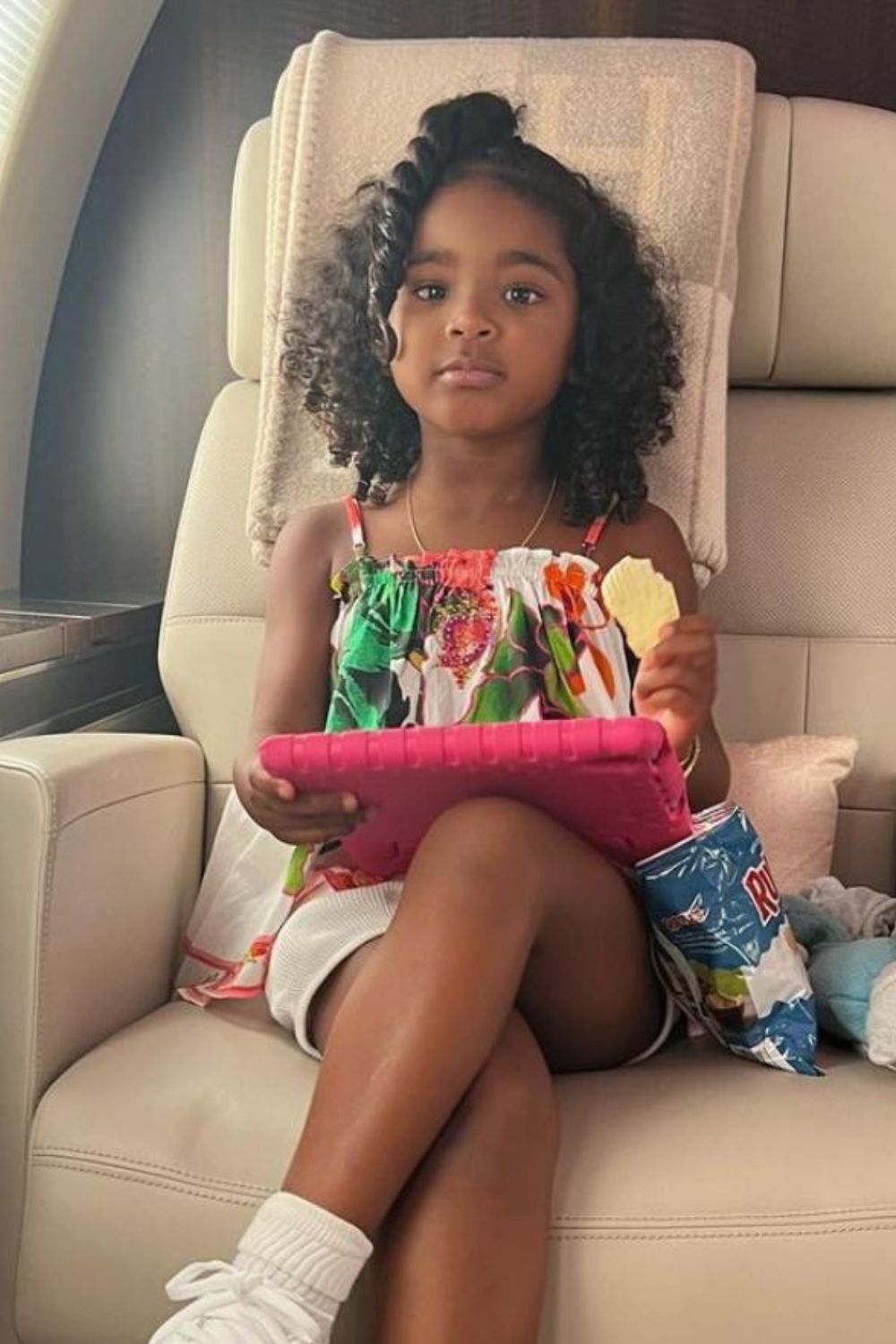 She is the first child of Khloe Kardashian and the second of NBA player Tristan Thompson.
True was named after her mother's family, according to her grandmother Kris Jenner, who stated that her father and grandfather had the same name.
Khloe revealed the baby's name and date of birth on April 16, 2018, four days after she was born.
Continue reading to learn more about Tristan Thompson's daughter as we review everything you need to know about her here.
Quick Facts
| | |
| --- | --- |
| Full Name | True Thompson |
| Birth Date | April 12, 2018 |
| Birth Place | Mayfield Heights, Ohio, United States |
| Nick Name | TuTu |
| Religion | Christian |
| Nationality | American |
| Ethnicity | Dutch, English, Irish, German, Scottish & Armenian |
| Education | Not Known |
| Horoscope | Aries |
| Father's Name | Tristan Thompson |
| Mother's Name | Khloe Kardashian |
| Grandfather's Name | Robert Kardashian & Trevor Thompson |
| Grandmother's Name | Kris Jenner & Andrea Thompson |
| Siblings | Prince Thompson (Half-Brother) |
| Age | 4 Years Old |
| Height | Not Known |
| Weight | Not Known |
| Hair Color | Black |
| Eye Color | Brown |
| Social Media | Instagram, Facebook |
| Last Update | 2023 March |
Who Is Tristan Thompson's Daughter?
True Thompson was born at Cleveland's 'Hillcrest Hospital' on April 12, 2018. At the time of her delivery, she just weighed 6 pounds and 13 ounces and measured 21 inches in length.
True's ancestors are Dutch, English, Irish, German, Scottish, and Armenian on Khloé's side and Jamaican on Tristan's.
She has an older half-brother named Prince from Tristan and his ex-girlfriend Jordan Craig.
Similarly, on August 2022, Khloe welcomed her son via surrogate. She shares the son with ex-Tristan Thompson as well.
Khloé's admirers were curious after the announcement of True's middle name. She answered her fans' questions by adding that picking her first name was difficult.
She also mentioned that True would go without a middle name for now. True's legal guardian will be Khloé's sister, Kim Kardashian, according to Khloé.
Although Khloé had always considered her second sister, Kourtney, to be her child's godparent, Kim's parenting approach convinced her otherwise.
True Thompson Mother
True Thompson's mother is Khloé Kardashian, a reality television actress on 'Keeping Up with the Kardashians' & 'Revenge Body with Khloé Kardashian.'
Khloe is the second youngest of Robert and Kris' four children, who include three girls and a boy. Her parents split, and her mother married Olympic gold medallist in the decathlon, Bruce, who had four children from a previous marriage.
Kris and Bruce's marriage resulted in the birth of two children. Khloe is the youngest of ten children, including stepbrothers and sisters.
Khloe Kardashian changed her surname to 'Odom' after marrying NBA basketball star Lamar Odom in 2009.
The reality show 'Khloe & Lamar' showed episodes of their married life. Unfortunately, the show's stress caused them to split in 2013, and Kardashian discarded the surname. In 2016, the divorce was finalized.
After her divorce, she had several short-lived romances, including with hip-hop musician French Montana and NBA player James Harden.
Brief About Tristan Thompson
Tristan Thompson is a Canadian basketball player representing the NBA's Chicago Bulls. On the international stage, he also represents Canada.
Thompson, who was born in Toronto, began to shine in basketball during his high school years. Due to his exceptional abilities, he was recruited by the best basketball programs in the country.
He played college basketball for the University of Texas before being selected in the 2011 NBA Draft by the Cleveland Cavaliers.
Thompson was a standout performer in his rookie season, earning All-Rookie Team and becoming the first Canadian ever to earn the honors in the NBA.
He performed admirably in the following years, winning numerous prizes and accolades. In 2011, he received the Wayman Tisdale Award, and in 2016, he won the NBA championship.
Tristan Thompson & Khloe Kardashian Relationship Timeline
Khloé Kardashian and Tristan Thompson have been on-again and off-again since their relationship began in 2016.
While the couple is no longer together, despite discovering Tristan fathered a kid with Maralee Nichols, a personal trainer and fitness model, after a paternity test in early January 2022, the reality star and NBA player are believed to be "doing fine."
Their primary priority, according to sources, is "co-parenting" their 4 years old daughter, True Thompson, whom they welcomed into the world in 2018.
Even though Khloé and Tristan are no longer together, the NBA player appears to maintain contact with his ex's family.
Tristan sent Kris Jenner, the matriarch of the Kardashian family, a pink-and-white rose arrangement for Mother's Day on Sunday, May 8, 2022.
Tristan was tagged in a photo of the colorful bouquet the "momager" (mom & manager) shared on her Instagram Story.
After her breakup with NBA player Tristan Thompson, Khloé Kardashian decided to move on.
In an interview with Robin Roberts, she discussed how her relationship with Tristan began, what led her to look past his initial adultery, and where she stands with him now.
While dating Khloé, the Bulls player was involved in many cheating scandals and fathered a son with another woman.
Before Birth Controversy
Khloé and Tristan Thompson were embroiled in a feud only days before True's birth. Tristan was accused of cheating, which cast doubt on his relationship with Khloé.
A video was released on April 10, 2018, in New York's 'PH-D Lounge.' Tristan was seen kissing an unnamed woman in the video.
Photos of Tristan bringing the same woman back to his New York hotel surfaced a few days later. A renowned Instagram model, Lani Blair, was revealed to be the anonymous woman.
Both of these incidents added gasoline to the fire. During Khloé's pregnancy, the media accused Tristan of adultery.
Tristan was also caught making out with two unnamed females at a Hookah Lounge near Washington DC during Khloé's early stages of her pregnancy.
Neither Khloé nor Tristan has ever commented on the situation. After the media documented Tristan's presence during Khloé's delivery, the scandal was put to rest.
Pet
True Thompson was seen cuddling up to her grey kitten in a collection of sweet images released by the Keeping Up with the Kardashians star, Khloe, on her Instagram.
She tenderly cradles her pet, wearing a bedazzled pink collar to match True's pink tulle outfit, in the first photo of the carousel, before kissing her furry buddy in the next.
She and Grey Kitty have been together since Kardashian first introduced the kitten on social media in January 2022, when True couldn't help but smile beside the feline.
Kardashian kept it simple with a white heart emoji as the caption; True celebrated her fourth birthday in April 2022 with a "purr-fact" party.
The Good American co-founder shared photos of her daughter's birthday party on Instagram, including pink and purple balloons, flowers, and a three-tiered birthday cake.
True wore a pink feather-lined dress with matching pink braided hair to the lovely cat-themed celebration.
Do True Thompson & Her Half-Brother Prince Get Along?
Because of Tristan's ties with their mothers (Khloe & Jordon Craig), True and Prince's relationship has gotten off to an uneasy start.
Fans ask if the two kids get along — and if True has a relationship with his son because they are siblings.
Fans pointed to proof that Thompson isn't involved in Prince's life in a 2021 Reddit thread, implying that True doesn't have a relationship with her half-brother.
Jordon Craig Prince's mother disclosed that Tristian also had no relationship with his first child.
Anti-Thompson supporters pointed out that Kardashian and Thompson have expressed a desire for True to have a sibling.
Other fans accepted True and Prince's lack of relationship because they don't live in the same state.
However, True finally has a brother, as Khloe informed the fans about her newborn with Thompson on July 28, 2022, via surrogacy.
Cousins
On her maternal side, she has two cousins who are practically the same age as her: Chicago, Kim Kardashian West's third kid, and Stormi Webster, Kylie Jenner's daughter.
The sisters frequently share gorgeous images and videos of their daughters on playdates, and it's evident that the three girls are very close.
On the other hand, Kardashian does not compare True to her cousins regarding developmental milestones, knowing that each child develops at their speed.
Social Media Presence
Khloé, like Kylie, set up an 'Instagram' page for her baby soon after she was born. You can find True's cute photos on Facebook, which has over 397k followers.
The last post on True's Instagram was with Khloe's younger brother and True's uncle Rob's daughter, Dream Renée Kardashian, captioned as "besties."
Instagram– 142k followers
Facebook– 397k followers
Search Graph
Frequently Asked Questions (FAQS)
Who is True Thompson's godfather?
Khloé Kardashian revealed to her sister Kourtney Kardashian that Kim would be True's godparent during an episode of Keeping Up With The Kardashians.
What color eyes does True Thompson have?
Fans can't get enough of True Thompson because of her lovely curls and large brown eyes. True's famous mother, Khloé Kardashian, is a big fan of sharing images of her beautiful child on Instagram.
How tall is True Thompson?
True will almost certainly be tall, considering Thompson is 2.06 m, and some fans believe Khloe is insecure about her daughter being taller than other kids her age.