USC, UCLA, and Oregon state that competes in the same conference (Pac-12) has reached the elite eight of the National Collegiate Athletic Association (NCAA) Division I.
The sweet 16 of the NCAA tournament ended on Sunday and the teams that reached the elite eight are:
1. Houston Cougars Men's Basketball of American Athletic Conference.
2. Baylor Bears Men's Basketball of Big-12 conference
3. Arkansas Razorbacks Men's Basketball of Southeastern Conference.
4. Gonzaga Bulldogs Men's Basketball of West-Coast Conference
5. Michigan Wolverines Men's Basketball of Big Ten Conference
6. Oregan State Beavers Men's Basketball of Pac-12 Conference
7. USC Trojans Men's Basketball of Pac-12 Conference.
8. UCLA Bruins Men's Basketball of Pac-12 Conference.
Houston Cougars won 62-46 against 8th placed Syracuse Orange in the Atlantic Ocean and reached elite eight on Monday.
Meanwhile, Baylor defeated 1st placed Villanova Wildcats in Big- East Conference 62-51 to reach the elite eight.
Similarly, Arkansas Razorbacks beat 4th placed Oral Roberts Golden Eagles in Summit league 72-70 to reach the elite eight.
Likewise, Gonzaga Bulldogs played against 2nd placed Creighton Bluejays in Big East 83-65 and reached elite eight.
Michigan Wolverines subsequently reached elite eight defeating 2nd placed in Atlantic Coast, Florida State Seminoles by 76-58.
Oregan State Beavers defeated 1st placed in Missouri Valley, Loyola Ramblers 65-58 score consequently reached elite eight.
USC Trojans defeated 1st placed in Pac-12 Oregon Ducks 82-68 and subsequently reached elite eight today.
Finally, UCLA Bruins shockingly defeated 1st placed in Southeastern conference, Alabama Crimson tide 88-78 and reached elite eight.
Oregan State's Magical Run
Oregan State continued their magical run in sweet 16 to become 1st team from Pac-12 to reach elite eight.
Oregon State Basketball beat Loyola Ramblers 65-58 in sweet-16 and reached elite eight for the first time since 1963.
Oregon State played really good defense to win against Loyola. One of the key players in the win was Ethan Thompson.
He scored 22 points was 6-13 from the field and 8-8 from the line and also made 4 rebounds and assist.
Similarly, Warith Alatishe scored 10 points and grabbed 11 rebounds including two assists in 26 minutes.
Oregon State's magical run to the Elite Eight began in the Pac-12 Tournament when they knocked off UCLA, Oregon Ducks, and Colorado in succession to grab their spot in the 2021 NCAA Tournament field.
Then in the 1st round of the NCAA tournament, they've knocked off No. 5 seed Tennessee.
Subsequently, they also beat No.4 seed Oklahoma State in the second tournament to reach sweet 16.
And most recently they defeated No. 8 seed Loyola Ramblers and reached the elite eight and will face No.2 seed Houston Cougars.
Oregon State will meet with Houston Cougars on Monday night (March 29th) for the Match to reach the final four.
No. 11 seed UCLA shockingly defeated No. 2 seed Alabama Crimson
UCLA Bruins and Alabama faced each other on Monday with hopes to enter the elite eight.
The match between the two teams was thrilling and intense as there were eight lead changes and eleven ties.
There also was a game-tying buzzer-beater at the end of regulation leading to overtime.
At first, UCLA ended the first half outscoring the Tide 15-4 to take a 40-29 lead heading into the break.
Then, Alabama answered back on the second half, scoring the first 11 points of the second half to tie things at 40-40 in just under five minutes.
Both teams changed leads several times over before the end of regulation.
But in the end, the Bruins took the win as guard David Singleton scored seven points to help lead the team to victory in overtime.
Guards Jaime Jaquez Jr. and Jules Bernard each scored 17 points for their team.
Similarly, Sophomore Tyger Campbell led the team with five assists scoring 13 points.
While freshman Jaylen Clark pulled down a team-high nine rebounds scoring 3points in 18 minutes.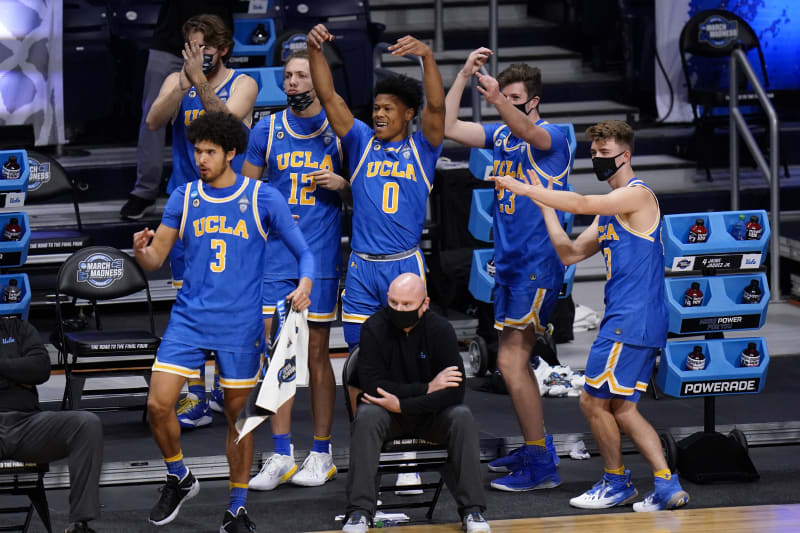 Finally, UCLA reached the elite eight for the first time since 2008.
The Bruins will face top-seeded Michigan for a spot in this year's final four on Tuesday night.
USC dominated Oregon Ducks
USC advanced to its first Elite Eight round in the NCAA men's basketball tournament since 2001.
They defeated No. 7 seed Oregon Ducks 82-68 and finally made their spot on the elite eight.
In the match played on Monday, USC dominated Oregon throughout the match.
Trojan's Isaiah White scored a season-high 22 points including 5 rebounds and an assist.
Behind Isaiah, Tahj Eaddy scored 20 points with 3 rebounds and 3 assists helping USC get the win.
"We're making history and it just means a lot to this program," Isaiah White said.
"As a team, we're just super excited and we worked for this, so I'm glad that it's paying off."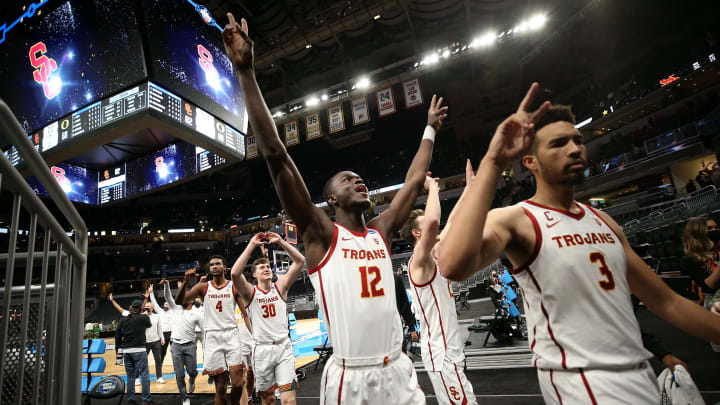 USC led most of the way, at one point opening up a 21-point gap and eventually ending the match with a final score of 82-68.
USC will now face No.1 seed Gonzaga Bulldogs on Tuesday, March 30.
According to ESPN, this is the first time two teams seeded 11th or lower (No. 11 UCLA and No. 12 Oregon State) made the Elite Eight in the same tournament.
Oregon State followed by UCLA Bruins and USC Trojans reached the elite eight from the same conference for the first time since 2001.
And also the Trojans and the Bruins are both in the Elite Eight at the same time for the first time.
If both advance they will face each other in the Final Four.