Vance McDonald is a former professional football player who played in the National Football League. He has played for two major teams in the NFL.
Moreover, the footballer started his career with the San Francisco 49ers. Later, he played four seasons with the Pittsburgh Steelers.
The athlete featured jersey number 89 with the Steelers. Besides that, he played collegiate football for Rice University.
Vance was an exceptional player for the Rice Owls. Hence he was a second-round pick by the 49ers.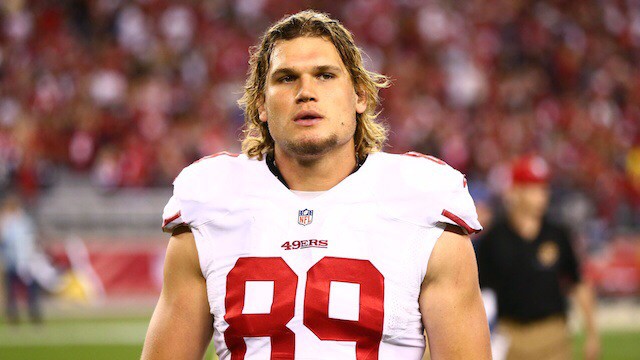 Furthermore, his father was a hardcore Dallas Cowboy fan. As a result, he was exposed to football at a very young age.
The tight end grew up to love football and the NFL even more as he started playing the sport.
As of now, the player is one of the most hardworking players in the league. Aside from that, he is involved in humanitarian works.
He has also worked for a nonprofit organization that supplies food and necessities, known as Convoy of Hope. The player's wife is equally active in helping the organization.
Before getting into details about the footballer's life and career, here are some quick facts about him.
Quick Facts:
Full Name
Vance Coman McDonald
Birth Date

June 13, 1990

Birth Place

Beaumont, Texas, United States

Nick Name

Vanimal

Religion

Christian

Nationality
American
Ethnicity
White
Education
Rice University
Horoscope
Gemini
Father's Name
Bret McDonald
Mother's Name
Beverly McDonald
Siblings
One; Tyler McDonald
Age
41 Years Old
Height
6 feet 3 inches (1.93m)
Weight
267 lbs (121 kg)
Hair Color
Brown
Eye Color
Light Brown
Build
Athletic
Profession
NFL player
Former Team
Pittsburgh Steelers, San Francisco 49ers
Position
Tight End
Active Years
2016
Marital Status/ Wife
Married/

Kendi Mcdonald

Kids
Three; Coman kayle McDonald, Ken Marie Ann Mcdonald, and Karse Alan McDonald
Merchandise
Rookie Card
Net Worth
$35 million
Social Media
None
Last Update
May, 2023
Vance McDonald | Early Life, Family, And Education
Vance McDonald was born in Beaumont, Texas, United States. His parents are Bret McDonald and Beverly McDonald.
Additionally, Vanimal's family never used to like the team that drafted him. However, this conclusion quickly changed when he got drafted by the 49ers.
The tight end's father encouraged him and his older brother Tyler McDonald to play football. As a matter of fact, he took both of them to Dallas Cowboys' training camp session.
In addition, both of them used to compete in wrestling that helped Vance learn how to overpower his opponents.
McDonald's went to East Chambers High School in Winnie. After graduating from high school, he attended Rice University for his further education.
Not to mention, he played football for both the university and the high school team, where he was a very viable asset.
Initially, he was not that huge in terms of his body going into the early '20s, as of which he used to lose playing pickup football with any person bigger than him.
Moreover, before enrolling at Rice, he gained 50 pounds that enhanced his playing ability.
Besides that, the tight end's parents and relatives describe him as responsible and hardworking. He often used to train even harder after losing a match.
Throughout the footballer's high school and college career, his father was the one that motivated him.
Vance McDonald | Age, Height, And Weight
The NFL player is 41 years old as of 2023. The professional player maintains a good diet and health.
Hence, he leads a very healthy and active life. Furthermore, he stands 6 feet and 4 inches tall and weighs 267 lb, i.e., 121 kg.
Vance McDonald | Football Career
High School And College Career
The starting tight end for the Pittsburgh Steelers went to East Chambers High School.
Not to mention, he used to play high school football in both his junior and senior years, where they won the district titles both years.
Alongside playing football, the tight end also played basketball. Having athleticism and work ethic, Vance was an outstanding athlete for the high school's track team.
Moreover, he developed many playing habits as he was also a part of a relay team.
He served as a tight end and defensive end for the East Chambers. The professional player contained excellent football skills.
As a result, the player received a lot of praise and attention from many well-reputed colleges. At last, he decided to attend Rice University.
The tight end showed the Rice Owls football team his true potential from the very beginning.
He had also caught twelve passes in the first season and had eight touchdowns in his second one.
Furthermore, he earned All-Freshman honors and was looking to have a productive two more years with the team.
He was also the first-team All-C-USA selection at tight end in his senior year.
In light of that, he posted 15 touchdowns along with 1,504 yards receiving 119 receptions altogether in his four seasons with Rice Owls.
You can find the latest news, rankings, projections, stats, game logs, and much more information about Vance McDonald on the FantasyPros website.
NFL Career
San Francisco 49ers
Following his college graduation, the athlete entered the 2013 NFL Draft. He was picked in the second round and was the 55th pick overall. The San Francisco 49ers selected him.
Upon draft, the tight end signed a four-year contract worth $3.59 million that guaranteed him $1.92 million with $997,584 as a signing bonus.
Retton was not a starter for the majority season with the 49ers and played as a backup unit 2016 season.
Pittsburgh Steelers
For the 2017 season, the 49ers traded the former Rice Owl to the Pittsburgh Steelers.
In his first game as a Steelers, he played in a win against the Cleveland Browns. He was an instant hit with the Pittsburgh team.
In the 2020 season, McDonald tested positive for COVID-19. As a result, he was quarantined on his farm located an hour away from the Steelers facility.
The NFL player spent 16 days at the farm with his new German Shepherd, Nebo. Finally, after testing negative twice, he was back on the field.
Don't Forget To Check Out 49ers Wide Reciever:<<Kendrick Bourne Bio: Football, Career, NFL, Family & Net worth >>
Summary Career Stats
| | | | | | | | |
| --- | --- | --- | --- | --- | --- | --- | --- |
| SUMMARY | G | AV | Rec | Yds | Y/R | TD | FantPt |
| Career | 101 | 16 | 181 | 2036 | 11.2 | 15 | 289.8 |
McDonald's Stiff Arm
In the 2018 season, with a game against Tampa Bay Buccaneers, the player was shot into the spotlight. He received popularity for his stiff arm against Chris Conte, safety for the Bucs.
Furthermore, some people translate this beautiful stiff arm as a run-over. However, he did not get a card for this action from the referee.
His teammates, fans, commentators, and many legendary players applauded him for the electrifying play. He received multiple praises throughout social media platforms.
Thus, making the 75-yard touchdown followed by the beautiful stiff-arm an exhilarating moment in the game.
Besides that, the football athlete's stiff arm leads to a keen injury for Conte.
Hence, the Buc's safety was put on the injured reserve list after the play. As of result, he was out for at least six weeks.
You Might Be Interested In NFL Saftey:<<Deone Bucannon Bio: Wife, Net Worth, College, Draft & NFL >>
Vance McDonald | Marriage And Kids
The Steelers tight end is happily married to Kendi McDonald. Vance and Kendi are high school sweethearts. The couple is relatively private about their personal life.
Hence, there is not much information known about her work and education. Furthermore, she is a mother to three beautiful children with her husband, Vance McDonald.
The pair got married somewhere in the year 2014. Together they welcomed their first child and son, Coman kayle McDonald, on July 17, 2016.
Their second child, daughter Ken Marie Ann Mcdonald, was born on March 17, 2018.
Finally, the couple also had a second son Karse Alan McDonald whose birthday is not yet specified. However, it is thought to be somewhere between late 2019 to early 2020.
Nevertheless, McDonald's wife is found to be very active in humanitarian work alongside him. The pair are determined to help their community through philanthropy.
Thus, they have collaborated with a nonprofit organization to help many peoples in need.
Learn more about former Steelers Wide Reciever: <<Jacoby Jones | NFL, Net Worth, Son, Wife, Facts & Instagram >>
Vance McDonald | Net Worth And Salary
The NFL tight end has built a pleasant wealth amount through years in the National Football League. McDonald's net worth is estimated to be around $35 million.
Besides that, he has signed a Glorious $27 million contract with the Steelers. Furthermore, The contract guarantees him $11 million in salary.
On top of that, the tight end earns a fair amount through endorsements and sponsorships. As a result, the athlete leads a very comfortable life.
Moreover, he lives in a lavish house and owns multiple cars. He also has a few possessions.
You can find the latest news, stats, highlights, videos, and much more information about Vance McDonald on ESPN.
Vance McDonald | Charity and The VM Foundation
Vance McDonald has a heart of gold, always keen to help those in need. He partnered with Convoy of Hope, a faith-based organization. The objective was to feed the hungry with different programs.
Similarly, after his retirement, his major focus became running his charity foundation.
He runs Hidden Meadows Farm and Retreat based in Pennsylvania, surrounded by the nature.
With regard to the farm, his foundation admits grants for guests through a 'pay-it-forward' method. It helps sponsor the stays of faith-based leaders, non-profit teams, and others in the farm's territory.
Vance McDonald | Social Media Presence:
The Steelers tight end is quite old school and is not active on social media platforms.
Hence, Vance prefers to keep his personal life out of the limelight. He enjoys living his life at the moment rather than capturing and posting about it.
Although his wife was quite an active Instagram user, she has removed her account as of now.
However, she has a private Twitter account with just over 100 followers. Kendi has a beautiful profile picture of her and Vance on their wedding day.
Vance McDonald | Some FAQs:
Is Vance Mcdonald hurt?
Yes, the football player was hurt as of an impact-full hit leading to a concussion. This incident happened during the 2019 season, due to which he was out for two games.
Furthermore, in the 2020 season, he tested positive for COVID-19, for which he had to quarantine for 16 days.
What is Vance McDonald's salary?
With the Steelers, the athlete's salary is above $6 million annually, in addition to singing a three-year $19 million contract with them. Furthermore, the contract includes $7 million as a signing bonus.
Where did Vance McDonald go to college?
The tight end for Steelers went to Rice University. He played for the Rice Owls team, where he had a very productive year. Hence, leading him to be a high draft prospect.
What is Vance McDonald's angry run issue?
Vance McDonald ran an out route at the line, turning upfield along the sideline. He met Buccaneers Chris Conte and hit him with a powerful stiff arm.
The legality of the play was questioned by any.
Ben finds Vance.
@VMcDonald89 does the rest. pic.twitter.com/XnMddGV4cY

— Pittsburgh Steelers (@steelers) September 25, 2018
Has Vance McDonald cut his long hair?
No, the footballer seems to be loving his new look as he is still sporting his long hair.
What number is Vance McDonald?
The former Rice Owls wears the Jersey number 89. Moreover, he always used to wear this number right from his high school time.
What is Vance McDonald's benchpress score?
Vance McDonald has a benchpress score of 31 repetitions (225 lb.).
Was Vance McDonald named the nominee for the man of the year?
Vance McDonald was named the team's nominee for the Walter Payton NFL Man of the Year award in 2020.
The award is handed over annually to the NFL player who has the most outstanding community service activities off the field and is equally excellent on the field.
For more inspiration, check out: <<Top 33 Joe Montana Quotes >>