Vanessa Bryant, also known as Queen Mamba, and wife of basketball legend Black Mamba (aka Kobe Bryant), is a former Model and Philanthropist.
Kobe Bryant was a five-time NBA champion and the NBA's most valuable player of 2008. He was one of the greatest NBA players of all time and an inspiration to many NBA players.
He fell in love with Vanessa when she was just 17 years old, and he was 21 years old. Ever since then, she was always beside him, being a constant force for Kobe.
She always kept herself behind to let Kobe shine.
And had been away from the limelight until the death of Kobe and their daughter Gianna in a tragic helicopter accident on January 26, 2020.
Coping with the greatest tragedy of hers, she emerged as a strong woman, raising her and Mamba's children in his absence.
She is now willing to share her life with the world. So it's high time we also know more about her life.
Here are some facts about her.
Vanessa Bryant: Quick Facts
Birth Name
Vanessa Urbieta Cornejo Laine
Birth Date
5 May 1982
Birth Place
Los Angeles, California, USA
Age
41 years old
Height
1.65 m
Nationality
American
Ethnicity
Latina American of Mexican and Irish, English, German descent
Religion
Catholic
Horoscope
Taurus
Profession
Model, Philanthropist
Parents
Sofia Urbieta
Siblings
1; Sophie Laine
Marital Status
Married (2001-2020), now a widow
Husband name
Kobe Bryant(b. 1978-d.2020)
Children

4; Gianna Maria-Onore Bryant(b. 2006-d.2020)
Natalia Diamante Bryant(2003)
Bianka Bella Bryant(2016)
Capri Kobe Bryant(2019)

Net Worth
$600 Million approx.
Merch
Jersey, Autographed Items
Social Media
Instagram
Last Update
June, 2023
Vanessa Bryant | Early Life, Family & Education
This 39-year-old Latina Vanessa Bryant was born on 5th May 1982 in Los Angeles, California, to Sofia Urbieta. She is of a Mexican ethnic background.
Sofia raised Vanessa and her elder sister, Sophie as a single mother. She divorced Vanessa's father when she was a baby.
The pictures below show Vanessa with her mother.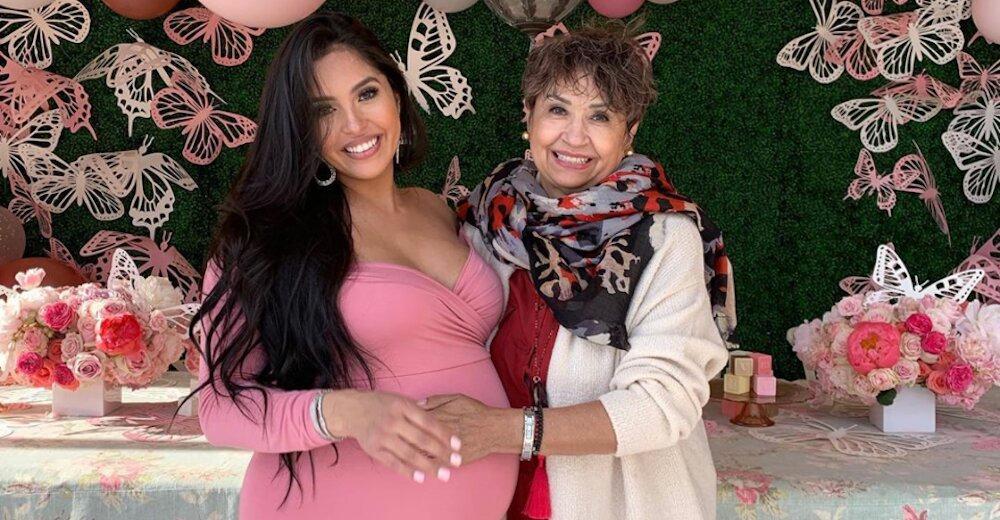 Her father moved back to Mexico, so not much is known of him. Sofia then married Stephen Laine.
Then Vanessa adopted her step-father, Stephen's last name.
Hence her full name became Vanessa Urbieta Cornejo Laine, along with her older sister Sophie Laine. Despite Stephen not adopting them.
Vanessa spent most of her early life in Orange County.
Education
Talking about her education, Vanessa completed her schooling at St. Boniface Parochial School in 1996. Then went on to get her honors from Marina High School in 2000.
She was a model student during her school life. Mrs. Bryant worked hard at her studies and was active in the school's theatre club.
Her drama teacher Robert Rotenberry described her as "very pleasant, very nice, extra-outgoing."
While her schoolmates describe her as a very calm person.
She was quite sheltered and not allowed to date during high school. She had a very everyday life before she met Kobe.
Vanessa Bryant | Marriage with Kobe Bryant
Vanessa met the love of her life, Kobe Bryant, when she was in high school. Kobe met Vanessa when she was shooting Tha Eastsidaz music video "G'd up" in November 1999.
At that time, Vanessa was just 17 years old while Kobe was 20. But they began dating after Vanessa turned 18 and Kobe proposed to her.
The picture Vanessa with Kobe in the early days of their relationship.
Their love was not easy. They faced the disapproval of Kobe's parents. Despite the disapproval, Kobe and Vanessa married in April 2001.
Kobe's parents, Joe and Pam Bryant were against their marriage as Kobe was very young, and Vanessa was of Mexican and Irish descent.
The relation between them became bitter for two years after marriage. But in the end, his parents accepted them after the birth of their first child.
Vanessa Bryant | Adultery in Marriage
Two years into the marriage, a scandal about her husband came into the light.
Kobe got accused of sexually assaulting a 19-year-old in Denver, Colorado.
Soon, he addressed the accusation by admitting adultery in the marriage in a press conference at the Staples Center.
But denied sexual assault and said the encounter was consensual.
During that time, Vanessa stayed by his side despite the cheating.
"I sit here in front of you guys, furious at myself, disgusted at myself for making the mistake of adultery. I love my wife with all my heart. She's my backbone," he said.
Eventually, the criminal case was dropped after he settled the case privately.
Vanessa Bryant | Kids
Vanessa gave birth to Kobe's four children. Their first child was born on January 19, 2003. They named her Natalie Diamante Bryant.
Three years later, their second child was born on May 1, 2006.
But after their second child, their marriage hit another rough patch when Vanessa filed for divorce in 2011.
Mrs. Bryant cited "irreconcilable differences" as the reason for divorce. But they reconciled and dissolved their divorce in 2013.
"We are pleased to announce that we have reconciled," Vanessa wrote on Instagram at the time.
"Our divorce action will be dismissed. We are looking forward to our future together."
Kobe and Vanessa welcomed their third child, Bianka Bella Bryant, in 2016.
Likewise, their fourth daughter was born in 2019, named her Capri Kobe Bryant.
The picture below shows Kobe and Vanessa with their four daughters.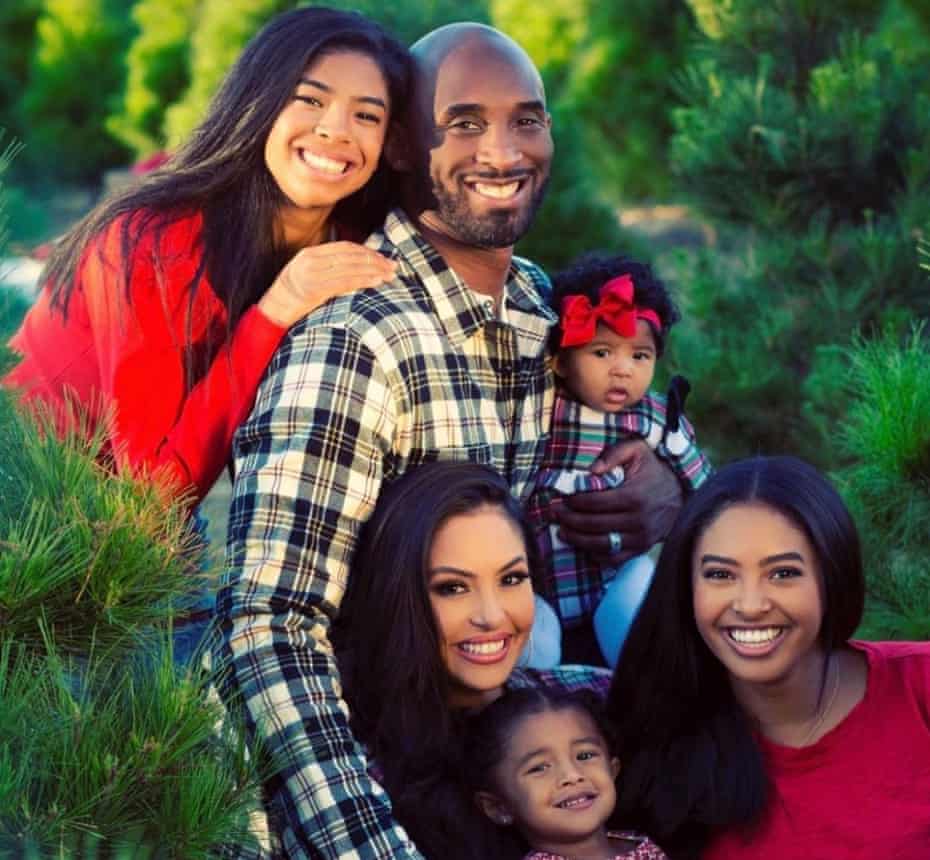 Kobe shared pictures of his wife and daughters on his Instagram regularly, showing his love for them.
Vanessa Bryant | Tragedy in her life
Just when she thought that she and Kobe could have eternity together, her dreams shattered.
Her world fell apart in front of her eyes when she heard the news of her beloved husband and daughter's death in a helicopter crash.
After the chopper crashed, basketball legend Kobe Bryant died along with his 13-year-old daughter, Gianna, and seven other people on board on January 26, 2020.
Vanessa stayed strong and carried her life forward with the memories she shared with Kobe and their daughter despite the tragedy.
She became the center at a public memorial service held to honor her husband and daughter.
At the service, she made a heartbreaking speech that brought many to tears.
"He was my sweet husband and the beautiful father of our children," Vanessa said. "He was mine."
Also, Vanessa said that "God knew they couldn't be on this Earth without each other."
"He had to bring them home to have them together. Babe, you take care of our Gigi. I got Nani, BB, and Coco. We are still the best team."
The picture shows Vanessa in tears while speaking about Kobe.
Kobe and Gianna, both were buried in a private funeral service two weeks after their death.
But the public was given a chance to honor them in a memorial service held at the Staples Center on February 24.
Likewise, talking about coping with the tragedy, she said that her daughters give her strength.
Vanessa Bryant | Career and Profession
Vanessa started her career as a model at the age of 17. Her first project was the video G'd Up by Snoop Dogg's rap group 'The Eastsidaz. '
She met Kobe Bryant at the same time when he was working on an album that was never released.
Vanessa then appeared in the teen Choice Awards 2003, followed by the 2004 MTV Movie Award.
She also appeared in a documentary on Kobe Bryant's muse.
Likewise appeared in the hit show keeping up with the Kardashians.
She also made appearances in many music videos for Tyrese, Ludacris, Pharell, and Snoop Dogg.
As of now, she works as a philanthropist and a businesswoman.
Vanessa Bryant | Net Worth
Vanessa never came into the light before her husband's death. She always stayed behind Kobe, becoming his support.
After Kobe's death, she is now opening up to the world, sharing her life.
Not much is known of her Networth. However, it is estimated to be about $75 million.
Additionally, she has $600 million that she inherited after Kobe's death.
She inherited $200 million from Kobe's brand Body armor, and she launched her brand named Mambacita on Gianna's 15th birthday in partnership with Danniio.
Vanessa Bryant | Social Media
After being away from the limelight, she has now decided to open up to the world.
She took the first step by making her Instagram public and sharing pictures of her and Kobe along with her daughters.
She now has 15.3 million followers on her Instagram.
This shows how much she and Kobe's fans love her for being there for him and staying strong without him.
She also gave an emotional tribute to Kobe after he got inducted into the Hall of Fame.
"You did it. You're in the Hall of Fame now. You're an all-time great."

An incredible tribute by Vanessa Bryant 💜

(via @TSN_Sports) pic.twitter.com/YAq364zC2F

— FanSided (@FanSided) May 16, 2021
She continues to post pictures of Kobe and her daughter's time to time. Additionally shares photos with her friends.
However, other than Instagram, she is not active on Twitter and Facebook.
Recent News
In September 2020, Bryant filed a lawsuit against Los Angeles County about the sharing of photos of human remains from the helicopter crash that killed nine people.
She later won the case against Los Angeles County.
Vanessa Bryant says she repeatedly received disturbing images via social media of the helicopter crash that killed her husband Kobe Bryant, their 13-year-old daughter and 7 others in her deposition in a lawsuit she brought against Los Angeles County. https://t.co/0aB8WBUsr7

— NBC News (@NBCNews) October 24, 2021
In December 2020, Vanessa got involved in a legal battle with her mother.
Her mother sued her for $5 million, accusing her of working as an unpaid personal assistant and nanny to Vanessa and her daughters for a long time.
On August 6, 2021, Vanessa settled the lawsuit, according to the report from LA Times.
The way she handled herself throughout the hard times is very inspirational and commendable.
It's very heartwarming to see her moving forward, keeping memories of Kobe and Gianna alive even after their permanent absence.