Being a player is one thing, and being a legend is another, and rightly so, Kobe Bryant's net worth is a humungous $600 million. The late Basketball great was one of a kind but an inspiration to many.
Every person in their 20s or 30s grew up watching the magician play. The signature fadeaway move is somewhat reminiscent of Michael Jordan.
The basketball Hall of Famer was uber-competitive. He would walk through fire for his team, Los Angeles Lakers. When you saw Bryant chew on his jersey, everybody knew the game was over for the opposition.
A record-breaker, a legend who spent 20 years with the Lakers, was not only an incredible player but also an amazing father, husband, and a great coach. The article deals with the late basketball great!
Let's get a catch to his Quick Facts first.
Quick Facts
| | |
| --- | --- |
| Full Name | Kobe Bean Bryant |
| Birth Date | August 23, 1978 |
| Birth Place | Philadelphia, Pennsylvania |
| Nick Name | Black Mamba, Kob-Me, Neo, The Dagger, Three Rings, Ocho, Lord of The Rings, The 8th Wonder of the World, Mr. 81, Employee#8, KB8 |
| Religion | Catholic |
| Nationality | American |
| Ethnicity | Black |
| Education | Lower Merion (Ardmore, Pennsylvania) |
| Horoscope | Virgo |
| Father'sName | Joe Bryant |
| Mother'sName | Pam Bryant |
| Siblings | Shariya Bryant, Shaya Bryant |
| Age | 43 Years Old |
| Height | 6 ft 6 in (1.98 m) |
| Weight | 212 lb (96 kg) |
| Shoe Size | 14(US) or 13.5 (UK) or 47 (EU) or 30 cm (JAP) |
| Hair Color | Black (but sported Bald look most of the time) |
| Eye Color | Dark Brown |
| Body Measurement | 42-16-35 |
| Build | Athlete |
| Marital Status | Married |
| Wife | Venessa Bryant |
| Kids | (Late)Gianna, Natalia, Bianka, and Capri Bryant |
| Profession | NBA player |
| Position | Shooting Guard |
| Jersey Number | 8, 24 |
| Net Worth | $600 million |
| Died on | January 26, 2020 |
| Active Tenure | 1996-2016 |
| Social Media | Instagram, Twitter |
| Merch | Autograph, Signed Jersey, Trading Card, Edge Card, Lamp Table (Memorabilia) |
| Last Update | August, 2022 |
Kobe Bryant Net Worth | Brief Look On The Legend's Life
Kobe Bean Bryant, professionally Kobe Bryant, was born on August 23, 1978, in Philadelphia, Pennsylvania. Also, the late NBA legend was the son of Pamela Cox Bryant and the former NBA player Joe Bryant.
Out of three children, Kobe was the only son, his sisters being Sharia and Shaya Bryant. The Bryants were practicing Catholics and were extremely religious.
Ever since a young age, the four times All-Star MVP garnered a love for the sport due to his father and maternal uncle.
Likewise, he would watch the games his father would play in and would go on emulating him by rolling Bryant Sr.'s tube socks and netting in a mini-hoop in his room.
The love for Basketball was immense as Kobe started dribbling at the age of 3. Like Bryant said multiple times that he was a "die-hard" Lakers fan, and to be drafted and traded to the Lakers organization and play 20 years there, nobody could write something better than that.
Upon his father's retirement, Kobe's father moved the family to Italy. While there, the NBA legend got the opportunity to hone his skills at a lower level. After accustoming to a new lifestyle and tradition, young Kobe became a fan of football as well.
His all-time favorite being the Rossonero's, AC Milan. The future gold medallist was an eager learner, and he would showcase his desire by adapting to the situation he got thrown in. Thereby, Kobe became fluent in Italian and Spanish in no time.
Kobe Bryant Net Worth | NBA Career: Draft, Salary, & Other Incomes
The Lakers' main man showed promise from an early age. In fact, Charlotte Hornets first drafted him in 1996 and later traded him to LA Lakers, which marked a glorious history.
If you are interested in buying Basketball jerseys, click here>>
At the age of 17, Kobe had the option to join a college on scholarship; instead, he chose to join the pros. Still, a minor, Joe and Pamela had to sign the contract for their son, which was a whopping $3.5 million deal that would keep him with the Lakers for three years.
The youngest player ever to debut for the NBA, KB-8 amassed a massive $328 million as a salary alone. Playing 20 years in his favorite club, Kobe's contract extension would grant him a $90 million bonus on each extension.
However, in 2013, the contract extension provided Bryant with only $48.5 million due to his age. Call it a chance, call it fate, call it whatever you want, the number 24 had to come into the limelight one way or the other.
Kobe Bryant deserved all the honors, all the money, and especially love from fans, teammates, and even rivals. While his career ended in 2016, the memories he created for himself and those who watched him will forever get etched in the minds.
At one point in time, the Black Mamba expressed his desire to leave LA and move to Chicago and sign with the Bulls, but then Lakers' GM, Jerry West, convinced him to stay. Imagine what the future would look like then for both Kobe and the Lakers.
But here we are a few days after Bryant's passing and the immortal status he labeled onto his name after four years of retirement. Nonetheless, over the years, he made massive cash from the Lakers. Here's a list of his earnings:
1996: Adidas Sponsorship – $48 million
1997: LA Lakers Salary- $1.01 million
1998: LA Lakers Salary- $1.1 million
1999: LA Lakers Salary- $1.3 million
2000: LA Lakers Salary- $9 million
2001: LA Lakers Salary, McDonald's Deal- $10 million
2002: LA Lakers Salary- $11.2 million
2003: LA Lakers Salary, Nike Deal- $12.3 million, $45 million
2004: LA Lakers Salary- $13.5 million
2005: LA Lakers Salary- $14.1 million
2006: LA Lakers Salary- $15.9 million
2007: LA Lakers Salary- $19.4 million
2008: LA Lakers Salary- $21.2 million
2009: LA Lakers Salary- $23 million
2010: LA Lakers Salary- $23.03 million
2011: LA Lakers Salary- $20.3 million
2012: LA Lakers Salary, Endorsements, Winnings- $20.3 million, $32 million, $23.5 million
2013: LA Lakers Salary, Deals- $27.9 million, $34 million
2014: LA Lakers Salary, Endorsements- $30.5 million, $34 million
2015: LA Lakers Salary, Deals, Sales- $23.5 million, $26 million, $6.1 million
2016: LA Lakers Salary, Deals- $25 million each
Kobe Bryant Net Worth | Career Highlights and Achievements
Let's just take a brief look at his remarkable achievements mentioned in the bullet.
5× NBA champion (2000–2002, 2009, 2010)
2× NBA Finals MVP (2009, 2010)
NBA Most Valuable Player (2008)
18× NBA All-Star (1998, 2000–2016)
4× NBA All-Star Game MVP (2002, 2007, 2009, 2011)
11× All-NBA First Team (2002–2004, 2006–2013)
2× All-NBA Second Team (2000, 2001)
2× All-NBA Third Team (1999, 2005)
9× NBA All-Defensive First Team (2000, 2003, 2004, 2006–2011)
3× NBA All-Defensive Second Team (2001, 2002, 2012)
2× NBA scoring champion (2006, 2007)
NBA Slam Dunk Contest champion (1997)
NBA All-Rookie Second Team (1997)
Nos. 8 & 24 retired by Los Angeles Lakers
Naismith Prep Player of the Year (1996)
First-team Parade All-American (1996)
Fourth-team Parade All-American (1995)
McDonald's All-American (1996)
Kobe Bryant Net Worth| Gold Medalist
Considered as one of the best American basketball players of all time, Kobe Bryant has played a pivotal role in Team USA's Olympic triumphs of 2008 and 2012.
Bryant notched 20 points, including 13 in the fourth quarter, along with six assists, as Team USA knocked out Spain 118–107 in the gold medal game on August 24, 2008. It was the first time since the 2000 Olympics that Team US had made it to winning gold medals.
Kobe was again a part of the national team for the 2012 Summer Olympics. Subsequently, he grabbed the gold medal this time as well and decided to retire from the team.
Kobe also performed dynamically in the 2007 Tournament of America and took the gold medal home.
While Bryant and Lebron James never had a chance to play together as a teammate, they were standing next to each other on Team USA at the 2008 and 2012 Olympics.
Kobe Bryant| Injuries
1999-2000: The First Wrist Injury
Before starting the 1999-2000 seasons, Kobe Bryant broke his wrist that left him missing the first 15 games of Phil Jackson's first season with the team.
In his first game back, Kobe notched 19 points and grabbed six rebounds in a win over the Golden State Warriors.
2000 NBA Finals: Gripped a Bum Ankle
However, Kobe returned for a crucial Game 4 after Shaquille O'Neal fouled out in due time. He took over the game, scoring 28 points, giving the Lakers a recommendable 3-1 series lead.
2000-2001: Finest of Injuries
Kobe did not suffer through any of the major attacking injuries this season. He was going well with his run to the second consecutive championship.
But yes, some hip and elbow bursitis and a sore shoulder and pinky did give him some troubles this season.
2003-04: Shoulder Injury
Kobe had to drop out of the game in the midway of the year after offseason surgery on his right shoulder.
2004-05: Yet again, the ankle
Kobe missed a month due to his sprained ankle.
2007-08: Back Injury
Kobe almost lost because of the back injury during the Western Conference semifinals against the Utah Jazz. But however, the giant basketballer had to make it, and he did it, winning the Western Conference titles.
The troubling Injured Finger
Kobe played the majority of his seasons with an injured index finger. He utterly felt chopping off the finger rather than dropping out of any game.
Ailing Right Knees
Before or during 2010, Kobe went to Germany to treat his right knee, which was operated previously three times.
He had his knee hurt several times during the 2010 postseason on the way to the Lakers grabbing their second consecutive championship.
Kobe also revealed that he had been missing some practice sessions due to little cartilage under his ailing knee.
The Torn Wrist Ligament
Kobe suffered a torn ligament in his shooting wrist in an exhibition game against the Los Angeles Clippers. Just to keep playing, he used to receive pregame injections in his injured wrist.
Kobe Bryant Net Worth | Endorsements, Investments & Philanthropic Acts
By the end of his career, the Black Mamba made almost $25 million. During his playing career and upon retirement, he still had ties to many companies that had endorsement deals with him.
For instance, Nike, Sprite, McDonald's, Turkish Airlines, Lenovo, Hublot, and Panini.
If you are interested in buying Kobe's Posters, click here>>
The NBA legend had a huge fan-following in China. As a result, China-based endorsement companies like Alibaba, Sina.com, and Mercedes Benz were more than eager to represent Kobe by luring him into a lucrative deal.
Moreover, when the icon started in 1996, Adidas was the first to include him in a contract that saw Kobe pocket $48 million in 6 years. On the other hand, in 2003, when reports of sexual accusations surfaced, many companies terminated their deals indefinitely.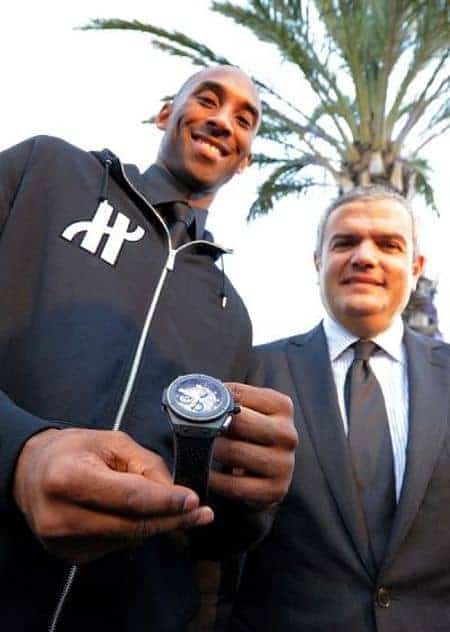 Only Nike was an exception, who, despite the allegations, pulled him in a $10 million per year deal that would last for four years. Eventually, after the dark period subsided, many endorsement deals came knocking at Bryant's doorsteps.
Furthermore, in 2014, a sports drink named BodyArmour sold 10% of its equity stake for $6 million to Kobe. Subsequently, four years later, the company went onto earn $400 million.
At the same time, Coca-Cola stepped in to buy part of the stake. It meant the company's value was now worth $2 billion, ultimately granting Bryant an astonishing $200k sum.
Additionally, by the year 2016, the late legend would venture into the business world. Jeff Stibel and Kobe partnered to launch a venture capital company named Bryant-Stibel, which received about $100 million in funds.
These funds would imminently come to use to purchase shares technology, media, and data-related companies.
In like manner, to double the cash inflow in the future, Kobe invested in various websites that had the potential to yield a fortune. In particular, The Players Tribune, LegalZoom, Juicero, and Scopely.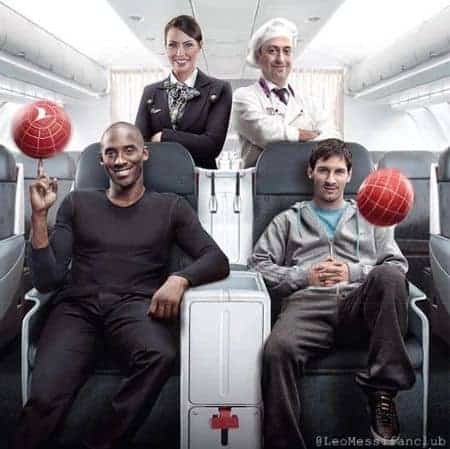 Apart from these, Bryant also appeared on the cover for video games like Kobe Bryant in NBA Courtside, NBA 2K17 (Legend Edition; Legend Edition Gold), NBA Courtside 2002, NBA Courtside 2: Featuring Kobe Bryant, NBA 3 On 3 Featuring Kobe Bryant, NBA '07: Featuring the Life Vol. 2, NBA '09: The Inside, and NBA 2K10.
Granted that Kobe is famous for his basketball career, he was a movie geek at heart, and in 2018, he narrated, wrote, and produced a short movie titled "Dear Basketball," his ode to Basketball.
The movie went onto win the Academy Award for Best Animated Short Film in 2019, and Bryant is the only basketball player to win the prestigious accolade.
Charitable Works
Earning money was not a singular goal for Kobe. As a human, he believed in giving back to society. Although he grew up in a relatively comfortable environment, Bryant knew there were struggles around him.
Hence, the NBA legend signed onto be the ambassador for After-School All-Stars, an organization aiming to promote after-school programs for children.
Similarly, Bryant founded the Kobe Bryant China Fund, which works alongside the Soong Ching Ling Foundation.
The organization raises money to fund education and health in various provinces in China.
Again, partnering up with actor Zach Braff, the late star presented a considerable $1 million check at the Call of Duty event to provide financial support and aid veterans' transition to civilian lives.
Simultaneously, the Black Mamba and his beautiful wife Vanessa established KVBFF, whose main target was to uplift young generations through sports and transfer the #MambaMentality to the youth.
In the same way, the organization supports homeless people. Kobe was always vocal about such matters and wanted to eradicate the stigma that surrounded homelessness.
Kobe Bryant Net Worth | Houses & Cars
With money comes an ardent desire for sweeter things in life. Well, we can't blame Kobe for enjoying his life. He didn't believe in boasting about his wealth, but he made sure to make the most of his life.
Over the years, the Black Mamba lived an exquisite life and had impeccable car collections. Let's start with his car collections. Kobe gifted a yellow Lamborghini Murcielago to his wife, Vanessa.
This particular model is the only one with an automatic transmission, consisting of a 572 hp, 6.5-liter V12 engine. Its interior has black and yellow designs, and the car cost him $400k.
The NBA star also owned a Bentley Continental GT Coupe Colorshift Pearl and is worth around $200k. Besides, Kobe purchased another Bentley, a convertible Azure Mulliner model.
His collections include a Ferrari F430 that comes with a 562 hp V8, seven-speed, dual-clutch, and automatic manual transmission in a similar fashion. Another of his Lamborghini fantasies came true; he replaced his Murcielago with the Aventador.
Even though both models ran on a similar V-12 engine, the latter's horsepower was quite spectacular. The cars cost him $505k.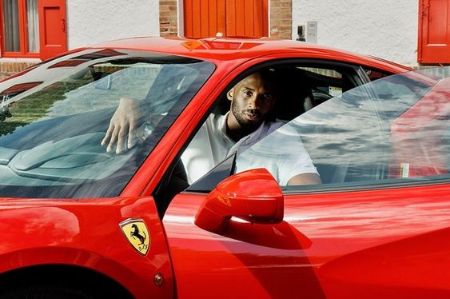 The carbon-fibre chassis comprised all the necessary safety features and officially being an upgrade to his previous possession. Above all, his other prized possessions included Ferrari 458 Italia, purchased for $230k, 1963 Chevy Impala Convertible, bought for $25k.
Finally, a 1967 Pontiac Parisienne Convertible was a retirement gift from one of his close friends, Rapper Snoop Dogg. The car was painted in the Lakers' signature color, Purple and Yellow, as a tribute to the NBA Icon.
Kobe Bryant Net Worth | Card Value
You search for Kobe Bryant, and accordingly, Google is going to feed you with his card and card's value. Kobe is one of the most respected athletes in this wide world, and thus his cards also hold a precious value.
There was news that a Kobe Bryant rookie card sold for $1.795 million on Goldin Auctions in March 2021, making it one of the most expensive basketball cards ever sold in basketball history.
It was a 1996-97 Topps Chrome Refractors #138 Kobe Bryant Rookie Card, all preserved in an untouched condition. Within weeks after his death, Bryant cards hyped up everywhere online, having an escalation in value by 600 percent as per eBay Sales Data.
In a similar manner, the below-mentioned are some of the other Bryant cards. And the cards are designed in an eye-catching way, as was Kobe's play on the court.
1996 Topps Chrome Refractor #138 priced at $33,000
1996 Skybox E-X2000 Credentials #30 priced at $13,000
1996 Flair Showcase Legacy Row 0 #31 priced at $5,000
1996 Finest Gold Atomic Refractor #269 priced at $5,000
1996 Ultra Platinum Medallion #P52 priced at $3,500
1996 Flair Showcase Legacy Row 1 #31 priced at $3,000
1996 Flair Showcase Legacy Row 2 #31 priced at $3,000
1996 Finest Refractor #74 priced at $2,000
1996 Bowman's Best Atomic Refractor #R23 priced at $1,900
1996 SP Holoviews #PC18 priced at $1,850
1996 Skybox Premium Rubies #55 priced at $1500
1996 Hoops Grant Hill's All-Rookie-Team #3 priced at $1300
Kobe Bryant #15 2018 Panini Prizm
Similarly, you can catch many other Bryant cards online with the estimated prices.
Social Media Presence
We can still have a look at his life through his Instagram and Twitter handles. The links are listed below.
At the end of this article, I would like to take the time to offer my condolences to the family of the late NBA Legend.
Kobe and his 13-year old daughter, Gianna, died in a fatal helicopter crash outside Calabasas, California, along with seven others, including the pilot.
May the ones that perished Rest In Peace! The world lost a legend, Kobe. #MambaOut #GoneButNotForgotten
Frequently Asked Question (FAQ)
How did the helicopter crash and caused Kobe's death?
The pilot, Ara Zobayan, actually made a wrong decision that headed him to fly blindly into a wall of clouds where he became puzzled. He thought he was climbing when the craft was plunging toward a Southern California hillside – the federal safety officials.