Fred VanVleet's zoom call with Yahoo Sports Canada
On March 16, 2021, Tuesday, the Toronto Raptors player, Fred VanVleet, confirmed he had tested positive for coronavirus.
VanVleet has now overcome COVID-19 and is back in practice. However, he is still like to be on the bench till Friday.
Fred missed five games because of the virus. He was notified that he could be back in the gym for conditioning from Monday.
The Star player could not even sleep on Sunday due to the excitement of being back.
He said, "I forgot how much I love this (stuff), I really love the game. I really love basketball. I love being in the gym."
Moreover,
"I don't always love everything that comes with it, but I really love the game. It's just a blessing to be able to be back."
Fred's Covid-19 Experience
VanVleet reported having a fever, saying, "I had a fever for a day and a half, two days. But definitely nothing like anything I've ever had. I could feel that it was something different.
I just felt the sickness; could feel it in me, I could feel it in my bones and my blood and my muscles."
Raptor's rookie had it rough. He reported having severe body aches, soreness, headache, and other symptoms as well. He isolated himself in a hotel.
In a zoom call, he reported, "At that point, it was just a matter of trying to get somewhere and get isolated and get away from my kids and my girl and my family.
I hunkered down. I had it; had symptoms, a few days of symptoms. It was pretty rough, a few of those days."
Furthermore, he added his thankfulness for having recovered. Fred acknowledged that not all people could survive the virus and expressed his sincere thoughts for the people and the families that were not as 'fortunate' as he is.
Toronto Raptors Reunite
Along with Fred VanVleet, Pascal Siakam, Malachi Flynn, Patrick McCaw, the head coach Nick Nurse, and six other Toronto Raptors staff were out of the league due to safety health protocols.
While VanVleet is not likely to play before Friday, the rest of the Raptors will play today (Wednesday, March 17, 2020) onwards. They had begun them ahead of the match practice yesterday after missing five games.
Toronto Raptors went two or so weeks without their stars and the coach. They did match to win the first match without the coach, one was postponed, but the rest were defeats.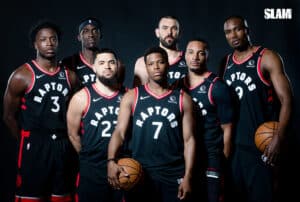 In the 16 minutes-long the zoom call with Yahoo Sports Canada, he said all he did during quarantine was watch matches.
It was not easy to watch the team lose games one after another. He shared he constantly kept in touch with the other teammates reassuring them they will be back stronger.
Now with everyone eventually getting back, we may expect to see the team back in form.
NBA And the Pandemic
Corona Virus pandemic changed everything for the world; the NBA was no exception.
In the 2019-2020 season, the NBA had to suspend the games from March 11, 2020, after Rody Gobert from the Utah Jazz tested positive. The league did not resume until July 30, 2020.
NBA made its impact through humanitarian service besides sports this season around.
For the greater good of the people, the NBA family launched "NBA Together." Doctors, players, coaches, and staff came together with four goals to mitigate the crisis.
A daily reminder to 𝐰𝐞𝐚𝐫 𝐲𝐨𝐮𝐫 𝐦𝐚𝐬𝐤. #NBATogether | #WholeNewGame pic.twitter.com/lxua4I0aEm

— Memphis Grizzlies (@memgrizz) July 12, 2020
Those goals are 'Know the Facts', 'Acts of Caring', 'Expand Your Community, and 'NBA Together Live'.
They were constantly involved in circulating the latest news, safety, and healthy related guideline.
"NBA Together" also raised the fund of about $50 million to help communities and healthcare organizations cope amidst the pandemic.
The @Pacers along with other @NBA players and teams have donated 61 pallets of apparel, snacks, sporting goods, and lots of hand sanitizer(❗️) to local non-profits and schools in the Orlando community after leaving the bubble!
.#NBATogether pic.twitter.com/0ntGTua8Rz

— Pacers Sports & Entertainment (@PacersSportsEnt) October 5, 2020
Out of 30 teams, only 22 had returned in June. The official press release read, "It's been more than four months since we last played NBA basketball.
Tonight we restart the season with 22 teams in Orlando and attempt to establish our new normal. And while spectators won't be there in person, fans remain at the heart of our game."
Association restarted the 2019-20 season with strict safety protocols, regular testing, and contact tracing.
Thirty-one matches had to be rescheduled for different virus-related reasons, many star players missed games, and some could not even play All-Star.
Despite all the NBA Committee's efforts, the teams, and the players themselves, over 100 players have caught Covid-19.
The 2020-21 Season
With corona still persistent, the 2020-2021 season is being conducted, with necessary precautions for the players and the fans attending the games.
The players and coaches are all tested regularly. With the introduction of vaccines, staff, coaches, and players at high risk have already been vaccinated, and the rest are on the line.