The football outside linebacker Vince Biegel and his wife, Sarah Biegel, reside in Florida. The duo is the parent of their two children, both daughters.
Biegel, who formerly played for the Packers, met his spouse, Sarah, at college. At that time, both were attendees of the University of Wisconsin-Madison.
They married a year after their graduation when both were yet to make a firm stand in their professional venture.
Yet, with the love and support of each other, not only their romance but also their respective career bloomed.
Vincent James Biegel plays in the NFL but is currently a free agent. On May 16, 2022, Biegel signed with the Ravens to play the 2022 NFL season under the head coach John Harbaugh.
However, the 6 feet 3 inches tall player suffered a season-ending Achilles injury during the practice, thus becoming a free agent.
Born on July 2, 1993, he was the 4th round pick of the Green Bay Packers in the 2017 NFL draft., where the top three picks were Myles Garrett, Mitchell Trubisky, and Solomon Thomas.
But he played for the Packers for a season only (9 games) before he waived him. The New Orleans Saints claimed him off the waiver but for the 2018 season only.
Then, as a traded player, he played for the Miami Dolphins from 2019 to 2021. He even recorded his first career interception from Eli Manning in a Week 15 loss to the Giants by 36-20.
Vince Biegel's Wife, Sarah Biegel, Is His College Girlfriend
The former Dolphins player Vince and his wife, Sarah Biegel, are natives of Wisconsin. But their paths crossed only after they enrolled at the University of Wisconsin-Madison in 2012.
However, the couple has yet to speak about how they began dating.
Perhaps, being fellow college mates, Biegel's college football played a significant role in their relationship commencement.
Surfing through their Instagram, both were already giving vibes of future husband and wife during their college years.
But it wasn't until their graduation that the couple would share surnames.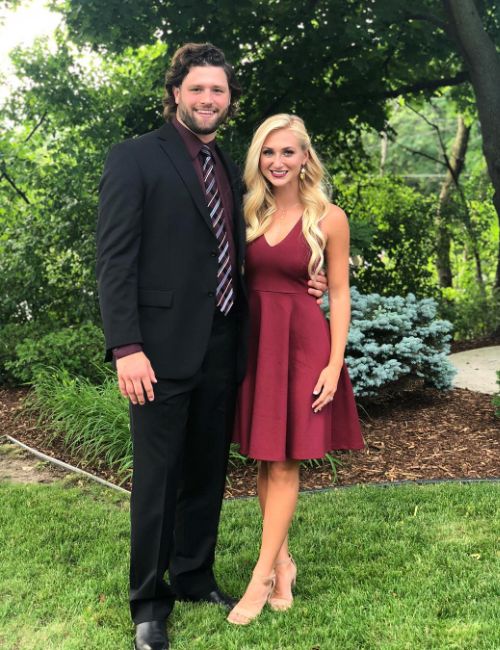 In 2016, Sarah graduated with a degree in Rehabilitation Psychology, Rehabilitation, and Therapeutic Professions.
She then pursued her career in fitness as a personal trainer at Wisconsin Athletic Club, LLC (2016- 17). Moreover, she became a group fitness instructor at Exos and Jenstar Movement Studio.
Sarah co-founded Rooted In Red (it ran from 2020 to 2022), which featured home, decor, and local and all-natural products. Now, she posts blogs and sells products on her website, SarahBiegel.com.
When Did Vince And Sarah Biegel Marry?
A few months after graduation in December 2016, Vince Biegel proposed to Sarah in February 2017.
The latter took to Instagram on February 6, 2017, to share the news of their engagement with a picture flaunting her ring and wrote, "WE'RE ENGAGED!".
At that time, she went by the name Sarah Panzenhagen.
Following five months, the couple married on July 1, 2017, at SentryWorld Golf Course in Wisconsin. A day later, on July 2, the NFL player celebrated his 24th birthday.
Her father, Carl Panzenhagen, and her younger sister, Stefanie, and other relatives and close friends attended the ceremony.
There is no denying that July is so particular for the couple; why? Well, their wedding anniversary, Vince's birthday, and Sarah's birthday (July 17) fall in that month.
On July 1, 2023, the duo celebrated their 6th wedding anniversary.
Biegel Shares Two Daughters With His Wife
The 30-year-old football player and his wife, Sarah Biegel, are parents of two children, both daughters: Willow June Biegel and Meadow Marie Biegel.
They announced their pregnancy with their first child in October 2018 and did a gender reveal in December that year. The duo welcomed their first-born daughter, Willow, on April 24, 2019.
Two years later, the Biegel couple confirmed in October 2021 that their family was expanding to four as they were expecting their 'Baby Biegel #2.'
On March 7, 2022, they became parents of their second daughter, Meadow.
The NFL outside linebacker took to Instagram to announce the healthy birth of his second child and wrote, "I'm truly a blessed man. Yesterday, my wife and I welcomed our second daughter into the world."
Vince and Sarah frequently share pictures of their daughters on Instagram and Facebook.