Fans of Swedish golfer Vincent Norrman have been wondering about his girlfriend and if he has a wife. However, he is not married but has a girlfriend named Frida Kinhult.
Professional golfing couple, Vincent and Frida Kinhult, are frequently spotted enjoying time together on the field.
Their love for each other is evident through their social media activity. They frequently share affectionate messages and openly express their admiration for one another.
Vincent Oliver Norrman is a talented professional golfer from Sweden currently competing on the PGA Tour.
Born on December 24, 1997, Norrman had an impressive collegiate golf career playing for the Georgia Southwestern State Hurricanes golf team before transferring to Florida State Seminoles in 2021.
During his tenure with the Seminoles, Norrman earned the title of Peach Belt Conference Men's Golf Player of the Year.
Norrman's success in both teams undoubtedly contributed to his professional career, which he began in June 2021.
He became an affiliate member of the European Tour and earned his first PGA Tour and European Tour victory in July 2023 by winning in a playoff at the Barbasol Championship.
Vincent Norrman Wife
Vincent Norrman is yet to be married to his girlfriend, Frida Kinhult. Kinhult, like her boyfriend, is a Swedish professional golfer.
She is a talented golfer who has achieved great success by reaching the number one position in the World Amateur Golf Ranking in June 2019.
Frida was born on September 25, 1999, and comes from a family of golfers. Her brother, Marcus Kinhult, is also a professional golfer.
She started playing at an early age at Skafto Golf Club in Fiskebackskil, on the small Swedish west coast island of Skafto.
In December 2019, Frida decided to turn professional after qualifying for the Symetra Tour, a developmental tour for women's professional golf.
She successfully transitioned to the professional ranks by winning her first tournament, the 2020 Symetra Tour Championship.
She also earned a spot in the highly regarded 2020 U.S. Women's Open, providing her with the opportunity to compete on one of the sport's biggest stages.
This achievement earned her membership in the highly respected LPGA Tour for 2021.
Frida's early achievements in her professional career demonstrated her readiness to excel at the highest level of women's golf.
Frida And Vincent's Relationship Timeline
Fans are eager to know more about Vincent Norrman's girlfriend and the timeline of their romantic journey.
However, the exact beginning of their relationship is still limited as both haven't openly shared their relationship timeline.
It is likely that Frida and Vincent began their relationship in November 2019 as Frida posted a happy photo on Instagram, announcing that it had been 356 days with Vincent and revealing it was their anniversary on November 3, 2020
Many of her fans congratulated the couple on their special day.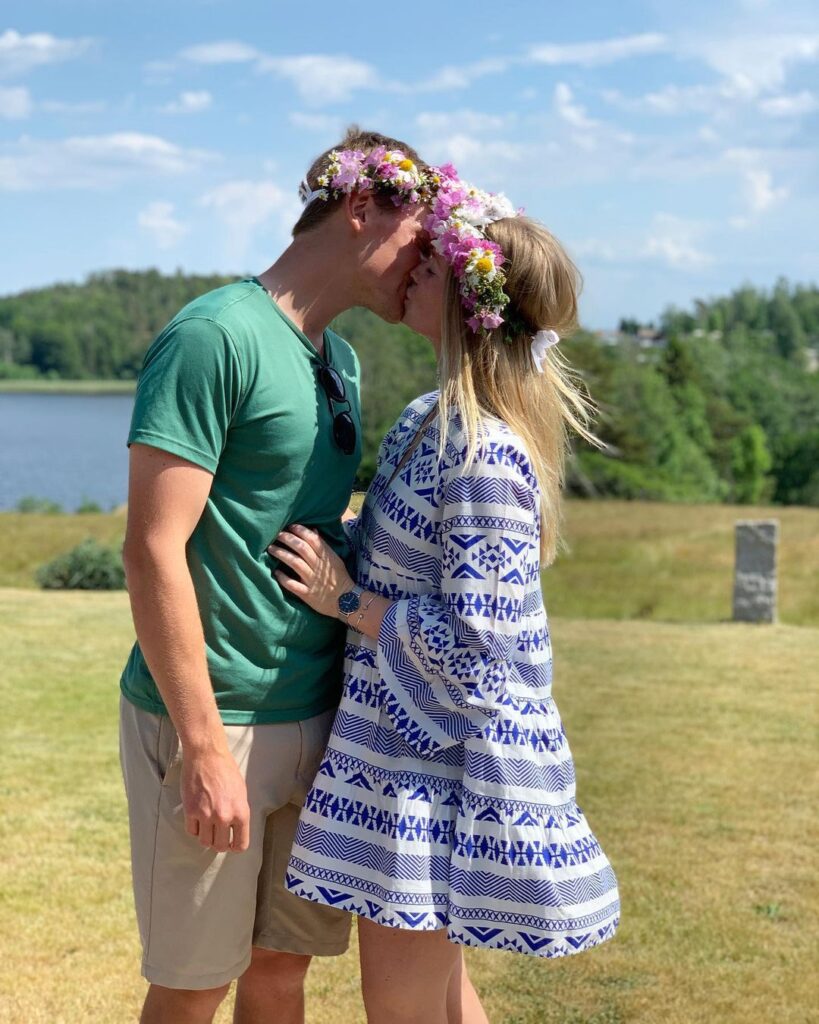 It was Frida who made their relationship public by sharing a picture of them kissing on Vastkusten in June 2020.
Based on their social media posts and public appearances, it seems that they have a close and loving relationship.
They appear to genuinely enjoy spending time together and share meaningful moments.