Justin Louis Thomas is a professional golfer from the United States who has participated in the PGA Tour since 2015 and has consistently won.
His most famous achievement is winning the 2017 PGA Championship. He was also the world's number-one golfer for the twenty-first time.
Thomas is a professional golfer that competes all over the world. He had a career year, winning five PGA Tour tournaments, including the major title and the PGA Championship. In 2017, he also served as the FedEx Championship winner.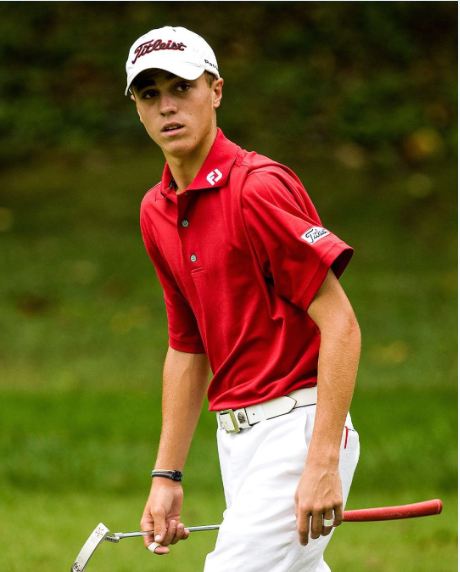 Maybe you know a lot about Justin Thomas, but do you know about his personal life and what his net worth is in 2022?
Let's proceed with the quick facts about the golfer.
Justin Thomas: Quick Facts
| | |
| --- | --- |
| Full Name | Justin Louis Thomas |
| Nick Name | Justin |
| Age | 29 years old |
| Birthdate | April 29, 1993 |
| Birthplace | Louisville, Kentucky |
| Residence | Jupiter, Florida |
| Mother's Name | Jani Thomas |
| Father's Name | Mike Thomas |
| Siblings | No |
| Nationality | American |
| Religion | Not Known |
| Girlfriend | Jillian Wisniewski |
| Children | No |
| Height | 5 Feet 10 Inches (178 cm) |
| Weight | 73 kg (160 lb) |
| Hair Color | Black-brown |
| Eye Color | Black |
| Gender | Male |
| Profession | Golfer |
| Plays | Right-handed (two-handed backhand) |
| Turned Pro | 2013 |
| College | The University of Alabama |
| Highest rank | 1 (May 13, 2018) [2] (5 weeks) |
| Team | United States |
| Marital Status | Unmarried |
| Zodiac Sign | Taurus |
| Professional win | 16 |
| Salary | $7 Million |
| Net Worth | $30 Million |
| Social Media | Twitter, Instagram |
| Merch | Golf Balls, Rookie Card |
| Last Update | December, 2022 |
Justin Thomas | Early Life, Family, and Education
On April 29, 1993, Justin was born in Louisville, Kentucky, United States. Before his junior year in high school, Justin competed in the PGA Tour's Wyndham Championship in August 2009.
At the age of 16 years, 3 months, and 24 days, he became the third-youngest player to earn a spot in a PGA Tour tournament. In 2011, Thomas, a professional golfer, graduated from St. Xavier High School.
Following his graduation, Justin enrolled at the University of Alabama. He has been interested in golf since he was a youngster. So, Thomas went on to play collegiate golf for the Crimson Tide, where he won six times.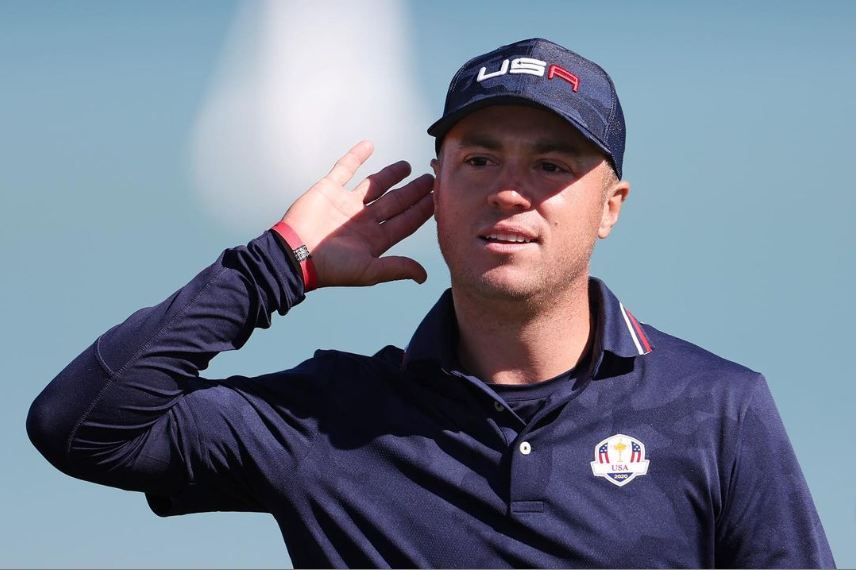 He received the Haskins Award as the best collegiate golfer as a freshman in 2012. Thomas was a member of the 2013 national championship team.
Justin is the son of Jani and Mike Thomas. His father, Mike Thomas, was a professional golf player as well. Since 1990, he has served as the head professional at Harmony Landing Country Club in Goshen, Kentucky.
This indicates that his father encouraged him to seek a career in golf. Or we can say he has followed the footstep of his father. Also, Paul, his grandpa, was a pro golfer who competed in the 1962 US Open. Indeed, Thomas' roots run deep in golf.
Justin Thomas | Age, Height, and Weight
According to his date of birth, he turned 29 years old as per December, 2022.
Justin stands 5 feet 10 inches tall and weighs 73 kg. His hair is black-brown, and his eyes are black.
Justin Thomas | Professional Career
Thomas began his professional career in 2013. He qualified for the Web.com Tour by attending a qualifying school.
There are plenty of golfers who have earned extensive amounts throughout their golf careers. Find out the 25 richest golfers in the world.
Justin won his first professional event at the 2014 Nationwide Children's Hospital Championship.
After finishing third in the Web.com Tour Finals, he was awarded a PGA Tour card for the 2015 season.
Thomas has seven top-10 finishes and 15 top-25 finishes in 2015, with fourth-place performances at the Quicken Loans National and Sanderson Farms Championship being his best. He came in 32nd place at the FedEx Cup on the PGA Tour, losing the Rookie of the Year honor to Daniel Berger.
Thomas won the CIMB Classic in Kuala Lumpur, Malaysia, on November 1, 2015, which was his first PGA Tour victory. He beat Adam Scott by a single stroke.
Justin overcame a double bogey on the 14th hole during the final round and made a six-foot (1.8 m) par putt to win by a stroke.
Thomas had earlier fired a course-record 61 in the second round, contributing to a winning score of 26 under par.
"My attitude is good because I'm a fierce competitor, and I have all the confidence in the world that I can beat everybody else. That's my attitude." – Justin Thomas
Number of wins on Tour
PGA Tour – 14
European Tour – 3
Asian Tour – 2
Korn Ferry Tour – 1
Other – 1
PGA Tour
2016 – CIMB Classic
2017 – CIMB Classic, SBS Tournament of Champions, Sony Open in Hawaii, Dell Technologies Championship
2017 PGA Championship
2018 – The Honda Classic, World Golf Championships- Bridgestone Invitational, THE CJ CUP
2019 – BMW Championship
2020 – THE CJ CUP, Sentry Tournament of Champions, World Golf Championships-FedEx St. Jude Invitational
2021 – THE PLAYERS Championship
Korn Ferry Tour
2014 – Nationwide Children's Hospital Championship
Other wins
Justin Thomas | Awards and Achievements
Thomas has won several awards, and he isn't even that old. He is 29 years old and has won several awards, all of which are very impressive.
Haskins Award 2012
FedEx Cup Champion 2017
Leading money winner of PGA Tour 2017, 2018
PGA Player of the Year 2017
PGA Tour- Player of the Year 2020
Justin Thomas | Girlfriend, Wife, and Kids
Justin is not married. However, he does have a relationship with one of his girlfriends. Jillian Wisniewski has been his long-time girlfriend.
The two began dating in 2016. Likewise, Jillian graduated from the University of Kentucky with a bachelor's degree in journalism.
According to her LinkedIn profile, she is currently employed at "Dentsu McGarry" in Chicago.
Read about the hottest women golfers around the world as of 2021, including Nelly Korda and many other hot women who play golf for a living.
Justin Thomas | Net Worth, Salary, and Career Earnings
According to reports, the Kentucky native's overall net worth is estimated to be approximately $30 million. As a result, he is among the most wealthy and influential golfers globally. As you can think, he has a slew of major sponsors.
He is sponsored by NetJets, an American corporation specializing in private jet travel, like many other professional golfers.
Thomas partnered with Lineage Logistics, a Michigan-based firm specializing in chilled goods, in May 2021.
He will wear Lineage's emblem at official tournaments as part of the sponsorship, reportedly bringing $100,000 to the Justin Thomas Foundation. It is dedicated to projects that have a beneficial influence on underprivileged children, military families, and junior golfers.
Brands, Endorsements, and Foundations
Everyone likes a champ, which is why Justin Thomas is one of golf's most well-known public figures. Several agencies offered him endorsements and sponsorships during his career.
According to The Street, Justin's sponsorship earnings were estimated to be over $23 million. This made him the fifth best-paid golfer in the world that year.
Thomas has also participated in other charity activities to collect money for different organizations in addition to the foundation.
One of the most recent came in August 2020, when he joined Tiger Woods and Rory McIlroy.
House, Car & Private Jet
Like the bulk of other professional golfers, Justin has settled in Florida. Justin's home and properties are in Jupiter, Florida, where he lives. The weather is ideal for golfing all year round in Florida.
In 2016, he purchased a house in Jupiter, Florida, the golfing capital of the world. Spreading at 4,739 sq. feet, the house has four bedrooms and four bathrooms. The cost is expected to be $273,100.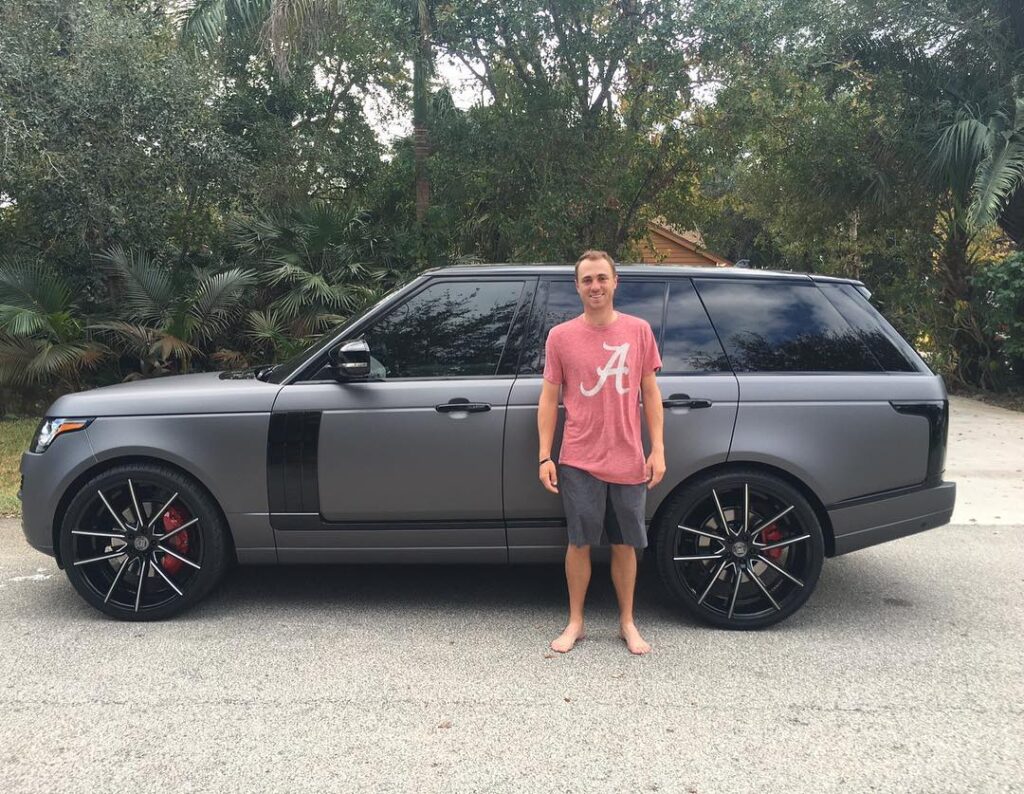 Likewise, Justin is also the owner of the car collection brand Range Rover, a luxury vehicle.
Justin Thomas Scandals and Controversies
When Justin Thomas missed a putt on January 9, 2021, he was chastised for using the foul word "faggot."
Ralph Lauren severed their connection with Thomas despite his apology and statements that he felt "awful" and "extremely ashamed."
This list of "15 best golfers of all time" covers all the great golf players from the 20th century to the current greats. So, check it out.
Justin Thomas | Interesting Facts
On his upper arm, Justin got his grandfather's signature tattooed. Paul Thomas died in February 2021. He got the tattoo shortly after his grandfather died.
Justin Thomas is a sneakers and watches collector!
For his father, he gathers his winning golf balls.
Each of Justin's wedges is inscribed with funny words. Some people read encouraging quotations, while others play hip-hop music!
Justin Thomas | Social Media Presence
Thomas is a well-known figure in the world of players and sports. He has established a strong social media presence throughout his career and is popular among the public.
Frequently Asked Questions (FAQs)
How much is Justin Thomas PGA worth?
In 2013, Thomas became a pro player. He has participated in both the PGA Tour and the Web.com Tour. Thomas is a pro golfer who makes approximately $7 million in salaries. His official money earnings in 2017 were a little around $10 million.
As of 2022, he has a net worth of $30 million from his golf career. He did win the FedEx Cup in 2017.
What is Justin Thomas's swing speed?
According to the average golf swing speed chart, Justin's swing speed shows 117.01 mph.
Why did Justin Thomas and his caddy split?
According to a statement he made on social media about the situation, Justin did not dismiss his caddy, Jimmy Johnson. Parting was Jimmy's decision. They had been together for six years and had had an incredible run, but they had decided to part ways.
After the Ryder Cup, Jimmy approached Justin and informed him that he had decided to seek other opportunities.
Who caddies for Justin Thomas?
In the late summer of 2020, Jim 'Bones' Mackay stepped in as Justin Thomas' caddy. He'll now be working full-time for Thomas.