As we all know way too much about the athletes who are on the top, let's look out for the ones who are in the process.
Thus, as I talk about Vincent Poirier, he started his journey in the National Basketball Association (NBA) in 2015.
He now serves as the power forward. Until today, the French player has played for the teams such as Paris-Levallois, Baskonia, Boston Celtics, and Philadelphia 76ers.
Additionally, he can be best known for his movements and skills despite his size.
Apparently, he has also stood as the first across the Euro League in both rebounding and offensive rebounds.
Although Vincent Poirier is known for his simple games, we really can't undermine his skills. Thus, to know more detailed information, let us first go through his quick facts.
Quick Facts:
Full Name
Vincent Poirier
Date of Birth
October 17, 1993
Birth Place
Clamart, France
Nick Name
Vinnie Sex Finger
Religion
Christianity
Nationality
French
Ethnicity
White
Zodiac Sign
Libra
Age
29 Years Old
Height
7 feet (2.13 m)
Weight
235 lb (107 kg)
Hair Color
Black
Eye Color
Black
Build
Athletic
Father's Name
Eric Poirier
Mother's Name
Anne-Laure
Siblings
A younger brother, Sebastien Poirier
Education
Paul Sabatier University
Marital Status
Married
Wife
Asset
Kids
A baby girl, Nola Adjoba Poirier
Profession
Basketball player
Position
Center / Power forward
Current Team
France men's national basketball team
Affiliations
Paris-Levallois
Centre Fédéral de Basket-ball
Hyères-Toulon
Baskonia
Maine Red Claws
Boston Celtics
Philadelphia 76ers
Active Years
2012-present
NBA draft
2015 (Undrafted)
Jersey Number
#17 France men's national basketball team
Net Worth
$1 million to $5 million
Social Media
Instagram, Twitter
Merch
Celtics Jersey, Philadelphia 76ers Jersey
Last Update
March, 2023
Where is Vincent Poirier from? Early Life and Family
On October 17, 1993, Vincent Poirier was born under Libra's sun sign to his parents, Anne-Laure and Eric Poirier.
Apparently, he also has a younger brother named Sebastien Poirier, as they both grew up in Clamart, France, a southwestern suburb of Paris.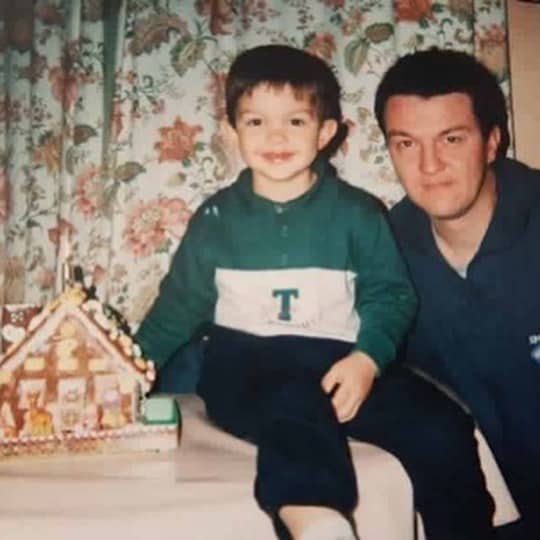 As a native of France, he spent most of his childhood there and even attended a university in Toulouse, France, named Paul Sabatier University.
Equally important, Poirier lost his father in 2014 due to some undisclosed reasons. More information regarding Poirier's family background and descendants are not disclosed yet.
How old is Vincent Poirier? Age, Height, and Nationality
Having born in the year 1993 makes Vincent 29 years old as of 2023. Likewise, he holds French nationality and belongs to the white ethnicity.
Moreover, Vincent is a built man with a towering height of 7 feet 0 inches (2.13 m).
Now, talking about his abilities, Poirier is considered a solid screener who uses his strength/size off the ball well to help free shooters.
Likewise, according to Vincent's scouting report, he is considered as a good roller in the pick-and-roll, who punishes defenses with quick finishes and good hands.
If you look at him, he is clearly a big guy with his big stature and appearance. The athlete weighs 235 lb (107 kg) while he has a square face.
All in all, Poirier has a bushy black beard with big eyes and hair of a similar color. Additionally, you can recognize quite well just with his arm full of tattoo ink.
Vincent Poirier | Professional Career
Poirier commenced playing basketball at a young age in 2010 through the Bussy Basket Club.
Starting with his team in his home country, he posted 12 points and 10.8 rebounds for his first season with the team.
During the tenure, he had appeared in 30 games, and in each game, he took about 27 minutes in the field.
Overall, by the end, he was known as the top rebounder of the Espoirs championship.
Paris-Levallois, Hyères-Toulon, & Centre Fédéral
After a few years with the club, Poirier foremost signed into an organized group through Paris-Levallois on April 24, 2014.
Although they had signed a four-year deal, Poirier was loaned out to Hyères-Toulon of the Pro B.
As the part of Hyères-Toulon, he starred as the rotation player with Davante Gardner, as he posted 10 points and 4 rebounds in just 10 minutes.
Following it, he returned to Paris-Levallois and was again loaned out to Centre Fédéral.
Before his time with the others, Poirier, alongside the Paris-Levallois, won both the French Cup and the French Basketball Supercup in 2013.
Although Poirier first started as the team's backup, he proved himself with 23 points, 12 rebounds, and 2 assists in 25 minutes.
Back then, he was playing against BCM Gravelines-Dunkerque, where he also claimed the MVP title.
Altogether, Vincent Poirier established himself as the second-best in Euro-league basketball.
Poirier bagged the chance to play in front of NBA coaches and scouts in the 2016 NBA Summer League with the Orlando Magic with his development and advancement.
Additionally, he got featured in the league with an average of 4.2 points and 4.4 rebounds in 11.5 minutes per game.
Don't forget to check out: <<Emily Whitmire Bio: Early Life, UFC, Career, Net Worth & Boyfriend >>
Baskonia
After the summer league's conclusion, Poirier played for the Paris-Levallois in a short frame and later switched to the Baskonia of the Spanish Liga ACB.
Therewith on June 14, 2017, he signed a three-year deal with the Spanish giants' team.
Consequently, Poirier served big in the Euroleague after leading in rebounding, averaging 8.3 per game.
Not only this but Vincent has also been titled the Euroleague rebounding leader and was named in the All-EuroLeague Second Team.
Boston Celtics
Altogether, it was only on July 15, 2019, when Vincent Poirier signed a contract with the NBA team, Boston Celtics.
During his tenure with the team, he played 20 games in total and was assigned to the G-League affiliate, the Maine Red Claws.
Subsequently, Poirier was quite happy with the team and had even appeared in their playoffs.
"First, I would like to thank the big Baskonia family for all the support and love they gave me during these 2 years. Today I realize my dream by joining the #NBA and the mythical franchise of the Boston Celtics; I have a great thought for my family, friends, and relatives, but especially for my father, who I know looks at me from the above. I am really looking forward to starting my NBA history."
-Vincent Poirier
However, the happiness was closely followed by disappointments as during his time; he only got to feature in the team's play for 130 minutes.
Back then, he played under coach Brad Stevens and often commented on getting a chance to showcase his skills.
"I don't want to do two seasons like that,' not because I think I don't deserve it, just because I want more. I'm just saying that was cool, but as a competitor, a man, and a basketball player, I'm not here to be with the guys. I've never been that guy who trash talks about any team. The Celtics found me welcomed me really well. I don't want the fans to think I'm just here to take the money and leave, that I don't give a f— about the team or the fans."
-Vincent Poirier quotes
Philadelphia 76ers
Before teaming up with the 76rs, Poirier was first traded to the Oklahoma City Thunder as the conditional future second-round pick on November 19, 2020.
Right then, he got featured behind defensive specialist Daniel Theis and ex OKC Thunder's favorite Enes Kanter.
Later, he was traded to the Philadelphia 76ers alongside Danny Green and Terrance Ferguson in exchange for Al Horford.
Thus, as they signed the deal on December 8, 2020, Poirier featured in jersey number 17.
Overall, he has played three games for the team, as he recorded 1.3 points, 0.3 assists, and a rebound.
Furthermore, he is also expected to play for France in Tokyo's upcoming Olympic Games in the summer of 2021.
Click on this link to see the best dunks by Vincent Poirier.
You might be interested in reading: <<Ugo Humbert Bio: Early Life, Tennis, Career & Net Worth >>
Vincent Poirier | Injury, Achievements & Stats
In December 2019, Vincent Poirier was quite ready for proving his skills coming in the front row; however, he broke his pinkie finger.
Herewith, he went on for his pinkie finger surgery at New England Baptist Hospital in Boston on December 18.
Thus, he missed out six weeks from his gameplay, and it was also the very time he got his nickname, Vinnie Sex Finger. Apart from it, Poirier has achieved some feats in his career-long journey.
French Cup champion (2013)
Match des Champions champion (2013)
Best rebounder of the Espoirs championship: 2013–14.
EuroLeague rebounding leader: 2018–19
All-EuroLeague Second Team (2019)
Career stats
Let's have a look at the career stats of Vincent Poirier.
How much is Vincent Poirier worth? Net Worth and Salary
Currently, Vincent Poirier is estimated to have a net worth ranging from $1 million to $5 million.
Additionally, when he played for the Boston Celtics, he had earned $5,125,000 through his contract.
Following it, he is expected to make $2,562,500 as an annual average salary with a cap hit of $2,505,793 and a dead cap value of $2,505,793.
Likewise, Vincent has estimated career earnings of $4,968,388. Apart from being a professional athlete, he also earns his share from brand endorsements and sponsorship.
For instance, he is reported to endorse the Nike brand that he is seen flexing in his Instagram account.
You might be interested in Tacko Fall Bio: Basketball, Career, NBA & Family >>
Is Vincent Poirier single? Personal Life and Wife
As of now, Vincent Poirier is not only a professional athlete to the NBA, player, or idol for our fans and writers.
What's more into his life is he is the man of his cute little family, a husband to his gorgeous wife, and a father to his cute baby.
Similar to us, Poirier maintains his roles and responsibility from different dimensions and strikes them.
To elaborate, Poirier is married to his longtime girlfriend and has a cute family of three.
Although Poirier has shared no information about their wedding details and kinds of stuff; however, the duo seems happy with their romantic involvement.
George Floyd Movement
We are all well aware of the story of an African American man who was killed during an arrest.
The 46-year-old man was apparently, alleged to use a counterfeit bill and a white police officer during the arrest killed him in Minneapolis, Minnesota.
The very incident triggered outrage in people, and everyone landed on the protest across the United States.
According to the news, Vincent had faced such an incident before in France and totally despise it.
Hence, concerning the black people's freedom and life, he, alongside his teammates, partook in the protest.
"Even as someone who is white- this must concern me. It touches me since I have black teammates, black friends, my wife is of mixed race. I can walk the streets freely, and I want it to be the case for everyone. It bothers me that it's not the case."
-Vincent Poirier
Wife and Child
As for his wife's detail, she is named Assou and goes by the same username in her Instagram account.
Furthermore, she is tanned beauty with short height and a curvaceous figure. As per the record, she was born on December 3 under Sagittarius' sun sign.
If we go into the flashback, the duo became official on August 1, 2018, after his girlfriend uploaded a picture of the two.
As in detail, they were vacationing in Waldorf Astoria Los Cabos Pedregal. At the same time, Poirier's foremost post with his girlfriends was on June 24, 2018, through Instagram.
To illustrate, the upload was captioned as a partner with an emoji at the side.
All in all, the couple has been going off strong with their relationship and never misses a chance to shower love for each other in their accounts.
Apparently, you can always see the duo filled with love as they travel a lot together, and you can see the player never missing a year to wish his wife on her special day.
Indeed, he always makes sure that his wife has a special day. Assou is an Instagram model by profession alongside modeling for brands such as the SWIMMR, Somer Field Swim, and many more.
On September 4, 2020, the couple welcomed their first child, a beautiful daughter Nola Adjoba Poirier.
As a backstory, Vincent had even taken leave for September to be there for his wife in labor and to welcome his child to the world.
Altogether, they have been a beautiful couple and a beautiful family.
Social Media Presence:
Vincent Poirier is quite active on social media. You can follow him via these links.
Some FAQs:
Who is Vincent Poirier's agent?
Vincent Poirier agent is Bouna Ndiaye of Comsport.
Are Vincent Poirier and Dustin Poirier siblings?
No, Vincent Poirier and Dustin Poirier are not siblings.
What shoes does Vincent Poirier wear?
Vincent Poirier reportedly wears Nike KD 12 shoes.
Did Doc rivers and Vincent Poirier talk before or after Poirier's comments?
After getting traded from the 76ers to the Knicks, Vincent said that he had no communication within the team.
He also said that Rivers did not reach out to him after the deal was made. On the other side, Rivers brushed off Poirier's comments and stated,
What are Vincent Poirier's career-high points?
On April 16, 2016, Vincent set his career-high in points. Poirier scored 23 points in Levallois's home win against Gravelines, 83-63.