Nearly two years old in the Major League Baseball (MLB), Wander Suero currently features the right-handed pitcher for the Washington Nationals.
However, to date, ever since his 2018 MLB Draft, why is he still in the midst? In fact, he has been playing ever since 2010 though it is in the Minor Leagues.
Still, why is he the lesser heard of all athletes? Yes, playing is not only that is important, but it's performance. Additionally, it is that he is underrated or just perfect with the report.
Anyways, Suero depicts a clean arm action, hence, being a solid portray of a reliever.
Let's dig into more details about the athlete.
Quick Facts
| | |
| --- | --- |
| Full Name | Wander Suero Montero |
| Date of Birth | September 15, 1991 |
| Birth Place | San Cristóbal, Dominican Republic |
| Nick Name | The Animal |
| Religion | Christianity |
| Nationality | Dominican |
| Ethnicity | Black |
| Zodiac Sign | Virgo |
| Age | 31 Years Old |
| Height | 1.93 m (6 feet 3 inches) |
| Weight | 96 kg (212 lbs) |
| Hair Color | Black |
| Eye Color | Black |
| Build | Athletic |
| Father's Name | Not Available |
| Mother's Name | Not Available |
| Siblings | Not Available |
| Education | Not Available |
| Marital Status | Married |
| Wife | Name Unknown |
| Kids | A son and a daughter |
| Profession | Baseball player |
| Position | Pitcher |
| Affiliations | Washington Nationals |
| Active Years | 2010-present |
| Net Worth | $1 million |
| Social Media | Instagram, Twitter |
| Last Update | June, 2023 |
Body Measurements
Wander Suero is a big guy with a towering height of 1.93 m (6 feet 3 inches) while weighing 96 kg (212 lbs). However, he is a bit skinny along his arms and showcases the bearded look.
His beard and hair and even eyes are of the same color, black for his physical appearance. Additionally, he has chocolate-colored skin.
While some hit the home run, some struck out. With fierce battle all around, read to find out about the Best MLB Players of 2023.
Wander Suero | Early Life
Suero (fully named Wander Suero Montero) was born on September 15, 1991, under Virgo's sun sign. Apparently, he was born in San Cristóbal, Dominican Republic.
As per his name, his paternal surname is Suero, while his maternal surname is Montero. However, his family backgrounds, academics, and parents are all enclosed.
Wander Suero | Professional Career
Like every athlete, Wander Suero started early with his baseball career during his teenage phase. In May 2010, Washington Nationals first signed in Suero as a non-drafted free agent in the minor leagues.
Right after, he starred in the Dominican Summer League Nationals from 2010-2012.
Dominican Summer League Nationals
As he started playing in the Dominican Republic, he played forty games while his first season records 15 games. He made four starts with an earned run average (ERA) of 4.72, 39 strikeouts, and 23 walks in 34​1⁄3 innings.
The following year, he made two starts for the game while posting an ERA of 5.49 with 41 strikeouts, 26 walks, and pitching 39​1⁄3 innings.
By the end of the tenure, Suero had only nine games for the time being and thus had an ERA of 3.41, striking out 34 batters and walking 12.
Gulf Coast League Nationals
With his rookie tenure, Suero leveled up to play for the Gulf Coast League Nationals from Space Coast Stadium in Viera, Florida. Back then, Suero appeared in 13 games with an ERA of 1.65, 46 strikeouts, and 13 walks in 49 innings of work.
To illustrate, Suero starred in a total of 13 games of the championship series. It was back in 2013 Gulf Coast League when the team took over the Gulf Coast League Pirates and the Gulf Coast League Red Sox.
Carolina League
After a year, Suero devoted himself to the Class A Advanced Potomac Nationals in the Carolina League. During the timeframe, he also featured for the Class A Hagerstown Suns in the South Atlantic League, where he played 11 games.
The bigger the MLB craze, the bigger the MLB contracts. Let's find out who is the player with the biggest MLB contract ever.
Consequently, he was then assigned to the Class AA Harrisburg Senators of the Eastern League. Like in the beginning, Suero posted a 6.35 ERA over 34 innings in the high minor leagues.
Therewith, he moved to the Dominican Winter League, where he pitched 1​2⁄3 innings for the Tigres del Licey.
Eastern League
Moving forward, Suero was assigned to the Class AA Harrisburg, where he had 39 relief appearances with 48 strikeouts. Again, he played for the Tigres del Licey, where he made 13 appearances with 10 strikeouts.
International League
After years of gameplay, Suero finally bagged his role in the International League, playing for the Class AAA Syracuse Chiefs. On June 14, 2017, Suero had his first gameplay against the Pawtucket Red Sox, where he recorded a 1.70 ERA and his foremost Triple-A save.
Following it, he claimed the Pitcher of the Year Award and stood in the 40-man roster of the 2017 season. Afterward, Suero featured in the Nationals' major league roster for 2018, and after its completion, he finished his spring training.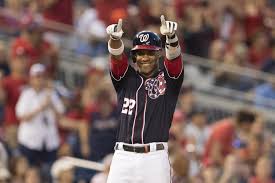 Subsequently, Suero was immersed in Grapefruit League and then was seen at FITTEAM Ballpark of the Palm Beaches in West Palm Beach, Florida.
Major Leagues
On April 30, 2018, Wander Suero packed his minor league career with 212 games during the tenure of eight seasons. Apparently, he was then accustomed to the major league as Washington's bullpen with middle-relief strength.
Altogether, Suero made his foremost major league debut as the relief behind the starter Max Scherzer. To elaborate, his debut match was on May 1, 2018, over the Pittsburgh Pirates at Nationals Park in Washington, D.C.
Not to mention, this game was also the first match without giving any runs.
Likewise, his foremost major-league strikeout was against the Philadelphia Phillies. Moreover, in the middle, Suero was posted in Syracuse on June 9 and came back during the Nationals Park match against the New York Yankees.
Overall, Suero accomplished 15 major-league appearances, which portrayed a 3.63 ERA. Just as before, he was again assigned to Syracuse to let reliever Kelvin Herrera in his place.
Similarly, during the 2019 season, Suero had to compete against Austen Williams and Justin Miller in a three-way battle for the final two spots available out of the bullpen. Thus, as Suero and Miller won, Suero had his foremost save of the season only in June against the Braves.
However, that year, Suero wasn't included in the Nationals' wild-card roster. But, he appeared on the roster for the National League Division Series against the Dodgers.
All these left him with a total of 78 appearances for that year, which flaunted a 4.54 ERA over 71.1 innings.
Wrapping up, his major league career holds 119 major-league innings so far with 4.16 ERA.
Wander Suero | Pitching Style and Achievements
As of 2021, Suero hasn't pitched yet; however, if we go back to his MLB career, he has had 2,394 pitches to date. Suero has his cutter really famous among all those pitches thrown, and it goes out quite naturally.
As we talk about his best pitching, his cutter is 92mph, which comes alongside 87mph change and 77mph curve. However, his change is not something that does all good as it consists bit of swings. Hence, change with a few groundballs gives him a natural sink.
Additionally, his curve pitch has a sharp downward bite and has slight glove-side movement. Until today, Suero has made the highlight in the 2019 World Series Champion.
Net Worth
As of 2023, Wander Suero is estimated to have a net worth of $1 million with a salary of $562,500.
You might be interested in Gio Urshela Bio: Baseball, Career, MLB, Family, & Net Worth>>>
Wander Suero | Personal Life
Suero is currently married and handles a small cute family. As per the sources, he has a nuclear family of four, consisting of his wife, son, and daughter. Like other celebrities, Suero is private with his life.
Although he keeps the public updated with his life's ongoing moments, he hasn't yet disclosed his family life. All in all, we can see him happy with his family and soul mate. Well, his babies are eight and a year old right now.
Frequently Asked Questions (FAQs)
What is the jersey number of Wander Suero?
The jersey number of Wander Suero in Washington Nationals is 51, while he used to feature in the jersey number 16 during the Syracuse Mets.
Was Wander Suero tested positive for COVID-19?
In July 2020, Wander Suero and Roenis Elías were kept on the injured list without any specific mention of the injury. Following it, other players such as Howie Kendrick, Juan Soto, Victor Robles, Luis Garcia, Joan Adon, and Fernando Abad were also absent.
That was when the Nationals announced that the two players were tested positive for COVID-19; however, they didn't reveal who the players were.