Horace Grant daughter, Maia Grant, is the only one who has given a glimpse into her life. The former NBA stars' daughters are away from the limelight.
The four-time NBA Champion Horace Grant has had quite a happening life out of the basketball court. He has eight kids from various relationships, including five girls and three boys.
But it looks like none of his kids have followed in his footsteps. His oldest son is a real estate agent, and his daughters are on a different career path other than athletes.
But the former Chicago Bulls player can keep his hope up from his youngest son Elijah, who turned ten earlier this year. After separating from his longtime partner Andrea, Horace is currently in a relationship with a woman named Karlene Aguilar.
Horace Grant Daughter: Five Girls From Three Relationships
The former NBA player Horace Grant has five daughters, but they have stayed out of the public limelight. One of his daughters believed to be Coriel, was born in 1996.
The former NBA player and his former partner Ann Gore became parents to a baby girl in 1996, but they were never in a stable relationship. He bought a home for Ann and his daughter in Utah.
The former basketball player was paying a child support clause according to the one set in 1996 when he was earning $14.3 million. In 2009, he filed a petition to lower his payments, and it was accepted.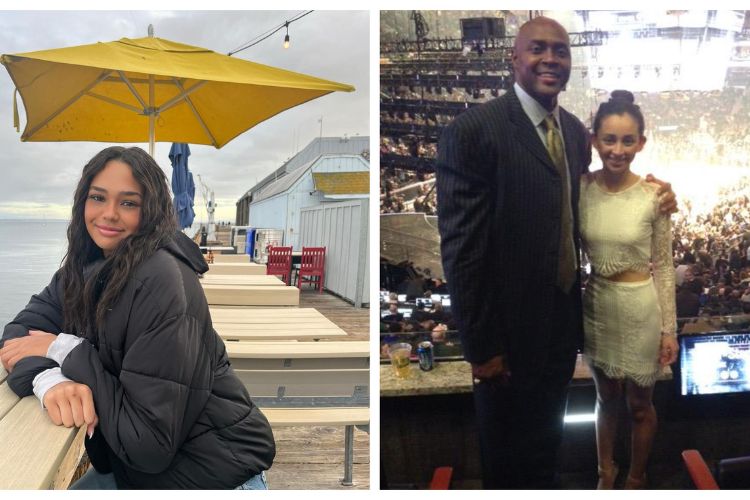 But in 2015, the case was revived to see whether a reduction in child support would have any effect on his daughter.
The former Chicago Bulls player has three daughters with his former wife, Andrea Grant. The couple tied the knot in 2003 and share three daughters, Maia, Gianna, and Eva Grant.
Eva doesn't seem to be available on social media, and Gianna has kept her Instagram handle private. Maia is available on Instagram with the username @maia_grant and has shared a handful of posts.
Recently, a clip of Maia meeting the famous Kick streamer N3on went viral. The streamer seemed bamboozled after knowing Maia was Horace Grant's daughter.
The former NBA player has one more daughter named Naomi Grant, whom he previously featured on his Twitter handle. In 2015, Horace shared a photo with him and Naomi attending the NBA All-Star game.
Horace Grant Son: Three Sons From Previous Relationships
Horace Grant has three sons, Deon, Horace Jr, and Elijah. Grant's first two kids, Deon and Horace Jr, are from his marriage with Donna Grant.
Donna and Horace tied the knot in 1988 and a year later, welcomed their first child, Horace Grant Jr. Donn and Horace's relationship couldn't stand the test of time, and the couple was divorced in 1992.
In a statement released by Donna at the time, the ex-wife said Grant's public statements had been damaging to her and her sons and caused great shame and embarrassment.
Currently, Grant Jr works as a real estate agent, and earlier this year, in May, he joined Compass Real Estate. In a video shared by Horace, the real estate agent states he grew up with his grandparents and extended family in Chicago.
He also said he previously worked for the Chicago Bulls and acknowledged his father. The 34-year-old added it was his grandparents who sparked his interest in real estate.
Horace's third and youngest child, Elijah, was born in 2013, and he shares him with Andrea. In 2015, Horace shared a photo of him and Elijah having fun building sand castles, and later that year, Horace shared a snap of Elijah meeting with supermodel Gigi Hadid.
In August of this year, Grant shared a photo of him meeting up with his oldest son and his family. The former NBA player was all smiles as he took pictures with his son and grandson.