Ali Krieger's parents, Debbie Alongi and Ken Krieger came from the same field and supported their daughter's soccer career. Debbie and Ken shared an amicable relationship despite being divorced.
If Debbie made sure to take her daughter to soccer practice on time, no matter how far she had to drive, Ken took care of her performance on the field. The physical education instructors were always present in Ali and her brother Kyle's lives.
In 2021, Ali and her mom even did a sit-down interview, talking about the early stages of her soccer journey. The former USWNT player credits her parents for the player she became and the person she is today.
On October 11, the People Magazine confirmed the Gotham FC player was going through a divorce with her wife of almost four years, Ashlyn Harris. They tied the knot in 2019 and share two kids.
Ali Krieger Parents, Debbie Alongi And Ken Krieger
Ali Krieger's parents, Debbie Alongi and Ken Krieger divorced when Ali was quite young. The two were Physical Education instructors and coaches and raised their kids in Dumfries, Virginia.
The couple Debbie and Ken might have crossed paths for the first time while at Frostburg State University. The two graduated from Frostburg and soon started their small family.
Ali's father, Ken Krieger, has vast experience working with soccer teams. In 2003, when Ali was a rising player at Forest Park, Ken was the head boy's coach at the same organization.
He soon decided to leave his position as under-14 developmental coach for DC United to become the technical director of the Washington Freedom's new premier player development academy teams.
Previously, Ken worked with Prince William Courage and McLean Youth Soccer from 2014 to 2015. He had a second stint with DC United in 2015, joining the Under 16-DA team.
In 2016, Ken joined the Arlington Soccer Association as the director of the club's new US Soccer Development Academy Program. After a while, Ken worked with Fredericksburg FC as the Girls' Director of Coaching before joining the Northern Virginia Soccer Club.
Previously, talking about her dad, Ali said he was her first coach. While Ali was with the Sparkler Youth Soccer team, her dad coached her and her eight teammates.
In an interview with The Washington Post, Ali said she played other sports but returned to soccer and shared the same love for the sport as her father. In 2015, Ali even missed the NWSL semifinal to attend her dad's wedding day.
Ali Shares A Strong Bond With Her Mom Debbie
The mother-daughter duo of Debbie and Ali were featured by 1800 Flowers in the series MVP Moms in 2021. The duo talked about Ali as a kid up to her becoming a World Champion.
After her divorce from Ken, Debbie raised her two kids singlehandedly. In the interview, Debbie said she doesn't know if she took the role of both mom and dad. But she only wanted to take on the role of a better mom.
Ali had recognized the sacrifices made by her mom from an early age. In the interview, Ali said her mom took up two jobs at one point to raise her and her brother.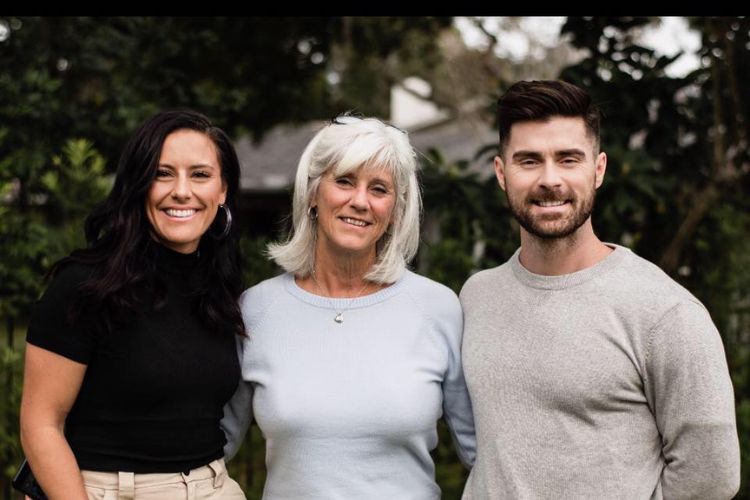 She also said Debbie was the one to take her to all her games and practices and said it was a blissful feeling to have her mother by her side as she started receiving scholarship offers from various universities.
Debbie showed support to her kids when they came out to her. Ali's brother, Kyle, had previously come out to his mom, and Debbie remained supportive of his coming out story.
Ali also came out to her mother in 2010 when she began dating Ashlyn Harris. When asked about her reaction, Debbie said she only wanted her kids to be happy.
Debbie added she only wanted to see her daughter be with somebody who loves and treats her with respect. So, Ali must be leaning on her mom during this challenging phase of her life.
Ali Krieger And Ashlyn Harris Go Their Separate Ways
The former USWNT players Ali Kreiger and Ashlyn Harris have ended their marriage after nearly four years. The couple tied the knot on December 28, 2019.
The news came out on October 11 after People Magazine reported that Harris had filed for divorce from Krieger on September 19 in Florida. The former couple met while playing UWNT in 2010 and instantly clicked.
The two went on to play for three franchises Washington Spirit, Orlando Pride, and Gotham FC. At first, they tried to keep their relationship lowkey, but soon the fans gave them the nickname, "Krashlyn."
In 2021, the couple welcomed their first child, Sloane, via adoption, and last year, in August, they welcomed their second child, a baby boy named Ocean. The couple has yet to address their divorce on their social media profiles.