Jabril Cox parents, James and Lotu Cox, come from mixed family backgrounds. Lotu Cox has Samoan roots and raised several football-loving kids in Kansas City with her husband, James.
The former Cowboys player Jabril Cox has always talked about his father's impact on his football career. He grew up in a household that treasured footballing talent, with his older and younger brother playing the sport at the collegiate level.
A fourth-round pick in the 2021 NFL Draft, Cox joined the Dallas Cowboys and played two seasons. His debut season ended after he suffered from a torn ACL in Week 8, and his second season wasn't anything special.
Earlier this year, Jabril snubbed the Cowboys and signed with Washington Commanders. But the linebacker continues to toil in the practice squad, with many fans on social media questioning why he hasn't made it to the starting team.
Jabril Cox Parents: James, And Lotu Cox
Jabril Cox's parents, James and Lotu Cox, raised seven kids in Kansas City, Missouri. The husband-wife duo supported their kids' footballing dreams since they were kids.
The love for football in Jabril and his brothers comes from their dad, James, a collegiate football player. Previously, in his interview with The Athletic, James admitted he was, at times, too rough on his kids.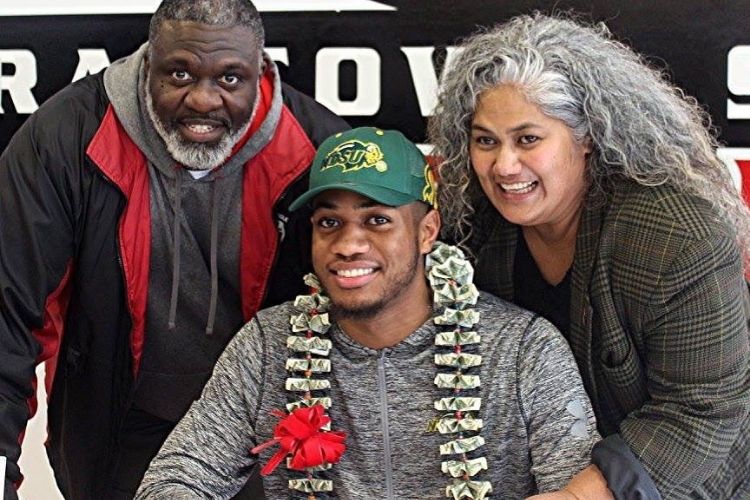 James would make Lotu film the boys' youth games, and he would make Jabril study the film after every game. But James said his middle child, Jabril, was always attentive and didn't require much help.
He always did the right thing. The footballer comes from a family with mixed ethnicity, as his mother, Lotu, is of American Samoan descent. She met James in Hawaii, and the two married in the island state.
In 2020, when he moved to LSU, the safeties coach Bill Busch had a significant role in it. Busch has a history of recruiting American Samoan and Polynesian players, and the safeties coach contacted Jabril's mother.
Busch talked about Samoan foods that aren't found in the US and discussed the Samoan culture with Lotu. Lotu, who isn't a big talker, was left impressed by Busch's knowledge, which put her at ease with Jabril's decision to join LSU.
Jabril Cox Brothers: A Family Of Footballers
Jabril Cox is the third child of a seven-kid family. Cox has two older twin brothers, Jamaal and Jameel, and a younger brother named Jasir Cox. He also has three sisters, who remain away from the public limelight.
James and Lotu would spend their entire Saturday on the football field rooting for their sons. After Jamaal and Jameel were done playing, Jabril would hit the ground running.
Jabril had always been a competitive kid. After seeing his two older brothers score touchdowns, the former Cowboys player would tell his parents he would score more than them.
His two older brothers didn't continue their football careers like him and chose to venture into different professions. Jabril's younger brother, Jasir Cox, also has a promising football career and had declared for the 2023 NFL Draft last year.
But Jabril's younger brother didn't hear his name get called out earlier this year at the draft ceremony. Jasir did receive an invite from the Philadelphia Eagles to participate in their rookie minicamp, but it doesn't look like Jasir could capitalize on that opportunity.
The two brothers, Jasir and Jabril, played together for three seasons during high school. But Jasir later transferred to Bishop Miege and was a multisport athlete.
The duo once again met when Jabril was at North Dakota State, and they lifted the 2018 and 2019 FCS National Championships. In 2021, Jasir again won the National Championship and was NDSU's third-leading tackler with 58 tackles.
He then announced he would be enrolling at West Virginia for his senior year. Jasir is available on Instagram with the username @jasircox, which is filled with his time as a football player at NDSU and WVU.