The Iowa Hawkeyes football head coach, Kirk Ferentz daughter, Kelly, and Joanne Ferentz, took different career flights, unlike his sons into football.
Ferentz and his wife, Mary, welcomed five children, three sons and two daughters. Both Joanne and Kelly are now married and lead a happy family of their own.
Kirk's sons, Brian, James, and Steve, are often in the limelight with their careers. On the contrary, the Ferentz sisters prefer a low-key life.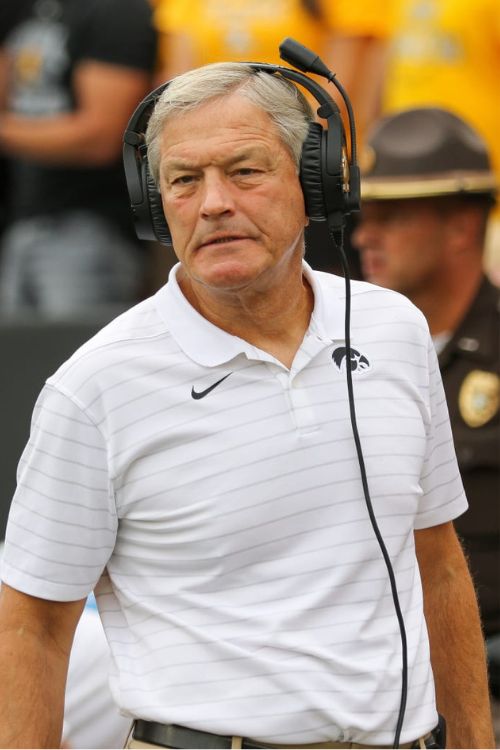 A Royal Oak, Michigan native, Kirk James Ferentz dived into the football world as a linebacker at the University of Connecticut (1974- 76). In 1977, he served as a graduate assistant for the Huskies under head coach Walt Nadzak.
Starting out as a defensive coordinator & offensive lines coach at Worcester Academy (1978-79), his coaching career began to take professional recognition.
Fast-forward to a few years, Ferentz was coaching in the NFL teams: Cleveland Browns (1993-95) and Baltimore Ravens (1996- 98).
Since 1999, he's been serving as the head football coach at the University of Iowa, which has been home to NFL players like Tyler Linderbaum, Micah Hyde, and Matt Nelson, among others.
Under his guidance, the Iowa Hawkeyes won two Big Ten Conference championships (2002 & 2004) and two Big Ten West Division championships (2015 & 2021).
Kirk Ferentz Daughter, Kelly & Joanne Ferentz: Their Age Gap
Ferentz, the 4-time Big Ten Coach of the Year, comparatively is less vocal about the details of his daughters, Kelly and Joanne, but is equally in love with them as his sons.
Kelly Kristin Lauridsen (nee Ferentz) was born on November 30, 1985, as the second-eldest of five children. As of 2023, Kelly is 38 years old.
Her sister, Joanne Barnes (nee Ferentz), born in 1988, is the third-eldest child. The Ferentz sisters have an age gap of 2 years.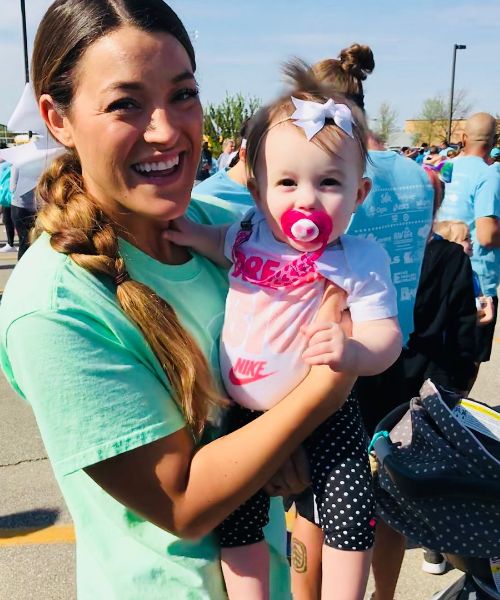 They have an eldest brother, Brian (b. March 28, 1983), and two younger brothers, James (June 5, 1989) and Steven (b. December 4, 1993).
The youngest one, Steve, is nine years younger than Kelly and seven years junior to Joanne.
Kirk Ferentz Daughter | Eldest Kelly Ferentz Lives With Businessman Husband
Kelly Ferentz lives a blissful married life with her husband, Walter E Lauridsen, in Des Moines, Iowa. Her hubby is the CEO of The Boyer Valley based in Arion, Iowa, which is an affiliate of the Lauridsen Group, Inc.
Before assuming his role as CEO of the aforementioned company, he served as the VP of Entrepreneurial initiatives at LGl's Essentia Protein Solutions Company.
Walter is a graduate of Cornell University with a B.A. in Applied Economics and Management.
According to Facebook posts from Dornink Couture Costumes, the couple married on July 10, 2015, following two years of her younger sister's marriage. The wedding ceremony was held at their home in Iowa City, Iowa.
They are yet to share children.
What Does Kelly Do?
Like all her siblings, Ferentz attended Iowa City High School. Then, she moved to Michigan & completed her Bachelor's degree in English from the University of Michigan.
Moreover, Kelly has a juris doctorate and a master's degree in health administration from the University of Iowa.
There are no specifics about her current profession, but it is believed that she could be working with her husband. In fact, the employee records of The Boyer Valley show a woman named Kelly working as a VP of Finance.
Younger Daughter, Joanne Ferentz: Mother Of Three Kids
Ferentz, who now goes by the surname "Barnes," is married to Tyler J. Barnes, a native of Decatur, Illinois. Currently, he serves as the director of recruiting at the University of Iowa (2016- now).
When the two were dating, Joanne's father, Kirk, hired him as a temporary administrative assistant in January 2012. And six months later, they got engaged in July 2012.
On July 6, 2013, after a year of engagement, Joanne and Tyler married at their Iowa City home in the presence of their family and friends. On July 6, 2022, Barnes wished her on their 9th wedding anniversary on Instagram.
Together, the pair is parents of three children: two daughters, Blakely and Bella, and a son, Beckett (b. September 30, 2019). The youngest of all, Bella Mae Barnes, was born in June 2023.
Allegedly, Joanne, an elementary school teacher, met her husband, Tyler, when they were attendants of the University of Iowa.
From there, Barnes obtained a double major in Finance and Sports Studies in 2009. Later, he earned his master's in Recreation and Sports Management in 2011.