The 2017 Pro Bowl Micah Hyde, aside from his playing skills, is often in talks about his adorable relationship with his wife, Amanda Hyde. They have been together for nearly a decade & parent two kids together.
When the NFL player was dating Amanda, she didn't know of her future husband's career. Currently, Micah plays as a free safety for Buffalo Bills (2017- Now), with a two-year extension deal that runs through the 2023-24 season.
Often the couple posts about each other on social media & feature their kids.
The former Packers player's wife, Amanda, is none less when it comes to being a supportive partner & a doting mom. Moreover, with family responsibility on her shoulders, she carries her corporate job with efficiency.
Want to know more about Micah Hyde's wife, Amanda Hyde? Here we deliver details on her family, career, relationship & more!
Quick Facts
Full Name
Amanda Kamiksisian Hyde
Famous As
Wife of NFL star Micah Hyde
Birthday
September 7, 1989
Age
34 Years Old
Birthplace
San Diego, California
Zodiac Sign
Virgo
Ethnicity
Semitic
Nationality
American-Arabian
Hair Color
Black
Eye Color
Black
Tattoo
None
Height
N/A
Weight
N/A
School
N/A
University Name
San Diego State University
Marital Status
Married
Husband Name
Micah Hyde
Children
One Son – Micah Ruchmond Hyde Jr.

One Daughter – Maverick Hudson Hyde

Father's Name
Kevork Kamiksisian
Mother's Name
Aida Hajjar Kamiksisian
Siblings
Two sisters (Sarah & Whitney Kamiksisian)
Profession
Director of Marketing and Development
Net Worth
Approx. $1 Million
Social Media
Instagram, Facebook
Last Updated
November 2023
Amanda Hyde (Wife Of Micah Hyde) | Family Details!
Micah's better half, Amanda, was born on September 7, 1989, in San Deigo, California. She is 34 years old. Her zodiac sign is Virgo.
Her full name is Amanda Kamiksisian, but she later took her husband's surname, "Hyde."
She comes from Arabian roots & is an American-Arabian by nationality.
Amanda Hyde is the daughter of Kevork Kamiksisian and Aida Hajjar Kamiksisian. She has two sisters named Sarah Kamiksisian and Whitney Kamiksisian.
According to Amanda's mother, Aida's Facebook page, she went to Rosary Sisters School in Jordan & currently lives in San Diego.
Her father, Kevork attended De La salle college in Jerusalem & later moved to the United States to enroll at San Diego State University.
Education
Regarding insights into her early life & early schooling, Mrs. Hyde remains mum. Both her parents, who emphasize education, surely enrolled her at good high schools.
Amanda then attended her father's alma mater San Diego State University, in 2013. Later, in 2015, she graduated with a BBA degree in Marketing.
What Does Micah Hyde's Wife, Amanda Hyde Do?
Amanda Kamiksisian, unlike her NFL star husband, is not active in sports. But she prefers to give her hand to the needy.
As per her LinkedIn profile, she works as Director of Marketing & Development at Imagine for Youth Foundation (Feb 2017- Now). The organization is focused on providing financial help to children in need.
Her mother-in-law Pamela Welly-Moore (Micah's mother), also works for Imagine For Youth as the Director of Community Outreach.
Amanda previously worked for iTAN Franchising, Inc. (2008-15) as its district manager/senior salon director.
Amanda Hyde | Height & Body Measurements
Hyde, with a slim body build, is seemingly a fitness enthusiast. Health concerns & diets are primary in the family & especially when you have an NFL player husband, it becomes more than mandatory.
Amanda's exact height is not known, but she could be around 5 feet 6 inches (1.68 m) to 5 feet 8 inches (1.73 m). Her husband, Micah Hyde, stands 6 feet (1.83 m) tall & weighs 89 kg (197 lbs).
Besides, Amanda has long black hair & brown eyes that give an extra touch-up to her charming face.
Amanda & Micah Hyde's Relationship | When Did They Begin Dating?
Many online sources report that Micah and Amanda began dating in 2015; at that time, he played for Green Bay Packers in the NFL. It was in September 2015 when Amanda made a very first Instagram post with Hyde.
If we dig deeper into Amanda's early dating days with her athletic husband, it is none less than that of movies.
For instance, she met him in San Diego for the first time, as per trusted sources. And the astounding fact about them is that Amanda had no idea about Micah's NFL career for a long time.
Moreover, she didn't believe her friends when they said that Micah was an NFL player until he left for the games.
After that, Amanda and Micah had a long-distance relationship for the time being.
Long-distance relationship & commitment is undoubtedly challenging, but it is nothing if both lovers work for it.
Through the off-games & weekends, Micha Hyde would manage time to meet Amanda.
They even promised to never let the distance between them become a load in their relationship, as per Mrs. Hyde's interview with Better Half of the Bills.
In the end, it all worked out!
Engagement!
The distance between Amanda and Micah didn't decrease their love for each other. And after a few years of dating, their love story took a step forward. Yes, it was their engagement!
Micah Hyde proposed to Amanda on July 21, 2017, by getting down on his knee. He threw a grand surprise as he popped her the question with a diamond ring.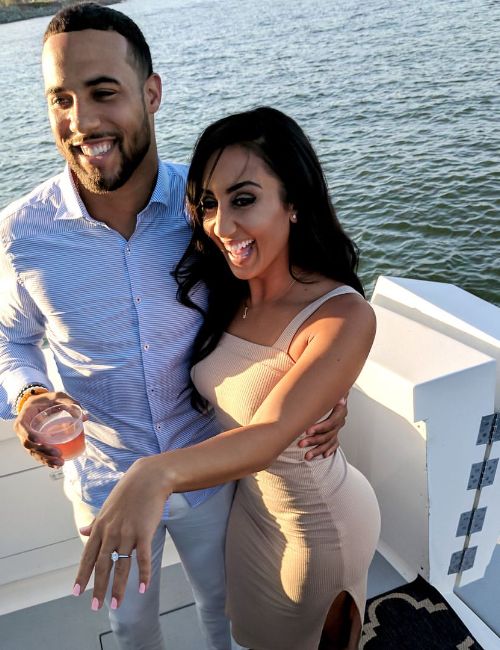 The athlete didn't forget to include all their closest and dearest while proposing to Amanda with a giant diamond ring.
After that, Amanda took her Instagram to share the happy news with her fans and well-wishers by posting a video of that blissful moment.
Wedding Highlights | When Did Amanda & Micah Marry?
Only a year after their engagement, Amanda Hyde & her NFL star fiance Micah married on the 7th of July, 2018. The wedding ceremony took place at the Ritz Carlton in Laguna Miguel, California.
Their family members & close friends were in attendance.
Micah Hyde's best friend Maddie Schaa, a Webster City native, officiated the wedding.
It was a typical wedding yet very fun-filled and dreamy kind of. Amanda wore a white netted gown with a halter neck for the ceremony. And Micah was seen wearing a light blue tuxedo.
Amanda still describes her marriage ceremony as a fairy tale as she got to celebrate it as per her Arabian culture.
In a sense, Mrs. Hyde got to enjoy her big day by dancing to an Arabian song. Even the boys got dressed up, and girls decorated themselves with the jewels on their heads.
Amanda Hyde | Mother Of Two With Micah
Amanda is a mother to two kids; one son and a daughter. She and her husband, Micah Hyde, welcomed their first child, Micah Ruchmond Hyde Jr., on the 18th of March, 2020.
Mrs. Hyde announced the news of the arrival of her firstborn child through her Instagram with extended captions where she thanked Micah for being a supportive husband throughout the journey.
A year later, the couple again welcomed another bundle of happiness. Amanda gave birth to her daughter, Maverick Hudson Hyde, on August 30, 2021.
According to Amanda's Instagram post, Maverick was 8 lbs (3.6 kgs) and 21 cm long (3/4 inches) at the time of birth.
As per the trusted sources, Amanda wants more children with her athlete husband, Micah, very soon. So, let's be ready to shower her with many blessings and love on our way.
Micah Hyde's Wife Amanda Hyde | Net Worth & Salary
The exact figure of Amanda Hyde's net worth is not out, but she enjoys the millionaire's luxury as the wife of NFL star beau Micah Hyde.
With that being said, it doesn't mean Mrs. Hyde thrives on making her own name. Currently, she works as Director of Marketing and Development at Imagine for Youth Foundation.
It could earn her a salary of tens of thousands of dollars annually.
Husband Is A Multi-Millionaire
As of November 2023, her husband, Micah Hyde, owns a net worth of $10 million (approx.).
That sum is reasonable, given that he made $47.71 million in career earnings through 10 NFL seasons.
For the 2023-24 season, his base salary is $5.3 million & with $2 million in bonuses, leaving the Bills' with a dead cap of $7 million.
It ranks Micah as the Buffalo Bills #8 highest-earner in the 2023 season, behind:
Josh Allen ($39.72 million cap hit)
Stefon Diggs ($20.27 million)
Von Miller ($18.7 million)
Tre'Davious White ($16.38 million)
Dion Dawkins ($14.86 million)
Matt Milano ($13 million)
Mitch Morse ($11.45 million)
While with the Green Bay Packers, Micah signed a four-year rookie contract worth $2.33 million on May 10, 2013.

Upon his trade to Buffalo Bills, Hyde inked a five-year $30.5 million deal on March 9, 2017.
On March 5, 2021, the American football free safety signed a two-year extension worth $19.25 million with the Bills. It included $15.8 million guaranteed with a $7.5 million signing bonus to total annual earnings at $9.625 million.
On March 16, 2022, the Bills converted Hyde's 2022 season salary of $3.8 million & $2.5 million roster bonus to a signing bonus.
Brief About Micah Hyde
Micah Richmond Hyde was born on the 31st of December 1990, which makes him 32 years old. His birthplace is Fostoria, Ohio, United States of America.
The athlete is a son to his mother, Pamela Hampton, and his unidentified father. While growing up, Micah didn't receive fatherly love, as his birth father abandoned the family.
Therefore, Pamela took a huge responsibility on her shoulder and raised Micah on her own.
The NFL player has three siblings; among them, Micah's older brother, Marcus Hyde, is known. Marcus played college football for Michigan State as a safety from 2006 to 2010.
Attendant Of University Of Iowa
While at Fostoria High School, Micah was a triple-sport athlete, playing basketball, football, and baseball.
After that, Hyde attended the University of Iowa, where he represented the college's team, the Iowa Hawkeyes.
NFL Career Highlights Of Micah Hyde
Hyde is the round-five (159th pick) of the Green Bay Packers in the 2013 NFL Draft. The top-3 picks from the draft were Eric Fisher, Luke Joeckel, and Dion Jordan.
For the Packers, Micah Hyde played from 2013 to 2016, appearing in 63 games (started in 33). He made 8 defensive interceptions, and 24 passes defended with 184 tackles.
Later in 2017, Micah joined the Buffalo Bills, where Damar Hamlin, the 2021 NFL Draft also played, who got a cardiac arrest against the Bengals in Week 17 of the 2022 season.
As of 2022, Micah has made about 1,719 return yards, with the total touchdown being five (5).
Is Amanda Hyde Active On Social Media?
Amanda likes to keep in touch with her well-wishers via Instagram, @amandahyde_ more than any other social media app. She has been active on the platform since the beginning of 2015.
Mostly her IG posts feature her husband, Micah, and her children. Also, she does not forget to keep her followers updated about her travel diaries and other remarkable moments like anniversaries, birthdays, and so on.
View this post on Instagram
As of this writing, Amanda has 15.8k followers on her Instagram.
On the other hand, Amanda's husband, Micah, has about 191k followers on his Instagram handle, micah_hyde.
Interesting Facts About Amanda Hyde
Her birth name is Amanda Kamiksisian.
Amanda has few pen pals whom she talks to often.
Amanda long ago thought the Air Jordan was a single pair of shoes.
FAQs
How old is Micah Hyde?
Amanda's husband, Micah, celebrated his 32nd birthday on the 31st of December, 2022.
What is Amanda Hyde's profession?
Amanda is the Director of Marketing and Development at IMagINe for Adolescents Foundation.
Is Micah Hyde hurt?
During Week 2 in 2022, Micah had a neck injury. As a result, his team placed him on injured reserve on the 24th of September 2022. In early January 2023, he returned to the practice squad with the Bills.