Sprinter Issam Asinga parents have left an indelible mark in the athletic world with their remarkable achievements.
Now, Issam is determined to carry forward its legacy of excellence. He is making his mark in the world of track and field, following in the footsteps of his accomplished parents.
Issam Asinga is an 18-year-old American high school runner. He made waves in the sports world by setting a new world record at the PURE Athletics Spring Invitational meeting in Clermont on April 23, 2023.
He clocked a wind-aided time of 9.83 seconds to win the men's 100-meter dash, defeating world champion Noah Lyles.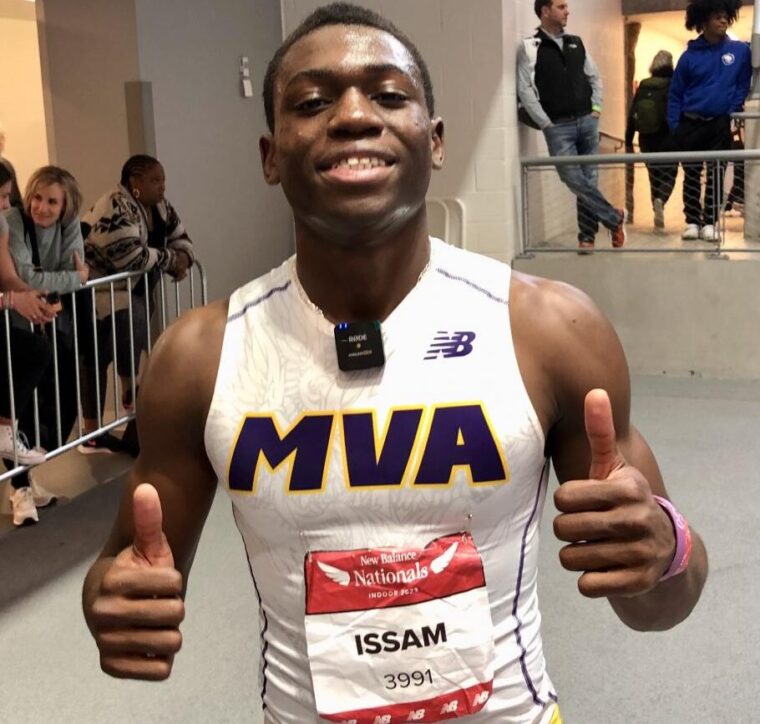 Asinga's performance was even more remarkable, considering he ran under 10 seconds twice in one day.
In the heats, he clocked 9.86 seconds with a +4.1 m/s tailwind, and in the final, he ran 9.83 seconds with a +2.6 m/s tailwind.
Despite running a time of 9.90 seconds (+4.3 m/s) in the heats earlier in the day, Noah Lyles, the world champion, finished in second place with a time of 9.92 seconds in the final.
Meanwhile, Kendal Williams, another sub-10 seconds athlete, finished in third place with a time of 9.98 seconds on a windy day.
Issam Asinga's exceptional performance has put him in the spotlight and made him a rising star in the track and field world, setting a new world record and defeating a world champion.
Sprinter Issam Asinga Parents
Tommy Asinga and Ngozi Mwanamwambwa Asinga are former track and field athletes who have left their mark on the world of sports.
Both were accomplished sprinters in their own right. They have represented their countries at the Olympic Games and earned numerous accolades throughout their careers.
Now, the Asinga family's legacy in track and field continues with their son, Issam Asinga.
Born into a family with a rich athletic history, Issam Asinga follows in his parent's footsteps as a talented sprinter.
He has been honing his skills and making a name for himself in the world of athletics.
Issam Asinga is already making strides in his athletic career with his parent's guidance and support.
Who Are Ngozi Asinga And Tommy Asinga?
Ngozi Mwanamwambwa Asinga, a former Zambian sprinter, competed in the women's 100 meters, 200 meters, and 400 meters at the 1992 Summer Olympics. She also participated in the women's 400 meters at the 1996 Summer Olympics.
Apart from her Olympic achievements, she is also renowned for her accomplishments in college athletics. Ngozi attended Principia Colleg, where she earned seven NCAA Division III All-American honors in track.
She achieved top-three finishes in the 100 meters, 200 meters, and 400 meters races. In 1992, Ngozi was the national champion in the 200 meters in the Division III category.
A former track and field athlete from Suriname, Tommy Asinga, was born on November 20, 1968.
After training in the United States and attending Eastern Michigan University from 1991 to 1994, where he achieved All-American honors five times, Asinga proudly represented Suriname at three Olympic Games.
Tommy competed in the 1988 Summer Olympics in Seoul, the 1992 Summer Olympics in Barcelona, and the 1996 Summer Olympics in Atlanta. TommyAsinga was Suriname's flag bearer in the opening ceremonies of the 1992 Olympics in Barcelona.
After his successful athletic career, Tommy Asinga continued to excel in his academic pursuits.
Asinga attended Tuskegee University's School of Veterinary Medicine. He graduated from Eastern Michigan University and pursued his passion for veterinary medicine.
Tommy is now a practicing veterinarian in Lusaka, Zambia, showcasing his dedication to serving his community and contributing to the field of veterinary medicine.
His achievements in sports and academics showcase his well-roundedness and dedication to success in different areas of his life.
The Asinga family's passion for athletics and their dedication to excellence inspire aspiring athletes and families alike.