Bobby Knight left his kids with no father after his death at his house in Bloomington.
Bobby, who died at the age of 83, shared a fruitful marriage with his wife, Nancy Falk, from 1963 to 1986.
Together, they share two wonderful sons, Pat and Tim Knight. Let's explore more about his children and other family members as well.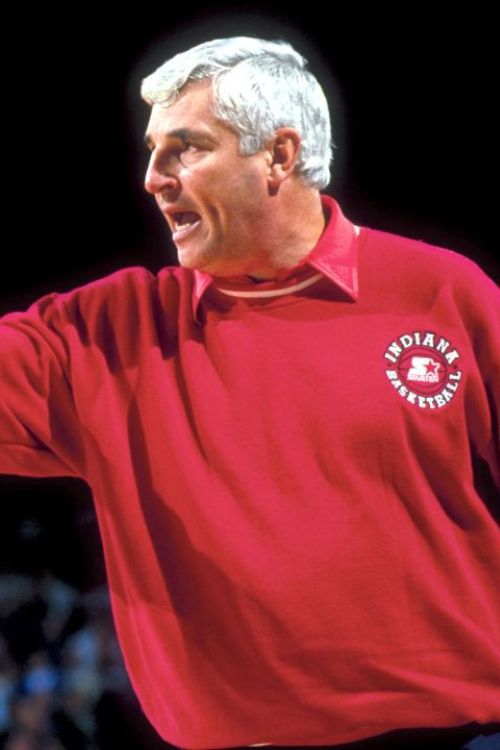 Bobby Knight, aka Robert Montgomery Knight, born on October 25, 1940, was a renowned American college basketball coach.
A notable figure in college basketball, known for intense coaching, discipline, and defense, Knight is a legend.
Bobby guided Indiana to three NCAA championships in 1976, 1981, and 1987, with the 1976 undefeated team being a standout.
At the time of his retirement, he held the record for most men's college basketball wins with 902, later surpassed by other coaches.
Knight coached the U.S. men's basketball team to a gold medal at the 1984 Olympics.
His teams excelled in the NCAA Tournament, often advancing deep into the tournament.
Bobby Knight's coaching legacy produced successful coaches like Mike Krzyzewski and Steve Alford, who achieved prominence in their careers.
He earned multiple Coach of the Year awards during his career, recognizing his coaching excellence and impact on the sport.
In 1991, Knight was inducted into the Naismith Memorial Basketball Hall of Fame in recognition of his significant contributions to the sport of basketball.
Unfortunately, Knight passed away in Bloomington, Indiana, on November 1, 2023, at the age of 83.
Bobby Knight Kids
Bobby Knight was a proud father of two kids, Pat and Tim Knight, from his first marriage to Nancy Falk (1963-1986).
Following his divorce from Falk, Knight married Karen Vieth Edgar in 1988 and remained happily married to her until his death.
Meet Pat And Tim Knight
Bobby's kids, Pat and Tim, left no stone unturned to make him proud of themselves.
Pat is a basketball coach and scout, while Tim is an executive director at Coaches & Friends For The Military.
Born on September 21, 1970, Pat started playing basketball at Indiana University under his father's coaching.
He later transitioned to a brief professional career and then began coaching.
Pat worked as an assistant coach under his father in Indiana and later became the head coach at Lamar University until 2014. Currently, he scouts for the NBA's Indiana Pacers.
Like Bobby Knight, his son also shares an intense and passionate coaching style.
Bobby Knight's Relationship With Son Pat
Pat Knight had a close relationship with his father, Bobby Knight.
Playing under his father's guidance, Pat became a prominent college basketball head coach, making his father proud.
In April 2023, Pat shared a statement about his father's hospitalization, thanking everyone for their tremendous support during the illness.
He also provided a health update and requested privacy. Pat, on behalf of the Knight family, issued a statement on their family website saying;
"We ask for your privacy as he is cared for and resting at home in good hands. Coach always taught us, and those that played for him, the importance of fighting through adversity and he and our family thank you for the tremendous amount of support you have shown and given during this time. We appreciate your continued thoughts and prayers."
Unfortunately, the Knight family lost the college basketball legend on November 1, 2023. Confirming the heartbreaking news, they said,
"It is with a heavy heart that we share that Coach Bob Knight passed away at his home in Blooming surrounded by his family."
Additionally, the Knight family thanked everyone for the thoughts, prayers, tributes, and condolences they received.
As per the late coach's wish, they mentioned they would hold a private family gathering for his last rites.
Therefore, the Knight will continue to celebrate his life and remember him as a beloved husband, father, coach, and friend today and always.