The legendary basketball coach Bobby Knight is survived by his wife, Karen Vieth Edgar, and his sons, Pat and Tim, from his first marriage.
He passed away on November 1, 2023, surrounded by family and friends at 83 years old.
Bob Knight is a former American college basketball coach who is widely regarded as one of the most successful figures in the history of the sport.
Knight served as the head coach of the Indiana Hoosiers men's basketball team from 1971 to 2000. During his time at Indiana, he led the team to three NCAA championships (in 1976, 1981, and 1987).
His 1976 team remains one of the last undefeated teams in the regular season of college basketball history.
Knight's career in college basketball included over 900 victories, making him one of the winningest coaches in the sport's history.
Furthermore, the Ohio-born coach also successfully coached the United States men's national basketball team. He coached the team to a gold medal in the 1984 Summer Olympics in Los Angeles.
Bobby Knight Wife, Karen Vieth Edgar
Karen Vieth Knight is the second wife of former college basketball coach turned ESPN analyst Bob Knight.
Knight exchanged wedding vows with Edgar, who had previously served as a basketball coach at an Oklahoma high school, in 1988.
At the time of their marriage, Knight was 47 years old, and Edgar was 41.
They exchanged their vows at the Indiana Interchurch Center in Indianapolis on May 23. It marked the second marriage for both of them.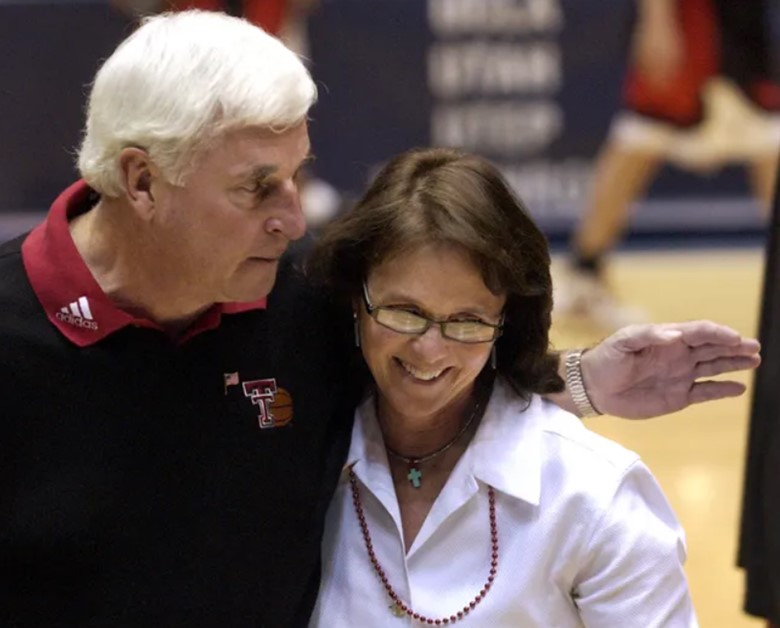 Before their marriage, Karen Vieth Edgar had a successful coaching career at Lomega High School.
She guided the girls' basketball team to three Oklahoma state championships over 14 years.
The Raiderettes achieved victory in 1982, 1983, and 1987, with undefeated seasons in 1983 and 1987.
Edgar, a University of Oklahoma graduate, resigned from her coaching position before the 1987-88 school year, citing her parents' poor health.
Despite receiving numerous offers for collegiate coaching positions, she declined them all.
First Wife, Nancy Falk & Two Sons
Knight first tied the knot with Nancy Falk, whom he grew up with in Orrville, on April 17, 1963. During their marriage, they welcomed two sons, Tim and Pat.
Unfortunately, the couple decided to part ways in 1986, ending their 22-year-long marriage.
Their son, Patrick, attended Bloomington North High School and played college basketball for the Indiana University Hoosiers.
Presently, he serves as a scout for the NBA's Indiana Pacers.
Meanwhile, Tim graduated from Stanford University in 1986 and now holds the executive director position at Coaches & Friends for the Military.