Ben Cousins sister, Sophie Cousins, tied the knot with an AFL player in 2016. The couple now has a beautiful growing family.
But it wasn't Sophie who was seen beside her brother at the Brownlow Medal ceremony last night. It was Ben's other sister, Melanie Cousins.
The former AFL superstar returned to the red carpet of the Brownlow Medal with his sister Melanie by his side, as he looked like a dapper gentleman. Cousins returned to the red carpet after 18 years since he won the prestigious title in 2005.
Since his problem with addiction surfaced in 2007, Ben Cousins hasn't been the same. It's been three years since Cousins has stayed away from legal troubles after having been released from prison in December 2020.
Ben Cousins Sister: Sophie And Melanie Are His Rocks
Ben Cousins' sisters, Sophie and Melanie, supported him through difficult times. The two sisters featured in the documentary "Such is Life," released in 2010.
In the documentary, the former rules footballer opened up about his struggle with drug addiction and constant chronic relapses. During one of the frames, Melanie talked about her brother's problem tearfully.
She shared that the family felt they would lose Ben or their father, Bryan, through stress. The family revealed that Ben had suicidal tendencies and believed he would not have been alive if it weren't for his love for footy.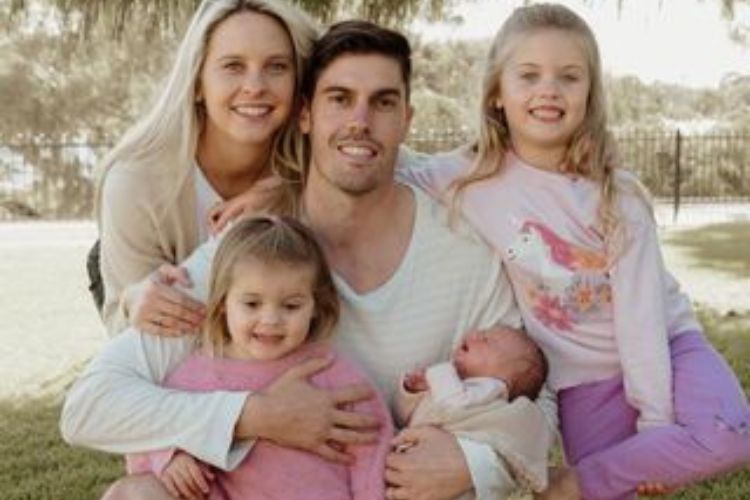 But even after the documentary, Ben's problem continued, with the former AFL star heading behind bars six times in 13 years. But his family, especially his sisters, have supported him through it all.
Ben also has a brother named Matthew Cousins, but he has stayed away from the spotlight.
Melanie and Sophie have kept their lives away from the social media. The youngest sibling, Sophie, tied the knot with former AFL player Garrick Ibbotson in 2016.
A few of the pictures from their wedding ceremony were shared by Daily Mail. The couple exchanged their vows at Lamont's Bishops House Gardens, Perth.
Garrick played for Fremantle Dockers until 2017, making 177 appearances. Sophie is available on Instagram with the username @sophie.ibbotson but has kept her handle private.
But looking at her display picture and Instagram bio, we can understand that the couple is now parents to three kids.
Melanie Cousins Works In The AFL
One of the two sisters of Ben Cousins, Melanie Cousins, works as the Senior Client Service Manager at the football club Fremantle Dockers.
Melanie joined the Dockers in 2020 as the Partnerships Account Manager and was promoted earlier this year. She rejoined the club after a year as she assumed the role of AFL's Premium Accounts Executive in 2019.
Melanie graduated from Curtin University in 2006 with a BCom degree and previously worked as a Primary Teacher at East Fremantle Primary School.
She was also a Senior Sales Consultant at Tradewind Recruitment before joining Fremantle in 2017 as a Partnerships Account Manager.
Melanie has kept herself away from social media, and there isn't much known about her relationship status. Last night at the Brownlow Medal ceremony was the first time in years that Melanie was spotted in public.
Ben Cousins Parents, Bryan, And Stephanie Cousins
Ben Cousins' parents, Bryan and Stephanie Cousins have stood beside their son throughout his entire ordeal, dealing with addiction and legal problems.
Bryan is a former Australian Rules footballer and played for WAFL side Perth Football Club during the 70s and 80s. He made 240 appearances and scored 309 goals for the side.
He also played for the AFL side Geelong Football Club from 1975-1979, making 67 appearances and scoring 46 goals. Bryan retired in 1987 and was awarded the Sandover Medal a decade later.
Bryan and Stephanie appeared alongside Melanie and Sophie in the 2010 documentary. Previously, Bryan had come forward in 2007 to talk about his son's problem with drug addiction.
At the time, Bryan shared Ben's health was their no.1 priority and his playing career would be put on hold. During the press conference, Bryan fought back tears as he talked about his son.
In 2016, Stephanie was seen coming out of the court after paying the $2000 fine for her son as he breached a violent restraining order and drug charges.
Trips to court had become a norm for Stephanie for several years, but Ben's new transformation looks encouraging for the family.