Football player Logan Thomas has been married to his wife, Brandie Thomas, for several years. Together, they are raising five little kids.
Although Thomas has not performed well because of frequent injuries in the last two seasons, he is still hopeful about making a remarkable comeback.
Everyone knows he has a supportive wife who does not feel bothered to join him during practice sessions. His kids, already huge football fans, often accompany their mother during their dad's games.
Logan Lamont Thomas Sr., better known as Logan Thomas, is an American professional football player who plays tight end for the Washington Commanders of the National Football League.
Thomas began his professional league journey after the Arizona Cardinals chose him as the 120th overall pick in the 2014 NFL draft. Unfortunately, his career could not progress until he joined the Buffalo Bills in 2016.
Logan later had two good seasons with the Detroit Lions and the Commanders, but he has not seen much action after December 2021.
Before his NFL debut, Logan Thomas played quarterback for the Virginia Tech Hokies from 2009 to 2013. He switched to tight end around 2016 before signing with the Lions.
Who Is Brandie Thomas, Logan Thomas's Wife?
How Many Sons Do They Have?
The NFL tight end Logan Thomas has been married to his wife, Brandi Thomas, for nearly seven years. The couple tied the knot in July 2016 after a year of dating.
Posting the picture of him holding her in his arms, Logan wrote on Instagram on July 6, 2016, "First dance with my beautiful bride! One of the happiest days of my life making her a Thomas!"
Following their marriage, Brandie and Logan are raising five kids together. While the last two boys are Logan's own with Brandie, his wife had three boys from her previous relationship.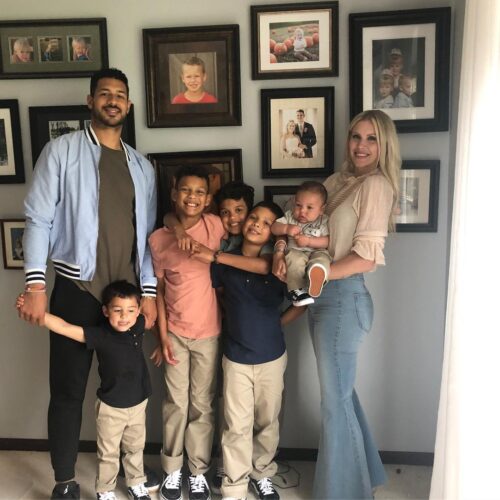 However, Logan thinks of them as his own, and luckily, they all are football fans and support their dad immensely.
Their first child together, Logan Jr., was born on March 31, 2016, only a few months before their marriage. Similarly, they welcomed their youngest son, Devin, on November 29, 2019.
Unfortunately, there is little information about Brandie's early life, family background, and education.
Logan And Brandie Lost Their Only Daughter Due To Miscarriage
Logan and his wife, Brandie, lost their only daughter due to a miscarriage in 2017. He informed about their daughter's premature birth through an Instagram post on October 26, 2017.
Brandie reportedly gave birth to their daughter, Brooklyn Rose, six months early.
Speaking about the incident, Brandie said, "It wasn't really just an early miscarriage. We had to go to the hospital, on the delivery floor. They have the bed already made for the baby and the weighing station, and we actually had to give birth to her."
Unfortunately, there was nothing they could do to save her. Logan admitted that it was tough as parents for him and his wife to go through something they had never imagined.