Christian Cage's father, Randy Reso, remains away from the public limelight. The former WWE star might want to keep his family out of the spotlight, as his current gimmick targets other wrestlers' families.
The current AEW TNT Champion, Christian Cage, and his "dead father" gimmick are being loved by the fans. There are haters, no doubt, but the attention he is getting out of it is certainly dominating the AEW circuit.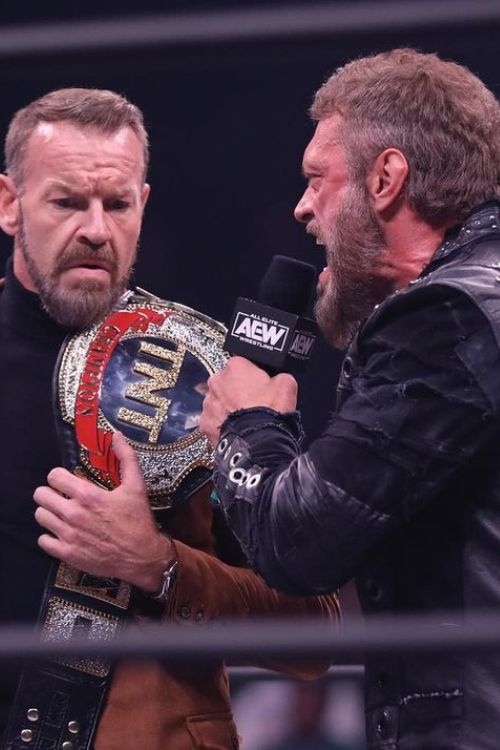 And now, after his hit "dead father" gimmick, the AEW champion has begun his feud with his former wrestling partner Adam Copeland aka Edge.
On October 1, 2023, Adam made his AEW debut 24 hours after his WWE contract ended. As his main theme song played, many believed Adam was teaming up with his longtime friend.
Instead, Adam attacked Nick Wayne and Luchasaurus, who were present with Christian on the stage. Cage has sent a clear warning to Adam that he isn't going to be buddy-buddy with him at AEW.
Christian Cage Father, Randy Reso
Christian Cage was born to an American father, Randy Reso, and a Canadian mother, Carol Reso.
The wrestler has kept his family away from the public limelight despite being a famous personality for many years. It was once rumored that Cage's parents pitched to WWE for him to win the championship.
Other than that, there's not much known about the former WWE star's family. If there are parents and family of wrestlers who have made special appearances in the past, Cage's family has remained away from such occasions.
But if he has kept quiet about his family, the wrestler/actor isn't quiet about other people and their families. His current gimmick of making fun of wrestlers whose fathers have deceased is catching the heat.
Christian Cage's Current Gimmick Is A Hit
Christian Cage's current gimmick of "dead father" is bringing a lot of attention. It first began with "Jungle Boy" Jack Perry.
In 2022, Cage had turned into a mentor for Perry, but he soon turned heel on the youngster. As his feud with Perry grew, Cage made remarks about his deceased father.
During the entire segment, Cage told Perry he would make him cozy up and join his father. But in the end, it was Perry who had the last laugh.
Perry defeated Cage in their Final Burial match. He went on to target the likes of Brian Pillman Jr. and Wardlow about their respective fathers.
He also targeted Nick Wayne, with whom he crossed paths during the backstage interaction.
Cage said, "I think you are a fine boy, and listen, after finding out last week that your father used to be a professional wrestler, I decided to go back and watch a little bit of footage on him.
He continued, "And I feel like I owe you an apology. He was even worse than I thought he was."
Some fans love the new gimmick, whereas some are questioning whether this is the best Cage has to offer to the wrestling fans. A compilation video of Cage talking trash about other wrestlers' fathers was shared on a subreddit.
And it drew mixed opinions. One fan questioned how talking trash about other people's dead fathers could be one of the funniest things in wrestling in 2023.
Another fan chimed in and said Cage is the people's champion, Captain Charisma. A few fans even said that the former AEW star Cody Rhodes might not return because of Cage's dead father's gimmick.
Nonetheless, Cage has received the attention he wanted and has become the talk of the town.