Professional rugby league coach Ivan Cleary has been married to his wife, Rebecca Cleary, for nearly three decades. Together, they are the parents of four kids.
Cleary's wife, Rebecca, is the younger sister of the former Australian rugby league footballer Josh Stuart. She met him while her brother and Ivan were teammates at North Sydney Bears in the nineties.
Rebecca's other sister, Yvette, is also married to former rugby league player Jason Death.
Ivan Cleary is an Australian professional rugby league coach currently serving as the head coach of the Penrith Panthers of the National Rugby League.
He began his coaching career in the early 2000s, joining the Sydney Roosters after retiring from the NRL.
Following this, Cleary coached the New Zealand Warriors and Penrith Panthers before joining the Wests Tigers as their head coach in 2012. He began his second stint with the Panthers in 2019.
Moreover, Ivan played as a fullback and center in the NRL for a decade. Mostly remembered for leading the New Zealand Warriors to the 2002 NRL Grand Final, he was also the 1998 season's leading point scorer.
Ivan Cleary Wife: Who Is Rebecca Cleary?
Rebecca Cleary is the wife of the NRL's Penrith Panthers head coach Ivan Cleary. The pair reportedly got together in the nineties and has been married for nearly three decades.
Although they were from the same city, Ivan and Rebecca did not know each other until Ivan joined the North Sydney Bears in 1994.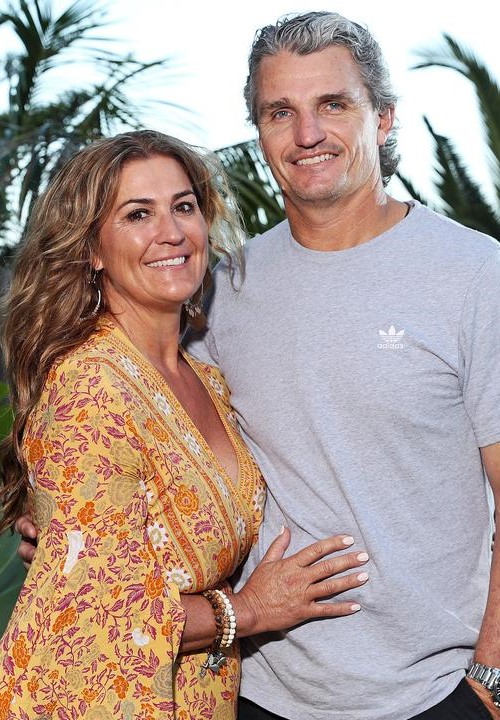 Rebecca's brother, Josh Stuart, was also playing for the Bears then, and he acted as a link between them. So, Ivan's friendship with Josh was crucial in bringing Rebecca and him together.
Following that, Ivan and Rebecca dated for a year before exchanging vows in 1995.
The pair gave birth to their first son, Nathan, in Sydney, Australia on November 14, 1997. He has now become a professional rugby league player, following in his dad's footsteps.
Besides, they have three more kids: Jett, Milaya, and India.
More On Nathan Cleary's Life And Career
Ivan and Rebecca Cleary's firstborn son, Nathan, spent his early childhood in Auckland, New Zealand, even though he was born in Australia.
Since his dad moved to New Zealand because of his career, Nathan and his mother accompanied him there in 2000. While there, Nathan attended Sacred Heart College, where he had primary schooling.
Although he initially played soccer, Cleary began focusing on rugby in his early teens. He later played junior-level rugby for nearly six years for the Mount Albert Lions in Auckland.
Returning to Sydney in the early 2010s, he played rugby for Penrith Brothers. Besides, he obtained his higher school certificate from St. Dominic College in Penrith in 2015.
A product of the Penrith Panthers club's junior system, he debuted for the Penrith Panthers in the NRL in 2016. As of this writing, Nathan has already played over 150 games for the Panthers, scoring over 1400 points.
While his dad, Ivan, is a head coach, Cleary co-captains the Penrith Panthers team. The father-son duo lifted their third NRL premiership trophy, beating the Brisbane Broncos on October 1, 2023.