Famous professional rugby league footballer Dane Gagai was born to a sports-loving family in Queensland, Australia. Following in their elder relatives' footsteps, Dane, his younger brother, and his cousins played rugby from a young age.
Their dad, Ray, was a professional rugby player in the eighties. Although his career was brief, he did enough to instill a love for the game in his kids.
The elder brother, Dane, has been playing professional rugby league since 2011. Jacob, who always considered his older brother his inspiration, joined him seven years later, signing with the Newcastle Knights.
Dane Gagai is an Australian professional rugby league footballer who primarily plays as a center for the Newcastle Knights in the National Rugby League.
Raised in Brisbane, he attended Brisbane Boys' College, where he excelled in rugby. As his performance garnered more attention, he joined the Brisbane Wests to play in the junior rugby league.
Gagai debuted in the NRL for the Brisbane Broncos against the North Queensland Cowboys in 2011. Since then, he has played for two more teams, namely the Knights and the South Sydney Rabbitohs, in his NRL career, spanning over a decade.
Moreover, he has participated in representative matches for teams, including Indigenous Stars, Queensland, and Maori All Stars.
Is Jacob Gagai Related To Dane Gagai?
Yes, the professional rugby footballer Jacob Gagai and Dane Gagai are related. Jacob is the younger brother of Dane Gagai.
Born on December 20, 1995, in Queensland, Australia, Jacob is four years younger than his older brother, Dane.
Their dad, Ray, was a rugby league player in his youth and was part of the Brisbane Broncos in the 1989 NSWRL season. He continued playing the sport even after Dane's birth and eventually left it in his thirties.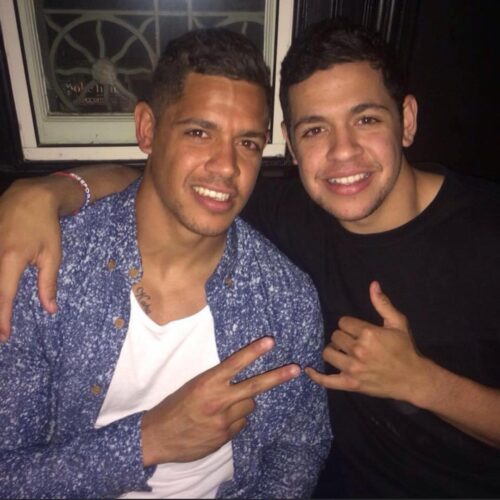 His dad inspired Dane, and he tagged his younger brother along as well.
Although Jacob did not see his dad play in the professional league, his interest in the game developed watching his older brother play for his school.
Jacob witnessed his older brother make it to the NRL while he was still a high schooler and always wanted to join him in the league. He once said in an interview that Dane was his role model, so he tried emulating him.
Just like him, Jacob also primarily plays as a center. He further stated, "I'm not only proud of him but extremely grateful to have him as my brother."
Meanwhile, Dane is happy Jacob is doing his best to improve his league performance. Although they have played for the same teams in their NRL career, they have never played together.
Jacob is currently with the South Sydney Rabbitohs, Dane's former club.
Little On The Gagai Brothers' Cousins
As mentioned above, not only the Gagai brothers and their dad are rugby players, but their other relatives are also accomplished athletes.
Josh is related to Dane and Jacob Gagai through their mother, who belongs to the Ngati Pikiao heritage. Even though he is an Australian by birth, he is a Kiwi, as his father was from New Zealand.
He previously played for the Brisbane Broncos, Gold Coast Titans, and Parramatta Eels in the NRL.
Wendell Sailor played in the NRL for around sixteen years, winning four premiership trophies with the Brisbane Broncos. His son, Tristan, is also an NRL player.
Likewise, their other cousin, Travis, played in the National Rugby League for around nine years for teams such as Canberra Raiders, Brisbane Broncos, and Newcastle Knights.