Teal Trout, the elder sister of Mike Trout, has initiated a program called "Manna from Heaven," which helped them raise $10,000 for Cumberland County families that are in need.
Michael Nelson Trout (b. August 7, 1991) is a professional baseball player from Vineland, New Jersey.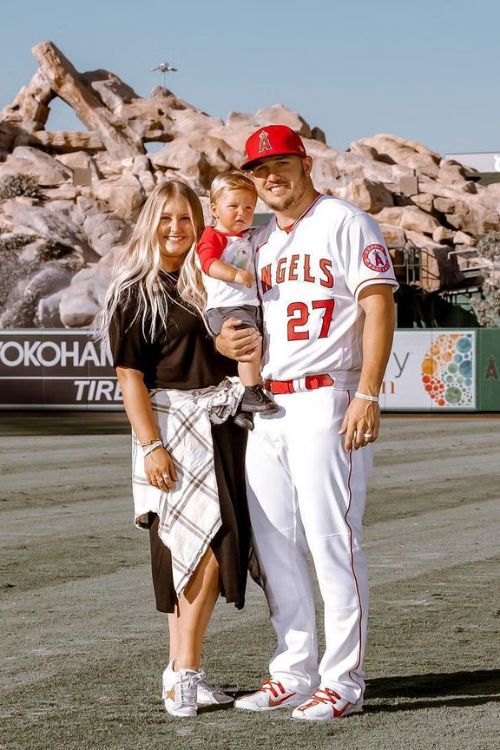 Michael, also known as Mike, is a center fielder for the Los Angeles Angels of Major League Baseball (MLB). Additionally, Trout was selected by the Angels in the first round of the 2009 MLB draft.
The center fielder was also the captain of the United States national team in the World Baseball Classic of 2023.
Equally important, the player has been an MLB All-Star 10 times and the Most Valuable Player (MVP) of the American League three times.
This talented player has also already won the Silver Slugger Award nine times.
Trout was one of the most excellent young players in the history of baseball and also one of the best players in the present in all of MLB.
Mike Trout Sister
Michael Trout has two siblings: one sister, Teal Trout, and one brother, Tyler Trout. According to Tyler's Instagram, Trout's brother is a business owner and also an investor.
He has also written that he is a frequent flyer. Tyler tied the knot with his lover on January 15, 2018.
The pair welcomed their beautiful angel on June 17, 2019, and named her Savannah Trout.
Speaking of Teal Trout Levick, she is a real estate agent. Teal also has a Facebook page named Team Teal Estate: Teal Levick, Realtor.
Mike's sister has two kids named Lyla and Landon. Both of them are involved in sports. Lyla is pursuing soccer, whereas Landon is playing baseball.
Levick is a real estate agent at Keller Williams Realty Inc., where she joined in June 2015 and has been working until now.
Tyler, the oldest, along with his mom, Debbie, have founded the annual golf tournament, which helps them raise thousands of dollars. They use that money to provide scholarships for the students at Millville Senior High School.
Mike Trout Victory Over the Red Sox
Mike Trout and Shohei Ohtani led the Los Angeles Angels to victory for the fourth time.
"It's pretty cool when we go deep twice," Trout said. "Good things happen. (The Red Sox) beat us three out of four when we played them out there (in Boston), so it's good to get a little sweep."
The center fielder shot off Nick Pivetta with a two-run homer, which matched Ohtani's season total in seven days with his fourth homer.
Not only that, the player also passed Joe DiMaggio with his 362nd career homer. Additionally, in the second inning, the Angels went up 4-0 on Gio Urshela's RBI flyout.
In addition to that, Masataka Yoshida doubled and scored on Enrique Hernández's double in the fourth.
However, during its four-game skid, Boston only scored four runs.
When Ohtani and Trout were playing together with full passion, Tyler Anderson said that they could feel the excitement in the environment.
The manager of Boston, Enrique Hernández, said that despite losing the game, it was a lot better than the previous one.
The manager thought that the approach to the game was a lot better.