John Cook's wife, Wendy Cook, is a Hall of Famer athlete at San Diego State University. The duo has been married for 42 years and are parents to two children.
Before Cook became the head coach of the Cornhuskers, he coached the Wisconsin side. His wife, Wendy, played a pivotal role in him choosing Wisconsin over Arizona.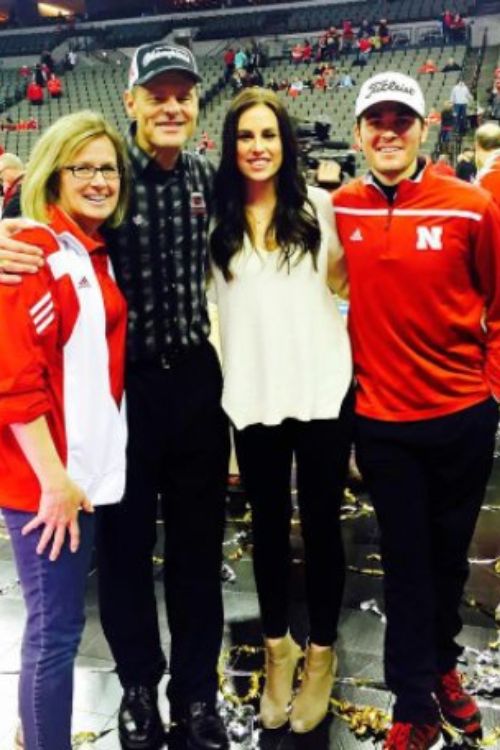 In 2017, when John was honored with a place in the Hall of Fame in the American Volleyball Coaches Association, his first thank you went to his wife. During his speech, John said he hoped Wendy was proud of him.
Their daughter, Lauren Cook, was also a star volleyball player at Nebraska, and Cook coached her from 2010-2012. The couple's son, Taylor, is a former high school football player and lives with them in Teton Valley.
John Cook Wife, Wendy Cook
John Cook's wife, Wendy Cook, played as a setter at San Diego State during the late 70s. She is Before tying the knot with the Nebraska volleyball coach, Wendy Cook went by the name Wendy Wheat. Wendy is in her late 60s and probably 66 years old.
She was crowned back-to-back All-American athlete in 1978 and 1979 and is a three-time-all-conference player. San Diego State inducted Wendy into the Hall of Fame in 1999, and she was a key player in the Aztec's rise to volleyball prominence.
During her final three years at San Diego, Wendy helped the side to fifth, seventh, and sixth place finish in the AIAW National Championships. She also played in the National Sports Festival and represented the US Junior National Team at the Pacific Rim Tournament in Hawaii.
Wendy and John tied the knot in 1981, a couple of years before John became an assistant head coach at UCSD. In an interview, John said before he and Wendy had kids, they would rent a dirt cheap condo in Steamboat Springs, Colorado, during summer.
The couple enjoyed going on hikes and would go to 5 o'clock Happy Hour dinners. They also loved the mountains, and John said proximity to the Rockies was one of the reasons why he took up the Nebraska gig in the first place.
Currently, the couple has found a perfect place to call home after the season wraps up in December. Their home is an undisclosed area of the Teton Valley, with their two kid living nearby.
Their son, Taylor, lives with them, and their daughter, Lauren, lives there with her husband, Jason West, and their daughter, Madden.
Wendy And Her Role In John's Career
If it weren't for Wendy, John would have had the title of Wildcats' volleyball head coach on his CV. In 1990, when John was serving as assistant head coach in Nebraska, he had two offers on the table.
After completing his gig as an assistant coach for the 1992 Olympic Games in Barcelona, Spain, John could become the head coach of Arizona or Wisconsin.
For John, the decision was easy. He chose Arizona as it was only six hours to San Diego by car and only an hour-long flight. Their family lived there, and Arizona's climate seemed perfect to the coach.
But Wendy paid no heed to what her husband was saying. After living in Nebraska, Wendy became accustomed to the traditional college-town life and told her husband he had to choose the Wisconsin job.
She told John that she didn't want to raise her kids in the cactus and sand and wanted a two-story house and a big lawn with a tree on it. John couldn't go against his spouse's wishes and accepted the Wisconsin job.
John coached the Wisconsin side for six years before he succeeded Terry Pettit in 2000 to become Nebraska's head coach. And the rest is history.