Rassie Erasmus and his wife, Yolanda Erasmus, have attracted the attention of many people with their private love life.
Reports suggest the couple secretly married in their twenties with close family members present.
The couple share three lovely kids together, and two of them are twins.
Johan Rassie Erasmus, also known as Rassie Erasmus, was born on 5 November 1972 in Despatch, Eastern Cape, South Africa.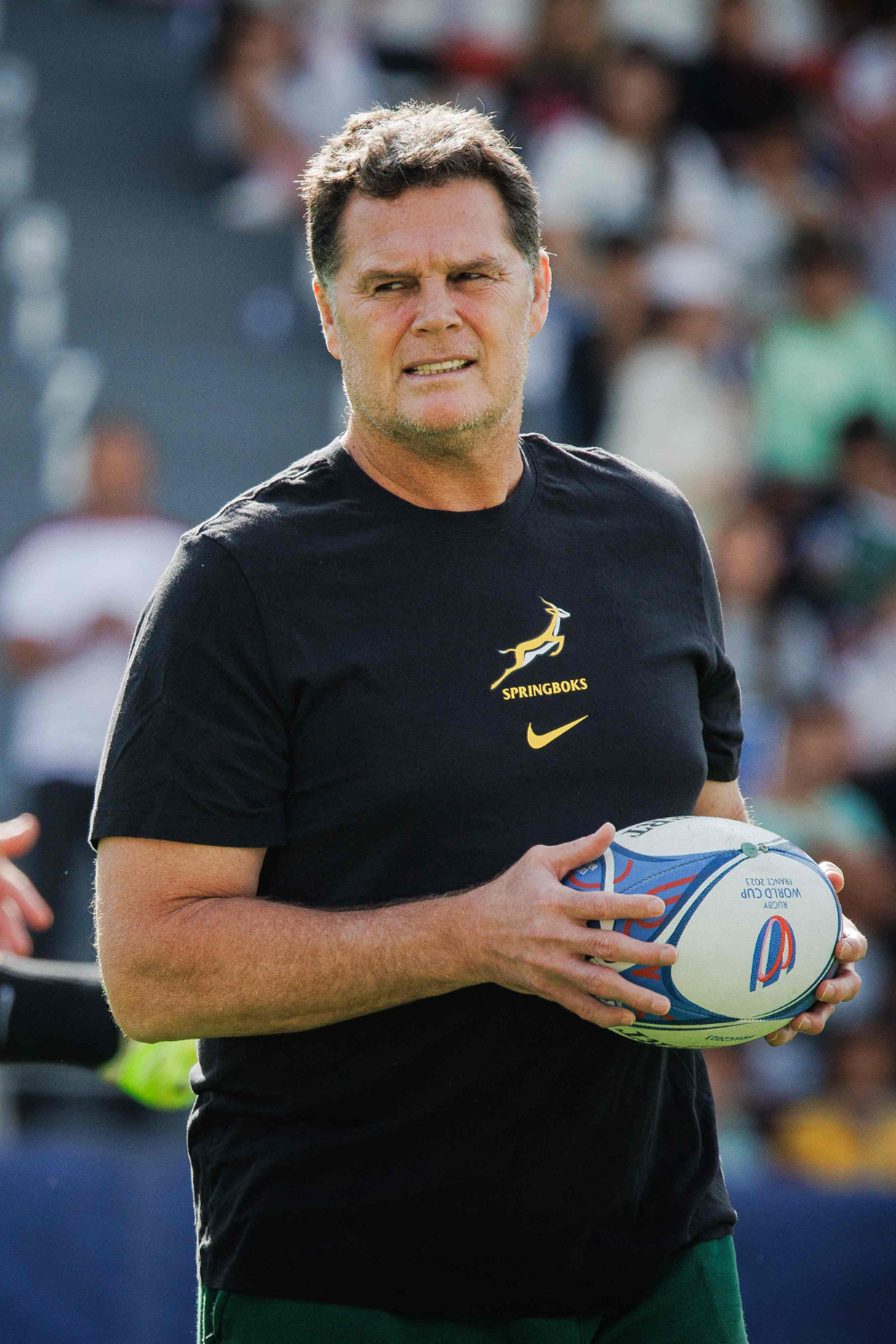 The head coach attended Hoerskool Despatch, a high school in his hometown, Despatch.
Later, he attended Free State University in Bloemfontein to complete his college studies.
Erasmus was an active and athletic person since his childhood. He also played for his college team at the University.
He began his career with his university in the 1994 Currie Cup, which led him to continue leading loose forward for his province.
Later, after working with several teams, Rassie took on the role of Director of Rugby and Head coach for South Africa in 2017-18.
Currently, Erasmus works solely as the Director of Rugby after giving up the coaching position.
Rassie Erasmus Family: Wife, Kids, Parents
Rassie Erasmus Wife Yolanda Erasmus
Yolanda Erasmus, the head coach's wife, is also a South African citizen, just like her husband.
Report suggests Rassie Erasmus and his wife, Yolanda Erasmus, have been married for over 20 years.
During his games, Yolanda Erasmus is often spotted supporting the head coach.
Erasmus's media handle doesn't reveal much about his private life and his wife as it does about his professional life.
The Erasmus Kids: Nikki, Carli, and Janie Erasmus
The lovely couple have three children together. All three of them are daughters.
Among the three daughters, reportedly, two of them are identical twins.
Rassie and Yolanda named their twins and the youngest Nikki and Carli Erasmus and Janie Erasmus, respectively.
Even though the daughters' age is not revealed, there is speculation that they are in their twenties.
One of Rassie's tweets has revealed his eldest daughter, Nikki, is currently dating Andre-Hugo.
Rassie Erasmus Parents
Rassie had a bad relationship with his father. His father worked for the Government's Bantu Administration and Development Department.
In a documentary, the director expressed his dislike for alcohol and how it ruined his childhood.
Erasmus stated his father was an alcoholic who, when intoxicated, used to utter extremely harsh words to him and his mother.
Once, in a drunk state, his father expressed a desire to shoot Rassie.
He expressed his sadness that if his father had realized alcoholism is a sickness, his father could have taught him a lot.
However, his relationship with his mother is really good than it is with his father.
Controversies and Issues Surrounding Rassie
Besides his director role, many consider Rassie a controversial figure.
One of the famous controversies involving Rassie was when rugby suspended him for misconduct on the field in 2021.
Rassie is known as a short-tempered and sarcastic individual. He is spotted making critical and harsh accusations to staff.
Many people have criticized him multiple times, and authorities suspended him on numerous occasions due to his behavior.
Health and Issues
In 2020, Rassie Erasmus revealed doctors had diagnosed him with a rare disease called "Microscopic polyangiitis with granulomatosis."
Yet, the disease didn't stop him from helping players as a coach in South Africa's World Cup win.
Reports state that even though the disease was not cancerous, the former coach underwent chemotherapy to treat his illness.