Jordan Poole dreads and hair transformation has garnered significant attention. This decision is seen as a symbolic step towards personal transformation and a fresh start as Poole looks to make further strides in his NBA career.
Jordan Anthony Poole, popularly known as Poole Party, was born on June 19, 1999. He is a professional American basketball player who plays for the Golden State Warriors of the NBA.
He attended Rufus King High School in Milwaukee and La Lumiere School in La Porte, Indiana.
In high school, he was a 2016 first-team All-Wisconsin selection as a junior and a member of the 2017 Dick's National High School Championship-winning team as a senior.
Poole then played college basketball for the Michigan Wolverines. He was part of the 2017–18 team that won the 2018 Big Ten tournament and reached the national championship game.
Poole spent two seasons as a two-way player with the Warriors organization before becoming a key player in their NBA rotation in 2021.
In the 2021–22 NBA season, he led the league in free throw percentage and went on to win an NBA championship that same season.
Warriors' $128 million man Poole, who previously spoke out about receiving extra criticism, faced harsh criticism from The Ringer's Kevin O'Connor during an episode of 'Thru The Ringer' podcast on April 18, 2023.
O'Connor questioned if Poole's performance could help the Dubs even their playoff series against the Kings in San Francisco.
Why Doesn't Jordan Poole Have Dreads? NBA Star Hair Transformation
Jordan Poole has been recognized not only for his on-court talent but also for his unique hairstyle.
Poole's trademark look included short shoulder-length dreads that added flair and personality to his appearance.
Consequently, Poole's distinctive hairstyle became a familiar sight on the basketball court, with his dreads flowing as he made quick moves and sharp cuts.
It added to his overall image as a confident and stylish player who stood out from the crowd.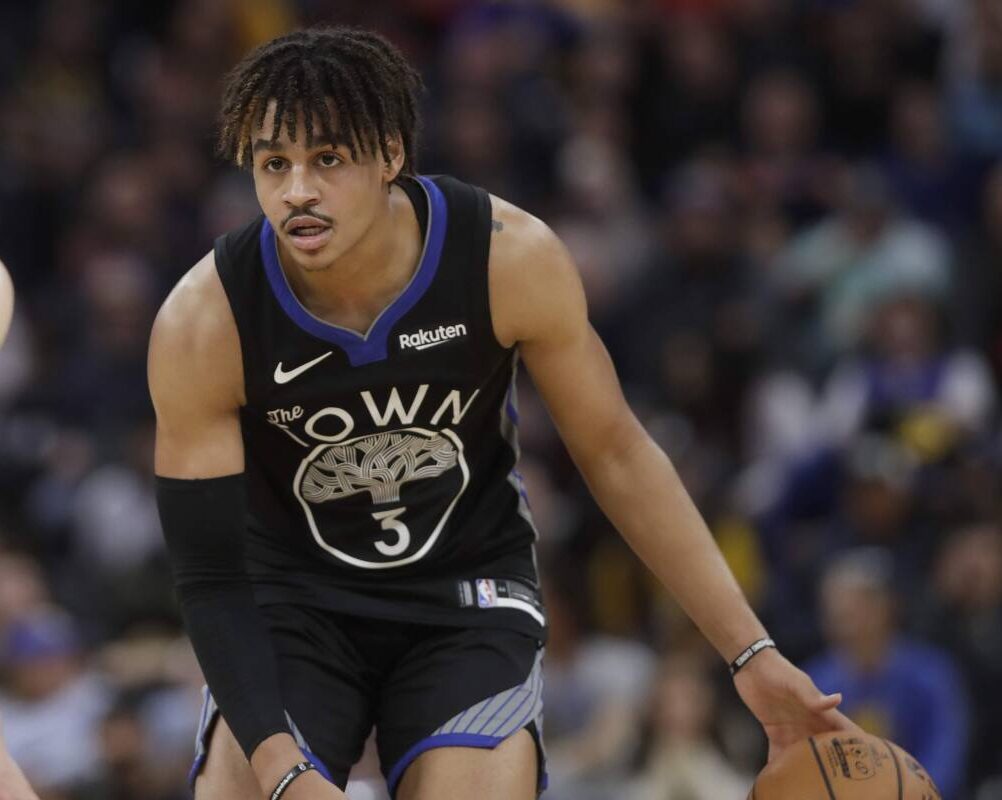 His locks were often seen bouncing as he drove to the hoop or celebrated a successful shot, becoming a part of his basketball persona.
He significantly changed his appearance, trading in his long curly hair for a traditional buzz cut. Those close to him believe that this new hairstyle represents a personal transformation.
Despite the uncertainty of the coronavirus pandemic during the offseason, Poole spent considerable time reviewing video footage from his rookie season in the NBA.
One key takeaway from his analysis was that he often over-complicated his movements on the court. Poole realized that a more straightforward approach would be more effective for his second NBA season.
By cutting off his curly locks, which had become his trademark, Poole was sending the world a message that he was ready for the next phase of his career.
This change in hairstyle reflects Poole's commitment to self-improvement and his determination to simplify his game for better performance on the basketball court.
Jordan Poole's Family Background
Jordan Poole, the talented guard for the Dubs, hails from Milwaukee, Wisconsin. His parents are Anthony Poole and Monet Poole.
Monet is a social worker and case manager at the Eisenhower Center. And his father, Anthony, is a professional basketball coach at Playground Elite in Wisconsin and a supporter of the UPSers in Oak Creek.
He has two siblings: a brother named Alex and a sister named Jaiden. Alex is a collegiate basketball player who attended Marquette University.
And his sister Jaiden graduated from Winona State University with a degree in Business Administration and Management.
As a close-knit family, the Pooles are proud of Jordan's basketball career and have been supportive of his journey.