In the fast-paced world of NASCAR, the drivers' lives are often in the spotlight, capturing the attention and admiration of racing fans around the globe.
Among these talented drivers is William Byron, a rising star known for his skills behind the wheel. But behind every successful man is a strong and supportive partner.
William Byron is not a married man, but he does have Erin Blaney, his girlfriend, standing beside him and supporting him in his every endeavor.
The love story of Wiliam and Erin is truly one to watch not only because they are so adorable together but also brings the Byron family closer to the Blaney family, which is a family of racing legends, including Dave Blaney and Ryan Blaney.
Want to know more about Erin Blaney? Read the article to the end to find out all that there is to know about Erin. Before that, here are some quick facts!
Quick Facts
| | |
| --- | --- |
| Full Name | Erin Blaney |
| Age | 26 years old |
| Birthdate | March 12, 1997 |
| Birthplace | United States |
| Mother | Lisa Blaney |
| Father | Dave Blaney |
| Siblings | Ryan Blaney (Brother), Emma Blaney (Sister) |
| Marital Status | Unmarried |
| Boyfriend | William Byron |
| Boyfriend's profession | NASCAR Racer |
| Religion | Christianity |
| Nationality | American |
| Height | 5'9″ (175.3 cm) |
| Weight | 154 lb (70 kg) |
| Body | Curvy |
| Hair Colour | Blonde |
| Eye Colour | Hazel |
| Tattoos | Unknown |
| Zodiac Sign | Pisces |
| University | The University of Alabama |
| Degree | Public Health Education and Promotion |
| Profession | Executive Director of the Ryan Blaney Family Foundation |
| Salary | Not known |
| Net Worth | Not available |
| Social Media | Instagram |
| Last Update | September, 2023 |
Early Life and Family
Erin Blaney was born on March 12, 1997, in the United States to Dave Blaney and Lisa Blaney. Erin Blaney's mother and father got married in 1993.
Dave Blaney is a semi-retired professional stock car racing driver who competed in the NASCAR Cup Series and other racing series. He is also the son of Lou Blaney, a modified dirt track legend who won over 600 races in his career.
Erin comes from a family of racing legends. She has two siblings: a brother and a sister.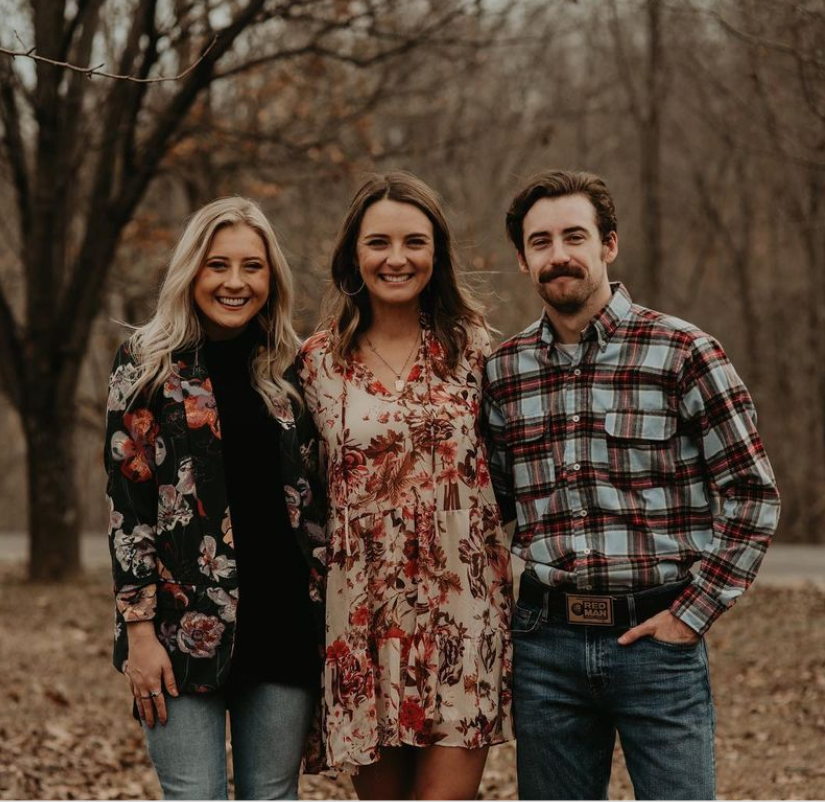 Her brother is Ryan Blaney, who is a professional stock car racing driver who competes full-time in the NASCAR Cup Series. He drives the No. 12 Ford Mustang for Team Penske. Ryan is also a friend and rival of William Byron on the track.
Likewise, her sister is Emma Blaney, who is married to fellow race car driver Cale Conley, who retired from racing in 2017. Emma and Cale have a daughter named Ellie, who was born in 20194.
Erin attended Bishop McGuinness Catholic High School and graduated from The University of Alabama in 2019 with a public health education and promotion degree.
Age, Body Measurements, and More
Erin Blaney was born in the year 1997. Hence, she is currently 26 years old. Her zodiac sign is Pisces.
Likewise, Erin has a height of 5 ft 9 in (1.75 m) and weighs 154 lb (70 kg). She has blonde hair and hazel eyes.
Career
Erin Blaney is the executive director of the Ryan Blaney Family Foundation, a non-profit organization that supports various causes such as Alzheimer's research and pediatric cancer.
She has been working for the Foundation since January 2019. In this role, she plans and directs activities like sales promotions and collaborates with other department heads.
Likewise, Erin also handles social media strategies, managing all the foundation's social media accounts based on the target audience.
Prior to this role, Ryan interned with Make-A-Wish Alabama and worked as a Digital Communications Summer Intern at the Health Service Executive in Ireland.
Moreover, she also gained sales experience as a Sales Consultant at EmLeighs & Mama B's Boutique, where she conducted transactions, communicated with customers, organized photoshoots, and managed social media advertising.
Volunteering
Erin has been volunteering as an Annual Fundraiser Event Coordinator for the Alzheimer's Association since July 2010.
She helped start and organize an annual Sprint Car Race called the "Lou Blaney Memorial," where all the proceeds go to the Alzheimer's Association.
Erin collected auction items, conducted a silent auction that raised $10,000 for the cause, and recruited volunteers and the general public to attend the event.
Additionally, Erin volunteered as a mentor in the Als Pals Mentorship Program from August to December 2016.
Furthermore, Erin was also involved with the Charlotte Walk to End Alzheimer's Committee, supporting the Alzheimer's Association in their efforts to raise awareness and funds for Alzheimer's research and support programs.
Erin Blaney and William Byron
Erin Blaney is William Byron's girlfriend. They started dating in October 2019 and made their relationship public on Instagram a month later.
Erin's brother, Ryan Blaney, found out about their relationship from a friend just before a race at Martinsville Speedway.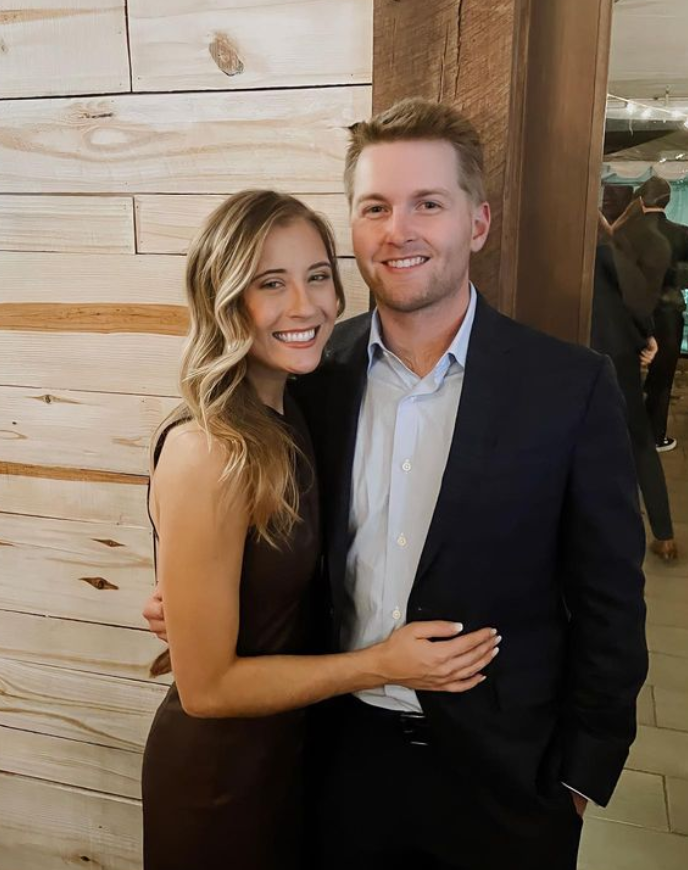 At first, Ryan was surprised and upset that he didn't hear it from his sister or Byron. Hence, during the race, Ryan raced Byron hard. However, he later texted Erin and Byron to give them his approval.
Ryan said he didn't mind who his sister dated as long as she was happy. Since then, Erin and William have been seen together at races and events, and they also go on holiday trips with Ryan and their friends.
Brief Wiki On William Byron!
William Byron is a professional stock car racing driver from the United States. He was born in Charlotte, North Carolina, on November 29, 1997.
William competes in the NASCAR Cup Series, driving the No. 24 Chevrolet Camaro ZL1 for Hendrick Motorsports. Likewise, he also races part-time in the NASCAR Xfinity Series and in the NASCAR Craftsman Truck Series.
William has achieved many notable accomplishments throughout his career. In 2015, he won the NASCAR K&N Pro Series East Championship.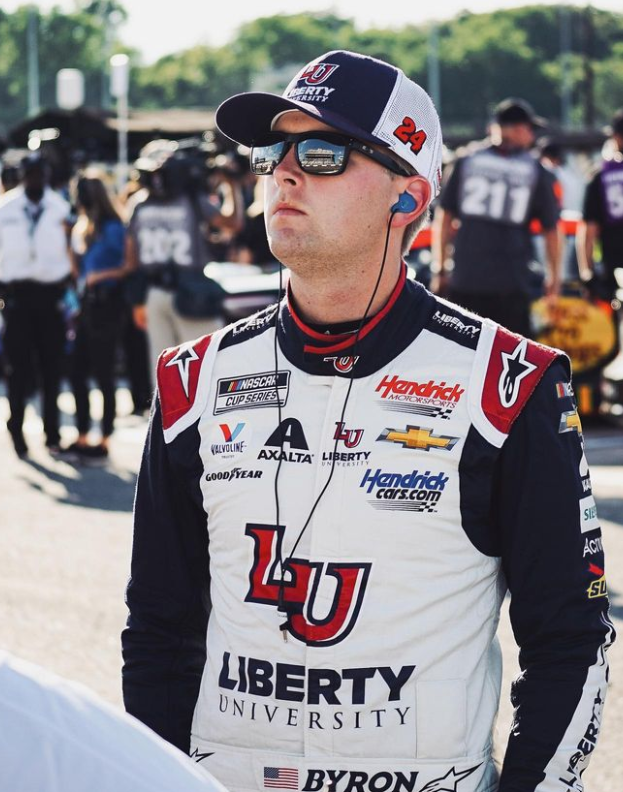 He was also named the Sunoco Rookie of the Year in the 2016 NASCAR Camping World Truck Series.
The following year, William became the 2017 NASCAR Xfinity Series champion and received the Sunoco Rookie of the Year award for that series as well. In 2018, he earned the MENCS Sunoco Rookie of the Year title.
Moreover, William has won several impressive races, including the Coke Zero Sugar 400, Slinger Nationals, North-South Super Late Model Challenge, and more. He has also achieved numerous top-ten finishes and pole positions in his races.
Frequently Asked Question
Are Erin Blaney and William Byron married?
No, Erin Blaney and William Byron are not married. They have been in a relationship since 2019. They have not announced any plans to get married yet.
Do Erin and William have kids together?
No, Erin and William do not have any kids together as of 2023. However, they are parent to a dog named Frankie.