The professional ice hockey player William Nylander has a younger brother Alexander Nylander, who is also a hockey player.
William Andrew Michael Junior Nylander Altelius is a Canadian-born Swedish professional who was born on May 1, 1996, in Calgary, Alberta, Canada.
The player was selected in the first round, eighth overall of the 2014 NHL Entry Draft by the Maple Leafs and currently plays as a right-winger for the Toronto Maple Leafs of the National Hockey League (NHL).
On February 29, 2016, Nylander made his first debut against the Tampa Bay Lightning at the age of 19. Eventually, On March 5, 2016, he beat Andrew Hammond of the Ottawa Senators and scored his first goal.
In 2016, he made his NHL debut in the season-opening game against the Ottawa Senators, along with Zach Hyman and Auston Matthews.
William Nylander was awarded the title of Rookie of the Month by the NHL for the month of October 2016 due to his outstanding performance.
Although he was born in Canada, on 12 November 2012, the International Ice Hockey Federation (IIHF) declared that Nylander was eligible to play for Sweden in international competitions.
As a result, he participated in the 2013 World U-17 Hockey Challenge with Sweden and contributed significantly to his team's success, and helped his team to a gold medal.
William Nylander Brother Alexander Nylander
William Nylander's brother Alexander Nylander is also an ice hockey player who plays as a forward for the Pittsburgh Penguins of the NHL.
Alexander was chosen as the 8th overall pick by the Buffalo Sabres in the 2016 NHL Entry Draft, where he signed a three-year entry-level contract.
On 3 April 2017, he made his debut in NHL against Toronto Maple Leafs.
Alex was born on 2 March 1998 and is two years younger than William. He seems to be following in his older brother's footsteps, and it appears that both brothers share a passion for the sport.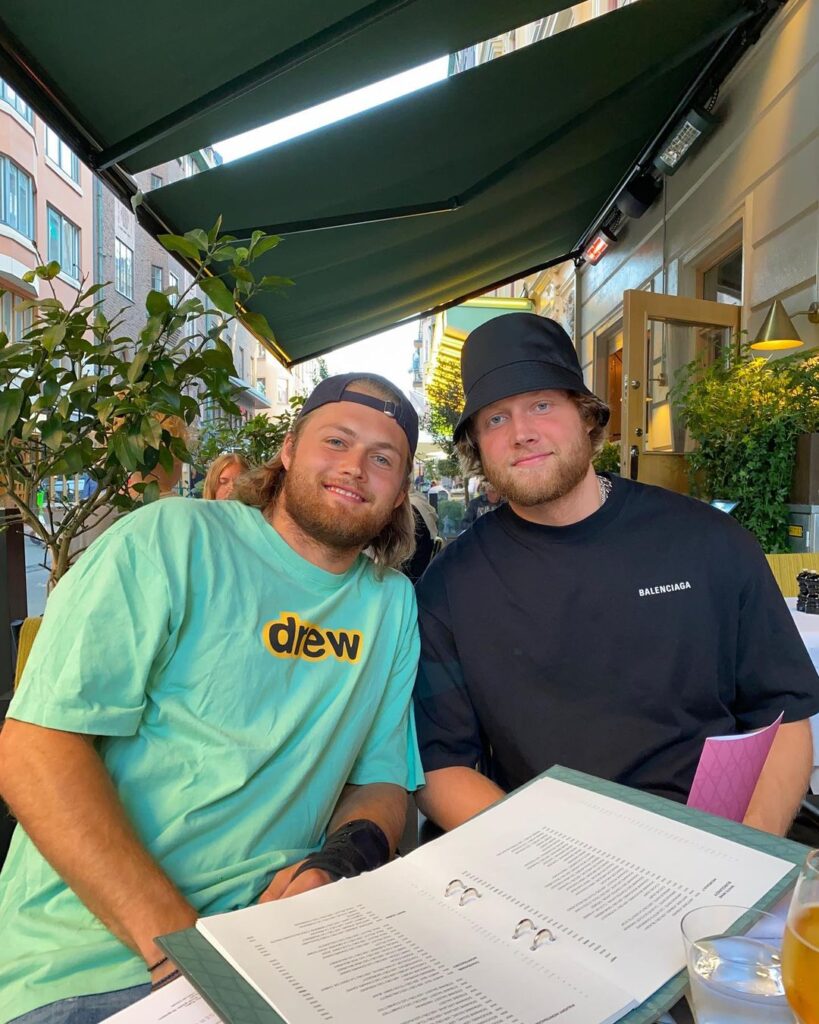 Like his brother William, Alex also represents Sweden in International play and was chosen to represent Sweden at the 2008 IIHF World Junior Championship.
In fact, Alex played a key role in leading Team Sweden to win the silver medal, where he recorded one goal and six assists in seven games.
Furthermore, he was named the Player of the Game in one of the matches.
William Nylander Family
William was born in Calgary, Alberta, Canada, to their parents, Michael and Camilia Nylander, and shared his childhood with his brother Alex and three sisters; Jacquline, Michelle, and Stephanie Nylander.
Their father Micheal Nylander, is also a former NHL player who played hockey as a center and assistant coach with Mississauga Steelheads in Ontario Hockey League.
In his NHL career, he played for several teams, such as Hartford Whalers, Calgary Flames, Tampa Bay Lightning, Chicago Blackhawks, Washington Capitals, Boston Bruins, New York Rangers, and Washington Capitals.
He participated in the 1998 and 2002 Winter Olympics as a member of the Swedish national team.
William grew up in different cities across the United States due to his father's career as a hockey player, which took the family to places such as Tampa Bay, Chicago, Washington, Boston, and New York.