Wout Van Aert's wife, Sarah De Bie, launched her podcast in 2022 with her close friend Dorien Reynaert. Sarah tied the knot with the Belgium cyclo-cross racer in 2018.
Wout and Sarah first fell in love as teenagers in 2012 and maintained their relationship throughout Sarah's university days and Wout's cycling career.
Now, the couple is expecting their second child, with their first child, a son, Georges, born in 2021. They are proud parents of their furry baby, Leo.
In the ongoing prestigious cycling tournament, Tour de France, Wout came close to winning the second stage but was pipped in the finishing line by Victor Lafay.
Stage 1 of the 21-stage competition was won by Adam Yates, followed by Victor Lafay. And it was Jasper Philipsen who took the first position in Stage 3 and Stage 4.
Wout Van Aert Wife, Sarah De Bie
Wout Van Aert's wife, Sarah De Bie, is the co-host of the podcast, "TwentyFourSeven Podcast."
Sarah, with her friend, Dorien Reynaert, launched the podcast on January 26, 2022. The two moms, Sarah and Dorien, discuss all kinds of stuff related to motherhood and marriage in the podcast and how to balance work life and family life.
The podcast has 22 episodes, with the first season having ten and a special episode. They launched the second season earlier this year on February 9.
Earlier this year Sarah, with illustrator and graphic designer Laura Muls, published a children's book titled "Nothing But Love." The book is an ode to modern parenting, and that if one parent is away doesn't mean the child is any less loved.
On Dille Kamille's website, the children's book has received overwhelming support and a rating of 4.62 out of five stars. So, there is probably a good chance we can again witness Sarah lift her pen and write another children's book.
When not busy podcasting or publishing books Sarah is seen rooting for her husband at his races. The mother-of-one, with their son, Georges, travel with Wout to various locations where his races are scheduled.
Wout Van Aert And Sarah De Bie Relationship
Wout and Sarah have been together since their teenage years. The couple of twenty-year-olds first picture dates back to 2012 when they were only eighteen.
In a photo shared by Wout on December 23, 2012, the Belgium cyclist captioned the post, "My love."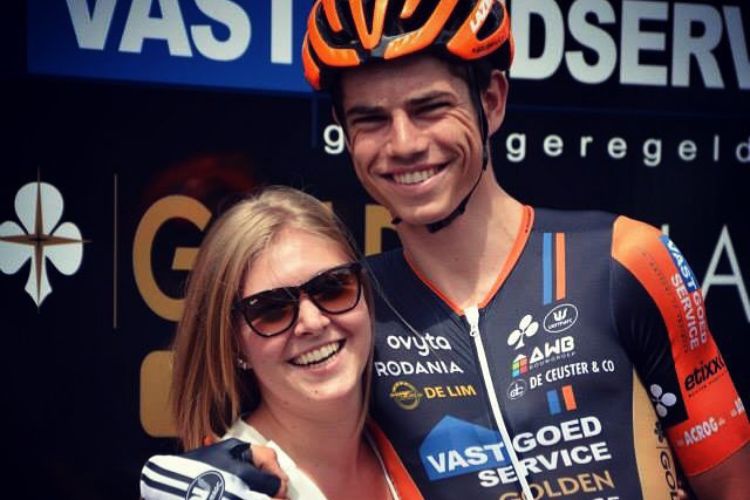 On March 26, 2013, like a cute teenager, the famous cyclist sharing the picture of him and Sarah celebrated their six months anniversary.
Since 2014, Sarah has also shared photos with her famous beau on her Instagram handle. In 2015 for the first time as a couple, Wout and Sarah appeared in the March edition of CittA Kempen magazine.
The cover was titled Perfect Finally, with Wout taking control of the bicycle and Sarah behind him. That same year, the couple adopted a pet dog, Lio, and became a family of three.
Wout And Sarah Tied The Knot In 2018
Though the couple didn't share when they were engaged, Wout and Sarah tied the knot in July 2018.
After six years of dating, the couple exchanged their vows in their hometown in Herentals, Belgium. The couple shared a few precious moments from their wedding ceremony on their Instagram handle.
Wout and Sarah also had several fans waiting outside their wedding venue to congratulate them on their new journey as a married couple.
The Cyclicst And His Partner Will Welcome Their Second Child In 2023
On July 9, 2020, after two years of their wedding, the couple announced they were expecting their first child in the winter.
Sarah and Wout announced their pregnancy news by wearing caps that had Dad and Mom written on them. A couple of months after their pregnancy announcement, in September, the couple had a gender reveal ceremony.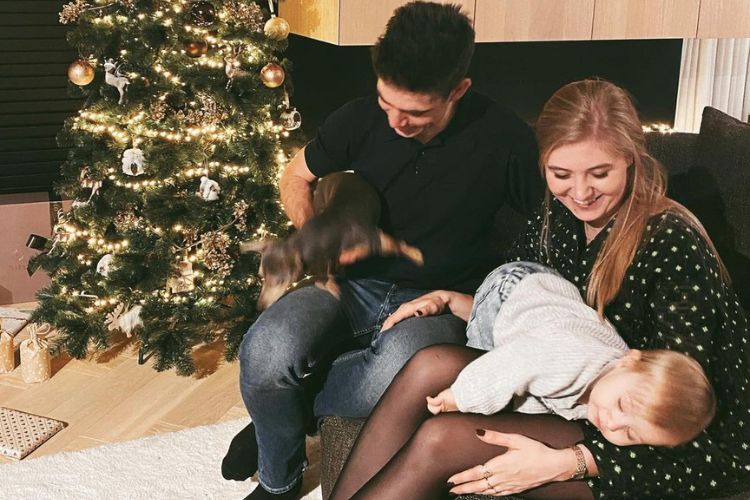 Sarah shared a photo of Wout pressing the fire extinguisher revealing blue smoke. On January 4, sharing a photo of them holding baby feet, the couple announced the birth of their first child, Georges.
With his mom, Georges has attended several cycling competitions. In 2021, Georges was in the crowd to watch his dad win the final stage of the Tour de France.
On February 9, Sarah announced Georges was about to be a big brother as she and Wout are expecting their second child in the Summer.