Xavien Howard Wife: The Dolphins CB is not married to Keeli Long. He has been engaged to his girlfriend, Keeli Long, though.
Howard's journey in football led him to Baylor University during his college career before the Miami Dolphins selected him in the second round of the 2016 NFL Draft.
He has since become a recognized figure in the National Football League (NFL) as a member of the Miami Dolphins.
While Xavien's professional football career has brought him fame and recognition, it has also shed light on his personal life, particularly his relationship with Keeli Long and his role as a loving parent to three children.
In the 2016 NFL Draft, the Miami Dolphins secured Xavien Howard with the 38th overall pick in the second round.
To acquire Howard, they traded with the Baltimore Ravens, giving up their 42nd overall pick in the second round and their 107th overall pick in the fourth round.
The Ravens used their selections to draft Cincinnati wide receiver Chris Moore and Boise State linebacker Kamalei Correa. Notably, Howard was the sixth cornerback chosen in the 2016 draft.
Howard's journey in the NFL has been marked by both professional success and the enrichment of his personal life through meaningful relationships with loved ones, including his fiancée, Keeli Long.
Xavien Howard Wife Keeli Long Have Three Kids
Xavien Howard is engaged to Keeli Long, although they have not yet decided to marry and officially become husband and wife.
Keeli has chosen to maintain a low profile, keeping her personal details away from the media's spotlight.
Unfortunately, there was an incident involving Xavien and his girlfriend at their Davie home.
It reportedly stemmed from an argument over a purse and escalated into a physical altercation.
During the altercation, Howard allegedly grabbed his girlfriend by both arms and pushed her against a mirror glass wall in their hallway.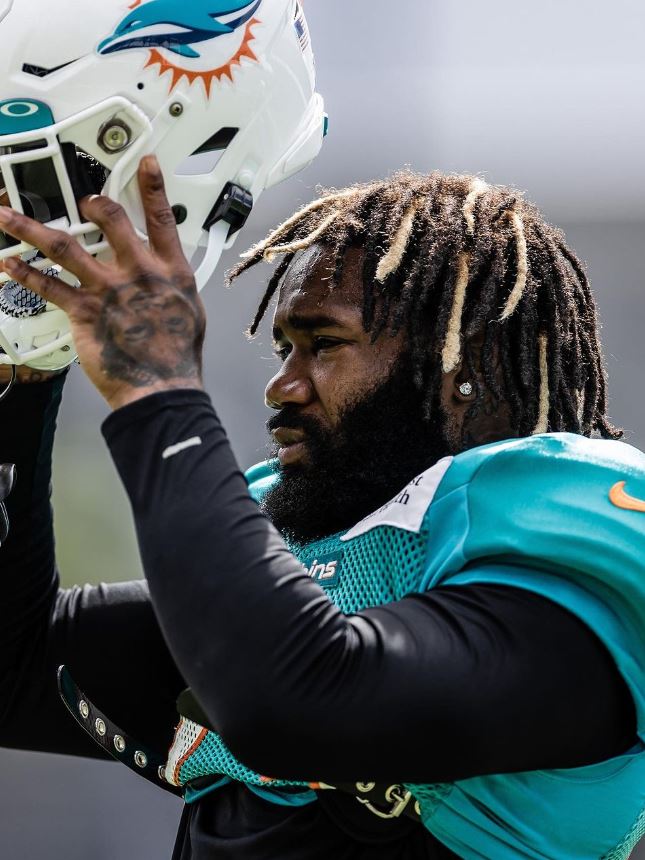 This resulted in her falling to the ground, with her right arm landing on his crutch from a recent knee operation.
The Davie police observed visible scrapes, redness, and bruises on her right wrist, forearm, and elbow due to the fall.
Subsequently, Xavien Howard was arrested and taken into custody at the Davie Police Department in Broward County. Following his release, he spent some time in the Broward County Sheriff's Office jail before resolving the situation with Keeli and leaving.
Xavien and Keeli are the proud parents of three children, having been in a committed relationship for many years.
They are blessed with two daughters and a son.
Their youngest daughter, Skyler, was born in November 2017, while their oldest daughter, Ava, was born in May 2015.
On March 12, 2019, they welcomed a son named Xavien Jr. The birth of their son garnered congratulations and well-wishes from various well-known personalities on Twitter.
Xavien Howard Allegedly Impregnated 4 Different Women
Xavien Howard made headlines with a spectacular interception during Sunday Night Football against the New England Patriots, showcasing his exceptional skills on the field. However, the reason he's trending this week has taken a different turn.
Recent developments on Instagram have brought Xavien Howard's personal life into the spotlight.
A woman on Instagram has come forward, claiming to be pregnant with his fourth child.
Additionally, reports suggest that he has three other women who are also pregnant, adding complexity to his personal life and sparking significant attention and discussion.
Earlier this year, Xavien Howard was entangled in a lawsuit that made troubling allegations, claiming that he had secretly filmed sexual videos and shared them.
Reports from Andy Slater of Fox Sports 640 highlighted another incident where a woman was arrested for damaging Howard's car with a baseball bat.
In response to the lawsuit, Xavien Howard's lawyer strongly refuted the claims, asserting that the case lacked substantiated facts.
Furthermore, it was revealed that the accuser had initially sought a substantial financial payout in the millions of dollars before proceeding with the case, casting doubt on the veracity of the allegations.
This lawsuit was not the first legal challenge that Xavien Howard faced within the past year.
There was a previous lawsuit where a woman alleged that he had knowingly transmitted a sexually transmitted disease, further adding to the legal complexities in his personal life.