Miami Dolphins head coach wife is Katie Anne Hemstalk. They have been happily married since 2014, and their loving union has been blessed with a beautiful daughter.
In a significant career move, McDaniel took on the head coach role for the Miami Dolphins in February 2022.
Prior to this pivotal moment in his career, he diligently served as an assistant coach for various NFL teams, including the San Francisco 49ers, the Atlanta Falcons, and the Cleveland Browns, as detailed in his official Dolphins biography.
Born in Aurora, Colorado, in 1983, McDaniel's journey to success began at Smoky Hill High School, where he graduated in 2001.
McDaniel pursued his passion for football as a wide receiver at Yale during his college years. His dedication, both on and off the field, led him to earn a degree in history upon graduating from Yale University.
Miami Dolphins Head Coach Wife Katie Anne Hemstalk Is a Licensed Cosmetologist and Esthetician
Katie Anne Hemstalk has a thriving career in the beauty industry, where her skills are certified through licenses as both a cosmetologist and an esthetician.
The official record reveals two licenses attributed to Katie Anne Hemstalk, who hails from Oroville, California.
Her journey began with acquiring her esthetician license in early 2005, a testament to her dedication to the field.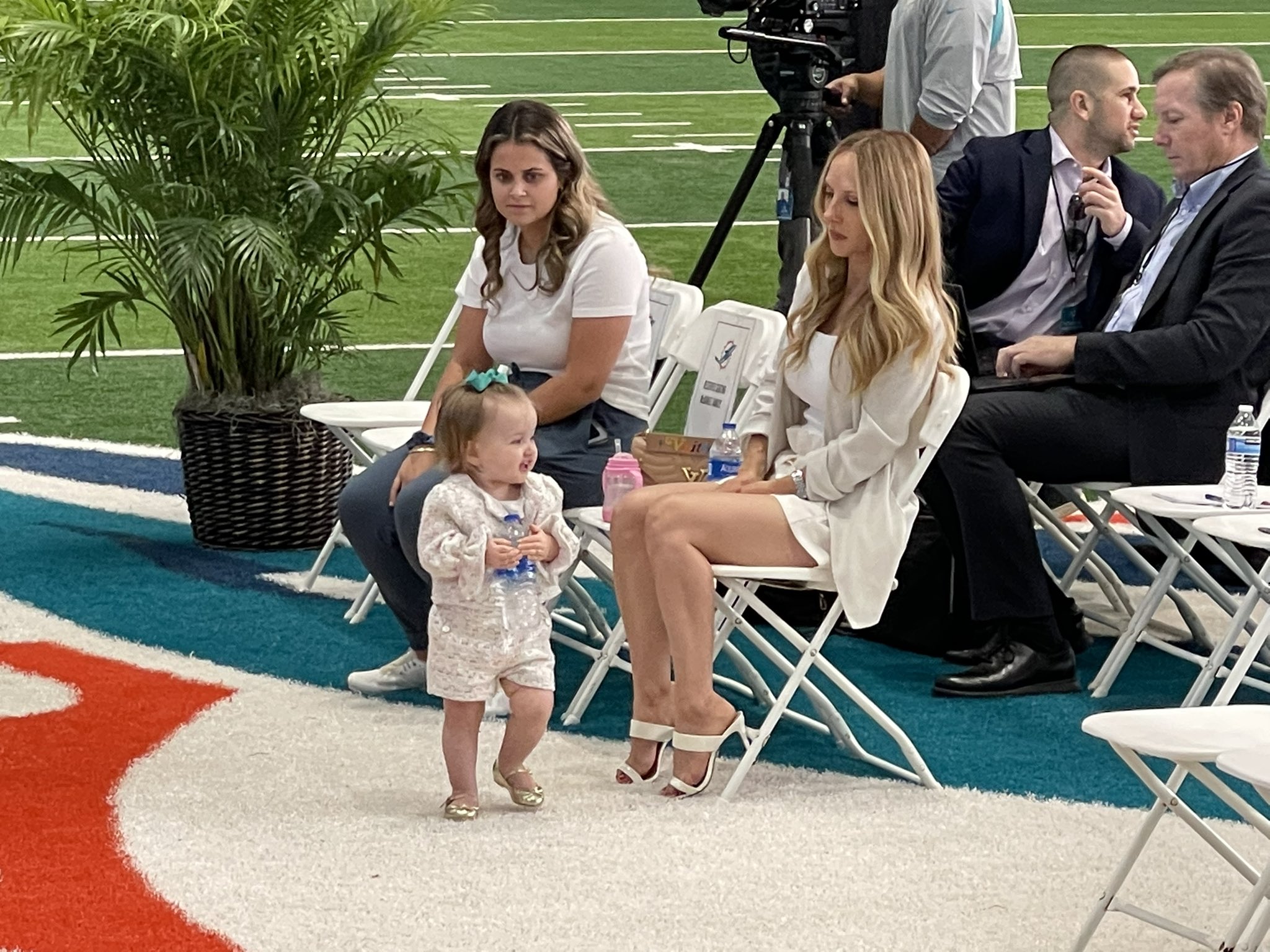 This license was scheduled for renewal in January 2023. And with no further information available, we presume she renewed it.
Additionally, Hemstalk holds a cosmetologist license, underscoring her versatility and expertise in various aspects of the beauty industry.
The cosmetologist license was first issued in May 2011.
The Wedding
Hemstalk and McDaniel have maintained a discreet profile regarding their personal lives, with limited information on their relationship and no apparent active presence on social media.
However, the couple's wedding details can be found on their registry page on The Knot, which reveals that they tied the knot in the charming town of Ashburn, Virginia, on June 21, 2014.
Their union was commemorated by a heartwarming photograph shared on Facebook by Hemstalk's mother, Kristy, capturing the joyous moment as they exchanged their vows.
Ashburn, nestled approximately 30 miles northwest of Washington, D.C., served as the backdrop for their special day.
Interestingly, at the time of their wedding, McDaniel was making his mark with the Washington Football Team, where he held the position of wide receivers coach, as confirmed by his bio on the Miami Dolphins website.
Remarkably, just two months after their wedding, McDaniel embarked on a new chapter in his career with the Cleveland Browns, an announcement made by the organization in August 2014.
Hemstalk and McDaniel have one child together. They named their daughter Alya June. She was born in 2020.
Mike McDaniel Salary
On February 6, 2022, Mike McDaniel achieved a significant career milestone by being appointed as the 14th head coach of the Miami Dolphins.
McDaniel's commitment to the role was made official through a four-year contract, although specific salary details were not publicly disclosed at the time of the signing.
However, rumors circulating within the sports community suggest that McDaniel's annual earnings may amount to approximately $3.5 million.
This falls within the typical range for most first-time head coaches, who generally receive compensation ranging from $2 million to $5 million annually.
At the age of 40, McDaniel has not only ascended to a prominent coaching position but has also amassed an estimated net worth of $4 million, reflecting his dedication and accomplishments in the football world.
Following his graduation from Yale, McDaniel embarked on his coaching journey by accepting a role as a coaching intern for the Denver Broncos, where he had the privilege of working under the guidance of renowned coach Mike Shanahan.
FAQS
Who Is the Miami Dolphins Head Coach Wife?
Miami Dolphins head coach wife is Katie Anne Hemstalk, a licensed cosmetologist.