Thea Megan Trinidad Büdgen, known professionally as Zelina Vega, is an American wrestler and actress who, in early 2020, broke the internet after launching her OnlyFans account.
Zelina recently made headlines after she slapped Madcap Moss in front of a live audience at a Miami event.
During the event in December 2022, Zelina stood in the ring and slapped Madcap Moss after an argument eliciting a huge pop from the live audience. Emma entered the ring after the slap and dealt with the Zelina Vega problem.
Moving on, while WWE's policy of prohibiting its superstars from using third-party platforms such as Cameo and Twitch affected the streamers like Zelina, who ran a Twitch account along with her husband Aleister Black, she found a way around the company's third-party mandate with OnlyFans.
Initially, WWE's third-party mandate did not extend to OnlyFans, but it was later announced that Vega's association with the platform was a direct breach of the rules, which angered CEO Vince McMahon, causing the organization to release her from her deal.
Vega's account under her cosplay name "Megan Minx" was dedicated to her cosplay outfits, which also included a sultry Catwoman.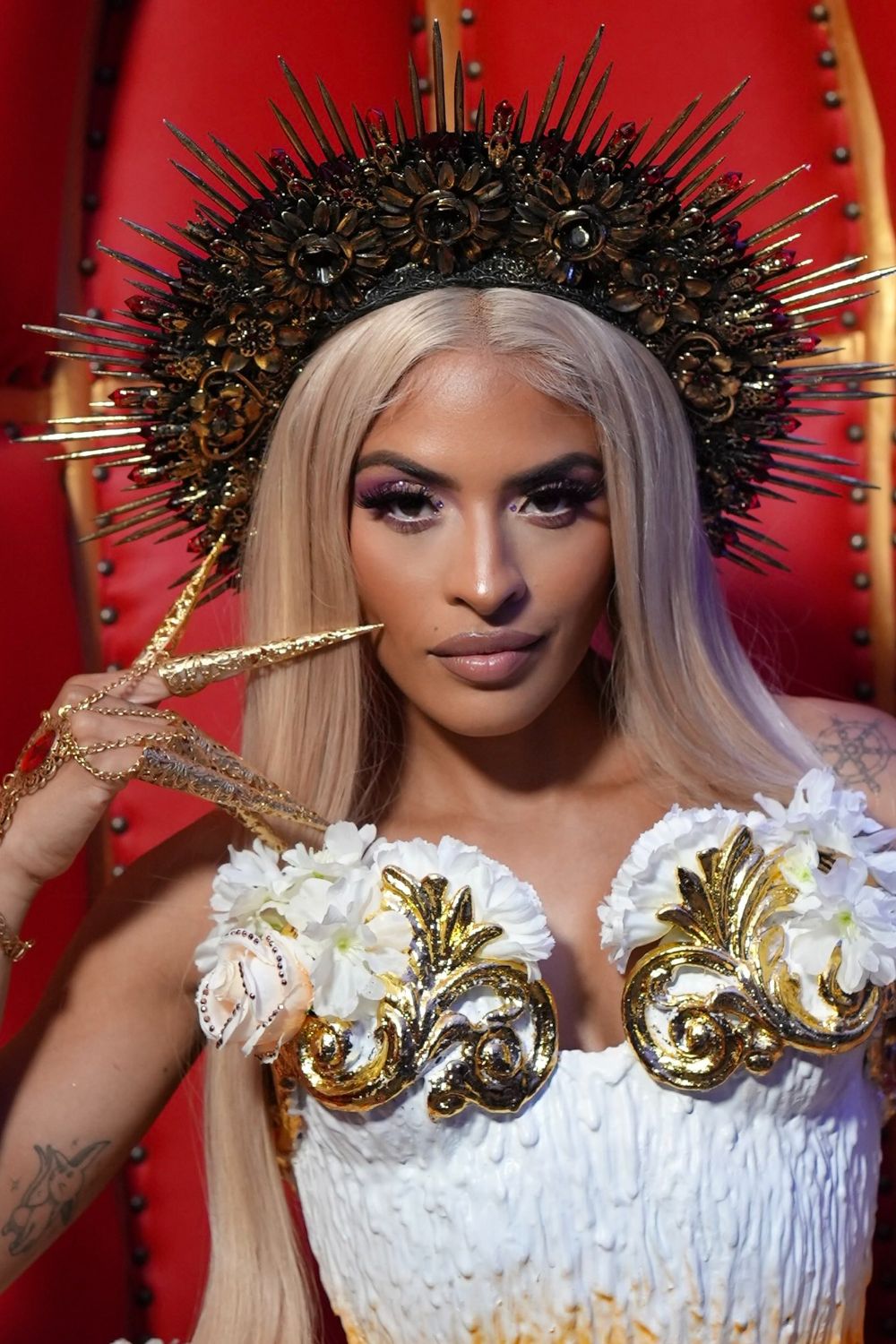 Even though she had laid out a strict "no nudes" policy, she offered her subscribers exclusive videos and photos of her cosplays, swimsuits, lingerie, and more.
Some of her most famous cosplays on the platform included Poison Ivy, and Mortal Combat, among others.
Please read the whole article to know more about her subscription rate, earnings from the platform, and more.
But before hopping into the detailed information, please check out the facts table below.
Zelina Vega | Quick Facts
| | |
| --- | --- |
| Full Name | Thea Megan Trinidad Büdgen |
| Known As | Zelina Vega |
| Other Name | Rosita, Divina Fly, Snookie Fly |
| Birthdate | December 27, 1990 |
| Birthplace | Queens, New York City, New York, United States |
| Current Residence | Tampa, Florida, United States |
| Religion | Not Known |
| Nationality | American |
| Horoscope | Capricorn |
| Father's Name | Michael Angel Trinidad |
| Mother's Name | Monique Trinidad |
| Siblings | Timothy Trinidad (Brother) |
| Ethnicity | Puerto Rican Descent |
| Education | Not Known |
| Age | 32 Years Old |
| Manager | Nils Allen Stewart, Alicia Dahl |
| Height | 5 ft. 1 in/155 cm/1.55 m |
| Weight | 48 kg/106 lbs. |
| Dress Size | 8.5 (US) |
| Shoe Size | 6 (US) |
| Eye Color | Dark Brown |
| Hair Color | Dark Brown |
| Sexual Orientation | Straight |
| Build | Athletics |
| Distinctive Features | Wide Forehead, High Cheekbones, Pointed Nose |
| Marital Status | Married |
| Spouse | Tom Büdgen (Malakai Black) |
| Past Affairs | Rich Dollaz (2014), Austin Aries (2015-2017), Andrade 'Cien' Almas (2017-2018) |
| Children | None |
| Profession | Professional Wrestler, Manager, Influencer & Actress |
| Brand Endorsements | Trifecta Nutrition, Nails By Leishka, It's a 10 Hair Care, Jessica Angel collection |
| Net worth | $2 Million |
| First Wrestling Match | Against Brittney Savage At NWS Event (2010) |
| First Film | Dorothy and the Witches of Oz (2012) |
| First TV Show | DC Movie News (2015) |
| Personal Trainer | Javi-Air, Azrieal, Amazing Red, Hijo del Gladiador and Tony Salazar |
| Association | WWE & TNA |
| Career Highlights | Queen's Crown (2021), & Inspirational Wrestler of the Year (2011) |
| Favorite Color | Red |
| Favorite Number | 27 |
| Favorite Sports Team | Steelers, Giants, Yankees |
| Favorite Wrestlers | Lita, Ray Mysterio |
| Favorite Bands | Pearl Jam, Disturbed |
| Favorite Movie | Queen of the Damned (2002) |
| Favorite Animal | Snake |
| Social Media | Instagram, Twitter, TikTok, YouTube |
| Merch | Signed Picture |
| Last Update | May 2023 |
Zelina Vega | Early Life & Education
Zelina Vega was born Thea Megan Trinidad on December 27, 1990, in the Queens borough of New York City.
She developed an interest in wrestling at an early age since she grew up watching professional wrestling with her sibling, younger brother Timothy.
Her father, Michael Angel Trinidad, and mother, Monique Trinidad, split when Zelina and Timothy were young.
Sadly, she lost her father, a telecom analyst for Cantor Fitzgerald at World Trade Center, to the 9/11 attack while he was on duty on the 103rd floor of the North Tower when it collapsed.
Zelina was just 10 at the time.
Zelina Vega | Age, Height, Weight & Training
Born in 1990, Zelina is 32 years old as of May 2023.
She has an athletic build with a height of 1.55 meters and a weight of 106 lbs.
Vega began preparing for pro wrestling at 17 and trained under professional wrestlers such as Amazing Red, Javi-Air, and Azrieal.
After that, she trained with Sarita and went down to Mexico to train with wrestlers, including Tony Salazar and Hijo del Gladiador.
She is a tough wrestler with amazing flips and reflexes. Vega works on her entire concentrating on her flexibility and strength.
Zelina Vega | Career
Vega made her professional wrestling debut under the ring name Divina Fly on February 20, 2010, in Bloomfield, New Jersey, for National Wrestling Superstars (NWS). In her debut match, she lost to Brittney Savage.
After several matches with NSW, she was discovered by Tommy Dreamer, who helped her wrestle in a tryout dark match at TNA Impact!, which she lost to Angelina Love.
Zelina, now under the ring name Rosita, teamed up with Sarita in an eight-knockout tag team match.
Rosita and Sarita competed against Velvet Sky and Angelina Love to earn a shot at Love's and Winter's TNA Knockouts Tag Team Championship in February 2011.
Rosita traveled down to Mexico to attend an event held by the CMLL promotion in late August 2011.
While in Mexico, she trained with Tony Salazar and Arturo Beristain, who offered Rosita a contract, but because of TNA's working relationship with rival promotion AAA, she could not sign the deal with the promotion.
Zelina took part in a tryout for WWE on March 4, 2013.
She was drafted to the SmackDown brand in the 2020 Draft in October, but in November, WWE announced that they had released Zelina from the contract.
The reason was not revealed initially, but it was later told that Vega's association with third-party platforms was a direct breach of the rules.
Zelina Vega | OnlyFans & Firing From WWE
Zelina Vega was considered one of WWE's rising stars.
However, her value to the company did not excuse her from a controversial new company-wide announcement handed down by Vince McMahon himself.
According to the announcement, performers at WWE were banned from using platforms like Cameo or Twitch to supplement their income.
The CEO threatened that those who were noncompliant with the new rules would be subject to suspension, fine, or even dismissal, and Vega was the first casualty.
So how did this all happen? Vega was considered a valuable piece in WWE's present and future; why was she fired from the organization?
Well, Vega directly challenged WWE by opening an account on OnlyFans, a platform that allows talent to directly interact with their fans.
The platform is popular largely because of the wrong reasons. It is primarily used by s*x workers who produce p****graphy. It is also used by the content creators such as musicians and physical fitness experts.
So, this account of Zelina featured exclusive photos and videos of cosplays, swimsuits, lingerie, and more for a monthly subscription fee of $30.
WWE, specifically Vince McMahon, was angered by Zelina's pursuit, and the management felt she had boxed them into a difficult situation by opening the account on the platform.
Zelina Vega | Megan Minx
Zelina Vega ran her OnlyFans account under the name Megan Minx.
As mentioned before, the account of Zelina featured exclusive photos and videos of cosplays, swimsuits, lingerie, and more for a monthly subscription fee of $30.
Some of her most famous cosplays on the platform included Poison Ivy, Mortal Combat-inspired cosplay, and Pokemon-inspired cosplay, among others.
She had laid out a strict "no nudes" policy, but she offered subscribers exclusive photos and videos of her cosplays, lingerie, swimsuits, and more.
She charged up to $500 for 1 photo, $750 for 5 photos, and $1,000 for 10.
Does She Still Has OnlyFans?
Zelina was fired from the company in November 2021, but she has returned to the WWE and was seen at the WWE Performance Center in Orlando.
After removing her controversial tweets and OnlyFans account, Zelina made her surprise return to company as one of the participants in the 2021 Women's Monday in The Bank Ladder match.
In an interview, she explained that her return to the organization was because of her unfinished business with the company.
Being fired and taking some time off wrestling made her realize what she needed to do.
She made her remarkable return, and within a few months of her return, she defeated Dourop at WWE Crown Jewel in Saudi Arabia.
Zelina Vega | Personal Life & Other Pursuits
Personal Life
Zelina's name has been linked to several men over the years.
In 2014, she briefly dated a businessman from Connecticut, Rich Dollaz.
After that, from 2015 to 2017, she dated a professional wrestler from Milwaukee, Wisconsin, Austin Aries. They met during a talent meeting in TNA. The couple dated for around two years before splitting in 2017.
From 2017 to 2018, Vega was in an alleged relationship with Andrade 'Cien' Almas, a professional wrestler from Mexico.
In 2018, Zelina married Tom Büdgen, a Dutch professional wrestler. They currently reside in Tampa, Florida.
Other Pursuits
Aside from being a professional wrestler and social media influencer, Zelina Vega is also an actress, having appeared in several films as well as TV shows.
In 2012, she appeared in a film named Dorothy and the Witches of OZ.
View this post on Instagram
Similarly, she portrayed AJ Lee, a professional wrestler in the sports drama Fighting with My Family. She has stated that her acting inspiration is non-other than Dwayne "The Rock" Johnson.
Moreover, she appears as a playable character in WWE 2K20 and a non-playable manager in WEE 2k19.
Unknown Facts
Vega appeared in Children of 9/11, a documentary, and on the first and twentieth anniversaries of the September 11 Memorial Ceremony.
She parted ways with TNA on January 9, 2013.
In 2021, after winning the inaugural Queen's Crown tournament, she changed her ring name to Queen Zelina.
Frequently Asked Questions (FAQS)
Is Zelina Vega Mexican?
Zelina Vega is of Puerto Rican descent.
Who is Zelina Vega's cousin?
Figueroa is the cousin of Zelina Vega. He is the founder of House of Glory wrestling school.