Zydrunas Ilgauskas is a former Lithuanian basketball player who played in the center position. Atletas Kaunas, Cleveland Cavaliers, and Miami Heat were the team that he played as a team during his career.
Accurate jump shot and excellent rebounding were his strength which he was known for when playing games with opponents.
He is one of the richest former basketball players having a whopping net worth of over $50 million.
10,976 points, 6,191 rebounds, and 1,327 were the best statistics of his career. He has an average score of 13.0 points, 7.3 rebounds, and 1.6 blocks per game.
But unfortunately, he had to face many foot injuries and surgeries during his career. Ilgauskas missed many games in his early career due to injury obstacles.
His career information is not new to most of us, but what about his personal life. So let's explore more about his life before fame, marriage, and more. Let's start with the informative, quick facts.
Quick Facts
| | |
| --- | --- |
| Full Name | Zydrunas Ilgauskas |
| Known As | Žydrūnas Ilgauskas |
| Birth Date | June 5, 1975 |
| Age | 47 Years Old |
| Place of Birth | Kaunas, Lithuanian SSR |
| Country | Soviet Union |
| Profession | Basketball Player |
| Horoscope | Gemini |
| Nationality | Lithuanian |
| Father's Name | Mecislovas Ilgauskas |
| Mother's Name | Antranina Ilgauskiene |
| Siblings | Not Available |
| High School | Saint Ignatius High School |
| College | Not Available |
| Height | 7 ft 3 in (approx 2.21m) |
| Weight | 118 kg (approx 260 lbs) |
| Body Type | Athlete |
| Position | Center |
| Draft | 1993 |
| Marital Status | Married |
| Spouse's Name | Jennifer Ilgauskas |
| Children Name | Povilas Ilgauskas, Deividas Ilgauskas |
| Net Worth | $55 Million |
| Salary | $125 Million |
| Active Years | 18 Years |
| Social Media | Twitter |
| Merch | Cool Fan T-Shirt |
| Last Update | January 2023 |
Zydrunas Ilgauskas | Early Life, Education & Family
Zydrunas Ilgauskas is known as one of the most popular basketball players in the world. He hasn't shared anything deeply regarding his early life on the internet.
However, before making his debut on the NBA team, he played for his local team in his birthplace Kaunas. Atletas Kaunas was the name of that team.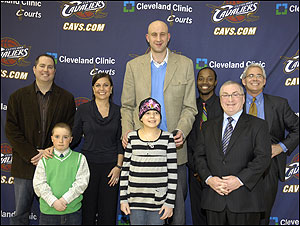 20.3 points, 12.8 rebounds, and 2.8 blocks per game were his average score when he played for Atletas Kaunas. From 1993 to 1976, he made some contributions to his local team.
He also had to face foot and ankle injuries during his early life. Due to that, Ilgauskas spent the entire season on the injured list in the 1996-97 season. After then, he went to make a debut in his professional career.
On the other hand, he went to Saint Ignatius High School. Unfortunately, he hasn't updated anything regarding his college.
Zydrunas Ilgauskas is son of Mecislovas llgauskas and Antranina llgauskiene. He is the only son without siblings in his family.
Zydrunas Ilgauskas | Career
Zydrunas Ilgauskas is one of the most popular basketball players globally. He has represented himself in the two international teams and the national teams.
Professional Career
The Cleveland Cavaliers selected Ilgauskas in the 1996 NBA draft as the 20th overall pick. However, he made a multi-year contract with his first-team Cavaliers.
From 1997-to 1998, he got the reward of the most valuable player of the Rookie season during All-Start Weekend of his career. Similarly, Zydrunas Ilgauskas signed a huge extension contract with the Cavaliers for over six years, valued at over $70 million.
But sadly, again, Ilgauskas had to face another injury of the fractured navicular bone in his left foot on January 26, 2000.
17.2 points and 7.5 rebounds was the average score of Ilgauskas in 2002-03. An all-star award was also given to him. Though he made a great contribution to the team, it was recorded as the third-worst record in the history of the NBA.
Contract Extension
On July 12, 2005, he again signed a five-year deal extension contract with the Cavaliers. He has almost spent 14 years on the same team.
He signed his last contract with the Cavaliers, on March 23, 2010. By playing against the team New Orleans Hornets, he made a great win over his opponent.
In honor of Lithuanian, he was nominated as the "The Z" of the day. At the end of his contract with the Cavaliers, he became the third European player honored by an NBA team.
You might be interested in our article: David Andersen: Career, Net Worth & More.
After playing for the Cleveland Cavaliers, Miami Heat was the next team of Ilgauskas. He played for a very short period with the Miami Heat from July 17, 2010, to September 2011.
Having a good player like Ilgauskas, Heat successfully reached the final of the 2011 NBA but couldn't make up for the trophy.
National Team Career
In 1994, Ilgauskas made a debut with the national team Lithuania. He took the team to the qualifying spot in the EuroBasket in 1995.
The athlete got an average score of 7.7 points and seven rebounds per game. Moreover, he was also too eager to play for the national team in the 2008 Summer Olympics. But due to his history of injury, the Cavaliers refused him to participate in it.
In 2008 he also attended a press conference meeting. Ilgauskas thanked everyone, including the federation, for their efforts and determination.
Don't forget to check our article on Joe Alexander: Injuries, Career & Leagues.
Post Playing Career
After playing as a team with Cleveland Cavaliers, he was again hired by the team head Cavaliers, Chris Grant to serve as his assistant.
On September 18, 2015, he joined Saint Ignatius High School as a coach for the boys' team.
Career Highlights and Awards
NBA All-Rookie First Team (1998)
2x NBA All-Star (2003,2005)
No.11 retired by Cleveland Cavaliers
Age, Height & Weight
Kaunas, Lithuanian SSR, Soviet Union, was the birthplace of a famous player Zydrunas Ilgauskas. Every year Zydrunas celebrates his birthday on June 5. He is currently 47 years old.
Being an athlete, he was treated as one of the tower players because of his height of 7 ft 3 in (approx 2.21m).
Moreover, according to his height, he is one of the fittest players with a weight of 118 kg (approx 260 lbs).
Net Worth, Salary, and Career Earnings
Since Zydrunas, Ilgauskas has spent his life for 18 years in a basketball career. He has a huge networth of $55 million.
By playing with Cleveland Cavaliers from 1996-to 2010, he succeeds in earning more than half of his networth. Moreover, he also signed a contract worth $1.3 million with Miami Heat.
When he played on the international teams, he also managed to earn a salary of over $179 million. It also includes the extra signing bonus from the signing team.
Have you read our article on Paul Millsap: Career, NBA & Net Worth
On the other hand, Ilgauskas listed his Miami Beach Sunset Island for $8.3 million. He also listed his 5,166 square foot home, including the six-bathroom, five-bedroom.
Sales associate Danny Hertzberg was the one to complete this deal. It also helped him to earn some extra income.
Zydrunas Ilgauskas | Relationship and Personal Life
During the summer of 2004, Ilgauskas tied a knot with his lovely wife, Jennifer Ilgauskas. She is the owner of Darvo Medical Rebound Physical Therapy.
After three years of getting married, they were compelled to lose a set of twins due to pregnancy complications. It resulted in infants being born four months premature. They were so frustrated and sad during that period.
Later they decided to adopt the children in 2009. They adopted two Lithuanina brothers from his hometown, Kaunas. One was four years old, and another was five years old.
In 2014, Ilgauskas became a permanent citizen of the United States, resulting in him losing his Lithuanian citizenship.
Social Media Presence
Being listed as the most popular player and richest player in NBA, Ilgauskas is not active on social media accounts.
However, he has one Twitter account with a fan following of just 543. He tweeted his last post in 2010. Since then, he has remained inactive on Twitter too.
Common Queries
How many matches did Zydrunas Ilgauskas play from the national team?
Zydrunas Ilgauskas is a former player who played from the center position. Before entering an international career, he played for his local team Atletas Kaunas.
He only got the opportunity to play three official matches in his whole career with Lithuania national basketball team.
What was the jersey number of Zydrunas Ilgauskas during his career?
In 1996 he debuted for the international teams after playing with the national team. He played a long time for Cleveland Cavaliers and some short seasons with Miami Heat.
Though he played for two different international teams, he stuck to the lucky number 11 during his whole career.