What do you think football serves to many people? Just a sport? Nope, If you feel so, you are wrong. It is the fusion of love, life, and passion when the game starts running in your veins.
You are just so carried by it, moved by it, and it suddenly starts introducing you to the purpose of life. Well, we welcome you to the bio of AQ Shipley, who follows a similar devotion to football.
For those still unaware of his work, he is a professional football player for the Tampa Bay Buccaneers of the NFL.
He serves as a football center there. Before that, Shipley played wrestling, basketball, baseball, and golf.
Coming out of high school, AQ was a four-star recruit and further moded his football career at Penn State. He has also pinned many awards in his name.
What is his life like? How did he make it here in NFL? Who is his wife, and has he had any affairs? We will surely dig out all of this from his story.
Also, please feel free to comment in the box if you think something is dubious or incomplete.
First, let's make our way to know the quick basic facts about him and then take a mighty rundown of his life.
Quick Facts:
| | |
| --- | --- |
| Full Name | Allan Quay Shipley |
| Birth Date | May 22, 1986 |
| Birth Place | Carapolis, Pennsylvania |
| Nick Name | Not known |
| Religion | Not known |
| Nationality | American |
| Age | 36 Years Old |
| Ethnicity | White |
| Education | Moon (PA) Area |
| Horoscope | Gemini |
| Father'sName | Allan Shipley |
| Mother'sName | Patricia Shipley |
| Siblings | Nicole Shipley |
| Age | 36 Years Old |
| Height | 6'1″ (1.85 m) |
| Weight | 307 lb (139 kg) |
| Jersey No. | 62 |
| Hair Style | Bald |
| Eye Color | Hazel Blue |
| Rostered Status | Injured reserve |
| Build | Athlete |
| Marital Status | Shari Camhy Shipley |
| Kids | Skylar Raine, Summer Rye (daughter) |
| Position | Center |
| Profession | NFL player |
| Net Worth | $2 million |
| Salary | $10,50,000 |
| Career Earnings | $2,402,040 |
| Currently Plays for | Tampa Bay Buccaneers |
| League | NFL |
| Active Since | 2009-present |
| Social Media | Instagram, Twitter, Facebook |
| Last Update | March, 2023 |
AQ Shipley | Early Life, Family and Education
The basic fact to start with, AQ Shipley was born on May 22, 1986, to his parents, Allan Shipley and Patricia Shipley, in Coraopolis, Pennsylvania.
Along with his parents, AQ grew up alongside his sister, Nicole Shipley. He is an American by nationality and has a white ethnical background.
He stood as a multi-sport athlete in his early childhood, playing baseball, basketball, and football.
Whereas his Father stood as a golf fan cum player, and golf just made a way to connect.
Allan, his Father, worked at a chemical plant factory in Houston and had to reside separately from his kids and wife.
That's different; he made time for his family and visited his house on weekends in Pennsylvania.
He would hatch at least four hours, and Allan and AQ made rounds together and shared quality time, which is almost a requirement in a father-son relationship.
His Father taught Shipley the fundamental rules and definition of hard work. He wanted his son to learn the sport's etiquette so hard that it would bring significant discipline to his life.
On the other hand, even AQ embraced all those teaching, preachings, and lessons rendered by his Father. He was eloquent at learning.
AQ Shipley | High School Career
He attended Moon Area High School in Moon Township, Pennsylvania. He became the team captain and led his football team to reach the 2003 WPIAL, interscholastic athletic association Class AAA semifinals.
Shipley was titled to the Pittsburgh Post-Gazette Fabulous 22, the Pittsburgh Tribune-Review Terrific 25, and the Harrisburg Patriot-News Platinum 33 lists.
In the 2004 Big 33 Football Classic, he also played an American All-Star game that covers most top high school football players in Pennsylvania.
Shipley played basketball for three years as a starter and left his footprints here as a leader. He took his basketball team to win the 2003-2004 PIAA state championship.
Not only that, but he wrestled for one year in high school at heavyweight, making his way for defending Division IV state champion in his first match.
Rivals.com rated Shipley as a four-star recruit and was also ranked as the no. 12 defensive tackle prospect in the 2004 class.
Also, check out: <<Naseem Hamed: Wife, Son, Record, Career & Net Worth >>
AQ Shipley | College Career
For his college career, Shipley chose Penn State and repeatedly migrated his positions between offensive and defensive lines.
For his redshirt freshman season, he started playing on the offensive line but ended the season playing on the defensive line.
In 2006, Shipley hosted the offensive line for Tony-Hunt's record-breaking senior season. And here comes the moment which proves he took all his dad's preachings seriously.
Believe it or not, Shipley ended up taking the avatar of Santa Claus for the Nittany Lions' annual Christmas party. You don't have to prove yourself when it is within yourself. And it seems like leadership was within him.
Per our player Shipley, he loved being the leader and center of attraction; he also loved having the balls in his hand for the last shot when he played high school basketball. He likes to level up other's people play.
Shipley remained on the watchlist of Lombardi, Outland, and Rimington Trophy at the beginning of 2008.
And all well-wishes and hard work came along his way, and by October, he received mid-season All-American honors from Sports Illustrated, College Football News, CBS Sports, and Phil Steele.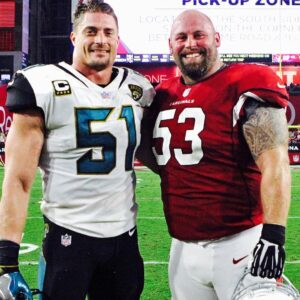 Hang in there; this is not it; Shipley also earned the Rimington Trophy, awarded yearly to the best center in college football.
He was also titled an All-American and the conference's Offensive Lineman of the Year. He also earned the 2008 Dave Rimington Trophy and became the ultimate captain for the season 2008.
Keeping his sports career aside, he was also a degree holder in Bachelor of Science in labor studies from Penn State in 2008.
AQ Shipley | Professional Career
Pittsburgh Steelers
Shipley was hired in the seventh round of the 2009 NFL draft with the 226th pick by the Pittsburgh Steelers.
AQ signed a contract with the Steelers on June 18, 2009, worth $1.22 million. He was later sent to the practice squad on September 6.
Not to mention, the guy has also notched a 40, which is two times the average score for NFL draft prospects on the Wonderlic Test.
Philadelphia Eagles
Shipley joined Philadelphia Eagles on a three-year contract in January 2010. However, he was waived and later signed back to the practice squad team on September 5, 2010.
Learn more about Shipley's madden rating on Muthead.com.
Indianapolis Colts
On January 29, 2012, he switched to Indianapolis Colts. He was named as the backup center to start the season.
Later in October, he made his first career start and played in 14 games, making 5 starts.
Shipley also had a second bout with the Colts on August 31, 2014, where he was placed for the starting center position.
Baltimore Ravens
After a year, Shipley got traded to Baltimore Ravens for a 2014 conditional seventh-round draft pick.
With the Ravens, he appeared in all 16 games, making a start for nine games and also competing with Gino Gradkowski for the starting center position. He was waived on August 30, 2014.
Arizona Cardinals
This was the fifth team in his career; he inked a two-year contract with the Cardinals worth $1.57, offering a $3 lakhs guaranteed and a $100,000 signing bonus.
He led his team to win against the New Orleans Saints with the Cardinals.
Shipley played for the Cardinals until 2019 was over. After that, he started in all 16 games at center for the Cardinals.
Tampa Bay Buccaneers
After a while of the coronavirus pandemic, Shipley signed with the Buccaneers on August 27, 2020.
Bruce Arians, who remained his coach on several other teams, announced that Shipley had faced a neck injury that might be career-ending.
And Shipley got placed on the injured reserve list two days later.
Ultimately, it was revealed that AQ had suffered a "bruised spinal cord," and he opted to retire rather than undergo surgery. So, Shipley retired at the early age of 34.
Coaching career
Right after his retirement, Shipley was hired as the offensive assistant on the Tampa Bay Buccaneers coaching staff on May 5, 2021.
AQ Shipley | Highlights and Awards
Super Bowl champion (LV)
2008: First-team All-Big Ten
2008: Rimington Trophy winner
2007: First-team All-Big Ten
2008: All-American selection
2008: Rimington–Pace Offensive Lineman of the Year
AQ Shipley | Personal Life and Girlfriend
Moving on to the talks about his private life, the most common query is about his love life. Many are resilient to know about his girlfriend, wife, or if he has any kids.
Shipley is hitched to his long-time girlfriend, Shari Camhy Shipley. They exchanged formal wedding promises on 23 June 2017 and lawfully became married husband and wife.
Rich Father of two Daughters
The duo shares two beautiful daughters named Skylar Raine Shipley and Summer Rye. Skylar is about to complete 2 years, and Summer must be around 6 months old.
They have successfully added plenty of meaning and purpose to their life. Besides these, there are no rumors about his sideline affairs or girlfriends.
The couple shares a happy life, and there is no gossip about their separation. Keeping his love life apart, Shipley also seems like a big-time food junkie.
And via his Instagram post, we can bet that he is into learning and cooking too.
Well, cooking and football must be his forte. Quite a great combo to reach out to his passions in life.
Just take a moment and look at this homemade hollandaise sauce with a dash of Tabasco. Seriously, who would not crave to have this tasty foodstuff, damn it?
Shipley also has a tattoo on his hand; he has inked Baltimore's raven piece and camelback mountain for the cardinals.
On the top, he also added a lion and lamb piece from the bible and the eye of providence for his Christian half sleeve.
You might also want to read: <<Darren Collison: Early Life, Lakers, Wife, Contract & Net Worth >>
AQ Shipley | Net Worth and Income
Coming to his net worth section, we know that Shipley has been grabbing awards and honors in his name since his college days.
It proves his worth. But yeah, if we have to calculate his net worth and salary in words and figures precisely, why not?
AQ Shipley must have anet worth of around $2 million as of 2023.
Furthermore, aligning with the facts and details provided by Spotrac.com, AQ has inked a one-year contract with the Buccaneers worth $1,050,000, carrying a cap hit of $750,000.
Also, hover on to yet another article on NFL Player: <<Deone Bucannon Bio: Wife, Net Worth, College, Draft & NFL >>
Net Worth of AQ Shipley in Different Currencies
Also, look at AQ Shipley's net worth in different currencies.
| | |
| --- | --- |
| Currency | Net Worth |
| Euro | 1,683,927 € |
| Pound Sterling | 1,438,590£ |
| Australian Dollar | 2,671,654A$ |
| Canadian Dollar | 2,489,700C$ |
| Indian Rupee | 148,975,000₹ |
| BitCoin | 59฿ |
Social Media Presence:
Not to mention, this man is full of lively personality regarding social media presence. Shipley is moderately active on Instagram, Twitter, and Facebook.
Moreover, if you have a sneak peek into his Insta account, you will get to know how much alive he is as a person. He is just so vibrant and colorful.
He completely upgrades his Instagram posts with the stuff he likes, whether cooking, football, family, or holidaying.
The links to his social media handles are dropped below. Go and give him a follow, people.
Instagram: 13.1k followers
Twitter: 26.6k followers
Some FAQs:
How many pounds did AQ Shipley lose during the weight loss challenge?
So far, AQ Shipley has dropped 40 pounds in the weight loss challenge.
When did AQ Shipley retire?
AQ Shipley retired in the 2020 season at the early age of 34 due to his neck injury.
Did AQ Shipley get a ring?
AQ Shipley is reported to get a Super Bowl ring for his contributions after the professional football team Tampa Bay Buccaneers defeated the Kansas City Chiefs in Super Bowl LV, 31–9.
What is AQ Shipley doing now?
AQ Shipley currently works as an offensive assistant for the professional football team Tampa Bay Buccaneers of the National Football League(NFL).
Is AQ Shipley a Free agent?
AQ Shipley mentioned on The Wilderness Footprint podcast that he is a free agent.
What is AQ Shipley NFL Combine Stats?
AQ Shipley NFL Combine stats are:
Height: 73.13 inches
Weight: 304 pounds
40-yard dash: 5.19 seconds
Vertical Leap: 31.0 inches