Naseem Hamed is a retired British professional boxer, also famous by his nicknames Prince Naseem, Prince, and Naz. The renowned fighter participated in fights from 1992 to 2002.
Where is he now in 2023? Is he still boxing?
The highly reputed website BoxRec maintains updated records of amateur and professional male and female boxers and has ranked Naseem the best British featherweight. Naz was inducted into the International Boxing Hall of Fame in 2015.
Famous for his cocky persona and various high-profile bouts, Naseem Hamed held multiple featherweight championships throughout his career.
He held the World Boxing Organization title from 1995 to 2000, the International Boxing Federation title in 1997, and the World Boxing Council title from 1999 to 2000.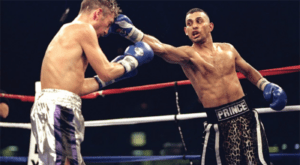 Moreover, he was also the lineal champion from 1998 to 2001, the International Boxing Organization champion from 2002 to 2003, and held the European bantamweight title from 1994 to 1995.
Hamed had a highly decorated Boxing career and a highly active persona. We will briefly examine Hamed's personal life in [current year], social life, employment, and achievements. To start, here are some quick facts.
Quick Facts
| | |
| --- | --- |
| Full Name | Naseem Hamed |
| Birth Date | February 12, 1974 |
| Birth Place | Sheffield, West Riding of Yorkshire, England |
| Nicknames | Prince Naseem, Naz, Prince |
| Nationality | British |
| Education | N.A. |
| Horoscope | Aquarius |
| Father's Name | Sal Hamed |
| Mother's Name | N.A. |
| Siblings | Three Brothers; Nabeel Hamed, Murad Hamed, Raith Hamed |
| Age | 49 years old |
| Height | 5'4.5″ or 164 centimeters |
| Weight | 58 kgs or 128 lbs |
| Shoe Size | N.A. |
| Profession | Retired professional boxer |
| Weight Classes | Bantamweight, Super-bantamweight, Featherweight |
| Fighting Stance | Southpaw |
| Boxing Record | Total fight: 37, Wins: 36, Wins by KO: 31, Losses: 1 |
| Net Worth | $33 million |
| Married | Yes |
| Spouse | Eleasha Hamed |
| Children | Sami Naseem Salem Hamed, Aadam Hamed |
| Documentary | Naz: Little Prince, Big Fight |
| Social Media | Instagram (347k followers) |
| Last Update | November, 2023 |
Naseem Hamed | Early Life, Family, and Education
The famous boxer Naseem Hamed was born on February 12, 1974, in Sheffield, West Riding of Yorkshire, England. He was taken to Yemeni parents.
His father's name is Sal Hamed, although her mother's name has never been revealed in the media.
In 2023, Naseem is 49 years old and an Aquarius. The boxer learned boxing at Wincobank gym of famous Irish boxing trainer and former boxer Brendan Ingle where flashy southpaw style and potential set him apart from a young age.
Naseem Hamed | Height and Weight
Naseem Hamed stands 5 feet 4.5 inches or 164 cm tall and weighs 58 kgs or 128 lbs as of 2023. Despite his short stature, he was highly athletic throughout his career. The secret was a healthy and sustainable diet and a proper workout routine.
He was also great at using his fast-paced, hard-hitting punches, quick dodges, and quick feet to his advantage. Also, his low weight and slender frame only added to his already highly developed skills.
In 2023, Hamed has dark brown eyes, and his hair color is black.
Naseem Hamed | Professional Career
Early Days
When Hamed started professional boxing in 1992, it was under the flyweight category. A comprehensive win over Vincenzo Belcastro over twelve rounds made Naseem the holder of the European bantamweight title at 20.
He defended the title once and then, in 1994, went on to win the WBC International super bantamweight title in Sheffield against Freddy Cruz in six rounds.
This was when Hamed started getting quite popular and respected for his unorthodox style, though his boxing antics earned him many critics. He then signed for Frank Warren and went on to win against stricter competitors in Enrique Angels and Juan Polo Pérez, knocking them out within only two rounds.
World Featherweight Championship Days
FIGHT VS. ROBINSON
Despite not fighting a single weight in the weight division, Naseem was named the WBO number one featherweight contender in 1995, a highly controversial announcement. He defeated Wales' defending WBO champion Steve Robinson in front of Robinson's home crowd at Cardiff Arms Park.
Hamed won when the referee stopped the fight after Robinson was caught with a left hook in the 8th round that knocked him down. Naseem injured his hand badly in this fight, an issue that stayed with him throughout his career.
FIGHT VS. MEDINA
Hamed then defended the title against its former holder Manuel Medina. Naseem dominated early on but struggled to finish the fight before knocking down Medina in the 11th round, after which Medina's corner withdrew him from the war.
He won versions of the featherweight world title 3 more times and even defeated Remigio Molina from Argentina, holding a 27-0 record in just 2 rounds.
FIGHT VS. JOHNSON
At the London Area in February 1997, Naseem defeated long-time IBF champion Tom "Boom Boom" Johnson after the referee stopped the match after an uppercut to Tom, who was struggling and staggering badly.
Hamed then defended the WBO & IBF titles against Billy Hardy, a veteran British boxer and a European champion, with a first-round KO. He then defended against Gerardo Cabrera but had to relinquish the IBF title due to boxing politics involving the IBF's mandatory challenger.
FIGHT VS. BADILLO
In October 1997, in his hometown Sheffield, Naseem produced what is known as one of his entire career's best performances. He defended his WBO title against Jose Badillo, whose corner had to enter the ring and stop the fight during round 7.
FIGHT VS. KELLEY
Hamed made his heavily hyped US debut in 1997 against former WBC titleholder Kevin Kelley.
His arrival at the British Airways Concorde was swarmed with various media outlets. The fight was highly entertaining, and for the first time in his career, Naseem had to abandon his hands-down style to protect himself against highly talented Kelley.
Naseem suffered three knockdowns but won the fight in the fourth round when he knocked down Kelley for the third and final time. This was the first of his many future fights on HBO.
Brendon Ingle and Hamed split after the fight, and Ingle sensed Hamed was not the same fighter anymore and said, "four more fights, and he's finished."
Hamed won against three-time WBA titleholder and then-lineal champion Wilfredo Vazquez, former WBC bantamweight titleholder Wayne McCullough, and future IBF titleholder Paul Ingle in 1998.
FIGHT VS. SOTO
At Joe Louis Area in Detroit, Michigan, in October of 1999, Naseem defeated WBC featherweight champion Cesar Soto, from Mexico over 12 rounds and added the WBC title to his collection, unifying the title with the WBO title but then relinquishing it to stay committed to being the WBO champion.
FIGHT VS. BUNGU
At Olympia, Kensington, London, in March 2000, Hamed knocked out former undefeated long-reigning IBF super bantamweight titleholder Vuyani Bungu from South Africa, ending the fight with a single straight left hand.
FIGHT VS. SANCHEZ
Hamed then defeated Augie Sanchez at Foxwoods Resort, Mashantucket, Connecticut, with a fourth-round knockout in August 2000 to retain his WBO title for the fifteenth and final time.
After the surgery, he broke his hand badly in the fight and stayed out of the gym for half a year, earning 35 pounds.
He then decided to pave the way for a super fight with Marco Antonio Barrera rather than facing EBU Champion and WBO mandatory challenger István Kovács.
FIGHT VS. BARRERA
This fight was held at the MGM Grand Garden Arena in Las Vegas on April 7, 2001, and was the highest-grossing featherweight bout ever in the US, drawing 310,000 pay-per-view buys on HBO.
Hamed could not hit Barrera with his trademark lefts as Barrera circled to his left and worked both head and body. Barrera disliked Naseem's antics.
Although Hamed was a 3-to-1 betting favorite in Las Vegas before the fight, he was handed his first and only lineal featherweight championship loss by a 12-round decision.
FINAL FIGHT VS. CALVO
Hamed returned to the ring for his final boxing match against Manuel Calvo for the IBO World featherweight title. Calvo was the European champion with 33 wins, 4 losses, and a draw.
Hamed won unconvincingly on points, looking sluggish and uninterested, and was booed by the fans.
In a post-fight interview, Naseem assured a quick return that never happened. He did not confirm his retirement for years, sparking rumors about several potential fights.
Naseem said the retirement was primarily due to chronic problems with his hands, including multiple fractures and injuries.
AFTER BOXING
Naseem has had several business ventures after his boxing career, and now he lives happily with his wife and children in England. He reportedly oversees a management company with offices in LA and London these days.
Hamed was famous for his one-punch knockout power, and out of all his wins, he won 84% of them, landing a knockout blow.
Upon his retirement, he retired with 36 wins and a loss, with 31 of those 36 wins being wins by knockout.
Achievements and Highlights
As seen on BoxRec in October 2020, Hamed has ranked the 19th most outstanding European pound-for-pound boxer of all time.
The website also ranks him the 7th greatest British fighter of all time. Hamed was ranked 22 on the list of top 25 pound-for-pound boxers of the last 25 years by ESPN in 2016.
Similarly, the boxer was a global superstar and a prominent figure in the 1990s British pop culture. He was famous for his spectacular ring entrances and unconventional boxing antics. Hamed was a southpaw and had a hard-hitting and highly athletic boxing style.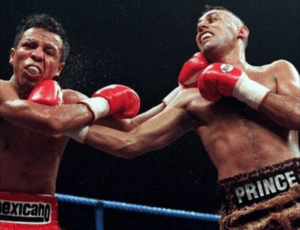 The Ring Magazine's sister publication World Boxing ranked Hamed the 11th greatest British boxer of all time, whereas Gareth A. Davies of The Telegraph ranked him 10th.
Till 2023, The Ring magazine ranked him 46th on a list of the greatest punchers of all time. Not to mention, American boxing promoters compared his impact on the boxing world to that of the Greatest Muhammad Ali.
Naseem Hamed | Career Record and Stats
| | | |
| --- | --- | --- |
| Fights | Wins | Loss |
| By knockout | 31 | 0 |
| By decision | 5 | 1 |
Naseem Hamed | Relationships, Wife, and Children
In 1998, while his popularity grew and he was still performing spectacularly in the boxing ring, Naseem Hamed married his girlfriend, Eleasha Elphinstone, at an undisclosed location in Sheffield. Eleasha was 24 at that time.
Naseem, at the time, was 23 and about to turn 24 the following week. Eleasha's mother, Liz Crilley, was not at the ceremony because it was strictly Muslim.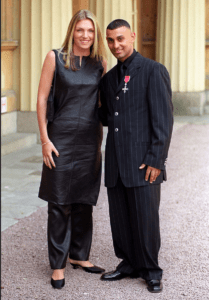 As of the update of 2023, Naseem has two sons, Sami Hamed and Aadam Hamed. Sami and Aadam are now learning boxing skills at the famous Ingle Gym, where Naseem himself used to practice and learn.
Though Naseem's trainer Brendan Ingle has now passed away, Brendan's son Dominic Ingle is now the head coach at Ingle Gym and helps Sami and Aadam out.
Adam has shown some excellent skills and is trying to follow in his father's footsteps someday. Besides that, the Hamed family owned a beautiful house in Sheffield that the boxer sold at a £1 million loss in 2015.
Naseem paid £3,330,000 for the 10-bedroom house while selling it at £2,350,000. In 2023, he lives in an equally beautiful house in Surrey with his wife and kids.
Naseem Hamed | Dangerous Accident
In 2005, Hamed was the cause of a severe accident that left two people grievously injured. The boxer was trying to show off with his Mercedes McLaren while attempting to impress businessman Asif Ayub who was in the car with him.
While showing off his car, Naz overtook two cars very recklessly. In his attempt to overtake the third car, he met an accident with a Volkswagen Golf in the opposite lane.
However, the accident involved three cars, including a Ford Mondeo that the father of the two was trying to overtake. After that, Naseem fled the scene instead of calling for help.
As a result, he was arrested for his involvement in the accident that nearly took the Volkswagen driver Anthony Burgin's life. Moreover, Burgin had broken almost every prominent bone in his body, his bone was sticking out of his left leg, and he had suffered some bruising to his brain too.
In 2023, his left leg is 2 inches shorter than his right leg. Likewise, Anthony's wife, Claire, broke her finger and a toe, along with some bruising on her face and body.
Furious, Anthony said during an interview, "He just walked away from the wreckage without even checking if I was alive or phoning for help. He abandoned us and left me to die because his first and only instinct was to save himself and walk away. That man left me for dead."
Due to Hamed's careless driving that dangerously affected others, he was sentenced to 15 months in prison. Nevertheless, he got out after serving roughly 4 months and was transferred to Home Detention Curfew to do the rest of his sentence.
The judge sentencing Naseem was amazed that the DMA chose not to present Hamed's previous speeding offenses and ban during the trial. He said, "You could easily have killed Mr. Burgin."
Naseem Hamed | Net Worth And Salary
Naseem's primary source of income was his boxing career. As a salary, he earned about 5 million pounds per fight in his prime.
Apart from the prize money, he earned significantly from his endorsement deals with Adidas and Sony. His biggest purse was his fight against Antonio Barrera in 2001.
Naseem's business ventures have earned him significant money, too, apart from which he oversees a management company with offices in LA and London.
Hamed's net worth has been estimated to be around $35 million as of 2023, making him the 16th richest boxer globally. He is also the second richest British boxer behind Lennox Lewis.
Naseem Hamed | Social Media Presence
Naseem has always been in the spotlight since he started as a boxer at a young age in 1992.
He handles his Instagram himself, and though there is an account by his name with significant followers on Twitter, too, since the report has not been verified yet, we are not mentioning it. His Instagram handle has 142k followers, and his username is "princenaseemhamed_" in 2023.
Although Naseem has come a long way from his boxing career now, Naseem shares many of the moments from his previous fights with his followers, who love watching the same.
Naseem also shares moments of his sons' training and some new pictures, whether flaunting his title belts or something else.
Still, most of his posts are the grand entrances and moments he has had in the ring and the hard work that got him the respect he gets and deserves very well.
Momentarily in Naseem Hamed's life.
In 2023, Prince Naseem Hamed, a boxing legend, has stated that he is the "happiest he's ever been," following an unrecognizable transformation from his professional boxing days. Prince Naseem Hamed revealed he is the happiest he has ever been, following an unrecognizable change from his 20 years ago boxing days.
This week, pictures of the former boxer going for a walk near his home in Windsor went viral. Fans were taken aback by the 48-year-old, who now claims to be the happiest he has ever been in his life.
This week, Hamed told the Daily Mail, "I'm the happiest I've ever been." I've never been in a better place in my life. The number of people who stop and stare makes me wish I could walk around with a camera.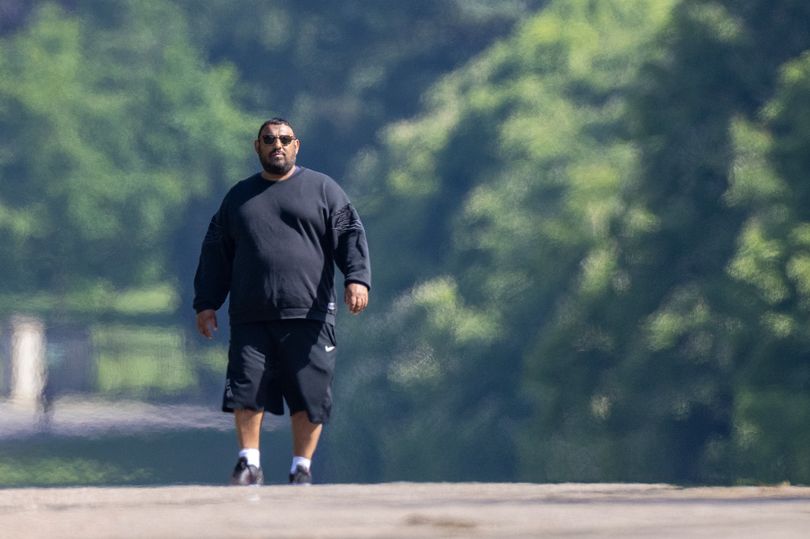 Naseem Hamed | FAQs
Were Prince Naseem and Chris Eubank Jr. involved in a fight?
Yes, shortly after Joe Calzaghe vs. Chris Eubank's fight, Eubank and Hamed had a punch fest at the Heathrow airport. Prince said, "Chris, do you like my belts?" when Eubank lost it and started punching Naz.
As a result, Hamed punched Chirs back and busted his lip. Finally, promoter Frank Warren separated the two. The two get along quite acceptable as of now.
How much is Prince Naseem worth now?
As in 2023, according to our sources, the Prince's net worth is estimated at $35 million, utmost in the surfaced news.
Why did Naseem Hamed retire?

While we talk about his career, unfortunately, Due to chronic hand problems, Hamed retired from boxing in 2002.
After rising into the excellent dust of fame, this most valued boxer quit his career due to fatal medical issues; the fighter retired in 2002.
What was Naseem Hamad's entrance song?
Though his career, The designated fighter's entrance song was Ini Kamoze – Here Comes The Hotstepper.
Is Naz making a comeback?
According to the sources, although Naz had announced a comeback, he hasn't talked about it since then.
Who was Naseem Hamad's last match?
The former boxer's last match was against Manuel Calvo on 18 May 2002. After defeating Calvo, Hamad became the IBO featherweight champion.
Was Prince Naseem a good boxer?
Yes, Naseem is an excellent boxer who has lost only one match in his entire career. Furthermore, he has won three world titles.
What country is Naseem Hamed from?
As we speak of his nationality or the national place, The legendary boxer is from the United Kingdom.